It was the best of times, it was the worst of times. Japanese motor industry rose to the peak in the late 1980s, just before the burst of bubble economy. Their rising ego drove them to build countless of high-tech grand tourers just to demonstrate to the West what they were capable of. This gave birth to the 1987 and 1993 Toyota Supra, 1989 Nissan 300ZX and Skyline GT-R, 1990 Honda NSX and 1992 Mazda RX-7. They dropped a bombshell to Western sports car manufacturers and nearly pushed them into bankruptcy. However, the maddest of the lot must be Mitsubishi GTO, or what was known as 3000GT VR-4 in overseas market. This car brought more advanced technologies than we had ever heard of, such as a 300-horsepower 24-valve twin-turbo V6, a full-time all-wheel drive system, 4-wheel steering, switchable electronic adaptive damping, active aerodynamic aids and variable exhaust. In other words, it was a showcase of state-of-the-art technology.

Naturally, it needed a dream-car exterior to envelop all these high-tech gadgets. Here it split opinions. While its fans loved its futuristic, robot anime-style details, critics saw it a copycat of Corvette or Porsche 944. The latter party was also uncomfortable with its Testarossa-style side grilles, which tried too hard to pretend a mid-engined sports car. In fact, the GTO was a front-engined 2+2 GT. Sharing platform with the new Diamante / Sigma executive sedan, it had its 3-liter quad-cam V6 sitting transversely up front, driving the front wheels on base car or all four wheels on the range-topping VR-4. The front MacPherson struts necessitated a pair of domes on the low bonnet to accommodate, while the rear axle was suspended by a double-wishbone-based multi-link setup.

By now we have forgotten everything about the front-drive naturally-aspirated base model except its mediocre performance and dull handling. History will remember only the turbocharged, 4-wheel-drive and 4-wheel-steer VR-4 for its significance. A pair of Mitsubishi turbochargers with individual intercoolers boosted its output to 300 horsepower and 307 lbft of torque (remark: domestic car was capped by the voluntary limit of 280 hp, at least on paper). Because the turbos were relatively small, they were quick to spool up and provided a smooth and linear power delivery. Maximum torque arrived at merely 2500 rpm, implying a tractability rare for its days. The driver could alter the sound of exhaust by toggling a by-pass valve, so to achieve maximum power at sport mode or luxury-car quietness at touring mode. The GTO adopted this feature 20 years earlier than the rest of the industry.
Like-wise, ride quality could be altered by the electronic-controlled dampers. The driver could select between Touring and Sport mode, while the electronic brain might adjust suspension stiffness by guessing your mood through collecting data about speed, steering angle, throttle and g-force etc. Again this led the industry for a couple of decades. Advanced technology also extended to aerodynamics. You think McLaren F1 pioneered active aerodynamics? The big Mitsubishi beat it to the market with a lip spoiler that dropped by 80 mm and a rear wing that inclined 15 degrees at speed over 50 mph. Comparatively, the 4WD and 4WS systems sounded more familiar because they were derived from the earlier Galant VR-4. Its center differential normally split torque 45:55 front to rear, while a viscous coupling could lock up the diff in case of wheel slip. Both front and rear axles were served with LSD. Oversteer was further tamed by active rear-wheel steering. Above 30 mph, the rear wheels turned slightly in the same direction as the front. All these high-tech hardwares added up to a considerable 1750 kg.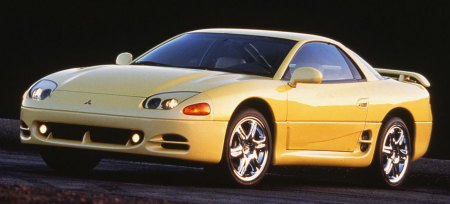 1993 facelift
Contemporary road tests found the hefty Mitsubishi was slower accelerating than its chief rivals 300ZX, RX-7, Supra and Corvette, not so much in 0-60 mph or quarter mile because of its superior all-wheel traction, but obvious in 0-100 mph or above. A pump of 20 horsepower and upgrade to Getrag 6-speed gearbox in 1993 helped it to narrow the gap, but it could never shrug off the bulky feel. Despite of excellent roadholding and all-weather drivability, the GTO or 3000GT VR-4 was criticized for bags of understeer and lack of agility, blamed to its immense weight and 58:42 weight distribution. Its complication also hampered the directness of controls. The cable-operated gearshift felt loose. The torque that went through its front wheels numbed its steering. The 4-wheel-drive and full-time 4-wheel-steering systems contributed nothing to agility but acted as an extra layer of insulation between the man and machine, something Nissan Skyline GT-R avoided cleverly.
While it was not a sports car, it was neither a luxury GT. A sports-car-like glass house resulted in a fairly confined cabin for two, let alone the legless rear passengers. The finishing of interior left many things to be desired. Its in-your-face dashboard, rough plastic, flamboyant seats and below-standard fit and finish made it looked cheap and brainless, more like in the class of Firebird / Camaro than Porsche.
1998 facelift
Having said that, the GTO sold pretty well in its early years, thanks partly to its badge-engineered sister Dodge Stealth. Plenty of American boy racers upgraded from their Firebird, Camaro and Mustang to the high-tech Japanese supercar. It is believed more than 150,000 units (including VR-4 and lesser models) were sold in the USA alone.
During its 10-year long life, the GTO was facelifted 3 times. In 1993, it received an organic interpretation of bumpers and intakes, fixed headlights (instead of pop-up ones) and the aforementioned powertrain upgrade. It actually made the car uglier. 1996 came a subtle facelift with larger front intakes, 18-inch wheels and a hoop rear spoiler. The latter hampered rearward visibility, so in the 1998 facelift it was replaced with an even larger, higher mounted rear wing, accompanied with restyled front end. Over the years, its production costs inflated a lot due to rising yen and falling demand. In response, gadgetries like active aero, switchable exhaust and electronic damping were ditched. Entering the mid-1990s, car makers and buyers became more rational. The new world order favoured lighter, more agile sports cars like Porsche Boxster and Lotus Elise, or more practical yet better driving coupes like BMW M3 and Mazda RX-8. The old-school Japanese GTs became outdated, no matter how advanced they looked in the beginning. Following the death of Mitsubishi GTO, we are unlikely to see the same technology showcase on mass production cars anymore.