Imagine how stunning when Toyota announced the MR2 in 1984. At an entry-level price, the MR2 offered exotic styling and mid-engine layout like a mini-Ferrari, with brisk performance and excellent handling to match, too. To sports car lovers who could not afford Ferrari or Porsche, this must be a dream come true!
Toyota did not pioneer flyweight mid-engined sports cars. As early as 1972, Fiat worked with Bertone (who originated the idea) and created the ground-breaking
X1/9
. It cleverly utilized the transverse powertrain, front axle and suspension of its FF cars, put them at the opposite side and realized a compact, cost-effective yet very functional mid-engined 2-seater. By the time MR2 was launched, the X1/9 was still being produced in Europe under the badge of Bertone. However, it was too long in the tooth, so many areas inevitably fell behind modern standards, especially in terms of power and build quality. This left a big hole for Toyota to fill in. Combining Japanese build quality and reliability, advanced multi-valve engine and the clever packaging that learned from X1/9, MR2 answered all the wishes of car enthusiasts.
Interestingly, General Motors introduced another affordable mid-engined sports car,
Pontiac Fiero
, in the same year. However, the MR2 was far superior to its rival, winning every comparison test they encountered and usually by big margins. Now looking back, the MR2 should be rated as one of the greatest small sports cars ever made. It was just as good as the original Lotus Elan and the first generation Mazda MX-5.
Development of the first generation MR2, codenamed AW11, started in about 1979. In contrast to some speculations, the car was designed in-house rather than by Lotus. However, Lotus did give it some assistance in other forms. In prior to the 25% takeover by Toyota in 1984, Lotus had already been providing engineering consultancy services to the Japanese giant, including multi-valve engine technology that would eventually benefit the 4A-GE engine that powered
AE86
, Corolla 1600GT hatchback and the MR2. Lotus also played a role in the MR2's ride and handling. Its engineer Roger Becker was sent to Japan to help tuning the development car and to transfer the know-how to Japanese engineers. It is fair to say without Lotus the MR2 would not have been so fabulous to drive.
Following the formula of Fiat, the MR2 employed major components from the company's largest selling FF platform, i.e. Corolla. It might sound not very promising, but you should remember that the contemporary Corolla 1600GT was a good hot hatch. It donated its transversely-mounted powertrain together with MacPherson strut front suspension to the MR2, which put them at the rear axle. The front suspension was another pair of MacPherson struts, whereas the all-round disc brakes (ventilated up front) came straight from AE86. The 1.6-liter 4-cylinder motor was positioned just fore of the axle line and behind the cockpit, but since it was relatively small and lightweight, the chassis achieved a pretty good front to rear balance at 44:56 (or 45:55 in the case of T-bar), unlike some bigger-engine Ferraris and Lamborghinis which might have 60 percent weight over the rear axle. This slightly rear-biased weight distribution was just perfect for traction as well as dynamic balance when braking into corner, where weight transfer would result in close to 50:50 balance. Meanwhile, to reduce polar moment of inertia and make the car more agile to steer, the battery was placed above the transmission, while the fuel tank was installed inside the transmission tunnel between the seats. In short, all heavy masses were kept within the wheelbase.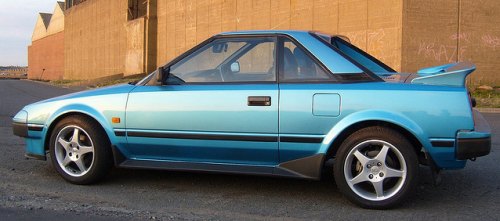 "MR2" stands for Mid-engine, Rear-wheel-drive and 2-seat
For a mid-engine car, especially one so compact, the MR2 was highly practical. Its cabin was roomy – way better than the very cramped X1/9 as Toyota had studied it weaknesses. The driving position was faultless, the seats were multi-adjustable, and the visibility was very good, although rear view would have been even better if the rear spoiler was not as large. Its instrument was clear and switch gears easy to use, if not very stylish. There were two boots. The front was largely occupied by the spare wheel, while the rear boot was quite useful to pack a pair of small suitcases or large soft bags, enough for two to spend a weekend. The spaces behind the seats was just too small to place luggage, but they served to stow the glass panels of the T-bar roof, which was a popular option. Toyota declined to offer a Targa roof like X1/9 because it didn't want to suffer from loss of chassis rigidity. The T-bar was a better compromise. It added just 30 kg to the car thus had virtually no influence to performance.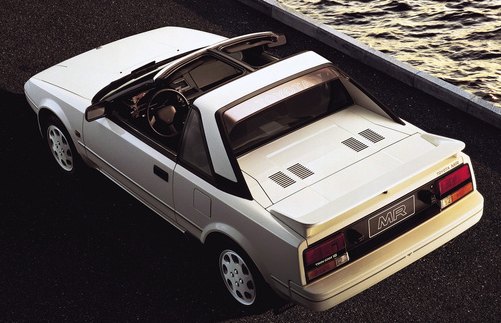 Yes, the MR2 was really quick. Its top speed exceeded 121 mph, 10 mph faster than the 1.5-liter X1/9 and even knocked out the 2.5-liter Pontiac Fiero by a ridiculous 15 mph. Its modern drag coefficient of 0.34 certainly helped, so did the powerful 4A-GE engine. This 1587 cc unit was benefited by an advanced aluminum cylinder head with twin-overhead camshafts and 16 valves, as well as electronic fuel injection and
T-VIS variable intake system
, which boosted mid-range torque by shutting down half the intake paths below 4650 rpm. That was really advanced at a time when the industrial norm still employed SOHC 8-valve heads. Slightly oversquared combustion chambers (with 81 mm bore and 77 mm stroke), 10.0:1 compression ratio and fully counter-balanced forged steel crankshaft allowed the engine to rev to an incredible 7600 rpm, no wonder it produced as much as 122 DIN horsepower (remark: domestic model was rated at 130 ps gross power, while tighter emission control reduced the American version to a still respectable 112 hp), accompanied with 105 pound-foot of torque. Apart from power and tractability, the 4A-GE was also very frugal. It was truly a milestone for mass production 4-cylinder motors.
The rev-happy nature of the 16V engine gave the car a spirited character, even though it was quite noisy at the top end of its rev range. Slick gearshift from the close-ratio 5-speed gearbox and light clutch encouraged the driver to use all the rev and put a smile on his face in the process. Mid-engine traction allowed the MR2 to accelerate from standing start significantly quicker than rivals – or a 1.6-liter car had any rights to be. A typical European model could sprint from 0-60 mph in 7.7 seconds, as much as 3 seconds quicker than X1/9 and Fiero! It also beat the similarly advanced but front-wheel-drive Honda CRX 1.6i-16V by a few tenths. Traction aside, its strong acceleration was benefited from a low weight – 950 kg dry as quoted in Japan or closer to 1050 kg DIN in Europe. Its packaging was so efficient.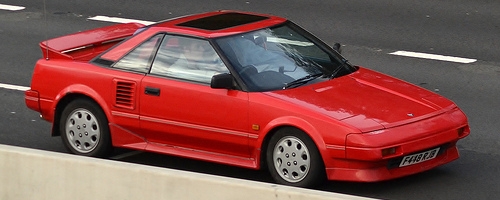 Despite of the remarkable performance, the best aspect of MR2 was its ride and handling. Thanks to the optimum weight distribution, compact package and well-judged tuning of suspension/steering, it was incredibly agile to steer in the twisty. Some rivals needed rock-hard suspensions to resist understeer and sharpen response. As the MR2 was inherently well-balanced, it was possible to employ relatively soft suspension setting, thus giving it a supple ride and exceptional bump absorption. It might display a touch more roll in corners, but that didn't hamper its stability or cornering prowess. In fact, its cornering limit was much higher than what its new FF rivals could manage, thanks to the superior traction and grip it offered. Its unassisted steering was communicative and well weighted, being light enough in urban driving and very accurate at speed. At the limit, the tail would break away gradually, giving the driver plenty of time to correct with counter lock and throttle. While the balance could be altered by throttle, it would not bite you like the more powerful mid-engined supercars. Even if you lift off throttle suddenly in the middle of the corner, the resultant oversteer could be counteracted easily. With more practice, you could even transform that into a satisfying power slide. It was really great fun to drive.
No wonder European motoring journalists praised the MR2 with tones I had never heard before:
"As a package from a country where manufacturers so often imitate to play safe, the MR2 is nothing less than a revelation. It is probably the best sports car ever to come out of Japan… Here, at last, is the mini-exoticar enthusiasts have been waiting for." – Motor
"Handles better than a (Ferrari) 328GTB… A class of its own… A classic of the making." – Autocar
"Handling, roadholding, ride are sensational, performance strong. Decisive leader among affordable exotics." – Fast Lane
1987 Revision and MR2 Supercharger
During its 5 years lifespan, the AW11 received only one major revision in mid-1987. To improve handling, it got a front suspension tower brace, new rear dampers, revised rear suspension geometry and thicker rear axle carriers to increase lateral rigidity. Larger brakes were fitted front and rear in response to its average braking power. T-bar roof was introduced in this revision, too. However, the most interesting development must be the new Supercharger model, which was exclusively sold in Japan and the USA. It added a Roots-type supercharger and an air-to-air intercooler to the 1.6-liter engine, which had its compression ratio reduced to 8.0:1. A mild charge of 0.55 bar (8 psi) boosted its output to 145 horsepower and 140 lbft of torque, the latter was available at lower down the rev. This satisfied especially the USA market where drivers demanded more accessible power. Car and Driver timed the car to complete 0-60 mph in a remarkable 6.5 seconds, a decisive leap from the 8.3 seconds that it recorded earlier in the normally aspirated American model. Its top speed was improved to 130 mph. The car was also pretty frugal, thanks to an electromagnetic clutch which disengaged the power-consuming supercharger under light throttle to save fuel and make idling more refined.
The first generation MR2 was a great success. In 5 years time, it sold over 160,000 units, matching the number that Fiat X1/9 took 16 years to achieve. More importantly, it proved that Japan had become capable of building the best sports cars in the world, and more of its kind would follow in the next 10 years...
Encouraged by the success of Mk1, Toyota got more ambitious with the second generation MR2, which adopted the codename SW20. It got much bigger, roomier, much more powerful and had little in common with the original. It became more upmarket, too. While the old car looked like a modern interpretation of Fiat X1/9, the new one appeared as if a downsized Ferrari, which really shocked me when I first saw its photos on magazines in 1989. The Ferrari looks had specifications to match, too. The naturally aspirated model now switched to the 2.0-liter 3S-GE 16-valve engine that powered Celica. It produced 165 hp in Japan or 158 hp in Europe (later on dropped to 154 hp with catalytic converter fitted). Further helped by a sleeker body whose aerodynamic drag coefficient reduced to merely 0.31, its top speed was lifted to 135 mph while 0-60 mph took 7.2 seconds. That's the territory of Porsche 944.
But the real shock was the new MR2 Turbo, which was called MR2 GT in Japan or GT-S in the USA (no European name though because it wasn't offered there). The 2.0-liter 3S-GTE engine with intercooler and a twin-scroll turbo was taken straight from
Celica GT-Four
, producing the same 225 hp and 224 lbft at home or 200 hp and 200 lbft in America. Its official performance figures were equally sensational – 150 mph top speed and 0-60 in 5.9 seconds. That wasn't much slower than the outgoing Ferrari 328GTB, and would give the contemporary Porsche 911 Carrera a run for the money. It might just be a giant killer…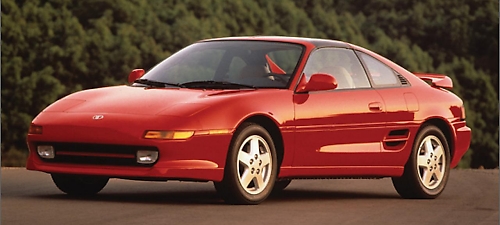 Unfortunately, its chassis failed to live up to the increased performance. There were a few reasons. Firstly, the new car weighed between 140 and 200 kg more than its predecessor. This inevitably hurt its sense of agility. Secondly, the larger engine worsened its front-to-rear weight distribution to 42:58. Thirdly and also perhaps the most importantly, without the help of Lotus, its engineers failed to repeat the magical chassis setup. Consequently, the new car suffered from an edgy handling when it was pushed to the limit. It was highly sensitive to lift-off oversteer, and the latter happened quite dramatically. The more powerful Turbo especially demanded the driver to control with a smooth and restrained manner. If he lifted off and hit the brake abruptly mid-corner, the tail would go sideway and it would be difficult to rescue. Besdies, the narrow tires – 195/60 up front and 205/60 at the rear – were not sticky enough to contain the increased power. The brakes were a bit below standard. The gearshift was quite notchy.
Most of these problems were rectified in the revision introduced at the end of 1991. Toyota improved its rear suspension geometry by using longer lateral links and repositioning the attachment points of trailing arms, so that it was no longer subjected to so much change of toe during cornering. The lift and squat during acceleration and braking was also much reduced as a result. In addition to using wider rear tires, the oversteer problem was largely reduced. Meanwhile, the use of 15-inch wheels allowed the fitment of larger brakes to improve stopping power. The gear shift linkage was also improved. The new car finally became confidence-inspiring to drive again.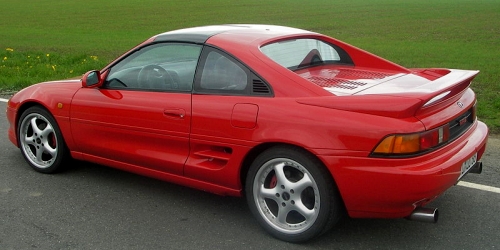 Further improvement was introduced in late 1993. As in the case of contemporary Celica, the naturally aspirated engine was improved to 180 hp (or 173 hp in Europe), while the domestic Turbo engine was boosted to 245 hp. The suspension was retuned slightly again. Autocar declared the handling of the naturally aspirated model had become so good that it was one of the best behaved mid-engined cars regardless of price. On the downside, it complained the stiffer ride and coarser engine noise, both had become harder to live with. However, what really hurt was its ever increasing prices. Blame to the fast-rising yen and elevated production costs in Japan, the MR2 was no longer a bargain, even with the mini-Ferrari looks and performance considered. As a result, its sales cooled down quickly. Even though it lived twice as long as the Mk1, its total sales failed to match the latter.
In late 1997, the car received its final mechanical revision. Its N/A engine gained VVT-i variable intake cam phasing to achieve 200 hp. Nevertheless, by then the MR2 had become largely irrelevant to the interest of sports car enthusiasts. Now the world fell in love with roadsters like Lotus Elise, Porsche Boxster and Mercedes SLK, and few remembered the once exotic mini-Ferrari.
Having imitated Fiat and Ferrari in the first two incarnations, the MR2 turned its attention to Porsche in the third generation, codenamed ZZW30. Its styling closely followed the 1996 Boxster 986, although it was noticeably smaller, squarer and admittedly less beautiful. Like the Porsche, it was converted to a roadster in order to enhance its appeal to ordinary drivers. As a result, it was renamed to MR2 Roadster in Europe, MR2 Spyder in America or simply MR-S back home. A manually operated fabric roof ensured it to be lightweight and cheap to build. In addition to a smaller motor and a much shrunken size – almost 300 mm shorter than the Mk2 and even shorter than the Mk1 – it succeeded to reduce kerb weight by 200 kilograms!

Less impressive was its interior. Toyota was still hit by the high production costs in Japan, so it sought cost cutting in the cabin. The instruments did what they were intended to and no more. Lack of a stylish dashboard, lack of high quality plastic as well as decent trimming, it was rather dull compared with European roadsters. As expected, the cabin was snug, offering barely enough space for two. So, inside and outside, the MR-S did not deliver a good impression...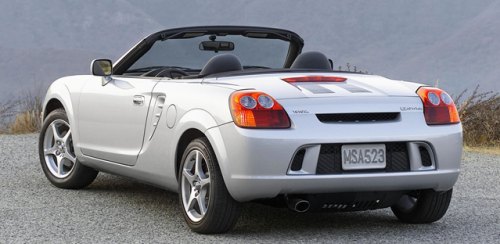 Until you fired the engine. The 1.8-liter all-alloy 16-valve 1ZZ-FE engine was equipped with VVT-i like all other new engines from Toyota. The reduction of 200 cc dropped power and torque to 140 hp and 127 lbft, respectively, but drivability was not deteriorated. In fact, its size was well chosen. It enabled a smaller radiator, smaller brakes, narrower tyres etc. to result in a lighter and more nimble car. On the road, the weight saving translated into excellent control. The mid-engined chassis had first rate balance. Although it rode on MacPherson struts all round, the good set-up worked well to keep the wheels perpendicular to the black top. The electric-assisted steering was surprisingly communicative and well weighted, which was a rare achievement of its kind. 2.6 turns from lock to lock meant razor-sharp response. More important, the MR-S cornered with the agility and throttle adjustability that reminded us the first MR2. Some might described it as "too tail happy", but in fact it was no more difficult to handle than the Series 1 Lotus Elise, which was no small achievement.
No, the MR-S would not revive the peak of MR2. High cost base, lots of competition and a general shrinkage of affordable sports cars market meant it was impossible to succeed. Still, it would be remembered as a good driver's car, and a worthy successor to the original Mister Two.