When I was small, Toyota Celica was the most popular coupe on streets. Many boy racers drove the first and second generation Celicas with various degrees of modifications. They were loud. They were tough. They were flamboyant. They were cheap to buy, repair and upgrade – very much like American pony cars – but they were also compact and frugal. That's why they were hugely popular in Asian countries. Later generations no longer enjoyed such popularity though. The history of Celica just reflected the rise and fall of coupe-mania in the world. 1960s and 70s was the peak of coupe-mania, when Celica, Mustang and Camaro sold like hot cakes. Since then the fever cooled down quickly. No matter how hard Toyota tried to reverse the trend, it sales kept falling. At last, it came to a point that production was made at a loss, thus it got the axe in 2006. About 4 million Celicas found buyers across 26 years and 7 generations. It was the most successful coupe in history after Mustang and Camaro.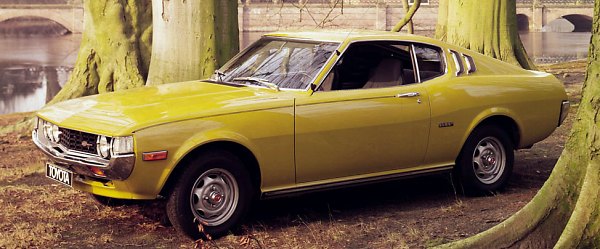 The first generation Celica was born in 1970. Aimed at the huge American market, it was styled with heavy influence from contemporary American coupes, in particular the aforementioned Mustang and Camaro. However, it was half a meter shorter, much narrower and lighter. It employed only four-cylinder motors. Furthermore, cheap Japanese steel and low labor costs then enabled it to open a new entry-level coupe segment in the America as well as in Europe. Orders flooded in and it immediately became a great success.
Toyota offered 2 bodies for customers to choose from. Coupe (codenamed TA22 etc.) had a fashionable "hardtop" design that did without B-pillars, which also emphasized the coke-bottle waistline. Liftback (LB, with codename RA22 or something like that) was a carbon copy of the 1967 Mustang fastback, just in a smaller scale. No one talked about copyrights or intellectual properties then, but the Japanese was known for their quick learning skills. The LB had its wheelbase lengthened by 70 mm to increase cabin space, although it was still strictly a 2+2.
Mechanically, it did not deviate from contemporary format – FR, MacPherson strut suspension up front, rigid live axle at the rear, although the latter's coil springs was a progress from the leaf springs on the American cars that inspired it. The steering was provided by old fashioned recirculating ball, but the 5-speed gearbox was an upmarket feature then. As for engine, many choices were offered. One of the most popular was the 1600ST, whose ohv engine had its camshaft mounted high in the block to make possible shorter pushrods and cross-flow cylinder head, hence more power. It produced 105 net horsepower, enabled the car to claim 109 mph top speed and sprint from 0-60 in a respectable 11.5 seconds. Even better was 1600GT, whose engine had a Yamaha-developed DOHC head to produce 115 hp net, good for a claimed 118 mph and 0-60 in 9.5 seconds. Those figures were outstanding at the time, especially considering its affordable price. However, the fastest model has to be the 1973 LB 2000GT, whose 1968 cc twin-cam engine was rated at 145 hp gross (about 130 hp net) and its top speed was quoted at a slightly optimistic 127 mph. It was bounded in the domestic market. American version had generally 20-30 few horsepower due to stricter emission control.
Contemporary road testers usually praised the Celica for good performance, fuel economy, build quality and reliability. The 1600GT twin-cam engine was smooth and tractable, whereas the 1600ST ohv engine was also a good performer, if a bit noisy at high rev. Its handling and ride was decent, although it did suffer from persistent understeer and a vague on-center steering feel (i.e. a typical problem for recirculating-ball steering). Its Japanese tires were not as grippy as its western counterparts then, so cornering limit was not high, but it was safe and easy to handle. The easy going manner was further supported by light steering, clutch and gearshift, which became known as Japanese DNA. Most remarkable was its combination of these competitive qualities with lots of standard equipment and a bargain price, which made European small coupes difficult to compete. No wonder the first generation Celica was the best selling among all generations.
Selling more than 200,000 units every year, the second generation was even more popular. Toyota had got more understanding of American drivers by now. Therefore it made the Celica larger and roomier, and hired American designers at its newly established California studio to style the car. Wind tunnel testing also played a part in its design, so it got sleeker. That said, I have never got on with its looks, which was neither classic nor modern.
While the chassis layout and engines were largely carried over, the detailed setup made the car more civilized to please American drivers. Softer springs improved ride comfort a lot but also led to more roll and a mediocre handling. Even though the recirculating-ball steering had its feel improved a lot, the Mk2 was not as strong a driver's car as the original. It left plenty of room for aftermarket modifications to improve.
Toyota also built a larger version called Celica XX (in Japan) or Celica Supra (for export). It had the wheelbase stretched by 130 mm and further lengths were added to the overhangs, so it seemed to be a more credible competitor to the American pony cars or Nissan Fairlady Z, at least that was what Toyota thought. Power came from an SOHC straight-six, displacing either 2.6 liters or a tax-friendly 2.0 liters. No, it wasn't fast, exciting and stylish enough to trouble its rivals, of course, but at least it paved the way for the Supra line to come in the future.
Judging from its modern looks, it is hard to believe only 4 years separating the Mk3 from Mk2. Entering the 1980s, Japan had raised its game and everything progressed at an unprecedented pace. The new Celica switched to a wedge shape and pop-up headlights, looking fairly futuristic compared with contemporary rivals. The Liftback version was even more eye-catching. Build quality was lifted so much that it appeared more upmarket than European coupes, let alone Mustang and Camaro. Now it looked more GT than cheap coupes.

The technologies it employed was also more advanced, such as digital dashboard, rack-and-pinion steering and independent semi-trailing arm rear suspension. While the regular engines were quite ordinary, a pair of advanced engines were introduced to the Japanese market car – a 1.8-liter twin-cam turbocharged four-pot and a 2.0-liter 24-valve twin-cam straight-six, both produced 160 horsepower. The twin-cam turbo was also developed into a Group B rally car. Although it enjoyed little success in the world championship, its toughness earned it 3 consecutive Safari rally victories.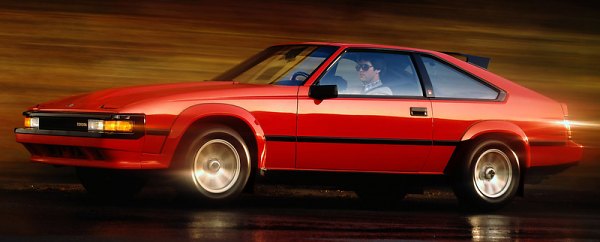 Celica Supra (Celica XX)
Meanwhile, the upmarket version, Celica XX or Celica Supra, finally became a serious threat to Nissan Z-cars. Its larger body was propelled by a 2.8 twin-cam EFi straight-six good for 170 hp, giving a top speed in excess of 130 mph and a smooth and flexible power delivery that the smaller Celica could not match. Besides, it came with classy features like limited-slip differential, all-round ventilated disc brakes, speed-sensitive power steering, electronic cruise control and powered sunroof, representing good value for money. The early car did not handle its power very well though. After consulting Lotus, the European version received an extensive chassis mod in 1984, which made its handling more accurate and predictable, grippier and faster on demanding roads.


The Mk4 got neater and more aerodynamic, with a Cd of 0.31. Smooth glass greenhouse gave it an advanced and high-quality appeal, while the driver enjoyed unparalleled visibility all-round. However, the big news should be the switch to FF architecture. It might sound strange for a sporty car like this, but Toyota saw it a necessary change because its mainstream platforms had already switched to FF. By doing so, the Celica could continue to share powertrain and suspension components with other mainstream models to keep cost down. After all, Honda Prelude had been using FF for some years without showing any negative effects on driving dynamics.

On the contrary to believe, the FF layout did not hamper its handling. Thanks to the use of a more advanced rear suspension, which consisted of a MacPherson strut, two transverse lower links and a trailing link, the car actually drove very well. The stiffened chassis and diagonal front tower braces also helped to have its front-drive character all but eliminated. There was neither torque steer nor excessive understeer, just a gentle and progressive understeer built up when approaching cornering limit. Lift off mid-corner and the nose would tuck-in a little bit. The turn-in was crisped, the traction and grip abundance and the chassis balance was so good that one could hardly tell which axle it drove.

The engine became a 2.0-liter DOHC 16-valve with electronic fuel injection and T-VIS variable intake system (to boost low-down torque) which offered 150 horsepower and 130-plus mph potential. It was responsive to throttle and willing to rev to 7300 rpm, if quite noisy approaching that speed. Lightweight clutch, gearshift and steering, accompanied with a supple ride, made the Mk4 easy to live with.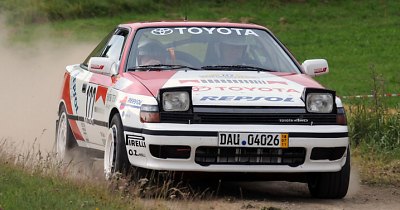 Celica GT-Four
Thanks to the Safari success in the last generation, Toyota stepped up its effort in WRC and designed the Celica GT-Four for homologation. It employed a 4-wheel-drive system with viscous-coupling center differential and 50:50 torque split. The 2-liter 16V engine got turbocharged and intercooled to produce 185 hp and 184 lbft in road trim out of a mild boost pressure of 0.5 bar. However, contemporary road tests found the GT-Four barely faster than the regular Celica, blame to the 250 kg weight penalty (according to official figures) and unnecessarily long gearing. This mean it rarely felt quick in the real world. The handling was also much inferior to Lancia Delta Integrale, blame to strong understeer, inert steering, weak brake and clonky gearshift. That said, the race version did bring Carlos Sainz the WRC driver title in 1990.


Sales of the Celica continued falling together with the market trend of coupes. Toyota tried to do something different to the Mk5: a radical styling. It looked almost like an extraterrestrial spaceship, but unfortunately human being didn't like it. Even more unfortunate was the radical styling sacrificed the excellent visibility and roomy interior of the old car, resulting in a compromised package. There were no technology breakthrough in the mechanical side. The main engine remained to be that 2-liter 16-valver, although T-VIS was replaced with ACIS variable length intake manifold. It produced a few more horsepower, but largely offset by the higher kerb weight. American version was even worse, weighing in excess of 1300 kg and its 130 hp 2.2-liter engine felt underpowered and thoroughly outclassed by the high-revving Honda Prelude and Integra. No wonder American motoring journalists did not like it. The chassis remained a balance between control and comfort, but it was hardly a leap from the old car.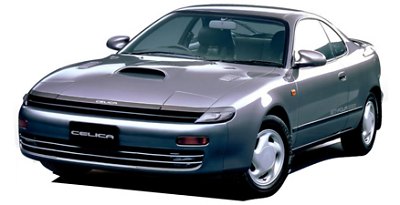 Celica GT-Four
Nearly as civilized was the new GT-Four. Toyota used it to win double WRC manufacturer titles in 1993 and 1994, and sealed the Driver titles with Sainz, Kankkunen and Auriol from 1992-94. However, the road car was far too tamed. Its engine got a twin-scroll turbo with higher, 0.7 bar boost to lift output to a claimed 225 hp in domestic market, 204 hp in Europe or 200 hp in the USA (where it was sold under the name "Celica All-Trac Turbo"). That seemed a lot before you consider its 1500 kg kerb weight. In fact, a couple of British magazines timed 0-60 mph slower than the regular Celica 2.0GT, and a top speed just marginally higher. American road testers reported the same sluggish feel. On the plus side, the engine had virtually no turbo lag to speak of, and it ran smoothly and quietly. The 4WD system now got a Torsen LSD at the rear axle thus its handling was surefooted. Ride quality was good, too. You wouldn't expect a 4WD turbo to drive like this. Toyota wasted an opportunity to excel on the fast rising 4WD turbo market.


After the failure of Mk5, the Mk6 Celica was determined to be simpler and lighter. Its styling was toned down a bit, although still hardly a handsome design. The chassis was widened and stiffened yet weighed 20 kg less than before. Higher spec model got a viscous LSD and a so-called "super strut" rear suspension, which used more sophisticated links and ball joints to keep camber ideal. As a result, the car got more nimble. Its handling felt tauter, with better grip and higher stability. Meanwhile, the 2-liter 16V engine got slightly higher compression and rev limit to enable 180 hp at home or 173 hp in Europe (American buyers was again served with an underpowered 2.2-liter, with only 135 hp). That made it a bit faster, if no where comparable to the turbocharged Nissan Silvia 200SX or VTEC-equipped Honda Prelude. Late model had its engine improved further to 200 hp thanks to the introduction of VVT-i and 11.0:1 compression ratio, but such a high state of tune could not comply with EU emission standards, thus it was bounded in Japan. The Celica was not bad to drive, but it was generally regarded as overpriced for the performance it offered.

The GT-Four model took similar improvements. It got slightly lighter and the aerodynamic drag was reduced to 0.31. An optional raised spoiler could increase downforce. The engine got a larger turbine to boost 0.9 bar, resulting in a remarkable 255 hp. European model was detuned to 242 hp due to the need to drink lower (RON95) octane fuel. Now it was truly capable of 0-60 mph sprint in less than 6 seconds, although the 152 mph top speed was hard to prove. The chassis benefited from the super strut suspension, front subframe and upgraded brakes. European magazines were generally impressed with the car, but they also found it was less explosive and less agile than the lighter Impreza and Integrale, hence less exciting to drive. In fact, its driving manner was more GT, i.e. smoother, more supple and more refined, even though it displayed excellent balance, traction, grip and braking. That said, it was unquestionably the best GT-4 of all.


Years after years of shrinking sales led Toyota to simplify the last generation Celica. There were only one body and 2 engine options, while the GT-Four was discarded. Compared with the first generation, its lineup looked ridiculously lean. However, the Mk7 was a good car indeed. In fact, I think it should have revived the nameplate if not the world had lost interest in affordable coupes.
Designed by Toyota's California studio, the new Celica looked striking. Its triangular headlights, contoured bonnet, central nose intake, fast angle screens and razor sharp shoulder line brought thrills back to the car, although the interior was a bit cheap. The chassis got lighter and its tuning sharper. Double-wishbone rear suspension allowed some throttle steer to play with, so it got more interactive with the driver. The all-aluminum engine lightened the nose, helped it to turn-in more keenly and balance better in corner. The sharp steering delivered a similar sense of enthusiasm, ditto the excellent brakes. People praised it for sharp and agile handling, something unheard before on Celica.
The base engine was a 1796 cc VVT-i with 136 hp, which delivered adequate performance for an entry-level coupe. More demanding drivers would opt for the Yamaha-built 1794 cc VVTL-i engine, which had Nikasil cylinder coating and a 2-stage variable valve lift mechanism to enable 8000 rpm revving and 180 horsepower. Yes, it was peaky. It lacked low-down pulling power, so you would not feel the extra power in normal driving. But it tempted keen drivers to stretch its rev and use all its 6 slick gears, and that was what cheap coupes supposed to be back in the good old days. In this way, it sounded more like the original Celica than any of the other 5 generations. No, it would not save the Celica from extinction, but at least it gave the nameplate a last shine and many regrets to car enthusiasts.