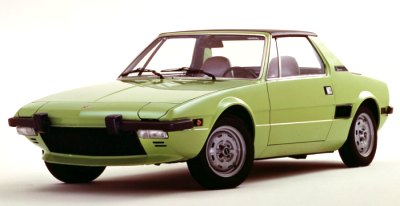 In 1972, Fiat stunned the world by introducing the world's smallest and cheapest mid-engined sports car, X1/9. It measured only 3.83 meters long and weighed 880kg. Powered by a 1.3-liter engine mounted amidship and drove the rear wheels. Its superb handling and exotic look won it the nickname "Baby Ferrari". What a pity in the following years it did not received the continuous development it deserved. Otherwise its success would have been greater…

Until the mid-1960s, mid-engined layout used to be reserved for racing cars or their thinly disguised street versions such as Porsche 550 Spyder and Ford GT40. In 1965, De Tomaso introduced the first truly road-going mid-engined sports car, Vallelunga. Then it was followed by Mangusta (1967) and Pantera (1971). Lotus, Lamborghini and Ferrari joined the battleground in 1966-67 with Europa, Miura and Dino 206GT respectively. However, all these cars were expensive and exclusive. In 1969, the first mass production mid-engined sports car was finally born - Porsche 914. In six years it sold 120,000 units, but the baby Porsche won little acclaims nor it set any new standards. While it was cheaper than the 911, it was not exactly affordable to most car buyers. This left an opportunity to X1/9.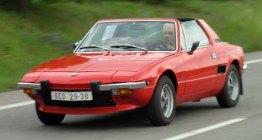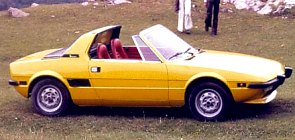 The name X1/9 had no special meaning – certainly no implication of "experimental" or the like. It was just a new model codename Fiat adopted in the late 1960s. At that time, Fiat had its 124 Spider selling well in the USA and Europe, so it was not very keen on developing another sports car. But the situation at Bertone was the contrary. You might remember the Italian coachbuilder was responsible for building the body and making final assembly for Fiat 850 Spider. As that car came near the end of its life cycle, Bertone needed to find another car to fill the space of its Turin factory. That car was the X1/9.

Apparently, the X1/9 was the brainchild of Bertone instead of Fiat. Bertone's chief designer Marcello Gandini penned a very aggressive and futuristic prototype, with his trademark wedge body shape and pop-up headlamps, a Targa roof and most important, mid-engined layout. No one could have thought of mid-engined layout for such a small and cheap car, but Bertone had a different view. It discovered that the contemporary Fiat 128 - Fiat's first front-engined / front-wheel-drive production car - had a very compact powertrain mounted transversely and drove the front wheels. This powertrain could be transplanted to the rear end of the X1/9 together with its space-saving MacPherson strut suspensions, so that the car became mid-engined and rear-drive. In this way, Bertone created the world's smallest mid-engined car at very little development and production costs. Very clever !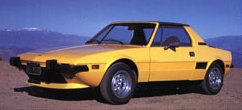 The clever packaging doesn't stop there. To liberate more space from the limited exterior dimensions, Bertone put the spare wheel behind the right seat and the fuel tank behind the left seat, just in front of the engine compartment. The engine compartment was also made as small as possible by putting the 128 engine more upright. As a result, X1/9 had two useful luggage compartments, one at the tail and one at the front.

Initially, Fiat wanted to build a convertible, but in order to pass the stricter crash protection requirements foreseeable in the USA, it was convinced a Targa would be a better solution. Gandini's design cleverly integrated the rollover bar beautifully with the car body. It also contributed to the immense strength of the chassis. Should the driver want to enjoy sunshine and fresh air, he could detach the roof panel easily and store it in the front luggage compartment.

With a strong chassis and mid-engined balance, no wonder every motoring journalist praised the X1/9 for great handling. Yes, its skinny tires weren't very grippy, and it was tail-happy on wet surfaces. But give it a dry road and you will see no contemporary rivals could match its steering response, feel and agility.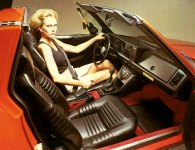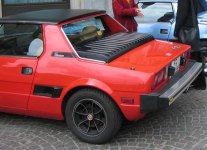 Unfortunately, the engine lacked power to match the superb chassis. From 1972-78, X1/9 was powered by the aforementioned 1290cc sohc engine from the bread-and-butter 128. It pumped out only 75 horsepower and propelled the car from standstill to 60 mph in nearly 13 seconds. Top speed was around 100 mph. Even by the standard of the early 1970s it was considered to be slow. By 1978, the engine was upgraded to 1498cc and 85hp, taken from Ritmo / Strada. Performance improved to 110 mph and 0-60 mph took 10.8 seconds. However, since then Fiat virtually stopped any development of the car. By 1982, Fiat stopped selling the car by itself and sold all the production tooling to Bertone. Bertone continued making the car under its name until 1988 without any major changes. A total of 166,000 X1/9s were produced in its 17 years life span. What a pity a great little car ended this way.

Autocar magazine concluded the X1/9 as "a truly great car unfairly ignored by Fiat". Another verdict from the same magazine: "A minor masterpiece at birth, X1/9 was never properly developed and was soon out-paced by faster rivals." How true that was ! In my opinion, Fiat's engineering chief Dante Giacosa had never took the brainchild of Bertone as seriously as his own creations. It got the greenlight just because Bertone found ways to develop and build it cheaply. Assuming it got the necessary investment, especially a dedicated twin-cam engine, it could have been an all-time great, bettering even Lotus Elan. Sadly, Fiat wasted a brilliant concept and let Toyota to realize its potential some 12 years later with MR2...