The 350i was also praised for a good chassis. Like the preceding M-series, it employed a multi-tubular backbone chassis, but it was stronger and had a 4-inch longer wheelbase. The front double-wishbone suspensions were largely derived from Ford Cortina, while the rear looked like a crossover between Jaguar and Lotus, with lower transverse links, a longitudinal radius arm and the drive shaft acting as upper link at each side. The gearbox and differential came from Rover and Jaguar respectively, while the steering again from Ford. British magazines praised the chassis for good rigidity, roadholding, poise, accurate steering and easy balance on throttle. On the downside, the steering kickbacked heavily on rough roads, and the ride was hard and jiggling on broken surfaces, which were not much of a surprise for a TVR. More surprising was the cabin, which looked fairly luxurious with polished wooden fascia, leather upholstery and comfortable seats. The manual soft top was also quite well engineered, being simple and easy to operate. Little buffeting was found at speed up to 110 mph. As a result, most customers opted for the roadster thus the liftback coupe died early. The 350i couldn't match Porsche for build quality and attention to details, of course, but it offered good performance and supercar styling for less money.
That was just the beginning. Next year, TVR introduced 390SE as the higher performance derivative. The stock Rover V8 was bored out to 3905 cc and fitted with lightweight Cosworth pistons, high-lift camshaft, higher compression ratio, lighter flywheel and free-flowing exhaust, lifting output dramatically to 275 hp and 270 lbft. Even though these numbers might be optimistic, its performance still gave Porsche 911 Carrera a serious run for the money. Meanwhile, the rear suspension was heavily modified to improve body control, while 225/50VR15 tires replaced 205/60VR15 to offer more grip. In 1988, the engine was enlarged slightly to 3948 cc and the car became 400SE.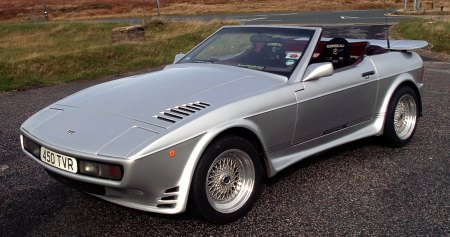 Even more exotic was the 420SEAC – its name stands for Special Equipment Aramid Composite. The body shell was constructed by the combination of Kevlar and carbon-fiber, saving a claimed 90 kg. The front overhang was shortened and restyled, flared wheel arches and skirts were added, as was a strange rear spoiler. The V8 was bored and stroked to 4228 cc, thanks to larger Cosworth pistons and a one-piece steel crankshaft. Output was claimed at 300 hp and 290 lbft, this time more credible because Fast Lane magazine recorded 0-60 and 0-100 mph in a 911 Turbo-beating 4.7 and 12.3 seconds respectively, even though the claimed 165 mph top speed was never verified. Being very powerful and lightweight simultaneously, the 420SEAC recalled our memory of the classic Griffith / Tuscan in the 1960s. Better still, it retained the fine drivability and usability of the regular 350i and 390SE. The only drawback was a harsh ride, blamed to the stiffer springs and inadequate damping. However, its £30,000 price tag – double of the 350i and equivalent to 911 Carrera – was probably too much for a TVR, so the car was extremely rare.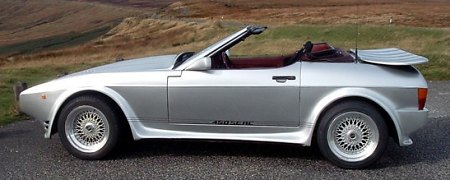 Even rarer was the 450SEAC. Basically the same as 420SEAC, but the engine was bored and stroked to 4441 cc, giving 324 hp and 310 lbft. It should be slightly quicker than the old car, although no media was offered the chance to test it.
The so-called "Wedge series" lived until 1991, when it was replaced with new Griffith and Chimaera. It would be remembered as one of the symbols of the 1980s British sports cars. In total, 2618 cars were built, among them 1390 units were equipped with V8.