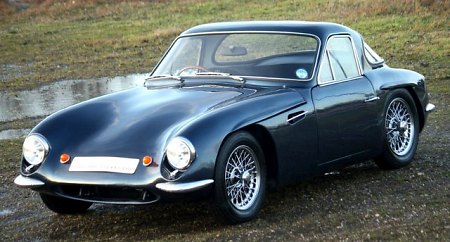 Grantura
Founded by self-taught engineer Trevor Wilkinson, TVR followed the footprints of Lotus in the early years. Its first successful model, Grantura, employed a lightweight tubular backbone chassis covered with glass-fiber body shell. It was small and extremely light at 700 kg. Like Lotus, power came from a variety of mass production engines to keep cost down, such as a Ford 1.5-liter, MGA 1.6-liter, Conventry Climax 1.2-liter sohc (which was also used in
Lotus Elite
) and later on MGB 1.8-liter. Performance was brisk rather than fast, but the handling was quite good, if not as good as Lotus. Early cars (from 1958 to 1962) employed Volkswagen-derived suspensions consisting of trailing links and torsion bars front and rear, which gave a rock-hard ride. Things improved from 1962 thanks to the switch to coil springs and double-wishbone suspensions. However, the TVR was still a minority choice as it was known for kit-car build quality and lack of practicality.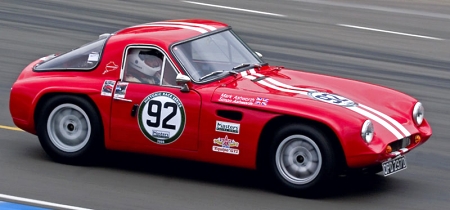 Grantura
The turning point emerged in 1963. American dealer Jack Griffith copied the idea of
AC Cobra
, installed a Ford 289 (4.7-liter) V8 into the Grantura and created something with unprecedented power-to-weight ratio. The resultant machine was named Griffith. Two states of tune were available – the lower one called Griffith 200 had 195 hp, while Griffith 400 utilized four barrel carburetors, higher compression and hotter cams to produce 271 hp. The latter's performance was claimed to be 160 mph and 0-60 mph in just over 5 seconds, which might be the fastest road car in the world then!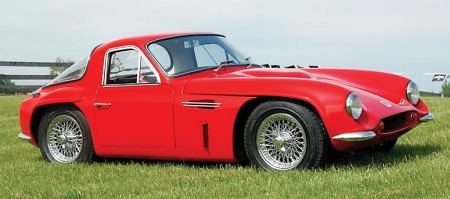 Griffith 400
The Griffith was as fast as it was scary to drive. Its power overwhelmed its chassis, whose lightweight, short wheelbase and quick steering didn't help to tame oversteer. Without any consideration of aerodynamics, it was also prone to instability at high speed. As a result, it should be driven with caution, especially when the road condition was not perfect. Besides, it had all the problems of an aftermarket supercar, i.e. cramped cabin, harsh ride, lack of thermal insulation and ventilation (which made the cabin extremely hot). What it did achieve was to establish the winning formula for TVR: lightweight, powerful engine and wild performance.
Tuscan V8
Much of the spirit of Griffith continued to live on its successor Tuscan. Its chassis and body were benefited from further development appeared on newer Granturas. Later cars also got longer wheelbase and wider body to improve handling. Motor magazine tested the 271 hp model in 1967, recorded 155 mph top speed, 0-60 mph in 5.5 seconds and 0-100 mph in 13.8 seconds, running very close to the brand new Lamborghini Miura for acceleration, if not top speed. Nothing else returned so much performance for so little money. Nevertheless, sales did not take off as the TVR was still underdeveloped and impractical compared with Porsche, Jaguar, Aston or Ferrari. It just lacked the image and build quality to compete in high-end segment.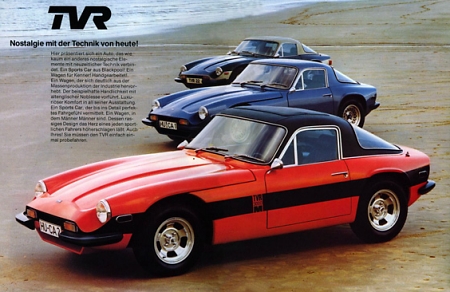 3000M
Therefore, it abandoned V8 power in the 1970s and concentrated on more affordable models. The new M-Series was named after the company's new owner Martin Lilley. Its chassis was completely new. Although still a tubular backbone structure, it was constructed as a lattice of steel tubes (or spaceframe) thus returned higher rigidity. It also got longer wheelbase and wider tracks. The styling was modernized, more in line with contemporary coupes like Nissan 260Z. Different levels of engines were offered: 1600M came with Ford 1.6-liter; 2500M got Triumph straight-six; 3000M was powered by Ford Capri's 3-liter Essex V6. With 142 hp on tap, the last one was capable of over 120 mph and 0-60 in 7.7 sec. In 1975, TVR installed the 3000M with turbocharger, boosting the figures to 230 hp, 140 mph and 0-60 in 5.8 seconds. It was a very quick, if flawed, sports coupe.
3000M Turbo
In fact, all TVRs were flawed. They were mostly fast machines for the money they asked for, but they also brought a lot of compromises to the driving experience, no matter in control, ride comfort, build quality or usability. These qualities became part of the genes of TVR and, strangely, made it all the more memorable after its demise in 2006.