Colin Chapman's first purpose-built road car did not last long - only 5 years and a little more than one thousand cars were built before it was substituted by Elan. However, Elite was unquestioanbly one of the greatest creations he ever made. This car had all the ingredients to be a classic - advanced technology, beautiful looks, great handling and motorsport success. Its rarity only made it more desirable to collectors.
Following the spaceframe chassis of Seven, Chapman applied an even more radical lightweight idea to Elite - glass-fiber monocoque chassis and body. While glass-fiber had been used extensively on boats, its application on motor cars was limited to outer skins (e.g. Chevrolet Corvette). Lotus Elite was the first car - as well as the last one, unfortunately - to use this material to construct the whole stressed structure. All the mechanical parts like engine, transmission and suspensions were bolted on the glass-fiber monocoque. This sounds as state-of-the-art as today's full carbon-fiber chassis.
The monocoque consisted of 3 layers - the bottom tray incorporated wheel wells and a front steel subframe for mounting the powertrain and front suspensions; the intermediate layer included interior panels and a steel cradle on which the doors were hinged; and lastly the outer body shell. They were glued together to form a stiff yet lightweight structure, enabling the Elite to weigh only 660 kg. Admittedly, thanks must also be given to its compact size and small engine.
The 1216 c.c. overhead cam engine was built by Conventry Climax, a manufacturer of portable fire engine pumps, no wonder it was so compact and lightweight. Its all-alloy construction, with aluminum cylinder head, block, crankcase and cam cover, went in line with Chapman's philosophy. It was also very powerful for its displacement. In basic form with a single SU carburetor, it was already good for 75 horsepower. With 2 SUs, most customers enjoyed 83 horses, a 115 mph top speed and 0-60 mph in 11.4 seconds. Racing versions with Weber carburetors offered up to 105hp and 130 mph was possible on Mulsanne straight of Le Mans, enabling the Elite to win its class 6 years in a row from 1959-64.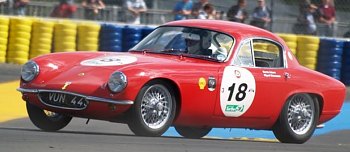 Such a top speed was made possible by its aerodynamic efficient body. Believe or not, the Elite was designed by Lotus' accountant Peter Kirwan-Taylor. Aerodynamicist Frank Costin (who would be known as the "cos" of Marcos) refined its shape to minimize drag. Many years later people found its coefficient of drag was only 0.29, a figure that would be impressive even today ! let alone in the years without wind tunnel testing. The work of Kirwan-Taylor was also praised for beauty. Compare with contemporary British sports cars like Austin-Healey, MG or Jaguar, the Lotus was a refresh to eyes thanks to its sleek nose, low shoulder line and purity. Even compare with Ferrari 250GT SWB, designed by none other than Pininfarina, Elite was prettier still. No wonder many regard it as one of the best looking cars of its time.
Apart from chassis, Elite was advanced in just any aspects. It was among the earliest cars to employ all independent suspensions and all wheel disc brakes. Its front suspensions were similar to those of the Seven, i.e. comprised of lower wishbones and anti-roll bars which doubled as the upper link. Rear suspensions were "Chapman struts", i.e. vertical coil spring over damper units. We would refer it to MacPherson struts today, but since no one had used this design on the driving axles then, Chapman got it named otherwise. The independent rear suspensions gave Elite an unusually supple ride. On the other hand, its roadholding, steering and braking were all first rate, setting a high standard for its successors to follow.
After the raw Seven, the Elite's proper cabin was surprisingly livable. It had proper space, leather seats, carpets and clear instruments. On the downside, the plexiglass windows could be opened only by detaching them, because the curvy doors could not accommodate winding mechanisms. Besides, drivers had to put up with its excessive noise and vibration resulted from bolting mechanical parts directly on the glass-fiber monocoque. Needless to say, as a racing engineer, Chapman did not pay much attention to NVH. Another problem was maintenance. Many Elites were put to extreme stress in motor racing. This might cause fatigue to the glass-fiber chassis hence costly repair.
Lotus also found its production problematic. Since the mounting points of suspensions and transmission required very tight tolerances, which was a nightmare for glass-fiber manufacturing of the time being, Lotus actually scrapped many out-of-specification chassis. Others had to be corrected with intensive care. As a result, the Elite was built at a loss. That was why after 1048 cars built, Lotus decided to stop and turn its vision to a more conventional, cheaper to produce successor, Elan.