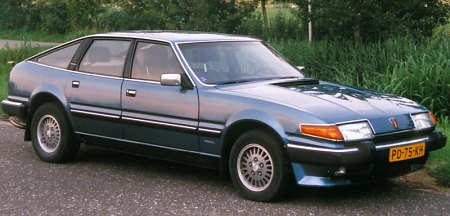 Unbelievably, the last time a British car winning the European Car of the Year award was in 1977. It was Rover SD1, which was also called Rover 3500 to reflect its engine capacity. The SD1 succeeded Rover P6 to be British Leyland's mass production large executive cars. It was positioned below Jaguar and Mercedes but at the same level as the large car offerings of Citroen, Renault, Ford and Opel/Vauxhall.

Mass production British cars rarely excelled on international level because of their conservative designs and use of technology. In contrast, the SD1 was radical. Its styling was inspired by not other luxury cars but contemporary exotic GTs like Ferrari Daytona (obvious in its headlights) and Maserati Indy (low and sleek proportion), although you might argue whether it delivered the same visual impact. There was a little bit Citroen CX (another advanced design of the time) in its fastback form, but the SD1 was even more radical as it had a real tailgate (whereas Citroen had a conventional boot lid) and folding rear seats to ease the access to luggage compartment. Moreover, it employed a V8 engine to match its sporty look. All these mean the car was unusual for its time and its class.

In fact, the V8 engine was not a new introduction. It was originally developed in Detroit by the Buick division of General Motors to power its compact cars Buick Special, Oldsmobile F-85 and Pontiac Tempest. Unusually for an American pushrod V8, it was small (just 215 cubic inches or 3528 cc) and lightweight (thanks to aluminum heads and block). However, having served those cars for only 3 years, it was abandoned in 1963 in favour of a cheaper iron-block V8. Attracted by its compactness and lightness, British Leyland bought its rights, modified it and transferred its production to the UK. The now "Rover V8" was first introduced to Rover P5, then P6 and eventually SD1. By the way, it would continue to serve countless of Land Rover, TVR, Marcos and Morgan in a life spanning nearly 40 years!

The early engine on SD1 was good for 155 horsepower. While this was not necessarily stronger than the competitor's overhead-cam six-cylinder engines, its torque delivery was far superior, especially at low rev. This allowed the SD1 to install taller gearing to achieve excellent cruising refinement.

The rest of the car was more conventional. While some rivals had switched to all-independent suspensions, the Rover settled with live-axle at the back, although it employed Watts link to keep handling tidy and self-leveling dampers to reduce the influence of load. Overall, its ride and handling was competent. The rack-and-pinion power steering was praised for precision and lightness.

Less good was the cabin, which could be cramped for taller passengers. The air conditioning – though a rare standard feature for its days – had its outlet strangely located in the middle of the glove box area, so it blew cold air directly to the face of front passenger. Moreover, like all British Leyland cars of the time, it was hampered by poor build quality and unreliable electronics. These factors limited its commercial success, even though the ECOTY title already made it famous.

In 1982, Rover facelifted the car and introduced the hotter version, Vitesse (means "speed" in French). Apart from go-faster rear spoiler and deep air dam it had the V8 improved with electronic fuel injection, higher compression ratio, larger ports and freer exhaust. Output was lifted to a remarkable 190 hp, enabling the car to do 0-60 mph in a class-leading 7.1 seconds and 0-100 mph under 20 seconds. The aero modifications reduced its drag from 0.405 to 0.36, allowing a top speed of at least 132 mph. Besides, the suspension was stiffened and lowered by 1 inch to improve handling. The Vitesse was as fun to drive as a large 5-passenger car could be. Meanwhile, its racing version run by TWR also did well in European touring car championship, fighting against Jaguar XJS and Volvo 240 turbo extremely hard. To these days, many British motorists are still proud of what the SD1 / Vitesse achieved. It was the last true Rover before the company got influenced by Japanese yen and German deutschmark, and what a beautiful swan song to the British Leyland era!