| | |
| --- | --- |
| Published on 6 Sep 2014 | All rights reserved. |

Many people still have a fond memory of the original Twingo: it was cute, roomy, cheap and, most important, looked innovative with its monospace (aka one-box) design. No wonder it could survive for 14 years and sold 2.4 million copies. Unfortunately, such success was not repeated by Twingo II, which lost the innovative styling together with the love of people. Admittedly, the competition in A-segment also got a lot more intense during the period. Now Fiat 500, the Koreans (i10 and Picanto), the trios of Volkswagen group (Up, Mii and Citigo) and Toyota-PSA (Aygo, 107 and C1) have entered the market. Renault found it increasingly difficult to make a business case for the next generation Twingo. Undoubtedly, some drastic changes have to be made.

To increase income, the Twingo III may learn from the successful story of Fiat 500 – it could appear funky and slightly retro (how about some styling flavours of the classic R5 turbo?) so that it could be seen as a reborn icon and command higher prices. Moreover, by offering a lot of customization the average transaction price could be lifted further. On the cost side, the old car was already produced in Slovenia to cut costs, so any further cost savings shall go through platform sharing. Thankfully, after some lengthy discussions Le Cost Killer finally forged a partnership with Daimler group, whose Smart brand also needs a helping hand. As a result, the Twingo III is destined to be the sister of new Smart Forfour and a close relative of new Fortwo (which sits on a shorter wheelbase). One important influence from the Smart is the switch to rear-engine, rear-wheel-drive layout, and this proves to be game-changing.


Tell me how many new cars introduced in the past 30 years had their engines mounted at the tail. If you disregard Porsche 911 or the electric BMW i3 and Renault Twizy, only 3 cars did that – Smart Fortwo, Mitsubishi i and Tata Nano. Ironically, none of them were considered to be commercial success. Myself have a sweet spot on rear-engine layout. Theoretically, this is a superior packaging than the usual FF layout, because by freeing up the nose you get a bigger crumple zone to deal with modern crash protection requirements. As a result, it can spend less length on the front overhang, pushing the front axle and firewall forward to free up cabin space. And you know, space efficiency is most crucial on A-segment small cars. Yes, the rear-mounted engine does rob luggage space, but passenger space should always be placed on a higher priority than luggage space. After all, A-segment city cars are not supposed to carry a family of four and their luggage for long journeys.

The Twingo III did a good job in the conversion to RR. Outside, it looks quite pretty, although it is not so obvious where the engine sits. In terms of packaging, the RR layout pays off. The new car is 105 mm shorter than its predecessor yet it is able to have its wheelbase stretched by 125 mm and add a pair of rear doors. The cabin length is boosted by a massive 220 mm, so that the rear seats are finally good for adults. Its rear legroom is best in class, although its cabin width is not as generous as some Korean steel. The driver sits MPV-high thus visibility is excellent. The dash and the overall interior design are definitely more interesting than the usual Renault standard, but I would say Fiat 500 and the forthcoming Smart still have upper hands. Plastic quality is moderately good rather than impressive.


By tilting the 3-cylinder engine by 49 degrees from vertical position, Renault managed to reduce its intrusion to the boot by 15 cm, so its 188-liters of luggage room is not as bad as expected. The boot floor is inevitably higher than the norm of front-engined cars, but this means it has the same height as the load lip thus it is easy to slide heavy luggage into and out of the boot. By flipping the 50/50-spit rear seats you get a completely flat load bay of 980 liters. Furthermore, you can fold the front passenger seat back in MPV-style to carry really long items.

Another merit of the rear-engine layout is maneuverability. As the front compartment is free of engine (it accommodates the water tank and radiator only), it enables wider wheel well thus the front wheels can pivot up to 45 degrees, versus 30 on the old car. This allows a class-leading turning radius of 8.9 meters, which is very useful in tight parking spaces.

Enough packaging, but how does the car drive? To fight against the rear-biased weight distribution of 45:55, the Twingo III opts for Smart-style de Dion axle rear suspension which controls camber more tightly than the usual torsion beam. It also builds more understeer into the suspension geometry, accompany with tire choices that favour understeer (the front tires are narrower than the rear). Consequently, the Twingo not only shows none of the scary oversteer traditionally associated with rear-engined cars, it is even a bit too secured (read boring) to drive. More so than some FWD small cars, it is destined to strong understeer when pushed. The front tires always wash wide earlier than you want. In fact, a Volkswagen Up is more eager to steer and grips harder in corners. The Twingo's numb electrical power steering, vague brake pedal and high driving position don't help, too.


Drive more leisurely in town as most motorists do, you will find the Twingo III good enough to trouble most rivals. It is easy to steer. It rides well enough. It is quite hushed and stable when cruising on highway. The performance it offers is adequate. You have 2 choices of engine: the base model runs a 1.0-liter VVT naturally aspirated three-cylinder by Mitsubishi (it comes from the outgoing Smart Fortwo), offering 71 horsepower. The premium choice is Renault's own 0.9 TCe three-cylinder turbo with 90 hp and 100 lbft of torque. However, it is neither as punchy nor as flexible as the more sophisticated Ford 1.0 Ecoboost. More turbo lag at the low end, more noise at the upper end and a mushier throttle response in particular. The 5-speed manual gearbox isn't the slickest, and the clutch take up is vague. These flaws and the aforementioned chassis setup rob the Twingo III the chance to inspire keen drivers.

That is quite disappointing, considering the switch to RR layout could have given the Twingo an opportunity to redefine the dynamics of small cars. If Renault was willing to take a more adventurous approach – remember, there is always the safety net provided by the now mandatory ESP – it could have produced a 911 kind of mini car and rewrite history. Still, the Twingo III is a marvel of packaging – something so small outside yet so accommodative inside, with big-car refinement to spare. It is still worth considering by every one looking for a small city car.

Verdict:




| | |
| --- | --- |
| Published on 2 Dec 2016 | All rights reserved. |
Twingo GT


Remember the RS (Renault Sport) version of the last generation Twingo? Its talent was one-dimensional, but nonetheless fun to drive, albeit in an old-school way. The new Twingo GT does not get a Renault Sport badge, but it is actually engineered with the help of RS division. In the chassis, its suspensions get 40-percent stiffer springs, stiffer dampers, thicker front anti-roll bar and 20 mm drop of ride height to reduce pitch and roll. The electric power steering is now variable in ratio. The ESP program has been remapped to intervene later, although it still cannot be switched off. The tires remain the same width as the existing 90 hp model, but they grow to 17-inch, so grip is enhanced a little. The engine remains to be that 898 c.c. 3-cylinder turbo, but it gets a larger turbo, revised intake, twin-exhaust and an additional cooling intake opened above the left rear wheel. The result is 20 extra horsepower and 25 lbft more torque. Despite that, the total is merely 110 hp and 125 lbft. If all these sound familiar, it is because the Twingo's sister car, Smart Forfour, got most of the same treatment in its recent Brabus upgrade.

Producing 24 less horsepower than the class-leading Suzuki Swift Sport, the Twingo GT is hard to win the hearts of keen drivers. Worse still, it feels uninspiring to drive. The small, heavily boosted turbocharged motor is laggy, and its power delivery is concentrated at mid-range, lacking flexibility low down as well as a sweet-revving manner at the top end. Even at its best, the performance it delivers is modest. 0-60 mph is claimed to take 9 seconds. Moreover, Renault's 3-pot motor does not appeal to ears like Ford's 1.0 Ecoboost or Volkswagen 1.0 TSI. It is a rather boring machine. Fuel economy is not great either, with EU emission quoted at 115 g/km.

Likewise, the chassis lacks sparkles. To avoid the heavier tail to overwhelm the front, Renault continues to adopt a safe approach to its chassis and ESP tuning. This means it still runs into understeer too early. Meanwhile, the pitch and dive is not sufficiently suppressed. Roll degree is still way too much for a hot hatch. The steering might get variable-ratio, but it still delivers no feel at all to your hands, nor there is any discernible difference in weighting through the corner. Hot hatches cannot get more frustrating to drive.

But then Renault may argue that it is a GT rather than a hot hatch. Come on! Grand Tourers are those big, powerful coupes good at cross-country trips on wide open highway. The Twingo GT is no GT by any means. Like the rest of the range, it is purely a city car, albeit a slightly faster one. It is not even designed for back-road blasts. If you had hoped for a reborn 5GT Turbo, then you might be deeply disappointed.

Verdict:











Twingo 1.0



2014

Rear-engined, RWD
Steel monocoque
Mainly steel
3595 / 1646 / 1554 mm
2492 mm
Inline-3

999 cc
DOHC 12 valves, VVT

-
-
71 hp

67 lbft

5-speed manual

F: strut
R: de-Dion axle

-
F: 165/65R15
R: 185/60R15

865 kg

94 mph (c)
13.5 (est)

-

Twingo 0.9 TCe



2014

Rear-engined, RWD
Steel monocoque
Mainly steel
3595 / 1646 / 1554 mm
2492 mm
Inline-3

898 cc
DOHC 12 valves, VVT

Turbo
-
90 hp

100 lbft

5-speed manual

F: strut
R: de-Dion axle

-
F: 185/50R16
R: 205/45R16

943 kg

103 mph (c)
10.2 (c)

-

Twingo GT



2016

Rear-engined, RWD
Steel monocoque
Mainly steel
3595 / 1660 / 1538 mm
2492 mm
Inline-3

898 cc
DOHC 12 valves, VVT

Turbo
-
110 hp

125 lbft

5-speed manual

F: strut
R: de-Dion axle

-
F: 185/45R17
R: 205/40R17

980 kg

113 mph (c)
9.0 (c)

-









Performance tested by: -









General models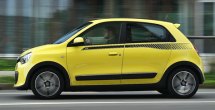 GT

Copyright© 1997-2016 by Mark Wan @ AutoZine