Location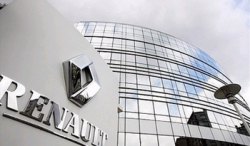 Headquarters: Boulogne-Billancourt, Paris.
Technical Center: Guyancourt

Main plants:
France: Douai (Scenic), Flins (Clio, Zoe), Maubeuge (Kangoo), Sandouville (Laguna, Espace), Dieppe (Renault Sport).
Spain: Palencia (Megane), Valladolid (Captur, Twizy)
Romania: Pitesti (Logan, Sandero, Duster)
Slovenia: Novo Mesto (Clio, Twingo)
Turkey: Bursa (Clio, Megane, Fluence)
Russia: Moscow (Megane, Fluence, Logan, Sandero, Duster)
South Korea: Busan (SM3, SM5, SM7, QM5)
China: Wuhan (Kadjar)
Brazil: Curitiba (Megane, Logan, Sandero, Duster)
Argentina: Cordoba (Clio, Kangoo, Fluence)
Morocco: Casablanca (Kangoo, Logan, Sandero), Tangiers (Lodgy, Dokker)

Sales figures

Renault-Nissan-Mitsubishi Alliance sales:
2018: 10,756,875 units
2017: 10,608,366 units
2016: 9,961,347 units (Mitsubishi joined)
2015: 8,528,887 units
2014: 8,470,610 units
2013: 8,266,098 units
2012: 8,097,197 units
2011: 8,029,222 units
2010: 7,276,398 units
2009: 6,085,058 units
2008: 6,090,304 units
2007: 6,160,046 units
2006: 5,911,171 units
2005: 6,131,000 units

Renault group sales (Renault + Dacia + Samsung):
2018: 3,884,295 units
2017: 3,761,634 units
2016: 3,182,625 units
2015: 2,801,592 units
2014: 2,712,432 units
2013: 2,628,208 units
2012: 2,550,286 units
2011: 2,722,062 units
2010: 2,627,365 units
2009: 2,309,188 units
2008: 2,382,243 units
2007: 2,484,472 units
2006: 2,433,372 units
2005: 2,534,691 units
2004: 2,490,337 units
2003: 2,388,482 units
2002: 2,403,975 units
2001: 2,413,038 units
2000: 2,441,801 units

Renault brand sales:
2018: 2,532,567 units
2017: 2,670,989 units
2016: 2,487,309 units
2015: 2,170,644 units
2014: 2,121,216 units
2013: 2,131,494 units
2012: 2,124,773 units
2011: 2,261,271 units
2010: 2,115,880 units
2009: 1,861,389 units
2008: 2,019,274 units
2007: 2,134,484 units
2006: 2,115,176 units
2005: 2,249,995 units

2017 sales by models:
Twizy: 1,750 units
Twingo: 82,287 units
Clio: 441,087 units
Zoe: 31,932 units
Megane + Scenic: 337,841 units
Fluence/SM3: 14,187 units
Latitude/SM5: 7,470 units
Talisman/SM6: 83,539 units
Espace: 18,686 units
Kwid: 124,807 units
Captur/QM3: 246,220 units
Kadjar: 154,898 units
Koleos/QM5: 76,264 units
Kangoo: 160,034 units
Logan: 341,986 units
Sandero: 501,258 units
Duster: 324,066 units
Dokker: 90,269 units
Lodgy: 43,393 units
SM7: 5,932 units

Reference:
By models: https://group.renault.com/en/finance-2/financial-information/key-figures/monthly-sales/

Brief History

Like Henry Ford, the young Louis Renault was a self-taught engineer fascinated with the idea of motor cars. He built his first car in 1898 and founded his company with the financial support from his elder brothers, Fernand and Marcel. 6 cars were made that year. This rose to 179 cars in 1900 and then nearly 1500 cars a further 5 years later, thanks to a contract for supplying Paris taxis.

Having visited Henry Ford in America and saw the expansion of arch-rival Citroen, Louis Renault followed suit to apply mass production lines to his factory in 1922. As a result, production surged to 25,000 cars in 1924. Renault became one of the major car makers in the world.

Unlike Citroen, Renault built a wide range of vehicles, from small cars to luxury cars, also vans, trucks, buses and even tanks. During both World Wars, like many other car makers, it was transformed to produce military vehicles and aero engines. In the WW II, it was occupied by German forces (so was the whole France) and worked for the German army. As a result, after the war Louis Renault was found guilty and was sentenced. Just 20 days later, he died in prison.


Renault 4CV (1947-61)



Therefore the company was nationalised. The government-appointed new boss continued expanding the factory and introducing new cars, also eliminated the wide-range policy in pre-war era. The sole mass production model became 4CV, which was a rear-engined small car. It was immediately successful in the market place, with 1.1 million units sold between 1947 and 1961, earning crucial foreign currency for France.

The 4CV was succeeded by Renault 4, a front-drive roomy small car. It was seen as a more upmarket alternative to Citroen 2CV, but it was proved even more popular - 8.1 million units were built from 1961 to 1993, making it the most popular French car in history. Another successful model, Renault 5, was launched in 1972 as its first supermini.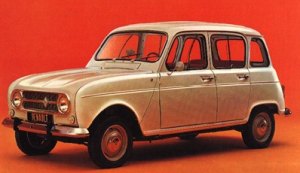 Renault 4 (1961-93)



Since the late 1960s, Renault had reverted to multiple models lineup to pursue further sales growth. Production rose from 500,000 units in 1963 to 1.3 million units in 1975. By 1981, Renault became the largest car maker in Europe, with a production rate of 2 million cars annually and a workforce of over 200,000 people, albeit more people than necessary. At its peak it sought expansion to the US market by taking over AMC (American Motor Corporation) and Mack truck. It expanded to Scandinavia by taking minority stakes in Volvo Cars. It also entered F1 racing with its trend-setting turbocharged race car.

However, the expansion did nothing to help the company but ate into its cash flow. Although its European cars were still popular, the state-owned Renault was hampered by its size and the general lack of efficiency, the latter was due to the powerful unions and political influence from the left government. It recorded heavy loss in 1984. The government appointed a new chairman, Georges Besse, to restructure it. He made radical decisions to cut some 21,000 workers, sell all non-core businesses (including AMC and Volvo) and terminate the F1 program. The reform was strongly confronted by strikes and eventually ended in tragedy - Besse was murdered in 1986. Nevertheless, his successor continued the reform and turned Renault into black again.


1984 Renault Espace



In 1980s and 1990s, Renault introduced some innovative new models, such as Twingo, Espace and Scenic. Its new Clio and Megane range also sold very well and helped it to regained prosperity. In the management side, Renault planned a full merger with Volvo since 1990 as they realized collaboration would be necessary to fend off stronger competition. Nevertheless, the plan eventually failed because of the opposition from Swedish shareholders and the political difficulties within the French government, i.e. both wanted to take control of the merged company.

Louis Schweitzer took over the top job in 1992 and pushed for privatizing the company, which was the only way to lift its long term competitiveness. A few years later, the French government reduced its stakes to 15.7%. Since then Renault was free to make decisions for the best of its own interests. Carlos Ghosn, the no. 2 man under Schweitzer, simplified Renault's purchasing and supply chains by promoting common components and platforms. This earned him the nickname "Le Cost Killer".


1992 Renault Twingo



In 1999, Renault made a brave decision to acquire 36.8% stakes in the troubled Nissan (later increased to 44.4%) to form the 4th largest car group in the world. Carlos Ghosn was transfered to Japan. He used his cost killing know-how to turnaround Nissan. Nissan went back to profit in less than 2 years and cleared its debt in 3 years. It earned huge profits for Renault and became its most valuable investment ever. The success put Ghosn to the top position of the whole Renault-Nissan group.

Apart from Nissan, Renault also acquired Romanian car maker Dacia in 1999 and Korean car maker Samsung in 2000 to strengthen its production and market base. In 2016, the group added Mitsubishi under its umbrella.