Even before Porsche became a sports car manufacturer, it was already a renowned automotive engineering consultant. Professor Ferdinand Porsche designed a lot of great cars for other manufacturers – many of which are covered by this classic car archive – such as Mercedes S / SS / SSK, Auto Union's mid-engined V16 GP car and NSU's People's Car (which would become Volkswagen Beetle). His consultant company, which had a strange name "Dr. Ing. h.c. F. Porsche GmbH", was founded in 1931 at Stuttgart. However, it was not the old Ferdinand, but his son Ferry, who transformed the company into a sports car maker.
After WWII, Prof. Porsche was jailed by the French because of his involvement in the design of military vehicles and aero engines for the Nazi government. Ferry Porsche took over the leadership of the family business. It goes without saying life was difficult then. The Stuttgart facility was occupied by the French. Porsches had to move back to their home town Gmund of Austria. Finance was poor, and Ferry had to raise money to save his father. Fortunately, he received a commission from Italian car maker Cisitalia to design a GP car. This project not only solved his financial problem but also gave Ferry a valuable chance to develop his engineering talent. Perhaps most important, it let him saw the new
Cisitalia 202
, which would inspire him to build his own sports car. Cisitalia faced the same difficulties as Porsche, but it overcame them cleverly by building the 202 on mass production Fiat components, embodying them with a lighter and more aerodynamic body and tuning the engine to give more power. Porsche could do the same, albeit based on the mass production Volkswagen which was arguably a Porsche product as well. Parts supply was guaranteed as Porsche had a good relationship with VW and it even got the distribution right of VW in Austria. As a result, project 356 was opened.

In 1948, the first production car bearing the Porsche name was introduced. It employed Volkswagen's rear-mounted 1100 cc air-cooled flat-four engine together with swing-axle rear suspension and torsion-bar front suspension. The chassis was a unitary construction like VW but clothed with aluminum sheets. The engine was modified with new cylinder heads, larger valves and higher compression, raising output from 25 hp to a still hardly impressive 40 hp. Nevertheless, the car was unusually light at 745 kilograms, and its streamline shape generated little air resistance – many years later a 1950 356 Coupe was found to have a drag coefficient of only 0.296! Therefore its performance was respectable. As reported by Autocar in April 1951: "The acceleration above 50 mph is quite beyond what would be expected from the engine size, and is achieved in extraordinary quietness." Admittedly, its combination of rear-biased weight distribution and swing-axle suspension could lead to dramatic oversteer which needed special driving skill to tame.
The early 356 was built in Gmund of Austria by hands. Only 51 cars were completed in the first 2 years. By 1950, Porsche moved back to Stuttgart and the car was redesigned for easier production. The aluminum skins were replaced with steel ones (which gained a little bit weight), while the shape was altered a little. 356 was quickly known for impeccable engineering and build quality. This enabled it to overcome its high price – especially versus the more affordable
Jaguar XK120
– and won sales. The original target of 500 cars across its whole life was quickly surpassed. By March 1954, it built the 5,000th car. In terms of sales, the Porsche and the Jaguar dominated the global sports car market in the whole 1950s.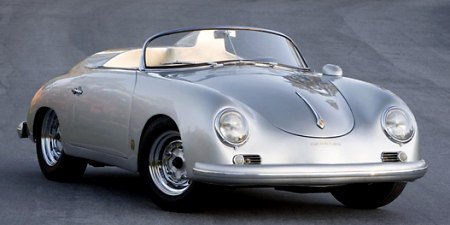 Continuous improvement was also a key to its success. Porsche updated the 356 nearly every year – not unlike the American way, but its modifications were more than style. Power was improved by introducing larger engines, i.e. 1300cc (44hp), 1500cc (60hp) and eventually 1600cc (75hp). Besides, hotter tunings like higher compression ratio and roller crank bearing were introduced to create more powerful derivatives called "Super", such as 1300S (60hp), 1500S (70hp) and 1600S (90hp), the latter enabled a top speed of nearly 120 mph in Coupe form. Meanwhile, the chassis was upgraded, too, distinguished with designation 356A, 356B and 356C. Fully synchromesh gearbox (patented by Porsche itself) and disc brakes were introduced. Both Coupe and Cabriolet bodies were offered. Besides, a lightweight cabriolet called Speedster was created thanks to the suggestion of influential American importer Max Hoffman (note: American snapped up the majority of Porsche's production, so it would be foolish not to listen to their requests). It featured a cut-down windscreen, a simple canvas top and a spartan interior for lighter weight and a lower price. In this purest form the 356 was the most beautiful.
The hottest model was Carrera, named to celebrate Porsche 550 Spyder winning the Mexican road race Carrera Panamericana. It employed a quad-cam DOHC flat-four engine adapted from that race car. The early version produced 100 horsepower from 1500cc, then upgraded to 1600cc with 115 hp and eventually 2000cc with 130 hp. It would be the fastest and ultimate 356, though extreme cost limited its sales.
Throughout the evolution, 356 differentiated further and further from its Volkswagen roots. Eventually it shared virtually no parts with the latter. Its sales also piled up gradually, peaking at 9700 cars in 1963. After 17 successful years and 76,303 units built, the first Porsche retired in 1965. However, its influence continued, as it had established an unmistakable body shape and an evolutionary development approach for its successor 911 to follow.