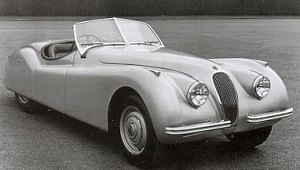 Jaguar XK120 was probably the most significant British sports car in history. While many regarded its William Lyons design as one of the greatest ever drawn, its achievement was far beyond that. Never before a production sports car combined such a beauty, superb engine and strong performance at such a low price. To the middle-class European and American, it represented a dream come true. Even Jaguar itself was surprised of its sales success – from 1948 to 1954 it sold 12,000 XK120s, far more than the original target of a few hundred cars !

The success came as a surprise because XK120 was originally not in its plan. After the second world war, Jaguar wanted to build a big saloon called Mark VII. For this application it designed a very advanced straight-six engine called "XK6", which had twin-overhead camshafts for fast breathing. The 3.4-liter unit produced as much as 160 horsepower in a smooth and free-revving manner. However, when it was completed, the saloon was still a few years away from production. Rather than putting it on shelf, William Lyons decided to install the XK6 engine into a new sports car which would be doubled as the test bed for this engine. The result was XK120, whose number implied its maximum speed in mph.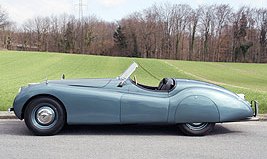 According to Autocar's road test, the XK120 could reach 121 mph and accelerate from 0-60 mph in 9.9 seconds. Other publications like Motor and Road & Track measured similar figures. Such performance was by all means stunning for a mass production sports car then. Not only faster than all competitions, the Jaguar amazed people by its affordable price, which was only £1,140. For comparison, Porsche 356 cost £1,971 at that time !

Admittedly, the Jaguar saved money by using conventional technology in its chassis - ladder frame, steel separate body and live axle rear suspensions on leaf springs. It handled and rode well by the standards of those days, though the fans of Porsche 356 criticized its heavy steering and drum brakes.

In the following years, XK120 evolved to XK140 and XK150 accompany with more powerful engines. Its racing version XK120C, or more commonly known as C-type, won Le Mans twice in 1951 and 1953. Production of the whole series ended in 1961 when E-type arrived. However, its XK straight-6 continued to evolve and serve other Jaguars until the early 1990s, spanning across more than 40 years !