Cisitalia 202 (1947)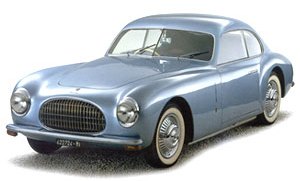 Cisitalia was a short-lived Italian sports car maker from the late 40s to early 50s (it survived for just 5 years) but its 202 was one of the most influential designs in automotive history. Look at the picture, compare with other contemporary sports cars, can you tell me the main differences ?

The answer is: its fenders and headlamps were fully integrated with the smooth body while the passenger compartment engaged the full width of the car. It bridged between pre-war and post-war car design thus had a unique status in automotive history. The car was designed by Pinin Farina and earned him the fame as a design maestro. Many people regarded it as one of the most beautiful cars ever built. One of its admirers is New York's Modern Art Museum, which has one of the rare surviving 202s on permanent display. To me, what it impresses me is the influence on subsequent car design - today, all cars still feature its invention.



Cisitalia 202 employed a very advanced tubular spaceframe chassis originally designed for its Grand Prix car. This preceded the famous Maserati Birdcage a few years. However, other mechanical parts were sourced from Fiat's mass production models for cost reasons, including the 1100 cc four-pot engine (tuned up to 55-65hp), 4-speed transmission and suspension bits. At the time Europe was yet to be recovered from WWII, so Cisitalia could not afford to develop its own mechanicals. Luckily, the lack of power was compensated by a lightweight and aerodynamic efficient body, enabling a top speed close to 100 mph.

Cisitalia 202 not only influenced design trend, it also inspired Ferry Porsche in the creation of 356. Porsche once worked for the Cisitalia GP car project. After that he went back to Germany and designed the 356 using Cisitalia's concept - a smooth and lightweight body enclosed Volkswagen's mass production engine, running gears and suspensions.

Specifications
| | |
| --- | --- |
| Model | Cisitalia 202 |
| Year of production | 1947-52 |
| No. produced | 170 units |
| Layout, Gearbox | Front-engined, Rwd, 4M |
| Engine | Inline-4, ohv, 2v/cyl |
| Capacity | 1089 cc |
| Power | 60 hp |
| Torque | N/A |
| Weight | 765 kg |
| Top speed | 97 mph (approx) |
| 0-60 mph | N/A |
---
Copyright© 1997-2009 by Mark Wan @
AutoZine