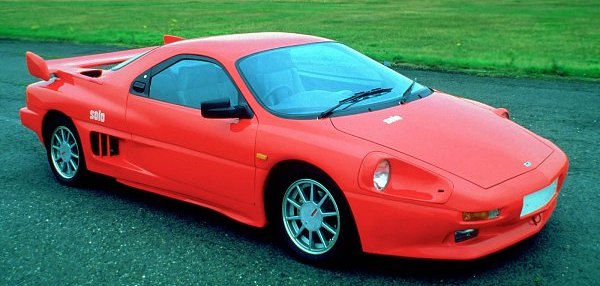 One of the greatest regrets in automotive history was Panther Solo. When Autocar's Stephen Sutcliffe recalled his first test of the car in 1990, he wrote, "I couldn't believe how good to handle... A lot of feel and composure yet to be bettered by any mid-engined supercars, F355 included." Sadly, Panther lacked the financial resources and infrastructure to translate the great driving pleasure into commercial success. By the time the company shut down, only around 20 cars had been built.

British company Panther was little known. Although it did build a 6-wheel, twin-turbo 8.2-liter V8 monster called Panther 6 in the late 1970s, its main products were retro sports cars in the mold of Morgan and Caterham. Life would not be easy for such a small sports car specialist, especially in UK where there were at least a dozen of such companies fighting for orders from limited number of driving enthusiasts. In 1980, it was bought by Korean businessman Young C. Kim. Mr. Kim injected not only the much needed cash but also new thinking to the company. He wanted to build a modern mid-engined sports car, or a "mini-Ferrari". It would use mass production parts (mostly from Ford) to make production easy and cost effective. Production rate was planned at 1500-2000 cars a year. Price would start from as little as £10,000 to at most £14,000 for turbocharged and fully equipped model. It would be faster and far more modern than a Fiat X1/9, and cost just a fraction of a Ferrari 308GTB (approx. £30,000). Panther thought it found a niche in the marketplace.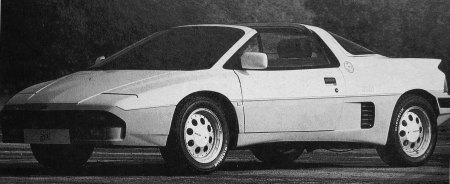 A small team of engineers, designer and technicians was formed in 1983 to develop the Solo. They took only a year to build the first prototype, which was shown in the 1984 NEC London motor show. It was also the car pictured above. The original Solo was supposed to use a Ford CVH family 1.6-liter engine with 105 hp (from Escort XR3i) or its turbocharged version with 130 hp (from Escort RS Turbo), accompanied with Ford gearbox, steering, brakes and suspension bits. In fact, the powertrain and MacPherson-strut rear suspension were actually transplanted from Escort in inverted orientation. The chassis was its own work, of course. It consisted of a box-section monocoque chassis fabricated from steel sheets and a steel honeycomb rear bulkhead on which the engine and rear suspensions were mounted. The body shell consisted of two parts – below the belt line was made in glass-fiber to protect from minor impact; above the belt line was mostly made of aluminum panels. As a result it favoured a two-tone paint scheme. The prototype had a Targa roof and pop-up headlights, something matching Ferrari 308GTS.
Unfortunately, Toyota MR2 arrived later that year. Mr. Kim drove the car and was shocked with its performance, handling and mass production build quality. The MR2 cost only £9300 in UK thus Panther had no chance to beat it. Kim halted the development program, which was close to completion then, and changed its direction: now it would grow in performance and price level to avoid direction competition with the Japanese. The engine would change to
Sierra RS Cosworth
's 2-liter 16V turbo, with 204 hp to make possible 150 mph top speed. 4WD would replace RWD to guarantee superior traction and all-weather handling. Its price was supposed to be £20,000, still easily undercutting Ferrari and Porsche with similar performance level. However, the dramatic change took time, and the higher performance level necessitated a complete rethink of the chassis. The launch date delayed repeatedly until late 1989, 3 years later than the original schedule. By the time its price had rocketed to £40,000, matching a Lotus Esprit Turbo or a 911!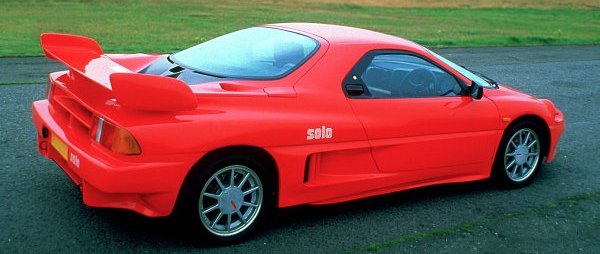 The resultant Solo II was drastically different from the original prototype. It became longer and slimmer, if not as pretty as the original car. To justify its higher price, it became a 2+2, offering a pair of very cramped rear seats. This necessitated a stretch of wheelbase to 2530 mm. The Targa roof was abandoned and the pop-up headlamps were replaced with rolling items, which rotated about their longitudinal axis. March Engineering helped developing its aerodynamics at its wind tunnel, resulting in a larger rear spoiler, flat underbody and diffusers. It returned a good Cd of 0.33 and simultaneously positive downforce at both ends.
The chassis was also improved by March, which had wealth of knowledge building F1 chassis. As before, the central floorpan was a box-section structure fabricated from steel, but the survival cell was now reinforced by a composite body made of glass-fiber laminating aluminum honeycomb core. Some Kevlar and carbon-fiber were also employed to reinforce where extra strength was necessary. This advanced structure contributed to a torsional ridigity of 13500 Nm/degree, an unheard figure for its days. The Cosworth engine was now mounted North-South at a tubular steel subframe. The 5-speed gearbox located fore of the engine and inside the transmission tunnel. The Ferguson 4WD system was based on Sierra XR4x4 but it got a custom-made transfer box. Normal torque split was 33:67 front to rear so that it would not induce too much understeer like most 4WD vehicles. Both center and rear differential got viscous coupling to limit slippage. The suspensions were now made by Panther itself, using struts up front and double-wishbones at the rear. However, many other bits still came from Ford, such as the ABS (from Granada) and most of the interior's switchgears.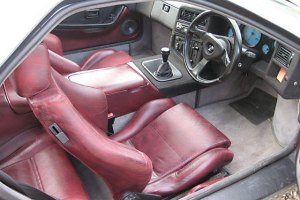 The driving position was set far forward than many mid-engined sports cars, so the footwell was small and seriously offset to the center. Otherwise the cabin was quite practical to use. There was decent headroom, clear instruments and supportive Recaro seats. Access to the cabin was easy. Just don't expect the rear seats to be useable, even for children. Outside, the build quality was quite poor. Large assembly gaps and ill-fitted panels revealed the fact that Panther lacked resources to properly develop the car for full-scale production. The same could be said to its poor reliability. Imagine if it was built by Ferrari or Porsche, the story could be very different.
On the road, the Solo II was not as quick as expected. Autocar demonstrated the car from zero to 60 mph in 6.8 seconds and to the ton at just over 18 seconds, embarrassingly slower than the Sierra RS Cosworth with which it shared engine. This implied the car was likely to weigh a good deal more than its claimed 1235 kg. Top speed, however, was proved to be 144 mph on a banked track, so it was not far off the 150 mph claim. More worrying was the way the engine delivered performance – it revved and sounded coarse above 5000 rpm, lacking the eagerness that an expensive sports car deserved. It also showed too much turbo lag low down. The engine was simply not up to the level of the chassis.
On the plus side, the car displayed great handling. CAR magazine compared it with the very good
Lotus Esprit SE turbo
(already one of the best driver's cars ever made) and came out impressed with the Solo's communicative steering and superior maneuverability. Its 4WD generated a little initial understeer but it could be turned to controllable oversteer with throttle and steering. Sitting close to the front axle, the driver had a good sense of what the front wheels were doing, while the tail was always obedient. The handling was fail-safe, the grip tenacious (despite of small wheels) and the chassis delivered great feedback. The tester claimed no car could be more satisfying to drive on narrow, winding mountain roads, including the Lotus.
Nevertheless, to sell a £40,000 sports car of unknown brand and quality was just impossible then. It became obvious to Young Kim that he had no hope to recoup the investment made. In 1988, he sold Panther to Ssangyong before seeing the birth of Solo. 2 years later, the company ceased production in UK at all. No one knows exactly how many Solo were built, but it should be around 20.