Grew up with cars in the 1980s, I have special feeling for many cars existed in that period. One of my favourite performance cars was the 1986 Ford Sierra RS Cosworth. In our first encounter in 1987, I think, the "Cossie" caught my heart with its spectacular appearance - the high-mounted "whale tail" rear wing, the aggressive bumpers and skirts, the hot air extractors on the bonnet, the extra intake at the fascia... these sporty features made today's performance sedans hopelessly civilized !

The Sierra RS Cosworth was famous for looks as well as for performance. In the beginning, Ford's SVE (Special Vehicle Engineering) department worked with its long-time partner Cosworth to convert the rear-drive Sierra family saloon into a contender for FIA's World Touring Car Championship. Built according to the regulations of Group A, it needed to produce 5,000 cars for homologation. Apart from the aforementioned aerodynamic treatment and the usual suspensions / brakes / tires upgrade, the most significant change was the installation of Cosworth's YBB 1993cc turbocharged engine. It was definitely a state of the art powerplant, with a DOHC 16-valve cylinder head, a Garrett T03 turbocharger, Weber-Marelli engine management system and forged pistons to produce 204 horsepower from only 2 liters of displacement. I believe it was the first series production engine breaking the magic number of 100 horsepower per liter. At the time, only the ultra-expensive Ferrari GTO, Porsche 959 and Group B rally specials could achieve that. Autocar recorded 145 mph top speed and 0-60 mph in just 6.2 seconds even though it was tested on a slightly damped track. In fact, the Cossie was essentially quicker than Ford's own Group B rally car RS200 !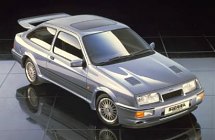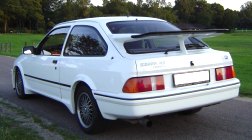 The RS Cosworth was also a lot faster than its key rivals, namely, BMW M3 and Mercedes 190E 2.3-16. According to Autocar again, the M3 and 190E took 7.1 seconds and 8.0 seconds respectively to do 0-60. More interesting, the Bimmer and Mercedes cost £23,500 and £25,500 respectively, while the Cossie asked for only £16,200. If there were any other cars offered so much performance at a price so affordable, tell me.

On the road, the RS Cosworth was great to drive. Unlike RS200, its turbo lag was much lighter, thanks to a smaller turbocharger with a milder boost pressure and relatively high compression ratio. This resulted in a good drivability, if not as good as the normally aspirated M3. The chassis provided plenty of traction and grip, thanks to the viscous-coupling LSD and the 20kg downforce generated by the rear wing. The handling balance was set up towards understeer. Applied throttle heavily in corners could provoke it into oversteer, but generally its handling was safe and predictable. Although it couldn't match BMW M3 for handling, its extra speed was more than capable to compensate and usually resulted in quicker lap times. That's why its racing version RS500 often beat M3 on the tracks, dominating touring car racing in the late 1980s.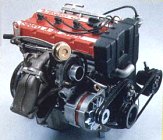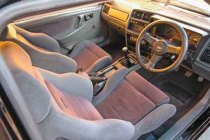 Surprisingly, despite of the racy appearance, Sierra RS Cosworth was actually very easy to live with. It was usually praised for agreeable ride, spacious cabin, supportive Recaro seats and hatchback convenience. Built on the Sierra, it was merited with good quality and reliability record too. All these factors made it a dream performance car for ordinary people. While RS200 was an underachiever, Sierra RS Cosworth turned out to be a surprising winner, no matter on the road or on the track.

RS500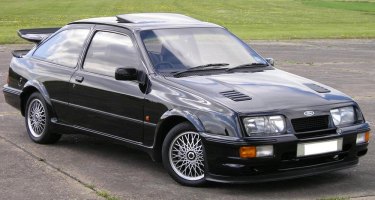 After finishing the 5000 production cars, Ford produced another 500 units of evolution according to the racing rules. This was the RS500. I was fortunate to see one of them on the road many years ago. It distinguished from the regular RS Cosworth by an additional boot spoiler, a larger whale tail and an additional air intake on the top edge of the front bumper.

The name RS500 implied both its production number and its power output – in racing version, it produced a firebreathing 500 horsepower ! In the road car, the YBD engine got strengthened cylinder block, larger Garrett T31/T04 turbocharger, larger intercooler and upgraded fuel injection to produce 224 horsepower, 20hp up from the RS Cosworth. This engine produced more turbo lag than the original while delivering little performance edge, but with some aftermarket tuning it could easily extract up to 350 horsepower. For a car weighing only 1.2 ton, you can imagine how fast it could be...

In motor racing, RS500 was a formiddable player in its time. It won World Touring Car Championship in 1987 and European Touring Car Championship in 1988. If not FIA imposed weight penalties to stop it from winning, it could have achieved even more success.

Sapphire RS Cosworth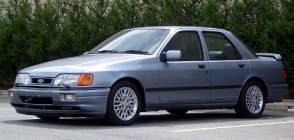 The original Sierra RS Cosworth was conceived as a limited production run to homologate for motor racing. However, it turned out to be a sales hit and all 5,000 cars were sold out quickly. Ford therefore decided to build an unlimited production model as its successor. This time it chose the new 4-door saloon body, or Sierra Sapphire, as the basis. The resultant Sierra Sapphire RS Cosworth employed the same 204hp Cosworth engine to achieve the same performance, but it lost the spectacular aerodynamic kits and boy racer image as it wanted to be a performance executive car. The stiffer saloon body, improved sound insulation, retuned suspensions and Ghia trim level contributed to its new role.

In the final years, the Sapphire Cosworth was signficantly improved by the addition of a Ferguson 4x4 system, which employed two viscous-couplings, one at the center differential and one at the rear differential. The former distributed 34% torque to the front wheels under normal condition. The engine also received extensive modifications such as stronger head and block, new turbocharger, ECU and exhaust manifolds. The result was 220 horsepower for the road car and a stronger potential to race in Group A rallying. Despite of the lack of an exotic look, the Sapphire Cosworth 4x4 was the best driving member of the Sierra family.