30 years after the tragic accident at Le Mans in which a 300SLR crashed into the crowd and killed 83 people, Mercedes finally returned to motorsport in the mid-1980s. The first weapon was 190E 2.3-16. It would take on European Touring Car Championship and eventually become a dominating force in German Touring Car Championship (DTM). Its famous rivalry with
BMW M3
would give motorsport fans countless of thrilling moments. However, the most important is that the car was built according to FIA Group A rules, which called for 5,000 production cars and a further 500 cars for each evolution. Without these rules, fans would not have been possible to own and drive these wonderful machines.
It goes without saying that 190E 2.3-16 was derived from the new "baby Mercedes", W201 series. This was a very high-quality and refined compact sedan. If properly set up, its innovative multi-link rear suspension could give it an edge in roadholding. What Mercedes lacked was a powerful small engine, and that's what Cosworth could help. The British engineering company designed and casted an alloy cylinder head with high-tech 16 valves and cross-flow construction, fitted it to the cast-iron block of existing Mercedes 2.3-liter inline-4 engine. In addition to tuned intake and exhaust, modified Bosch K-jetronic injection and electronic ignition, the little motor could rev up to 7000 rpm and produce 185 horsepower. That sounds no more than a hot hatch today, but in 1984 that was a headline number. Remember, a contemporary Porsche 944 offered no more than 163 hp from 2.5 liters. The first BMW M3 would better the Mercedes by 15 hp, but that was 2 years later.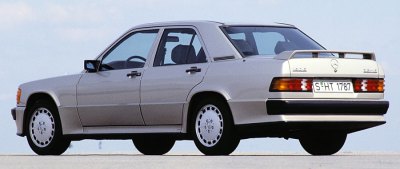 The rest of the car got predictable mods: beefier rubbers, stiffer and lower suspensions, bigger brakes, limited-slip differential, a rear spoiler, flared wheel arches and extra skirts. Mercedes deliberately made the spoilers and aero kits subtle to avoid a boy-racer image, keeping its premium image intact. Inside, the regular seats were replaced with four Recaro leather buckets (which ruled out the fifth occupant). As in other Mercedes, the 190E 2.3-16 did not sacrifice comfort and refinement. It had air-conditioning and power windows fitted as standard. Noise insulation remained, so did the rear doors. Besides, it had Mercedes' hydropneumatic rear suspensions to maintain ride height regardless of load. This made BMW M3 looked rather raw.
But the downside of all these comfort items was reflected on scale: it was 140 kg heavier than M3 ! This dragged its 0-60 acceleration to 8 seconds, although a good Cd of 0.32 means 143 mph was easily achievable. According to contemporary road tests, the 190E 2.3-16 did not feel particularly quick. Its engine was certainly smooth and eager, but the extra weight and notchy gearshift blunted its performance.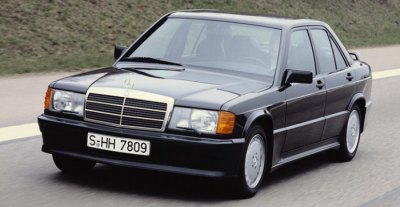 Regarding handling, the 2.3-16 was generally roll-free, safe and easy to handle. The chassis was tuned to mild understeer on the first hand, but with more throttle applied it could be turned to oversteer in a progressive way. The recirculating-ball power steer felt numb in straight ahead, but once in corner it came into life. High-speed refinement was certainly superior to M3 due to better aerodynamics and longer gearing. However, the BMW eclipsed it in most other aspects, such as performance, gearbox, control precision and feel.
Having said that, before the birth of M3, 190E 2.3-16 had two years dominating the compact premium sport sedan segment it pioneered. Despite of its high price, it had plenty of admirers. Close to 20,000 cars were sold until its replacement arrived...
190E 2.5-16
In 1988, 190E 2.3-16 was upgraded to 2.5-16. Its engine was given longer stroke, bringing its capacity to 2498 cc. Compression ratio was reduced from 10.5:1 to 9.7:1 as a result of switching to unleaded fuel and catalytic converter. Nevertheless, thanks to larger intake and exhaust manifolds and revised engine management, its output increased to 197 hp. This quickened its 0-60 mph time to the low-7 seconds range. There was measurable improvement to in-gear acceleration, too, but frankly speaking, the progress was not big enough to reverse its inferior position against BMW M3, let alone the very fast
Ford Sierra/Sapphire RS Cosworth
, which was more than 3 seconds quicker to 100 mph ! On the other hand, new BMW 535i (E34) also embarrassed the small Mercedes with much the same performance and price. Consequently, 2.5-16 achieved only a quarter of the sales of 2.3-16.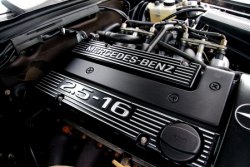 Apart from performance, 2.5-16 had a number of areas improved. Its gearchange was made slightly easier. Its seats were improved. Rear passengers got marginally more legroom. The steering became stiffer and less prone to kickback around the straight-ahead. Not so successful was the new ASD electronically controlled hydraulic variable LSD. In theory, it could improve roadholding and cornering precision with its computer-determined locking ratio, which varied between 35 and 100 percent depending on conditions. In reality, it made the handling more unpredictable and power slide more difficult to access. Few motoring journalists welcomed this feature. Nevertheless, ASD would have a great future in motorsport, so introducing it to the road car was just a means to get homologation.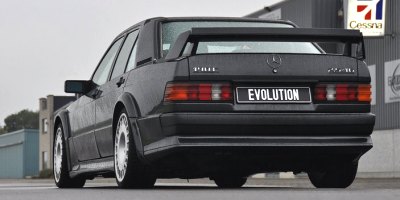 Despite of the arrival of 2.5-16, Mercedes still lived under the shadow of Ford Sierra Cosworth and BMW M3 in European and German Touring Car Championship. It became obvious that to come out on top Mercedes would need a more motorsport-oriented basis. The result was 190E 2.5-16 Evolution. It made use of a well-known loophole in the Group A regulations – based on the 5,000-strong production cars, evolution models with a further 500 production cars could be qualified. In fact, BMW M3 Evo and Ford Sierra RS500 had been using this loophole for some time.
The engine of Evolution looked much the same as before, but it was actually very different. To enhance rev and actual power, it employed larger bore (97.3 vs 95.5mm) and shorter stroke (82.8 vs 87.2mm) than the 2.5-16. Total capacity became 2463 cc. Redline was lifted from 7000 to 7250 rpm as a result. Although Mercedes claimed unchanged power and torque, those having driven one said it felt significantly stronger than the standard 2.5-16 at upper rev range.
The chassis was properly modified, too. Front and rear track were extended by 14 and 24 mm respectively. Extended wheel arches covered the wider tracks and larger wheels. Brakes were upgraded again. Suspensions were 23% stiffer. Besides, the Evo employed deeper air dam, skirts and a larger, adjustable tail spoiler to enhance downforce without altering its 0.32 Cd. Predictably, this car was slightly quicker than the standard car yet handled better, thanks to more grip, better balance and especially powerful braking. The Evo still kept most of the comfort and refinement of 2.5-16, though its slightly aftermarket looks and unreasonably high price could turn customers to proper AMG cars.
Rushed to homologation, Mercedes produced only 500 customer cars plus another 2 for its own collection. The 2.5-16 Evolution still failed to win DTM, but it had paved the way for the ultimate winner, Evolution II.
190E 2.5-16 Evolution II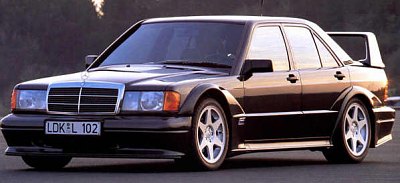 Having struggled for 6 years in touring car racing, Mercedes finally won the manufacturer title of German Touring Car Championship in 1991, then swept manufacturer and driver crowns in 1992. In both cases, the winning cars were 190E 2.5-16 Evolution II.
The Evo II was the "raciest"-looking Mercedes road car we had ever seen. It was characterized by a high-mounted huge rear wing, widened fenders and aggressive skirts. The aerodynamics was shaped by Dr. Richard Eppler of Stuttgart University. Incredibly, the high rear wing helped it to generate positive downforce yet a lower drag coefficient at 0.308 (compared with 0.32 of the 2.5-16 and 0.33 of other 190E). This gave the car a true 155 mph top speed, remarkable for a 2.5-liter car.
The engine was based on the short-stroke unit of Evolution, but with tuned intake, faster cams and revised injection. Compression ratio rose back to 10.5:1. A catalytic converter made of welded steel sheets reduced back-pressure. Output increased to 235 hp at 7200 rpm, while redline was extended to 7700 rpm. Compared with the previous car, its extra grunt came from the freer top end, so it needed to be pressed to feel the difference. On race tracks, however, the motor was tuned to deliver 330-380 hp. In combination with a 1000-kilogram kerb weight, the race car was the one to be beaten. In contrast, the road car performed much more modest. German magazine Auto Motor und Sport timed it take 7.3 and 18.0 seconds to go from 0-100 km/h and 0-160 km/h respectively, a little faster than its predecessors again, but failed to match M3 Sport Evo (6.7 and 16.7 sec respectively measured by the same magazine), let alone the mighty Nissan Skyline GT-R. Of course, sticking to the 2.5-liter naturally aspiration formula, the Mercedes homologation special had no chance to match the 2.6-liter twin-turbo Nissan. Still, it would have been better if the Evo II road car underwent a strict diet.
Considering its aggressive looks, such performance was undeniably disappointing. However, the Evo II did not disappoint in terms of handling. For homologation purpose, it was fitted with more aggressive wheels and rubbers (245/40ZR17) than necessary. The already powerful brakes got lightweight aluminum calipers. The hydropneumatic suspensions allowed three ride heights – the lowest one for track use to enhance downforce, the middle one for normal roads and the highest one for rough roads to avoid damaging the spoilers. With massive grip, excellent poise and first-class braking, the Evo II really needed a race track to exploit its limits. Its steering might be less responsive than M3, but it left the driver with enough ride comfort on less than perfect roads. Don't be fooled by its race-car looks, it was still a Mercedes in its heart and bones.
When new, the Evo II cost about the same money as 500SL. Some might question its value. However, in the view of just 502 cars built, plus its unique looks and racing genes, it seemed to be a worthwhile investment.