A fresh blue Mazda MX-5 always parked outside the building of Engineering Faculty when I was studying there. Gossips said it was driven by a wealthy student among us, very Dustin Hoffman-style, and you can imagine how this guy could get the prettiest girl in college. This made every one of us envy.
Style-wise, the MX-5 was no Alfa Romeo Spider, but it was pretty enough. Some said it was designed by British design house IAD. This was not true. Although IAD was contracted to build the earliest prototypes, the styling was responsible by Mazda's newly established California studio, whose proposal had beaten another from Tokyo studio in an internal design contest. Surprisingly, it abandoned the high-tech design theme popular to contemporary Japanese sports cars (see Toyota MR2) and adopted a simple, even slightly retro style. The aim was obvious: to build a modern interpretation of
Lotus Elan
.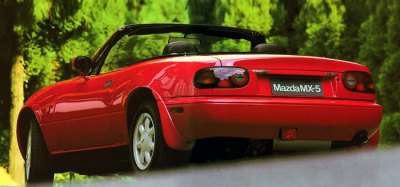 Mazda made no secret that its inspiration came from the original Lotus Elan. Ridiculously, while the
new generation Elan
under development turned to front-wheel drive and turbocharged motor, the Japanese imitator followed strictly the rules set by Colin Chapman for the original Elan. It was a classic front-engined rear-drive roadster measuring less than 4 meters long and weighing less than a ton. It was powered by a 1.6-liter twin-cam naturally aspirated engine like the original Elan, and its cam cover was even made to look like that of the Lotus twin-cam ! Both its exterior and interior styling had strong flavors of the Lotus, but unlike the British car (as well as Italian roadsters), it was made according to Japanese quality standards. Its body did not rust. Its roof did not leak. Window seals did not fall off. The basic equipment functioned well. Electric systems were as reliable as any Japanese products. The cabin was fit for a pair of six-footers, with a useful boot. Combining the charm of European roadsters and the reliability, practicality and affordability of Japanese cars, the MX-5 was destined to success.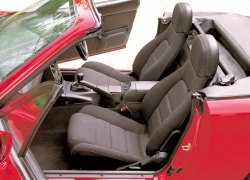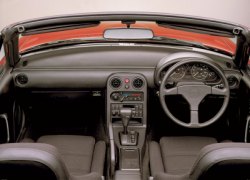 Even more successful was its dynamics. Speed had never been the emphasis of MX-5. It won't sprint from rest to 60 in much less than 9 seconds, or flat out at much over 115 mph from its 115hp motor. However, this did not stop motoring writers from loving it. The truth is, there were no other cars – regardless of price – offered as much driving fun regardless of speed. No matter fast or slow corners, you can enjoy the MX-5, because it always interact with you through the responsive throttle pedal, the short, slick and precise gearchange, the progressive braking, the agile and highly adjustable handling. In the MX-5, grip never overruled power. They were so well balanced that by applying a little more throttle or back off a little, you can finely adjust the driving line, running from understeer to oversteer as desired. It can turn just any boring back roads into your own Nurburgring. MX-5 taught us one thing: speed and g-force are not necessarily relevant to driving excitement.
Of course, the MX-5 had the right basics to enable such a great handling. Things such as all-round double-wishbones suspensions, rear-wheel drive and 50:50 balance (when two are on board) were rare in affordable sports cars. However, most important was its excellent chassis tuning, which was strangely missing in the company's flagship sports car, RX-7 mk2. Did it happen by chance ?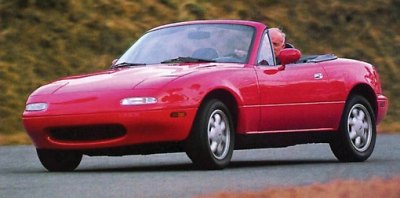 Sales success and evolutions
The Mazda roadster was immediately a hit in the worldwide market. In just 3 years its accumulated sales surpassed 200,000 units. By the time the first major update was introduced, the first generation MX-5 had sold about 420,000 units.
1998 MX-5 (NB)
The so-called "second generation", codenamed NB (versus NA of the original), was born in early 1998. In fact, it was more a mid-life facelift than a full update, so the new codename was misleading. Based on the same chassis with all hard points and suspensions unaltered, the car had revised sheet metal to appear rounder. The biggest change was the replacement of pop-up headlights with fixed ones, although the result was actually less attractive. Comparatively, the new dashboard was more interesting. Under the bonnet, the 1.8 engine previously introduced to the first generation was given more power (140hp), thanks to increased compression and the addition of variable-length intake manifolds. Later on, the gearbox was upgraded to 6-speed. Since then most cars were sold with this combination. Tauter suspension and steering setting completed the revision.
In year 2000, the NB got its own mid-life revision. This time the facelift was limited to a reshaped front bumper. The chassis was reinforced at the transmission tunnel and side sills, raising chassis rigidity by 22%. RS version (or Sport of European version) got front and rear tower bars, Torsen LSD and Bilstein dampers. Wheels grew an inch, with sportier tires to match. Power steering was tuned to more weighty. Meanwhile, the 1.8 engine got S-VT variable intake valve timing, boosting power and torque a little bit to compensate for the increased weight.
2000 MX-5 (NB revision)
The last and ultimate variant of the original MX-5 was the turbocharged version. Sold as "Mazdaspeed" in America, or simply Roadster Turbo in Japan, the car had its 1.8 engine boosted to 172 ps (JIS) or 178 hp (SAE), and at least 30 lb-ft more torque. Naturally, this was the fastest MX-5, with 0-60 mph done in 6.7 seconds and 0-100 mph reduced by 5 seconds.
That was the end of the original car. When the all-new generation, codenamed NC, arrived in 2005, Mazda had already built 720,000 units of NA and NB. It surpassed the record of MGA/B/C and became the best selling sports car in history.