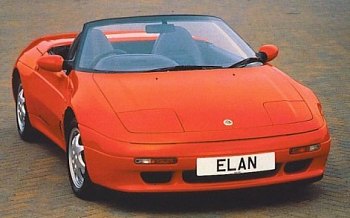 Colin Chapman died suddenly in 1982. Four years later, Lotus went into the hands of General Motors. With American dollars backing, Lotus launched an expansion plan aiming at 5,000 cars sales annually. To realize this, GM pumped US$40 million into a new project named M100, which turned out to be Elan Mk2.

The new Elan was very different from the original - or just any other Lotuses - because it was front-wheel drive. This was a controversial decision. Lotus claimed it chose FWD because for this size and specifications it would be faster point-to-point than RWD alternatives. While this might have some technical background (FF cars give better traction than FR due to front-biased weight distribution), it didn't explain why other sports cars and racing cars prefer rear-wheel drive. The truth was, GM did not produce any decent 4-cylinder engines for rear-drive applications. The best Lotus could find was a 1.6-liter DOHC 16V engine and 5-speed gearbox from Isuzu, GM's Japanese subsidiary. Unfortunately, it was designed for mounted transversely and drive the front wheels. The engine produced 130hp in normally aspirated form or 165hp in turbocharged form, the latter good enough to do 0-60 mph in 6.5 seconds and top 136 mph. It's not lack of speed, but how to overcome the inherent weaknesses of front-wheel drive, namely torque steer and steering kickback ?

The answer was a complicated front suspension called "interactive wishbones". It was basically a double-wishbones design, but both wishbones were attached to a "compliance raft" which was in turn mounted to the chassis. Stiff bushings were used between the wishbones and compliance raft to ensure the caster angle not altered by driving force. Soft bushings were used between the compliance raft and chassis so that it provide good vertical absorption. In this way, the Elan satisfactorily eliminated torque steer without sacrificing ride quality. It also isolated road harshness from the steering geometry, eliminated steering kickback. The downside ? it added considerable weight. At 1020 kg, the M100 was clearly overweight by the standard of Lotus.

The chassis and body construction was classic Chapman-style – a steel backbone chassis clothed in glass-fiber composite body shell and reinforced by GRP floorpan. Thanks to the use of octagonal section steel to construct the backbone, it achieved a torsional rigidity of 9000 Nm per degree, remarkable for an open car of its days. The body shell designed by Peter Stevens not only looked pretty but was also remarkably sleek, with a Cd of 0.34. The Elan Mk2 was compact, measuring only 3.8 meters long but it had wide tracks and relatively wide rubbers to enhance roadholding.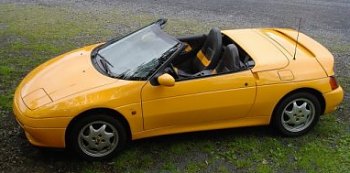 Predictably, the Elan M100 was praised for strong roadholding, performance and fine ride. Autocar magazine described it as the best front-wheel drive car ever seen. However, it was also described as not much fun to drive compare with the original Elan and its arch-rival Mazda MX-5. Ridiculously, Mazda followed the school of the old Elan, no matter in mechanical layout, tuning or styling. The new Elan was much more powerful and faster, no matter in straight line or in corners, but its handling lacked throttle adjustability in corners, thus failed to entertain its driver. Although the tricky front suspension did a good job to eliminate torque steer and kickback, the steering wasn't as communicative or as crisped as the old Elan's. As a result, the M100 never quite caught the love of sports car fans, especially with the presence of the much cheaper MX-5.
Sales turned out to be disappointing. After only 3 years and 3,855 cars built, GM axed the M100 program and withdrew from Norfolk. It sold Lotus group to Italian tycoon Romano Artioli, who had already owned Bugatti. However, that was not the end yet. There were some 800 stock engines left at the warehouse of Lotus. Artioli conducted an audit and found he could make a profit by selling 800 more Elans at a lower price. In this way, the Elan was reborn in 1995 as Series 2. Mechanically it was basically unchanged, except that the turbocharged engine lost 10 horsepower due to stricter emission control. Some components were changed to improve quality. After that, the production tooling was sold to KIA, which produced another 1,000 KIA Elans in Korea. The M100 was not the most lovable Lotus, but at least it was once the best driving front-wheel-drive sports car in the world.