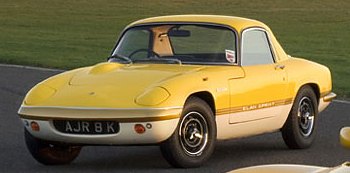 After the barely profitable Seven and loss-making Elite, Lotus finally produced a commercial hit in 1962. Elan was the most successful Lotus until Elise, with over 17,000 units sold in the following 13 years. Among them, some 12,224 units were 2-seat roadsters and hardtop coupes. Another 5,168 units were a very different looking, long-wheelbase 2+2 Coupe called Elan Plus 2. The 2-seater was widely recognized as the definitive roadster in the 1960s and 70s. This is even more impressive when you consider classics like Alfa Duetto / Spider, FIAT 124 Spider and MGB were present in the same period. The Elan was so well-recognized that, nearly 30 years later Mazda copied it to produce MX-5.
Following the problematic experience of manufacturing glass-fiber monocoque for Elite, Colin Chapman decided to play safe this time. However, the backbone type chassis of Elan was by no means conventional. It was lightweight yet sufficiently rigid for a small sports car. The X-type backbone held the engine, differential and suspensions at both ends. Itself was made of folded steel sheets, so the production was simple and cheap. The backbone was hidden under a tall and wide transmission tunnel, which made the 2-seat cabin snug and the foot well a little on the tight side. Outside, the Elan was covered with a glass-fiber body shell. This format would be used by many more Lotuses in the following 30 something years.
As you would expect for a Colin Chapman creation, the Elan employed all-independent suspensions - double-wishbones up front and Elite-style Chapman struts at the back. All-wheel disc brakes were also standard. However, what made it superior to Elite was a more powerful engine. In place of the defunct Conventry Climax engine was a larger 1558 cc Lotus twin-cam engine. Believe or not, it was based on the bread-and-butter Ford Kent engine, which was an OHV pushrod design. Lotus retained its bottom, including the in-block camshaft which drove the distributor, but gave it a new aluminum cylinder head with double-overhead camshafts - this mean the engine actually had 3 camshafts ! The early engine produced 105 horsepower. This rose to 115hp in 1967 and eventually 126hp in Elan Sprint (1971).
The Elan was fast straight out of the box. The 105hp cars could sprint from rest to 60 mph in about seven and a half seconds, whereas the definitive Sprint could do that in only 6.7 seconds, faster than many far more powerful sports cars, such as Jaguar E-type 4.2, Porsche 911, Ferrari 246 Dino etc., at least for acceleration up to 90 mph. Credits must go to the Lotus twin-cam, close-ratio gearbox as well its flyweight, which never exceeded 720 kg in 2-seater form.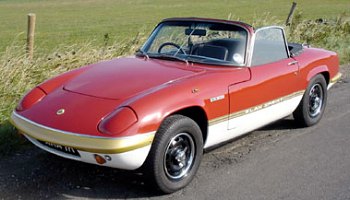 Above all, the Elan was renowned for handling and ride. Its combination of fully independent suspensions, soft springs and stiff dampers resulted in a very absorbent ride. Body roll seemed more pronounced than contemporary high-performance sports cars, but the Elan actually had unbelievably high cornering limit as its suspensions kept all tires holding the road. This mean it was far quicker than other sports car in corners. No wonder Autocar magazine described it as the fastest A-to-B car then. Moreover, the Elan had a throttle adjustability that people still adore it today. Its oversteer could be progressively controlled by throttle but still left a good safety margin. Its steering was light, direct and feelsome. Its braking was amazing for its days. Regardless of price, nothing else quite came close to Elan for pure driving fun.
The Elan was also more practical as a day-to-day transport than any previous Lotuses, or most Lotuses following it. Its cabin offered enough space for a couple of six-footers. The boot had decent space. Wood veneer dashboard looked expensive, although its high price suggested more luxury and better fit and finish.
Elan Plus 2


In 1967, a stretched version of the Elan joined the family. Its wheelbase was extended for a full 300 mm to accommodate a pair of child / occasional adult seats at the back. This also gave more room to the front occupants. The Plus 2 Coupe looked quite different to the 2-seater. It was much slimmer, cleaner and therefore more beautiful. However, the mechanicals were basically the same. Weighing an additional 170 kg, it was inevitably slower, but still capable of going from rest to 60 mph in a remarkable 7.4 seconds according to Autocar road test.