Lamborghini Murcielago

Debut: 2001
Maker: Lamborghini
Predecessor: Diablo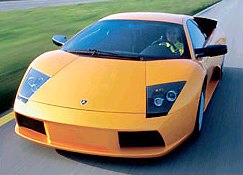 Despite of 27 years separating them, Countach and Murcielago are surprisingly similar. Take the drivetrain as an example, the V12 was evolved from the same origin without major re-think, the gearbox still sits inside the central tunnel and in front of the mid-mounted engine, which is still a unique feature of Lamborghini. From outside, you'll also notice the similarity between them. Although the new Murcielago has most sharp edges smoothened, the profile is still recognizably Countach-inspired. Plug the Diablo into the empty space between them and you'll see a clear picture of evolution.

The new Lamborghini was styled by Audi designer Luc Donckerwolcke. Before this, the Belgium has Audi A2 and Skoda Fabia under his name. But that appears nothing to design master Marcello Gandini who styled simply all previous Lamborghini supercars. Personally, I think the new design is too conservative by the standard of Lambo. Perhaps too refined as well. However, those having seen the Zagato running prototype must agree with Dr. Piech's decision to have a last-minute restyle by another one. We'll never know whether Mr. Donckerwolcke's proposal is better than his competitor in Bertone, because we will never see the latter, but it could be disappointing to many hardcore enthusiasts that the new Lamborghini was not designed by an Italian. I know the last Diablo 6.0 was also penned by Donckerwolcke, but that was just an insignificant facelift.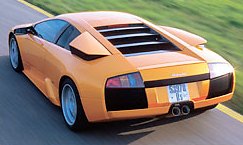 The highlight of the new design is purity. To certain extent it brings back the purity of the early Countach prototype - before cooling and aerodynamics requirements ruined the design. Audi-grade body panels and narrow assembly gaps is one to accounted for its purity, a pair of neat pop-up cooling ducts is another. These air intakes locate behind the rear quarter windows, or where the Countach had its NACA ducts. When the car is at rest, they recess smoothly into the body so that photographers will only see its most beautiful form. When the car is running at high speed, they don't pop up either, because air flow is strong enough to cool the engine. In this way, aerodynamic drag remains low. They only pop up and increase intake area by up to 80% when the car is running slowly, sticking in traffic or outside temperature is above 32°C. That means here in South-East Asia we are unlikely to see its purist form during the whole summer. But in case you like this playful function, you can press a button and show your guest - ah ! what a supercar !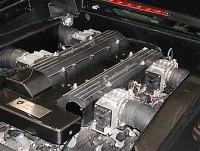 Forget that silly thing. The focus of Lamborghini is still that thundering V12, now bigger than ever thanks to a stroke-out to 6192 c.c.. But 200 more c.c. alone is not enough for a new-age Lamborghini, so it also gets a new 3-stage variable geometry intake manifold and exhaust valve variable timing (in addition to the existing intake VVT). The variable intake was only ever used in the very secret Diablo Jota. Although press release did not mention, you can expect other technology carries over from the last Diablo 6.0, including magnesium cam cover and manifolds, titanium connecting rods, individual drive-by-wire throttles and 2-stage back-pressure exhaust system.

Although the V12 now has more displacement than the mighty McLaren F1, its maximum output of 580hp lags behind the latter by almost 50 horses. In fact, 93.7 horsepower-per-litre is not very special for this kind of cars. Even compare with Diablo 6.0, it gains just 30 horsepower - you know, that is just a small percentage for a 500-plus-horsepower engine. When measure against the limited edition Diablo GT, its advantage is further narrowed to just 5hp. However, the new engine is far more torquey and tractable, which is not very surprising if you remember that we have talked about longer stroke and new variable intake manifold. At just 2000rpm it produces a full 400lbft. That increases to the peak 479 lbft at 5400rpm. Moreover, it complies with the strict EU4 emission regulations, so compare with the old McLaren seemed unfair.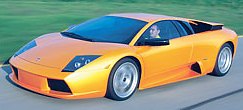 Now it seems that we have forgotten the body and chassis - what Lamborghini men always see as no more than an engine cover. Size-wise, it grows a bit in wheelbase (15mm) and height (25mm) to accommodate a larger cockpit, which was the most criticized item for decades. The whole body is 110 mm longer but just 5mm wider than the already exaggerate 2040mm. Place it on a scale, without any fuel, fluid and occupants, it reads 1650 kg, 25 more than before. Inspect the materials list - the chassis is still steel tubular space frame like 27 years ago; the whole body excluding roof and doors are carbon fiber, just like the last Diablo, but now some of them contribute to chassis strength as well, so the chassis is noticeably stiffer; as before, the roof is steel, but I wonder why now the doors are relegated from aluminium to steel. You know, Audi is not renowned for steel.

Although kerb weight is up, the transmission is now 6-speed instead of the ancient 5-speed while the engine is more torquey, so Murcielago still accelerates considerably quicker than Diablo. According to Lamborghini's figure, it needs 3.5 seconds to complete 0-60mph. According to my estimation (from past experience we should never believe the official figures from Sant'Agata), it is perhaps 3.9 seconds. As long as you compare it with production supercars, especially in this price range, you won't be disappointed. Just don't expect it to be a McLaren or F60-beater. Lamborghini lost that ambition long ago. Top speed, strangely, is now claimed to be just 205mph, quite conservative by Lamborghini norm. Considering the smooth body with air ducts lowered has a Cd of 0.33 (though not matching Diablo's 0.31), it can easily reach that speed. Perhaps it will be the first-ever Lamborghini to exceed its claimed top speed ... funny.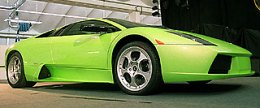 Now about the handling department. Basically the mechanical layout remains unchanged from Diablo 6.0. For example, the double-wishbones suspensions and the mandatory 4-wheel-drive system with viscous-coupling center differential are almost unaltered. The electronic adaptive damping and adjustable ride height for front wheels are still there. The ABS is improved, traction control is added, front tyres are marginally wider, and Pirelli specially designed P-Zero "Rosso" for this car. The Brembo brakes, with 355mm / 335mm discs front and rear and 4-pot calipers, are similar to the Diablo's. The front to rear weight distribution is barely improved by 1% to 42:58. However, the biggest improvement is fine tuning all components to extract their real potential, and to make the controls easier to live with.

Two things might contribute quite a lot improvement to handling: 1) the engine now sits 50mm lower in chassis to improve center of gravity. We always know the high-mounted V12 was one of the main reasons for the inferior handling of Countach and Diablo, so a lowered engine comes as a good news. Oddly, press release said it is due to the use of dry-sump lubrication, but in fact both its predecessors also employed that; 2) high speed stability is improved by the use of electric rear wing. up to 130km/h, that little wing is completely recessed in body. From there to 220km/h, it is raised by 50°. Above 220km/h, it is further raised to 70°. Not the most brilliant design, but it should generate a bit positive downforce at speed.

Concerning production, Lamborghini plans to build 400 cars annually. There will be a Roadster version, but not a RWD version. Just as a prediction, I think in the second-half of its life more special editions will appear, what about a new SV, SE40 or GT ?

Did I miss something ? oh yes, the name Murcielago is named after a brave bull which was spared by a famous matador in 1879. Of course, it's a Spanish word (like Diablo). It pronounces like "more thea lago".

Now let's open the door to see how it perform...

On The Road

Take notes: Autocar's Stephen Sutcliffe said the Murcielago looks far more beautiful in metal (or carbon ?) than in photo. Next time you and I see it on road, we can verify that.

However, we can't help amazing how high quality the body panels are. No matter fitness and paint, it qualifies the highest standard set by Dr. Piech. Perhaps better, because carbon-fiber is hard to control.


Swing up the spectacular scissors door, you see the best ever Lamborghini interior. While the design by Audi designer Ralph Kluge is not special, it feels expensive. The foolish carbon fiber dash of the previous Diablo 6.0 has gone (I am still wondering how much weight it saved), replaced with a simple, elegant and leather-clad one. Although it could feel a bit Germanic-cool rather than Ferrari's Italian-classic, its switches and buttons are tailor-made and feel good to touch. Ferrari, in contrast, still employs some Fiat switches. Admittedly, the mirror controls and a few other switches come from Audi, but then again Audi is not Fiat.

The driver still struggles to get inside, the seats are still mounted right on the floor, but ergonomics are much improved. Firstly, the driving position is more natural. Secondly, the pedals and steering wheel is less offset towards the center. Thirdly, there is more legroom, headroom (40mm) and shoulder room (25mm). The 6-footers previously rejected by the Diablo now sits happily in the Murcielago. Lastly but not least, the small and beautiful Momo steering wheel is fully adjustable.

Press the start button, the 6.2-litre V12 idles smoothly. Sound and thrust are not specially strong below 3500rpm, but throttle response is obviously sharper. Up-shift the 6-speed transmission and you'll find the first (of many) improvement in drivability - although not light by usual standard, it is more manageable than its two predecessors. The clutch is also lighter.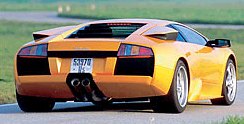 Enter 4000rpm, the V12 comes into life, roaring and surging into its tremendous power band. You'll feel that explosive power is another level from the Diablo, yet the noise remains truly Lamborghini - raw, mechanical and loud. Enter 6500rpm its full song becomes thundering loud, so breathless and so entertaining ! this goes on until the rev limiter is hit at 7800rpm.

Now turn into a bend. The nose points precisely to where you steer. Steering feel is still on the heavy side, but more communicative and responsive. Apparently, the stiffened and fine-tuned chassis has tamed the wild bull with far better balance and agility. Push it for a few laps more, you'll realize the new Lamborghini feels smaller and lighter than it is. The Diablo used to feel big and bulky in corners, had to apply that "slow-in, fast-out" technique; the Murcielago feels a proper sports car now. It changes direction crisply yet fluently. It grips harder and stops quicker. More importantly, it is far more forgiving to errors. If you enter a corner too quick and brake hard, its tail will remain planted. The old car ? you'll end up in gravel facing the opposite direction. It is this kind of forgiving manner that raise confidence of pushing the car to its performance envelop, enjoying its deep-reserved potential more frequently.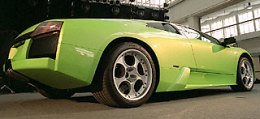 Nevertheless, the bull still fail to match the agility of real sports cars like Ferrari 360 Modena and Porsche 911GT3. These cars can be pushed even harder. They will powerslide without drama and still feel entertaining. In contrast, the big Lamborghini is still somewhat handicapped by its actual dimension and weight.

The Murcielago really feels much faster than the Diablo, although we are still waiting for the first set of test data. However, it is undoubtedly far more user-friendly than the Diablo. Steering, clutch and gearchange are all lighter to operate. Ride quality is also superior. Build quality and cabin comfort are vastly improved. Now driving the big Lamborghini is no longer a painful experience. At the same time, its performance is more accessible, thanks to much better handling. We are pleased to see it improves in every area, satisfying the requirements of comfort as well as driving fun. We didn't expect that, but new owner Audi really polished the Italian diamond, making it more desirable than ever.

Of course, subjectively speaking, the Countach remains to be the greatest Lamborghini of all time. The Murcielago doesn't innovate anything, it just releases the full potential of the forward-thinking Countach which set out those formulas some 27 years ago.


The above report was last updated on 4 Nov 2001. All Rights Reserved.
Murcielago Roadster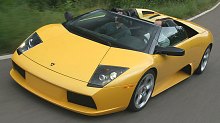 Rich people want to be seen in supercars. That's why Lamborghini builds Murcielago Roadster. The open air Lamborghini not only lets its occupants to enjoy fresh air, but also give their proud smile greater exposure to the public. Yes, objectively speaking the Roadster is a degrade from the coupe, being 6 mph slower, 15 kg heavier yet less rigid in chassis. Its soft top is difficult to install yet cannot sustain a speed over 100 mph. Its shape has lost the purity and integrity of the hardtop coupe. However, rich people still prefer the Roadster to the Coupe. That's why Lamborghini will build 250 Roadsters and 150 Coupes a year.

Luc Donckerwolcke made no secret that it was not his desire to design the Roadster, because the sweeping, flowing shape of Murcielago does not adapt well to roofless. Anyway, he did a fine job to limit the damage to the minimum. By applying multiple triangular surfaces to the body behind cockpit, the Roadster still delivers a sense of exotic and edge-cutting. This design is undoubtedly much better than Diablo Roadster. The Murcielago Roadster has a cut-down windscreen, thus its overall height is 70 mm lower than the Coupe. Other dimensions remain intact.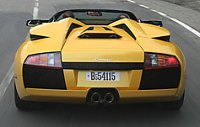 Because the big Lambo was not designed for roofless from the beginning, Lamborghini did quite a lot of modification to the chassis and body structure. To compensate the loss of roof, there are some chassis reinforcements, most notably is a steel (or optional carbon fiber) engine cage bolted over the V12. It strengthens the connection between firewall and the rear engine / suspension-mounting frame. Behind the occupants are a pair of pop-up rollover bar, adapted from Audi A4 Cabriolet. For better integration of rollover mechanism, the engine cover has been converted to rear-hinged, just like the classic Muria.

Unlike conventional cabriolets, the Lambo Roadster is primarily a roofless car, with an emergency soft top to use in case of raining. The soft top consists of 4 parts, stored in the front luggage compartment. Installation is complicated and difficult, at odds to the otherwise user-friendly Murcielago. Moreover, there is a label on the soft top reminding you it could blow off at above 100 mph. So it is better to leave the top open.

On the road, the lost of chassis stiffness is not obvious, especially compare with the lost of sound insulation. The monstrous V12 is louder than ever in the absence of a closed cockpit. As the numbers suggested, Murcielago Roadster is still a super-powerful, super-fast car. Its user-friendly handling - helped by 4-wheel-drive - remains unchanged.


The above report was last updated on 2 Oct 2004. All Rights Reserved.
Murcielago LP640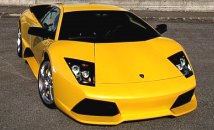 In the past few years, the "baby Lambo" Gallardo has been the highlight of Sant'Agata due to its mass market appeal and commercial success. However, Murcielago is still the flagship, the definitive Lamborghini and the direct successor from the breed of Diablo and Countach. This year the big Lambo is 5 years old. It is time for a facelift and engine upgrade.

The new evolution is called "LP640" - a designation taken from various Countach (i.e. LP400, LP400S and LP500). The word LP stands for "Longitudinale Posteriore", indicating the longitudinally mid-mounted position of the engine which distinguished Countach from Miura. Such layout was carried over to Diablo and Murcielago, so the latter has any right to re-use the nomenclature. The number following the LP used to represent engine capacity, but now Murcielago changed it to horsepower count - 640 of them, which is quite astonishing. It is 60 horsepower more than the outgoing car, 13 more than the mighty McLaren F1 or just 20 shy of Ferrari Enzo.

Of course, it won't be as impressive once you know the Italian-built V12 has its capacity increased from 6192 cc to 6496 cc, or half a litre more than Enzo. The increase is made by both bore-out (from 86 to 88mm) and stroke-out (from 86.8 to 89mm). Anyway, the big V12 has lifted its efficiency simultaneously, thanks to the adoption of continuous variable valve timing (both intake and exhaust) instead of the previous 2-stage mechanism, and the increase of compression ratio from 10.7:1 to 11.0:1. Predictably, the intake manifolds, exhaust system, camshafts and crankshaft were all modified to cope with its high revving manner. Now the max power is released at 8000 rpm, 500 rpm higher than before. Max torque inches up from 479 to 487 lbft at 6000 rpm.



From the sound you can hear the difference: it becomes edgier, higher pitch and more frantic than the deep throated roar of the old engine. From 3500 rpm the engine roars angrily accompany with a power kick. From 5000 rpm it thunders and delivers breathtaking g-force. Being even louder than the old V12, the 6.5-litre engine is a beast compare with the smooth and linear Ferrari V12. In fact, their characters are well illustrated by their company logos - Bull and Prancing Horse.

Gearbox remains unchanged, i.e., either a 6-speed manual or E-gear. The only difference is the addition of a Ferrari-style electronic launch program. It and the powerful V12 helps the LP640 to cut 0-60 mph to 3.3 seconds, according to Lamborghini. That will keep it safe from Ferrari's new 599 GTB (3.6 seconds) thus strengthen its position as the world's fastest production car. Top speed is raised from 205 mph to 212 mph.

Outside, the LP640 can be distinguished from the old Murcielago by a few features: up front, there is a deep chin spoiler and enlarged intakes for oil coolers. The side intake got an enlarged housing to draw more air to cool the engine, which is easy to spot by eyes. The tail also received a redesign. Besides, there are new wheel design. Overall, the new design injects more aggressiveness and dynamic without ruining the pureness of the original design. Good work !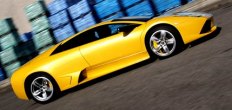 In contrast to the exterior, the tubular steel chassis remains untouched, so does the viscous-coupling 4-wheel-drive system. This mean the big Lambo is still a heavyweight supercar - 1665 kg in dry. Ferrari 599 GTB undercuts it by 85 kg yet provides far more usable space and convenience.

Nevertheless, in the design of LP640 Lamborghini wanted to distinguish it further from the Ferrari GT. It made the car wilder and more uncompromising to shut up those criticized Murcielago as too civilized. The suspensions received an aggressive setup which sacrifices ride comfort for better body control and sharper cornering. Is it successful ? to me, probably not. On the one hand, the noisy engine, stiff ride and heavy controls made it harder to compete with 599GTB as a cross-country machine. On the other hand, the tremendous weight and width are no way to challenge the likes of Enzo, Carrera GT or Zonda F for driver appeal. LP640 will need to rely on its lower price and beautiful styling to lure customers.


The above report was last updated on 13 Jun 2006. All Rights Reserved.
Reventon

| | |
| --- | --- |
| | The new Lamborghini Reventon has a name inspired by a fighting bull... |

When we knew Lamborghini was going to introduce a supercar costing 1 million Euro before tax, we believed it must be a ground-breaking supercar like the 1001hp Bugatti Veyron which also costs 1 million Euro. We knew only 20 units of this car will be produced and all of them had already found buyers, so it must be the most precious supercar in the world since Ferrari 250 GTO. Although we heard that it is derived from the Murcielago LP640, it gets a new name, Reventon (again named after a famous fighting bull), so it must be a big departure from the production flagship model. Combining all these signs, one can easily conclude that the Lamborghini Reventon is a heavily re-engineered Murcielago with an all-carbon-fiber monocoque chassis, active suspensions, active aerodynamic aids, electronic-controlled 4-wheel drive, carbon-ceramic brakes and a V12 engine fed by either 2 or 4 variable geometry turbochargers. It must be at least 300 kg lighter than the standard LP640. Top speed should be in the north of Bugatti's 253 mph, while 0-60 mph should be done in 2.5 seconds. It sounds like a dream to car enthusiasts…


| | |
| --- | --- |
| | ... and a look inspired by American stealth jet fighter F-22, what a strange combination. |

Yes, it is still a dream today. Coming back to reality, Reventon is not a ground-breaking supercar we had hoped for, but a standard LP640 dressed in a more exotic clothes. Its underpinning is exactly the same as LP640. Even though the 6.5-liter V12 is claimed to produce 10 more horsepower (now 650 hp) at the top end, this is not achieved by any modifications to the engine but by dyno-testing and carefully selecting the better performing engines from the production. The chassis is purely Murcielago, so is the running gears, suspensions and brakes (yes, steel brakes).

What differentiates the Reventon from LP640 is the new exterior design. It is said to be inspired by the US stealth jet fighter F-22, although I found the polygonal plane surfaces in various places owe more to the older F-117A. The old stealth fighter employed an angular design because at that time the computer simulation technology was not as advanced as later on. In the case of Lamborghini, it reverts to angular design purely for a spectacular visual effect. Recent Lamborghinis by Luc Donckerwolcke are regarded by some people as lacking the aggression of Countach - that definitive Lamborghini. By sharpening its edges and using a lot of plane surfaces, the new Lamborghini looks spectacular once again, especially under the reflection of sunlight. However, I have some reservation about the shape of its engine lid, which is unnecessarily complicated and more like a batmobile.


| | |
| --- | --- |
| | For 1 million Euros plus tax, you get a Murcielago LP640 with a different clothes. Still, Lamborghini found 20 very rich fools to buy it. |

Apart from the bodywork, another big change is the instrument cluster. It uses 3 TFT LCD units to display engine rev, speed and other information in a form like a jet fighter. If this is too radical to you, you can switch it to display conventional analogue gauges. Purists like us may question the point of this modification. Does it aid driver control ? No, not a bit. It is only a gimmick. Unfortunately, Lamborghini's designers seemed fascinated with this idea and spent hundreds of words to describe it in the press release. We would rather have something really useful, such as Ferrari's steering-wheel-mounted Manettino switch.

Lamborghini wouldn't say whether the angular new bodywork returns higher aerodynamic drag than LP640. However, it quotes the same performance figures: 212 mph top speed, 0-60 mph in 3.3 seconds. Although this is more than enough on any public roads, I suppose those paying 4 times the price of the standard car have the right to expect more – obviously more than just a new clothes and new instrument panel. Ironically, no other cars return lower performance per dollar than this one.


The above report was last updated on 7 Nov 2007. All Rights Reserved.
Murcielago LP670-4 SV

| | |
| --- | --- |
| | Super Fast V12 Lamborghini is also super capable... |

Many believe this could be the final version of Murcielago. LP670-4 SV (Super Veloce), as its name suggested, boosts 670hp (up 30hp), retains 4-wheel drive and is Super Fast, of course. It is a limited edition run of 350 cars, although that amount is enough for a full year's production of Murcielago series. To secure one of them, you have to pay a premium of 25-30 percent over the standard LP640.

Following the tradition of SV (which began with Miura and last appeared in Diablo), LP670-4 SV achieves higher performance from 3 areas – higher tuned engine, weight reduction and increased downforce. We start from the latter. You can easily identify a LP670-4 SV by its aggressive aerodynamic aids. Up front it has more pronounced air splitters around the enlarged cooling intakes. At the back are two large diffusers. At both sides there are larger skirts and air intakes, both are left unpainted in black carbon-fiber. Ditto the huge carbon-fiber rear spoiler, now rigidly fixed at the tail to save weight. Lamborghini offers two choices of rear spoiler, a smaller one enables 212 mph top speed (same as LP640 yet achieves higher downforce), or a larger one produces even more downforce at the price of top speed, which is 209 mph.


| | |
| --- | --- |
| | Some 100 kg has been shed, resulting in a 1565 kg dry weight. |

Both versions accelerate faster than LP640. 0-60 mph now takes 3.1 seconds, 0.2 sec less than before. This is purely down to the more powerful engine and less weight. The V12 engine now sits under a new design bonnet made of carbon-fiber. It is visible through 3 hexagonal windows made of polycarbonate. The engine is basically the same 6.5-liter unit in the standard car, with dual-VVT and 3-stage variable intake system. However, it gets revised valve timing, higher valve lift and a new exhaust system. The result is 670 horsepower at 8000 rpm. Predictably, the more aggressive valve timing and lift does not benefit bottom end torque. While maximum value remains unchanged at 487 lb-ft, its peak arrives 500 rpm later than before.


| | |
| --- | --- |
| | Larger optional spoiler produces more downforce at the price of top speed, which is 209 mph. |

Never mind, because the engine now needs to cope with less weight – some 100 kg has been shed, resulting in a 1565 kg dry weight. The weight reduction are evenly distributed in various areas – 20 kg from the tubular steel chassis (thanks to the use of super high-strength steel, which also increases torsional rigidity of the chassis by 12 percent), 13 kg from the bodywork (thanks to the use of fixed rear spoiler instead of electrically adjustable one, also more extensive use of carbon-fiber, which covers the whole bodywork except doors and roof which are still made of steel for crash safety), 26 kg from the engine (mainly down to lighter exhaust system), 7 kg from transmission and 34 kg from the interior. The latter includes carbon-fiber floor and transmission tunnel, carbon-fiber bucket seats, Alcantara and carbon fiber trim (instead of leather) and the lack of sound / navigation system. With air conditioning and parking camera retained, it isn't exactly a stripped out cabin.

Less changes were made elsewhere. The transmission continues to be E-gear as standard, with optional 6-speed manual. Carbon ceramic brakes and Pirelli P-Zero Corsa tires are standard. No changes have been made to suspensions and traction system, so you can expect the same livable ride as LP640.


| | |
| --- | --- |
| | From power, handling and braking, there is nothing short of sensational... |

On the road, SV performs slightly better than LP640 in just any aspects. Its V12 sounds more urgent, emitting a harder-edged exhaust note under full throttle. The E-gear adds to that brutal feel with a shockwave in every gearchange. Is it faster than the standard car on straight line ? No doubt. However, more important is how good it attacks corners. With less mass to carry, the SV feels smaller than LP640 on narrow twisty roads typically found in Italy. Its turn-in is more responsive, with noticeably less understeer in the initial turn-in. The rear end is more tightly controlled, more difficult to unsettle than the standard car. SV possesses an accuracy and intimacy unfound before in the big Lambo. From power, handling and braking, there is nothing short of sensational. Think about a Ferrari 430 Scuderia with a V12 sound, 160 extra horses and four-wheel traction, it won't be far off.


The above report was last updated on 28 Jun 2009. All Rights Reserved.
Specifications
Table 1

11

12

13


General remarks
Layout
Chassis
Body
Length / width / height
Wheelbase
Engine
Capacity
Valve gears
Induction
Other engine features
Max power
Max torque
Transmission
Suspension layout

Suspension features
Tires


Kerb weight
Top speed
0-60 mph (sec)
0-100 mph (sec)

Murcielago 6.2

Mid-engined, 4WD

Turbular steel spaceframe

Mainly carbon-fiber

4580 / 2045 / 1135 mm
2665 mm
V12, 60-degree

6192 cc
DOHC 48 valves, DVVT

VIM
-
580 hp / 7500 rpm
479 lbft / 5400 rpm
6-speed manual

All double-wishbones

-
F: 245/35ZR18
R: 335/30ZR18

1740 kg (1650 kg dry)

205 mph (c) / 206 mph***

4.0* / 3.6** / 3.7***
9.0* / 8.7**

Murcielago 6.2 Roadster

Mid-engined, 4WD

Turbular steel spaceframe

Mainly carbon-fiber

4580 / 2045 / 1065 mm
2665 mm
V12, 60-degree

6192 cc
DOHC 48 valves, DVVT

VIM
-
580 hp / 7500 rpm
479 lbft / 5400 rpm
6-speed manual

All double-wishbones

-
F: 245/35ZR18
R: 335/30ZR18

1665 kg dry

199 mph (c)

3.8 (c)

-

Murcielago LP640

Mid-engined, 4WD

Turbular steel spaceframe

Mainly carbon-fiber

4610 / 2058 / 1135 mm
2665 mm
V12, 60-degree

6496 cc
DOHC 48 valves, DVVT

VIM
-
640 hp / 8000 rpm
487 lbft / 6000 rpm
6-speed manual

All double-wishbones

-
F: 245/35ZR18
R: 335/30ZR18

1665 kg dry

212 mph (c)

3.3 (c) / 3.5* / 3.2****

7.8* / 7.5****

Table 2

21

22

23


General remarks
Layout
Chassis
Body
Length / width / height
Wheelbase
Engine
Capacity
Valve gears
Induction
Other engine features
Max power
Max torque
Transmission
Suspension layout

Suspension features
Tires


Kerb weight
Top speed
0-60 mph (sec)
0-100 mph (sec)

Reventon

Mid-engined, 4WD

Turbular steel spaceframe

Mainly carbon-fiber

-
2665 mm
V12, 60-degree

6496 cc
DOHC 48 valves, DVVT

VIM
-
650 hp / 8000 rpm
487 lbft / 6000 rpm
6-speed manual

All double-wishbones

-
F: 245/35ZR18
R: 335/30ZR18

1665 kg dry

212 mph (c)

3.3 (c)

-


Murcielago LP670-4 SV

Mid-engined, 4WD

Turbular steel spaceframe

Mainly carbon-fiber

4705 / 2058 / 1135 mm

2665 mm
V12, 60-degree

6496 cc
DOHC 48 valves, DVVT

VIM
-
670 hp / 8000 rpm
487 lbft / 6500 rpm
6-speed automated manual

All double-wishbones

-
F: 245/35ZR18
R: 335/30ZR18

1565 kg dry

209 or 212 mph (c)

3.1 (c) / 2.8**

6.8**




Performance tested by: *Autocar, **R&T, ***AMS, ****C&D
Copyright© 1997-2009 by Mark Wan @
AutoZine