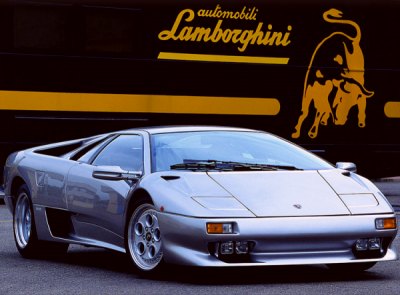 Diablo was launched in 1990 as successor to the legendary Countach. It was developed under the investment from Chrysler which bought Lamborghini in 1987. With more money, no wonder the Diablo was better developed than any other previous Lamborghini. Eventually, it survived for 11 years and 2884 cars were built, breaking the record held by Countach.
The name Diablo means "Devil" in Spanish (not Italian). Like Countach and many other Lamborghinis, it was designed by Italian styling maestro Marcello Gandini. No wonder the car had strong resemblance to its predecessor, such as slant front end, steeply raked windscreen and scissors doors. However, the final design was refined by Chrysler's studio in the USA, smoothened all sharp edges and corners, improved cooling and aerodynamics. In the end, it was changed so much that Gandini was displeased and decided to realize his original design in another supercar, Cizeta Moroder V16T.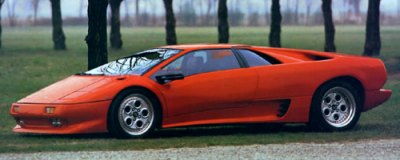 However, it is undeniable that the Chrysler-refined Diablo was prettier and more enduring than the Cizeta. It looked pure yet aggressive, futuristic yet matured. Chrysler's attention to details complemented what Gandini infamous of. Most important was that it looked truly exotic, which was exactly what contemporary supercars lack of - McLaren F1 and Jaguar XJ220 might look sexy, but not aggressive and dramatic enough. The Lamborghini was different. Its styling meant velocity, acceleration and power. Even in standstill, its appearance told you it was a 200mph supercar, no, perhaps 250mph ! If you let me name the most successful supercar design during the 1990s, Diablo will always be the first one I would think of.
However, technology-wise, Diablo was just an extension of Countach. When the Countach was launched in the early 70s, its spaceframe chassis, aluminium body and transmission layout were rather advanced. Entered the late 80s, Porsche 959, Ferrari GTO and F40 started a supercar revolution by using lightweight construction, twin-turbo engines and space-age carbon-fiber materials. In contrast, the Diablo still rested on the laurel of Countach without any significant changes. The chassis, body and the big V12 were just evolution from the old one. And unsurprisingly, it gained more length, width and wheelbase as well as a touch more (desperately needed) cabin space. As a result, a standard Diablo tipped the scale at more than 1600kg, about 130kg heavier than the last Countach.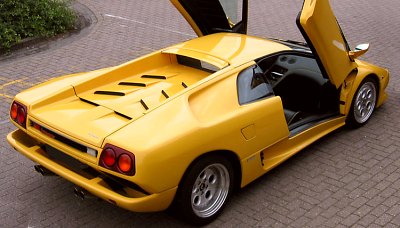 Straight-line performance was never a problem to the Diablo, because its 5.7-litre V12 produced close to 500 horsepower. It was recorded 0-60mph in 4.5 second and a top speed of 202 mph - the wild claim of early Countach was finally fulfilled by its successor. It was the fastest production supercar of its time. Of course, some limited production supercars did record higher speed.
The V12 was always the jewel of the crown. Powerful and sharp throttle response aside, it impressed most with its thundering roar, a roar that resonant your heart beat in sync with rising rev. Louder and rawer than Ferrari's V12, the Lamborghini engine noise could hardly forgettable.
The problem of Diablo was actually handling. Its philosophy of "big and powerful supercar" was almost old-fashion since its launch. It was too heavy, too wide, too bulky to handle. Although its supercar tires produced massive grip while its extra track aided cornering stability, it never felt as agile as a smaller supercar, or even a Porsche 911 Turbo. Poor visibility front and rear also limited driving confidence. Unless on smooth and wide racing track, the Diablo could hardly keep up with a 911 Turbo which cost less than half. Even on a racing track, its brakes were not big enough to handle its weight effectively.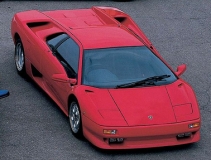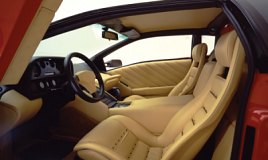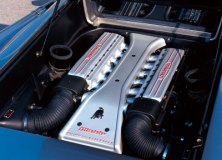 During its 11 years life, Diablo evolved gradually (see below). The SV from 1995 to 1999 was perhaps the best Diablo of all, thanks to the diet it underwent. The GT of 2000 was even developed into a respectable racing machine, pushing performance to the peak.
Because of the emergence of many super-expensive supercars in the early 1990s, namely Bugatti EB110, Jaguar XJ220, McLaren F1 and Ferrari F50, the Diablo was almost forgotten. Being slower, heavier, cheaper and less exclusive, the Diablo failed to recapture the fame of Countach which was regarded the world's top supercar for many years. Admittedly, Diablo was the only product of Lamborghini so that it must be relatively cheap to build in order to sell 300 to 400 cars annually, in contrast to the aforementioned one-off specials. This relegated it to the "second division" supercar club whose members left only the last breed of boxer Ferrari, i.e., 512TR / F512M. Undoubtedly, the Lamborghini was always rated as the best of its kind. Since the death of F512M, the Diablo became the only mid-engined production supercar in the world. Then people could only compare it with the front-engined GTs such as 550 Maranello and Aston Vantage. Diablo's production dropped gradually despite of a revision every 1 or 2 years. Perhaps people became more concerned about drivability and comfort, perhaps the old Diablo could no longer get people excited, it had to retire in 2001.
However, we will always remember the best things of Diablo: the exotic appearance and the thundering V12.
Evolution and Derivatives
Diablo VT
The first derivative of Diablo was the VT, stood for "Viscous Traction". It was simply the 4-wheel drive version of Diablo. A simple viscous coupling transferred power to the front wheels whenever the rear wheels slipped. This improved its wet weather handling a lot, although on the dry it suffered from some understeer. The 4WD hardware added about 50 kilograms.
Diablo SE 30
The hottest Diablo in 1995 was SE30, which was a special edition for celebrating the 30 years anniversary of Lamborghini. Modifications included :
Reduce weight by more than 100 kg thanks to the use of magnessium wheels, carbon-fiber engine lid and rear spoiler, less equipment, thinner cabin trim and racing bucket seats.
Revised engine management system increased output to 525 hp.
Adjustable anti-roll bars
New front bumper increased cooling to front brakes. New engine lid reduced drag and enhanced engine cooling.
A unique purple body paint which was not available on any previous Diablos.

Only 150 units of SE 30 were built. It was the fastest and most desirable Diablo then.
Diablo SE 30 Jota
Among the 150 SE 30 produced, a very small portion received the "Jota" specifications tuning. Its V12 engine received variable intake ducts, variable exhaust, racing-style cams and a pair of ram-air intake at the roof, the latter would be carried over to the SV. Ouput was boosted to 590 hp and 448 lb-ft. Italian magazine Quattroruote tested it to 207 mph. The Jota did not comply with emission regulations in EU and USA. However, this didn't matter to most its owners, such as the Sultan of Brunei.
Diablo Roadster
The experience of Ferrari 308/328GTS told us that open top sports cars are often more popular than hardtop version. Therefore, Lamborghini finally introduced a removable roof to the Diablo. The carbon-fiber roof panel could be stored above the engine lid, which was completely redesigned. Diablo Roadster was based on the 4-wheel drive chassis of VT.
Diablo SV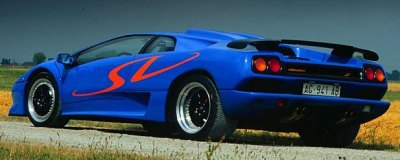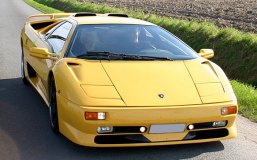 The designation "SV" stood for "Super Fast" in English. It originally appeared in Miura P400 SV. By 1995, Lamborghini resurrected the name on a new Diablo. The Diablo SV was tuned to be more race car than road car. Many magazines liked its firmer and crisper suspension setting, stronger brakes and shorter final drive which aided acceleration. They regarded it as the best handling Diablo even overshadowing the SE 30.
Bigger valves, faster cams and Jota-style ram-air intakes helped increasing power to 510 hp while a striped out cockpit helped reducing kerb weight to 1570 kg. As a result, the SV stood between SE30 and the standard Diablo in terms of power and weight. However, it was a lot cheaper than the SE 30 and even cheaper than the standard car, thanks to the short standard equipment list. Shorter final drive ratio led to the lowest top speed among all brothers, 186mph. Nevertheless, with the much improved handling, who cared about the nonsense top speed ?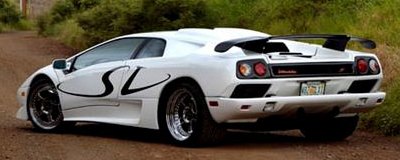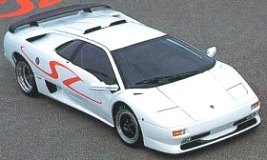 In early 1998, Diablo SV was upgraded with an improved engine. The V12 gained a two-stage variable valve timing at inlet valves. Power increased to 530hp while torque was up from 428 lbft to 450 lbft. Moreover, the VVT enabled more torque at lower rpm, thus in-gear acceleration was much improved.
Other improvements included bigger brake discs - 355mm up front and 335mm at the rear. As a result, larger 18-inch wheels were employed to accommodate the brakes. Besides, ABS and airbags were finally available to Lamborghini !
The new SV might be even faster than SE 30. Factory figure claimed 208mph, 1 mph faster than that special edition. But what impressed me was not the already useless top speed, it was the sharper handling, the faster acceleration plus the better drivability in the new version that kept me faithful with the big Lambo. Lamborghini succeeded in rationalising the short-comings of Diablo while preserving its exotic qualities.
Diablo 1999
Again the whole Diablo family received some minor modifications. Although engine and performance remained unchanged, there was a completely redesigned interior which featured a simpler instrument for easier reading. Passenger's airbag was added near the new glovebox. The only mechanical change was the addition of electronic adjustable dampers.
All Diablo, including the standard Diablo, VT and Roadster, now shared the SV's 530 hp variable valve timing engine. For SV, the "SV" sweeping graphics which used to be featured at the sides were deleted.
However, the most eye-catching new feature was undoubtedly the fixed and semi-recessed headlamps, which replaced the memorable pop-up headlamps. These lamps, sourced from Nissan 300ZX, did not look as stylish as before but they were part of the company's effort to cut production costs.
Diablo GT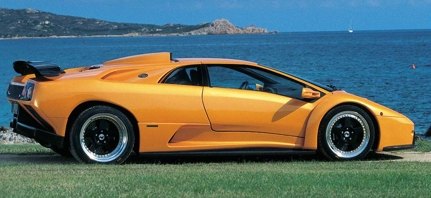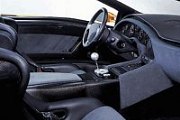 Being the street version of the GT2 race car, Diablo GT was the fastest ever Diablo. The V12 was bored out to a full 6 liters. Accompanied with lightweight titanium connecting rods, faster-timing camshafts, individual throttle for each cylinder and enlarged ram-air intakes at the roof, power jumped from 530 hp to 575 hp, while max torque increased from 448 lbft to 465 lbft. That translated to 210 mph top speed. However, two other final drive ratios could be chosen to enhance acceleration while dropping top speed to 199 mph or 204 mph.
From its outer look, you'll know its racing origin. The nose had a large air intake drawing cold air to oil cooler, which was repositioned from engine bay to the front for higher cooling efficiency and better weight distribution. Hot air left the car from a new air scoop on the bonnet. The cooling intakes for brakes were enlarged as well. Black carbon-fiber lip spoiler, side skirts and rear diffusers added downforce. Quad-exhausts were replaced by twin-centrally mounted exhaust. Because ram-air intake blocked rear vision, it used camera instead of rear mirror. Driver could see what's happening behind the car by reading the LCD monitor in the center console.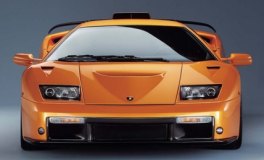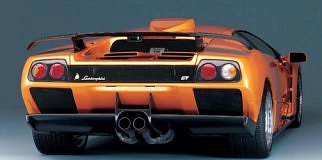 The GT weighed 1490 kg in dry, 80kg lighter than SV. All body panels, excluding aluminium doors and steel roof, were made of carbon-fiber. In the engine compartment, intake manifolds were made of magnesium, which improved weight distribution to 40:60. Besides, Lamborghini also widened the front track by 110 mm, revised front suspension geometry, stiffened the springs and softened the dampers. The result was more high-speed stability and quicker turn-in at low speed. The new suspension improved handling very much, making it remarkably balanced at cornering limit. The steering feel was terrific, unexpectedly light and accurate, although the car still felt big to handle. Oversteer or understeer could be controlled beautifully by throttle. The GT was the best handling Diablo. What a pity it was a one-off production with only 80 units built.
Diablo 6.0 VT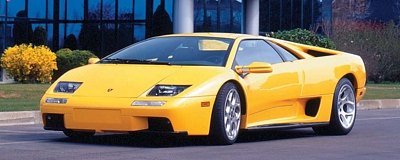 Because the L147 project (which would become Murcielago) was being re-evaluated by new owner Audi, the Diablo had to receive one more update in year 2000 to fill the time gap. The 6.0 VT was the result. Audi designer facelifted the body, mainly in nose and tail. Now nearly the whole body was made of carbon-fiber panels, with the exception of aluminium doors and steel roof. Magnesium was used in cylinder heads, intake manifolds and the 18-inch wheels. Nevertheless, dry weight still went up to 1625 kg because of the compulsory 4WD and quite a lot of standard equipments.
The V12 was bored out to 6.0 liters, in addition to titanium connecting rods (from Diablo GT), lighter crankshaft, individual coil-on-plug ignition and two-stage variable exhaust (for complying noise regulation without losing power), it was conservatively rated at 550 hp and 458 lbft. Compare with GT, it didn't have the ram-air intake on the roof (hence saving a rear-view camera) and hotter cam timing.
Like the GT, the 6.0 VT got wider tracks front and rear. In particular, there was 60 mm added to the front to improve turn-in response as well as stability. However, it didn't steer as sharp as the lightweight SV, especially the viscous-coupling 4-wheel drive introducing quite an amount of understeer approaching the limit. In terms of performance, most road testers thought it was slower than the SV, blamed to extra weight it carried.
Interior was trimmed with carbon-fiber while position of pedals and gear lever were also improved a little bit. Undoubtedly, the final Diablo was the most friendly and the best built among all, thanks to the involvement of Audi.