| | |
| --- | --- |
| Published on 3 Sep 2016 | All rights reserved. |

In our concept, E-segment large cars have to be luxurious cars. However, in the USA this is not always the case. Low tax, cheap gas and wide open roads there enable large cars to be affordable by ordinary people. Some of them have no luxury pretensions at all, such as Chevrolet Impala, Dodge Charger, Ford Taurus and Toyota Avalon. Some have a hint of luxury but are nonetheless designed for cost-conscious buyers, such as Buick LaCrosse, Chrysler 300, Lexus ES and Hyundai Azera. Kia Cadenza belongs to the latter camp.

Although the first generation Cadenza arrived America just 3 years ago, its Korean version, K7, was launched back in 2009, so it is due for replacement this year. The new generation K7 / Cadenza is a subtle improvement over the old car. If you compare its pictures with those of its predecessor, you will find their proportion remarkably close, including the shape of windows. A glance at the spec. sheet will find their key dimensions are virtually the same (well, the new car's width and wheelbase have increased by merely 20 and 10 mm respectively). Its engines are carried over, while suspension layout and the available amplitude selective dampers are all too familiar. Is it just a revamp of the old underpinnings? Not exactly either. In fact, many mechanical parts and systems have been redesigned and improved. It's not as complete an overhaul as we normally see in the industry, but the scale of its change is comparable to that from Volkswagen Golf Mk5 to Mk6, or from Porsche 996 to 997. It is not Golf VII or 991 though.


The new sheet metal tries to be more distinctive by using sharper and more angular elements. It also use more chrome to deliver a stronger sense of luxury. However, some changes are over the top. For example, the Z-shape LED elements in its headlamps look gimmicky. The concave waterfall grille has a hint of both Maserati and Buick, actually losing the character of the previous "tiger nose". From some angles, its angular sheet metal looks quite awkward, while some other angles find it a sleek design, so it is going to split opinions. One thing worth noting is: the roof line has been extended slightly backward to make more room for rear passengers. Aerodynamic drag is improved from 0.29 to 0.28, thanks to the use of underbody covers.

While its 2855mm wheelbase is not the longest in the class, the Cadenza offers the roomiest cabin according to EPA's measurement. In reality, it also feels remarkably spacious and airy – the panoramic roof adds further to the latter. Rear passengers enjoy acres of leg, head and shoulder room. The passenger in the middle will praise the nearly flat floor. If space is your first priority, this should be a winner.

The cabin is also built with decent quality, at least on the top model. There is Nappa leather wrapping the seats, dash top and parts of the door panels. Fit and finish is generally faultless. However, don't compare it to genuine luxury cars. While the dashboard design imitates Audi, the plastics and glossy fake wood trims are much cheaper. Kia also fails to mix and match its variety of materials and grains to deliver a sense of coherence. There are too many plastic switches throughout the cabin, and their quality and feel are not luxury-class. Finally, the touchscreen on the center console is too small (just 8-inch), and its response is laggy.


The K7's platform is developed from the last generation and shared with the new K5 / Optima. By using more high-strength steel to make its chassis and more structural adhesives to stick the parts together, its torsional rigidity is lifted by 35 percent, which offers a good basis for refinement. There are also laminated front windows and more sound insulation in the A-pillars to cut wind noise. The front subframe has been strengthened. The suspension, while keeping the basic layout of MacPherson struts up front and multi-link at the rear, gets revised geometry, larger bushings and hydraulic rebound stoppers in the dampers. Moreover, some of the suspension arms and steering knuckles have been converted to aluminum, saving 18 kg of unsprung weight. Meanwhile, the brakes get larger.

As a result, refinement is dramatically improved. While it is not quite as quiet or as smooth-riding as the new Buick LaCrosse, it isn't far off. The only complaint is the wind noise generated by the door mirrors at high speed, which hurts the otherwise excellent cruising refinement.

Not as good is handling. Although it is also an improvement from the old car, this is still not something you would be willing to hustle into the twisty. Even with the mechanically adaptive dampers, its soft suspension leads to a lot of body roll in corner, and the car is destined to understeer. Moreover, its cheap column-type electrical power steering still feels numb, although weighting and consistency has been improved. A Sport mode button weighs up the steering and speeds up the transmission but fails to bring more thrills.


Not much needs to be said for its powertrains. Both the entry-level 2.4 GDI four-cylinder (available to domestic market only) and range-topping 3.3 GDI V6 are carried over. The latter produces 290 horsepower, which looks good on paper, but in the real world doesn't feel as potent. The car is not especially light at 1670 kg, so we don't expect it to finish 0-60 mph acceleration in less than 6.5 seconds (okay, allowing 1-foot rollout may manage that). Hyundai has a 3.3 GDI twin-turbo serving Genesis brand, but the K7's front-drive chassis is not good enough to take it. On the plus side, the old engine is now mated to the Korean group's new 8-speed automatic. Its extra ratios should bring higher mpg and lower noise level on the cruising. Its gearshifts are seamless, but it tends to spend too much time on higher gears. Like the rest of the car, it is designed for comfort rather than driving fun.

It seems that Kia has missed an opportunity in the remake of K7 / Cadenza. Considering the brand's recent track records, it should be made more driver-oriented than the class norm. Its angular exterior design might also hint that. Unfortunately, it actually remains to be a soft, comfort-biased large car. As there are plenty of choices out there, there aren't many reasons to convince buyers.

Verdict:











K7 2.4GDI



2016

Front-engined, FWD
Steel monocoque
Mainly steel
4970 / 1870 / 1470 mm
2855 mm
Inline-4

2359 cc
DOHC 16 valves, DVVT

-
DI
190 hp
178 lbft
8-speed automatic

F: strut
R: multi-link

-

225/55R17
1555 kg

135 mph (est)

8.5 (est)

-


K7 2.2CRDi

2016

Front-engined, FWD
Steel monocoque
Mainly steel
4970 / 1870 / 1470 mm
2855 mm
Inline-4 diesel

2199 cc
DOHC 16 valves

VTG turbo

CDI
202 hp
325 lbft
8-speed automatic

F: strut
R: multi-link

Mechanical adaptive damping
245/45R18
1660 kg

140 mph (est)

8.0 (est)

-


Cadenza 3.3GDI



2016

Front-engined, FWD
Steel monocoque
Mainly steel
4970 / 1870 / 1470 mm
2855 mm
V6, 60-degree

3342 cc
DOHC 24 valves, DVVT

VIM
DI
290 hp
253 lbft
8-speed automatic

F: strut
R: multi-link

Mechanical adaptive damping
245/40R19
1670 kg

150 mph (est)

6.7*

16.5*










Performance tested by: *C&D









General models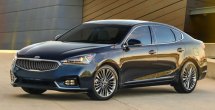 Copyright© 1997-2016 by Mark Wan @ AutoZine