| | |
| --- | --- |
| Published on 28 Jun 2011 | All rights reserved. |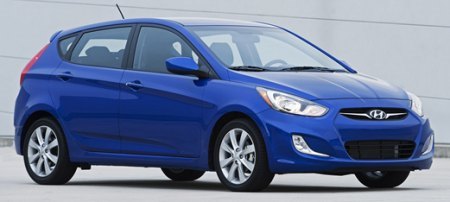 Consolidation is the trend of automotive industry, but it just doesn't apply to the rising Hyundai-Kia. Increasing demand and surging profits mean the group feels no pressure to consolidate its products. On the contrary, it keeps launching new products to cover more segments and fill the gaps between its existing models. As a result, it is one of the few manufacturers that have four B-segment cars (Hyundai i20, Accent, Kia Soul and Rio), four C-segment cars (Hyundai i30, Elantra, Kia Cee'd and Forte), three D-segment cars (Hyundai Sonata, i40 and Kia K5) and three E-segment cars (Hyundai Azera, Genesis and Kia K7) on offer. We are talking about an overcrowded model matrix approaching the pre-bankrupted GM or pre-Carlos Ghosn Nissan.

How can it avoid internal competition? Firstly, by differentiating the Hyundai and Kia models with different styling and chassis character. Secondly, to assign the same-segment models different markets. For example, Hyundai i20, i30 and i40 are destined to Europe, while Accent, Elantra and Sonata take care of South Korea, USA and the rest of the world. This approach enables the European cars to be made smaller but more sophisticated to satisfy European buyers, while American and Asian will be pleased with more space and better value offered by their cars.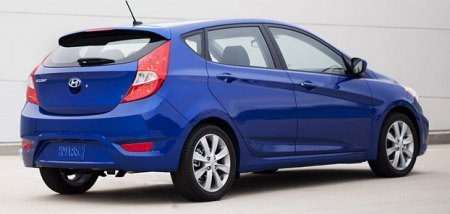 Having understood this approach, you won't feel strange with the new Accent. As before, it is the sister car of Kia Rio – not the aging Rio still on our new car archives, but the new Rio reported in the news section this April. Although both cars share the same underpinnings (including powertrains and wheelbase), their exterior and interior styling are now differentiated so much that you can hardly tell their roots, unlike the badge-engineering approach adopted by the last generation. The Kia is designed to be rounder and more funky, while the Hyundai is crisper and more matured. In this way, they avoid competition as far as possible.

Talking about styling, the new Accent is half-accomplished in my eyes. It is by no means dull, but it is neither especially eye-catching. The now standardized hexagonal fascia is unique to Hyundai but it contributes to identity rather than beauty. The crisped crease lines all over the body are just so popular these days, as you can find plenty of them on Ford, Chevrolet or Japanese products. Ditto the large, panel-fitting taillights, which have become too ordinary to catch your attention. Overall, I would say the Hyundai lacks some magic to stir your soul.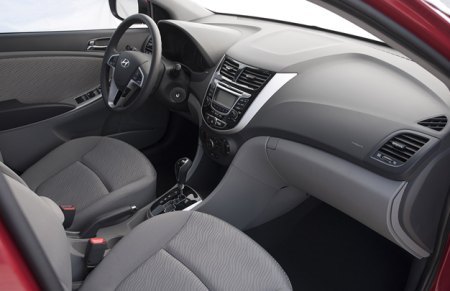 The interior is quite plain. Acres of plastic doesn't look luxurious, especially when they are hard and grey. The attempt of lifting ambience with faux metal stripes is proved to be a waste of effort. American motoring journalists are okay with the materials quality here just because they have never seen the standards set by European superminis like VW Polo or Citroen C3. Maybe we should not blame them, because the Accent is never designed to please European. Instead of quality cabin, it determines to spend the limited money on space, so here you get a cabin roomy enough for two 6-footers to sit behind two of similar sizes. No, it won't be as comfortable as in the larger Elantra, but it will beat most, if not all, European superminis. The generous, 2570mm wheelbase sits halfway between conventional B-segment superminis and C-segment compacts. Once again, the Korean builds larger cars at the same – or slightly lower – costs than its counterparts.

You can opt for either hatchback or sedan body. Unless you are ultraconservative, the hatch is always a smarter choice. It provides a larger boot (when stack up to the roof) and more flexibility to cargo storage. Rear passengers won't find their headroom limited by the sloping roof like the sedan. Moreover, it looks a little more stylish than the sedan.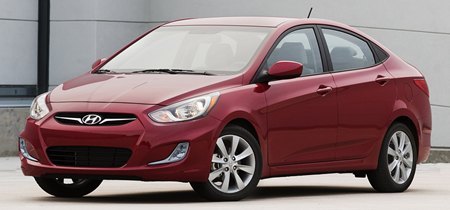 The chassis has little to talk about. It follows the class norm to employ MacPherson struts and semi-independent torsion beam suspensions. Steering is powered by electrical assistance as in most rivals. The monocoque is said to be 22 percent stiffer than the outgoing car, thanks to using higher percentage of high-strength and ultrahigh-strength steel, though such progress is just predictable on any new cars. On the road, the ride and handling neither surprises nor disappoints. The suspension setup is noticeably firmer than the old car, just like any new generation Hyundais. It tightens the body motion up to a degree. Beyond that level and the suspensions struggle to keep up with speed and road imperfection. Composure and balance are nowhere near the level of Ford Fiesta. The cheap Korean tires also fail to deliver good grip. Hyundai should have sent the car to its European R&D center in Germany before signing off.



Powertrain and performance are better. American customers are offered with the strongest engine available, i.e. 140hp 1.6-liter Gamma GDi. It features all-alloy construction, direct injection, dual variable valve timing and a variable intake manifold. It is easily the most powerful engine in the class, although on the road performance does not feel as strong as the on-paper output suggests. However, its operation is generally smooth and refined, especially on motorway cruising. This engine mates to either a 6-speed manual or 6-speed automatic. The manual shifts with light and crisp action, but overall experience is ruined by a non-linear clutch. The automatic shifts smoothly and should satisfy the majority of buyers. Hyundai registered 40 mpg on highway according to EPA standard, making it one of the most frugal cars in the class.

In Korea, apart from the 1.6 GDi there are two more engines to choose from. The cheaper one is an updated version of the old car's 1.4-liter VVT engine. Now it produces 108 horsepower. Another is the 1.6 CRDi common-rail turbo diesel with 128 hp and 192 lbft of torque, which is actually the best of the bunch. In China and India, the Accent is known as Verna. Predictably, it is devoid of the more sophisticated petrol and diesel engines, leaving only the entry-level 1.4 motor.

Overall, the new Accent is a decent purchase that excels in space, practicality and value. On the flip side, it does not have the quality or driving dynamics to lure more demanding customers from the best European and Japanese small cars. If Hyundai could concentrate its resources and merge the Accent and its European cousin into one "world car", I suppose it could have a strong contender for the class leader.

Verdict: