| | |
| --- | --- |
| Published on 4 Oct 2008 | All rights reserved. |
| | |
| --- | --- |
| | Chevy follows the footprints of Mustang and Challenger to relaunch its pony car label... |

Following Ford Mustang and Dodge Challenger, Chevrolet Camaro is Detroit's third act of pony cars revival. To American patriotic car lovers, Camaro is hardly a stranger. General Motor's Chevrolet division created it in 1967 as a response to the huge sales success of Ford Mustang. Since then it was continuously in production through 4 generations until 2002, when sales finally slided below break-even point. A few years back, Detroit started reviving historic American icons to strike back imports. History repeats itself. Ford was again the first to relaunch pony cars with its new Mustang in late 2004. It was therefore rewarded with good profit. Chrysler followed suit with Dodge Charger and more recently Challenger. GM was late to the party again. It didn't show the new Camaro to the public until the Detroit motor show in Jan 2006, and that was concept car only. However, the reaction was so overwhelming that it was soon greenlighted for production. The production car will go on sale in March 2009.


| | |
| --- | --- |
| | Reborn icons are often made retro for the sake of retro. Not so the Chevy... |

The Chevy may be late to the market, but in return it is better developed than its rivals. GM built it on the Zeta platform of Holden VE Commodore thus it gets all the modern ingredients - strong chassis, independent multi-link rear suspensions, all-wheel disc brakes, variable ratio steering, multi-valve aluminum V6, 6-speed manual and 6-speed automatic gearbox... In the eyes of Bob Lutz, GM's product boss, a retro design is not an excuse for outdated technologies and low build quality. Under its iconic enclosure must be modern underpinnings. I am totally agree with him.

Reborn icons are often made retro for the sake of retro, so they look outdated and unpractical by modern standards. Camaro is much better in this aspect. Although its 0.35-0.36 drag coefficient is far from modern, its styling is by no means retro. While it shares some visual features with the 1969 (1st generation) Camaro, it adapted those features smartly into a modern proportion with long wheelbase, short overhangs, strong shoulders, big wheelarches and nice detailing. This is a wild and highly expressive design. Simultaneously, it provides the form and functions of modern coupes. Its cabin is also much more stylish and well built than those in Mustang and Challenger.


| | |
| --- | --- |
| | Limited visibility and tight rear room aside, the interior is attractive... |

Still, you can criticize Camaro for its poor packaging efficiency. A 2+2 coupe has no right to run a 2852mm wheelbase. Nor it should weigh in excess of 1700 kilograms. Although it is smaller and lighter than Dodge Challenger, it is considerably larger and heavier than Ford Mustang. It was conceived at a time when economy was good and gas price was low. It was derived from a robust platform developed by people from an equally high-consuming country (Australia). In short, its fundamental had no sense of fuel economy.

When oil price surged, GM responded by equipping the base Camaro with a relatively efficient engine - Cadillac CTS' 3.6-liter DOHC VVT direct-injection V6. This really caught me a surprise as I didn't expect such a sophisticated engine for GM's pony car. It produces a remarkable 304 horsepower in a willing manner. Redline is a very modern 7000 rpm. Of course, its bottom-end torque is no match with a big V8. That's why the flagship Camaro SS will be powered a 422hp / 408 lb-ft 6.2-liter push-rod V8 from the latest Chevrolet Corvette. However, expect the majority of sales will go to the V6, especially when it can do 0-60 mph in a decent 6 seconds. We cannot rule out the possibility for an even more frugal four-cylinder engine (e.g. Pontiac Solstice's 260hp 2.0 direct-injection turbo), but for sure it won't arrive in the first model year.


| | |
| --- | --- |
| | GM was late to the party again. Is it too late to launch a new pony car ? |

At the time of writing, the "99 percent completed" prototype has been driven by many American magazines although it is still being subjected to fine tuning. Testers were impressed by its rigid chassis, good damping and agile handling. Its body control and bump absorption leaves Mustang (with its live-axle rear suspension) for dead. It corners far more stable and nimble than the cumbersome Challenger. It is easily the most accomplished pony car to date. This is hardly a surprise to those knowing Holden Commodore. The Camaro could only be better because of its shorter wheelbase and stronger 2-door structure. Moreover, seeing the recent Saturn Aura, Chevrolet Malibu and Cadillac CTS, I am confident of GM's development commitment these days.

No matter from styling, mechanicals or early impression, Camaro is likely to deserve greater success than Mustang and Challenger. However, its rivals are not limited to those cars. Audi TT, Nissan 370Z, Hyundai Genesis Coupe and Mazda RX-8 are also its competitors in the US market. Under economic recession and high fuel price, will the pony car revival be short-lived ? We shall see in a few years time.

Verdict:



| | |
| --- | --- |
| Published on 27 Jan 2011 | All rights reserved. |
Camaro ZL1


American pony cars used to be known for a lot of bang for the buck. On the negative side, they were just crap in all other aspects, such as handling, refinement, build quality and attention to details. Some said you can't have the best of both worlds. Recently, that conventional wisdom has been rolled over by Ford Mustang Boss 302. This car is not only fast and affordable but also handles and rides pretty well. More telling, it scores 4 stars in our rating, the first ever for an American pony car! It proves that only the sky will be the limit to pony cars.

GM is not going to let Ford to rest on its laurel. Its new Chevy Camaro ZL1 is meant to be the ultimate pony car, or you may call the "Mustang-killer". Its performance attains a level no pony cars have ever reached, thanks to an engine that is not only larger than the Mustang's but also supercharged. Furthermore, it gets more sophisticated suspensions and electronic driving aids to guarantee better handling and ride. At US$56,000, it is the most expensive pony car you can buy, but it still undercuts a properly equipped BMW M3 and Mercedes C63 AMG Coupe by a good margin, let alone those could match its 180 mph top speed and 4.0 seconds 0-60 mph acceleration.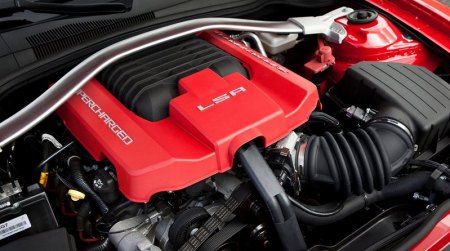 Externally, the ZL1 differs from lesser Camaros by a few details. Its larger lower intake enhances cooling to the engine. Its aggressive front splitter and skirts cut aerodynamic lift, as is the air extractors opened on the bonnet. These aero tweaks contribute to 30kg net downforce at 150 mph, compare with 90kg of lift on the regular Camaro SS. However, the biggest visual change must be the huge power bulge built on its bonnet. It is introduced to accommodate the Eaton TVS supercharger and integral intercooler sitting atop the 6.2-liter LSA small-block V8. This engine is basically the same as that serving Cadillac CTS-V, just with different intake and exhaust tuning to extract a little bit more punch. (Note: it is also a close relative to the LS9 on Corvette ZR1, though that engine gets a higher volume supercharger, higher compression and exotic lightweight parts like titanium con-rods and valves) Meanwhile, a two-stage variable exhaust is borrowed from the Corvette to enhance sound quality. With 580 horsepower and 556 pound-foot of torque, the ZL1 overshadows many performance cars that cost 2 or 3 times the price, such as Nissan GT-R, BMW M5 and Porsche 911 Turbo S.

Nevertheless, its Tremec TR6060 6-speed manual gearbox is not as effective as modern twin-clutch gearboxes to transform the horsepower into acceleration. Coupling to the fact that the ZL1 weighs as much as 1852 kg, even the best test conditions can hardly get 0-60 and 0-100 mph much below 4 and 9 seconds respectively. While it is unquestionably the fastest 2+2 car for the price, it is probably not as fast as we expected. 15 years ago, TVR Cerbera 4.5 was already capable of such performance.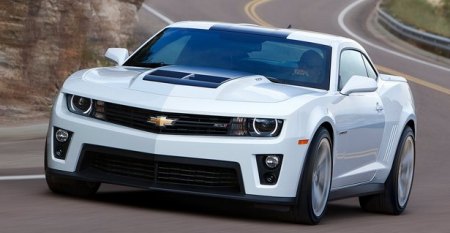 But one thing the Chevy does very well – and unexpectedly well indeed – is real-world performance. It lapped Nurburgring in a best time of 7 minutes and 41 seconds, faster than track-oriented specials like Corvette Z06, Mercedes C63 AMG Black Coupe and BMW M3 GTS! The eye-popping lap time does not come by luck, of course. It is down to many elements, such as the large Brembo brakes (370mm discs and 6-pot calipers up front; 365mm discs and 4-pot calipers at the rear), gripper rubbers (285/35ZR20 and 305/35ZR20 Goodyear Eagle F1), a limited slip differential, a 5-stage selectable traction and stability control and the latest Gen 3 magnetorheological adaptive dampers which react faster than the ones on CTS-V, Corvette ZR1 and Ferraris. Finally, the chassis tuning is fine polished by countless of test laps in Nurburgring, just like the best European and Japanese performance machines. It is such attention to engineering that makes the ZL1 so good to drive.

On race tracks, you will be amazed by its agility that belies its weight. The handling attitude is much more neutral than the Camaro SS. There is excellent front-end grip to resist understeer in corner entry. Despite of the tremendous torque available for disposal, the power delivery is linear so that you can feed the rear wheels precisely. Even if you switch the traction control to the sportiest mode, the ZL1 won't bite you. Its handling is surprisingly tamed for such a powerful, rear-drive car. Power oversteer happens but it is progressive and controllable. Compare with Boss 302, the most obvious advantage is suspension – multi-link versus live-axle, magnetic adaptive damping versus manually set damping. Its ride is very absorbent, keeping the car planted to the road thus making the power more usable. As a result, the ZL1 can corner at higher speed. In addition to strong braking and grip, the brake cooling ducts, transmission and differential oil coolers, the car is surprisingly effective for track days.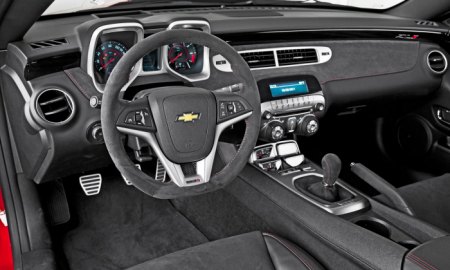 Simultaneously, the ZL1 is a decent GT on the road. You will appreciate its good ride and linear power. The clutch and gearshifts are much better than the usual standards of pony cars. The steering, now converted to electrical assistance and variable ratio, is nicely weighted throughout the speed range, although it does filter out some road feel. The V8 is pretty refined at cruising speed, without the annoying whine normally associated with supercharged engines, thanks to the use of TVS supercharger.

On the downside, the ZL1 is still troubled by the fundamental flaws associated with all Camaros – a cheap interior (despite of Alcantara trim), flat front seats, mediocre headroom and poor outward visibility. The latter makes its 1918 mm width all the more difficult to contain on narrower roads. Such a lack of attention to details still distinguishes the super pony car from the best of the class. We won't trade an M3, C63 AMG or GT-R with the ZL1, but if you cannot afford those better polished cars, the ZL1 would be a great option.
Verdict:




| | |
| --- | --- |
| Published on 4 Apr 2014 | All rights reserved. |
Camaro Z/28


The Camaro Z/28 is a late response to Ford Mustang Boss 302. 3 years ago, the Boss 302 surprised us with its good performance and handling – it was probably the first Mustang that cornered as well as it went straight. Its track-oriented version, Laguna Seca, thrilled even more American motoring journalists. If Ford can do, why not General Motors? Through the making of Cadillac CTS-V, Corvette ZR1 and Camaro ZL1 in recent years, GM demonstrated it has the competence to develop good performance cars. Building a track-focused Camaro to beat Ford should not be a big problem. The only problem is what nameplate to be adopted. Reviewing the history of Camaro, a name was found to fit the purpose perfectly: Z/28. Built between 1967 and 69, the original Z/28 was GM's mass destruction weapon in Trans Am racing series and was widely regarded as the best Camaro of all. Now the new Z/28 is going to repeat history.

The Z/28 is not exactly the most powerful member of its family – that is still the 6.2-liter supercharged ZL1. Undoubtedly, the latter is faster in straight line, but Z/28 should be quicker overall because it is lighter, balance better, grips harder and brakes stronger. Chevy said initial testing found it is 3 seconds a lap quicker than the ZL1, although it didn't say which racing circuit.

How is this possible? Let's look at the powertrain first. Its engine is the same 7.0-liter LS7 V8 that used to serve C6 Z06, another race-bred machine. It employs expensive titanium connecting rods and intake valves to enable a 7000 rpm redline, remarkable for an old-school ohv V8. The exhaust valves are filled with sodium to withstand high temperature attained in racing conditions. The cylinder heads are CNC machined to ensure high precision. Other goodies include 11.0:1 compression, high-lift camshaft, forged steel crankshaft and dry-sump lubrication. It weighs almost 30 kg less than the ZL1 engine thus helps balance. Maximum output is 505 horsepower and 481 lbft of torque, released at 6100 rpm and 4800 rpm respectively.


The Tremec 6-speed manual gearbox and Torsen limited slip differential are carried over from the standard car but they get dedicated oil coolers to withstand the stress of racing.

The suspensions remain passive, but they feature racing-style spool-valve dampers, which can be finely tuned to deal with both low-speed undulations and high-speed bumps. Springs have been stiffened by 85 percent up front and 65 percent at the rear compared with Camaro SS. Harder bushings and narrower anti-roll bars round up the suspension mods.

The faster lap time is contributed mainly by 3 factors. Firstly, its semi-racing Pirelli P-Zero Trofeo R tires, measuring a massive 305/30YR19 each corner (yes, including the front!), allow it to corner at up to 1.05 g. Secondly, it employs Brembo carbon ceramic brakes as standard, enabling a stopping power of 1.5 g. Thirdly, it underwent a strict diet, cutting unnecessary fat like air-con, audio and sound deadening. A smaller battery and thinner rear glass are adopted. The 19-inch forged alloy wheels and tires combine to save 19 kg over the original 20-inch items (while lowering center of gravity by 33 mm, by the way). The CCM brakes save another 12.5 kg. Overall, the car is more than a hundred kilograms lighter than ZL1.

In the aerodynamic side, the Z/28 adds an aggressive front air splitter, side skirts and a big rear spoiler to generate positive down force, even though 68 kg at 150 mph is not exactly remarkable.



On the Road




Unexpectedly, the driving experience is dominated by not the engine but the chassis. Although the large V8 is strong and loud, its linear power delivery doesn't feel as manic as a 991 Turbo on boost, and it doesn't overwhelm the grip and balance. The sensation of straight line speed is also dampened by the weight – despite of the diet, the big Camaro still tips the scale at 1.75 ton, something dictated by its old platform. This mean it can go no quicker than 4 seconds in 0-60 and 9 seconds in 0-100 mph, which is fast but not outstanding. The gearshift is old-school heavy and stiff. In contrast, the handling is superb. First to catch your attention is the huge grip generated by those semi-slick tires. As long as they have been warmed up and the road is dry, they offer amazing cornering prowess. Moreover, with an oversized front tires, the Z/28 refuses to understeer. It just nails on the desired path. The chassis is well balanced, being very stable and predictable at the limit. A well-tuned 5-mode traction control system keeps you out of trouble should you apply more power than needed. When it comes to deceleration, the ceramic brakes are epic. The Camaro Z/28 is not a usual American muscle car. Its chassis is so good that it could take more power!

The downside? Its stiff suspension offers little ride comfort. The track tires do not cope well with wet surfaces and they are prone to wear out quickly. The abundance of noise and rattles in the cabin also means it is not a good road car. Finally, the sticker price of US$75,000 is a lot more than the now-defunct Boss 302 ($43K for the standard car or $50K for Laguna Seca). Yes, it is also considerably more expensive than the ZL1 ($56K). A Porsche 991 GT3 and Nissan GT-R are not too far beyond. Being more track-focused than those rivals, the Chevy might put more smiles on the faces of track-day enthusiasts, but its scope of talent is much narrower. Still, the great effort is already worth praising.

Verdict:













Camaro 3.6 RS



2008

Front-engined, RWD
Steel monocoque
Mainly steel
4836 / 1918 / 1377 mm
2852 mm
V6, 60-degree

3564 cc
DOHC 24valves, DVVT

-
DI
304 hp / 6400 rpm

273 lbft / 5000 rpm

6-speed manual
F: strut
R: multi-link

-
F: 245/55R18
R: 245/50R18

1707 kg

155 mph (limited)
5.9* / 5.9**

14.8* / 14.9**


Camaro SS



2008

Front-engined, RWD
Steel monocoque
Mainly steel
4836 / 1918 / 1377 mm
2852 mm
V8, 90-degree

6162 cc
OHV 16 valves

-
-
426 hp / 5900 rpm

420 lbft / 4600 rpm

6-speed manual
F: strut
R: multi-link

-
F: 245/45ZR20
R: 275/40ZR20

1750 kg

155 mph (limited)
4.6* / 4.7** / 4.6***

10.5* / 10.5** / 10.5***


Camaro ZL1



2012

Front-engined, RWD
Steel monocoque
Mainly steel
4836 / 1918 / 1377 mm
2852 mm
V8, 90-degree

6162 cc
OHV 16 valves

Supercharger
-
580 hp / 6100 rpm

556 lbft / 3800 rpm

6-speed manual
F: strut
R: multi-link

Adaptive damping

F: 285/35ZR20
R: 305/35ZR20

1852 kg

180 mph (c)
4.0 (c) / 4.1* / 3.8** / 4.3****

8.9* / 8.7** / 9.5****










Performance tested by: *C&D, **MT, ***R&T, ****Automobile










Camaro Z/28



2014

Front-engined, RWD
Steel monocoque
Mainly steel
4885 / 1953 / 1330 mm
2852 mm
V8, 90-degree

7008 cc
OHV 16 valves

-
-
505 hp / 6100 rpm

481 lbft / 4800 rpm

6-speed manual
F: strut
R: multi-link

-

All: 305/30YR19

1746 kg

172 mph (c)
4.4* / 4.0** / 4.1***

9.5* / 9.0** / 9.2***










Performance tested by: *C&D, **MT, ***R&T









Copyright© 1997-2014 by Mark Wan @ AutoZine