The 1964 Ford Mustang opened a new market segment called "pony cars". It was a classless personal car offering a variety of choices for engines, performance features and luxury equipment to meet the needs of different customers. The American public got crazy about it and bought 1 million Mustangs in the first 18 months ! Seeing its success, General Motors responded in 1967 by introducing its own pony car, Chevrolet Camaro.

Camaro copied most ideas from Mustang, such as a compact 2+2 body, the choice of 6-cylinder base engines or optional V8s, 3 or 4-speed manual transmissions or 2 choices of automatic, drum or disc brakes, coupe or convertible… There were nothing innovative, frankly. However, fans of Chevrolet would point out that it looked a little more handsome than the Mustang, and its engines were generally more powerful. The base engine was a modest 140hp 3.8-liter straight-6, but you can pay extra for one of the following: 155hp 4.1-liter straight-6, 5.3-liter small block V8 in two forms (210hp or 275hp), 5.7-liter small block V8 in two forms (255hp or 295hp) and 6.5-liter big block V8 in two forms again (325hp or 375hp).



That's not all, however. To showcase the mega engine pool of General Motors, it offered three additional high performance engines to those who thought the above too "tamed". Two of them were the Corvette's 427 cu (7 liters) big block, good for 425 horses in the L72 specification or an estimated 500-plus horses in the ZL-1 spec. The ZL-1 was especially exotic, as it was GM's only all-aluminum big block V8 and designed for drag racing. However, it was so expensive that only 69 units were ever built. Both big blocks were installed by dealers so that they were not production models.


However, the best Camaro was not the big blocks but the Camaro Z/28 installed with a high-revving 4.9-liter small-block. It was designed to race in Trans Am series, so the race regulation dictated its engine capacity. A combination of big bore, short stroke, big intake ports and high compression means it could rev to a sky-high 7500 rpm, more like an Italian V8 ! Its weaker bottom end torque and the desire for rev also felt more like an Italian engine than a Detroit iron. The output was underrated at 290 horsepower, but its actual ability was more like 360 horses. The Z28 suffered none of the nose heaviness of the big block L72. Moreover, its torque did not overwhelm the chassis like the big blocks, so it provided the best balance between performance and handling.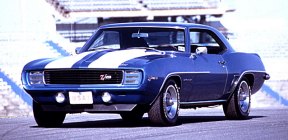 Although Camaro beat Mustang in engines, it never quite matched its rival in sales. For the rest of its life it would share most underpinnings with sister car Pontiac Firebird to enhance economy of scale, but even that could not beat Mustang. 4 generations and 33 years passed, the duo was finally axed by GM in 2002 due to insufficient demand.