612 Scaglietti replaces 456GT as the "family man's Ferrari". When Ferrari launched the 456GT in 1992, it had virtually no competitors to fear of. Today, the market environment has changed a lot. 612 Scaglietti has to fend off the competition from Mercedes CL65 AMG, Bentley Continental GT and Aston Martin DB9, all are very fast cars and 2 of them even out-power the Ferrari. How can Ferrari respond?

Clearly, 612 Scaglietti has to shine in what Ferrari is famous of - fast, sporty to handle and beautiful to look. On the other hand, it has to counterattack with high level of comfort and easy going manner you had never heard for a Ferrari. This task was given to the proud engineering team at Maranello and Pininfarina's chief designer Ken Okuyama.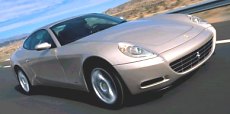 You might remember Ken Okuyama, whose creations include Ferrari Enzo and Maserati Quattroporte. Like these two, his work for 612 received mixed impressions. From some angles, such as from the side or rear quarter at ground level, it looks sleek and handsome. However, from higher angles and from the front its long bonnet seems unbalanced. There is some bulkiness rarely found in Ferrari's designs.

But to be fair, the 612 is rather difficult to design, because Ferrari required the Pininfarina design to enclose a spacious cabin (hence tall roof and no fast windscreen / rear screen angles) and a very long engine compartment for better weight distribution. The sacrifice in styling pays off in cabin space: never in Ferrari's history had it produced a real 4-seater capable of sitting 2 six-footers comfortably behind another 2 six-footers, with abundance of headroom and legroom in reserve. This is the first ever Ferrari family car !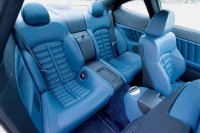 The cabin is well finished with alloy decoration and leather like other Ferraris. Seats are comfy and supportive. The instrument reading consists of dials and a LCD screen like Enzo - it's no beauty but functions effectively. At least 80% customers will choose the paddle shift F1A transmission, whose shift quality is once again refined. Undoubtedly, Ferrari paid a lot of attention to the comfort and refinement of this car.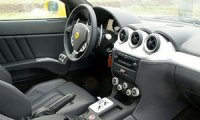 The 612 is a Moby-Dick kind of Grand Tourer. It measures 17cm longer than 456GT, 3.7cm wider, 4.4cm taller and have a Mercedes S-class-rivaling 2950mm wheelbase. Such a large machine requires aluminum spaceframe chassis and aluminum body to keep weight down. Like 360 Modena - Ferrari's first production aluminum car - its chassis and body is made at Scaglietti, now fully owned by Ferrari. This also gives it the name "Scaglietti". Fully dressed up, the 612 weighs 1840kg, slightly heavier than the early 456GT.

However, the most remarkable thing is weight distribution. Maranello's philosophy is to make its front-engined GTs rearward-biased, in contrast to many other car makers which (incorrectly) claimed 50:50 were the best for FR cars. In theory, a slight rearward weight bias should give the car better traction at the rear wheels, reduce understeer and sharpen steering response, so I can't agree more with Ferrari. Maranello's first effort was shown in Maserati Quattroporte, whose 47:53 weight distribution beat Mercedes McLaren SLR's 49:51 just a few months ago. By using an extra-long wheelbase, putting the engine completely behind the front axle line, moving the cabin rearward and using transaxle gearbox, the 612 sets another incredible record: 46:54.


On the other hand, the 612 also shines in other performance indicators, such as center of gravity (20mm lower than 456GT), polar moment of inertia (85% mass contains within the wheelbase, compares with 70% in 456GT) and high chassis rigidity (60% up from 456GT). All these data should guarantee superior handling over its rivals.

On the road, 612 Scaglietti sets new standard for Grand Tourer dynamics. "Comfort" is the default mode for its F1A transmission, adaptive damping and CST (traction and stability control). In this mode, the car rides supplely, absorbing road irregularities like luxurious saloons. The tradeoff is a fair degree of body roll, so you'd better to switch to "Sport" mode instead. In "Sport" mode, body control is great but ride comfort actually loses very little. It still smoothens the ground much better than Bentley Continental GT and Aston Martin DB9 (and by the way Maserati Quattroporte), which is amazing ! look at the high-profile tires and you know how serious Ferrari is to make the 612 ride smoothly.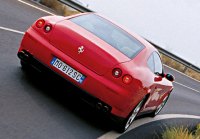 Now steer it. The speed sensitive steering occurs to be very light at first, then as you turn it towards either side, it weighs up beautifully, and the car steers accurately into corners. Despite of the huge body, it obeys your commands like no other GTs (though DB9 is close). So responsive, so nimble, so communicative through the steering and pedals. Some Ferrari traditionalists might dislike its light steering, but in reality it loses no feel and accuracy, so what can they blame? Undoubtedly, 612 is the easiest driving Ferrari ever, but it is also a true Ferrari in terms of handling and performance.

The F1A transmission is another thing worth praising. We have been disappointed by all the previous Ferrari paddle shift systems, but the latest version finally sorted out the problems. Shift quality is easily the smoothest ever, just shy of Audi's double-clutch transmission and a real automatic. Now it is no longer a minus point.

At last we finally comes to the heart of the car. The 5748cc 65-degree V12 is the last evolution of the Tipo 133 V12 which powered 456GT, 550 Maranello and 575M. It seems to be a pity that the next generation variable-timed V12 from Enzo is not available yet in this car. However, remember that the Tipo 133 V12 used to enjoy overwhelming praise from car enthusiasts and now it has received a final power boost from 515hp to 540hp, then you will never be disappointed. The power boost is achieved by a slight increase of compression from 11.0:1 to 11.2:1, a lower back pressure exhaust and a smoother, longer intake duct made possible by the rearward positioning of the engine.



With effective noise insulation, the V12 is surprisingly quiet under 5000rpm. Above that, it starts to sing sweetly. Its mechanical noise sounds smoother than Lamborghini's V12. It revs freely like without any inertia, squeezing out maximum efficiency at 7250rpm. 12 years old it may be, it is still a great engine by any standards.

With a top speed of 196mph-plus, 0-60mph in 4.1 seconds and 0-100mph in 9.1 seconds, 612 Scaglietti is undoubtedly super-quick. However, it can no longer claim to be the fastest 4-seater in the world. Mercedes CL65AMG uses its 612 horsepower and 738lbft of torque to do 0-100mph in 8.9 seconds. Fully de-restricted, it can top 208mph.

But compare with Ferrari 612 Scaglietti, that car is just a joke - outstanding at one area, handicapped at all others. All things considered, 612 is easily the best 4-seater GT in the world.