| | |
| --- | --- |
| Published on 25 Feb 2010 | All rights reserved. |
| | |
| --- | --- |
| | The long-time class leader is back ! Can it better E60 and match the mighty E39 ? |

Ever since I started writing about cars, BMW 5-Series has been dominating the mid-size executive car segment. The mighty E39 (1996-2003) was a perfect car that we may encounter once in a life time. Being handsome, well-built, refined and great to drive, it was never seriously challenged by its rivals. The following E60 (2003-2009) was a forward-thinking creation. Admittedly, some of its ideas were so advanced that BMW had not masterminded them yet, such as the controversial flame-surface design, the over-complicated i-Drive control, the harsh-riding first generation run-flat tires and the artificial-feeling active steering. Nevertheless, it was still easily the quickest, nimblest and most efficient executive car around, thus it spent most time on the top of AutoZine Rating chart.

Then come the F10. Its styling, now by Adrian van Hooydonk, seems to go back to the school of E39. Well, in my eyes it is no match with that masterpiece, but at least it is more comfortable to our eyes than Chris Bangle's E60. This design is progressive rather than offensive. Some may describe it conservative, while some may complain for looking too similar to the new 7-series. In my opinion, Mr. Hooydonk seems to have better understanding of the tradition of BMW designs, which was all about progressive evolution and strong family resemblance. In fact, it was only Mr. Bangle who broke away from the tradition, trying to provoke "emotion" and inject individual character to each series.

So the new 5er is better looking, but you won't call it a beauty either. Its front end design is not too elegant, although the wider double-kidney grille speaks louder of its identity. The side view is quite ordinary. Only the tail with its taillight graphics looks genuinely stylish. Jaguar XF can easily beat it in beauty contest.


| | |
| --- | --- |
| | Mr. Hooydonk seems to have better understanding of the tradition of BMW designs... |

One thing you may notice at first sight is its sheer size. While the outgoing generation looked light on its feet, the new car looks as if a slightly younger brother of 7-series, delivering the same substantial feel. In fact, the F10 is actually built on a shortened 7-series platform. Although 102 mm has been cut from wheelbase and 71 mm eliminated from its overhangs, the upper class platform is more sophisticated, more refined and therefore make the 5-series considerably heavier. Most motoring journalists said it gained 60 kg from E60 – obviously they copied the figure from BMW's press pack without the slightest suspicion – but my archive data show the actual gain ranges from 105 to 170 kg depending on engines, or 130 kg in average. It doesn't make the 5er heavier than rivals, but it is no longer renowned for lightness.

On the plus side, the chassis has a bending stiffness 55 percent higher than that of the old car. The new double-wishbone suspensions up front is far more sophisticated than the MacPherson struts on previous generations of 5-series. It enables a roll center at the same level as that of the rear multi-link suspension, resulting in more stable behaviour under braking. This mean BMW could use narrower anti-roll bars to benefit ride comfort without sacrificing good handling. The 7-series platform also brings adaptive damping, hydraulic active anti-roll bars, 4-wheel steering system and Dynamic Drive Control (with Normal, Comfort and Sport mode to alter throttle, gearshift response, steering assistance and stability control threshold) to enhance handling and ride further, although you have to pay extra for these options. In the safety side, it brings Night Vision camera, head-up display, parking assist… virtually everything you can order in the larger limousine. Call it a mini-seven !


| | |
| --- | --- |
| | From 4-wheel steering to Night Vision, virtually everything you can order in 7-series... Call it a mini-seven ! |

However, the new car is not necessarily more costly to build than the old one. You might remember, the E60 was renowned for lightness and perfect static balance thanks to its aluminium front chassis structure – from firewall forward the whole structure was basically made of aluminum. However, that structure was costly to build and even more costly to repair after crash damage. Therefore the F10 has abandoned this structure and reverted to conventional steel monocoque. It is made of multigrade steel, high-strength steel and hot-stamped ultra-high-strength steel. As before, some outer body panels are made of aluminum, such as bonnet and front fenders. Some internal parts like front subframe, most suspension components and brake calipers are also aluminum. In addition to existing weight saving measures, the doors of F10 are also converted to aluminum, saving another 23 kg.

These measures were not enough to achieve a 50:50 balance though, therefore BMW moved its engine back by 40 mm, consuming half of the extra wheelbase that would have otherwise benefited interior space. The engine is also mounted lower by 10 mm in order to make space under the bonnet to comply with pedestrian protection requirements. In terms of packaging efficiency, the new 5er is not as good as the old car.

Aerodynamic efficiency has also taken a backward step. The outgoing car not only had a smaller frontal area but also a lower drag coefficient down to 0.27. The new car starts from 0.28 in the modest models, rising to 0.29 in 535i and 0.30 in 550i. This is a night and day difference from the latest Mercedes E-class, whose drag coefficient ranges from 0.26 to 0.28. Ridiculously, BMW has already applied an innovative automatic flaps to its nose intake, which draws the right amount of air to the radiator depending on cooling demand , thus keep aerodynamic drag to the minimum. It's probably time to head hunt the aerodynamicists from Stuttgart.

Nevertheless, by improving engines and adopting "Efficient Dynamics" package, which includes brake energy regeneration, on-demand lubricant and coolant pump, electrical power steering and low rolling resistance tires, BMW managed to make every model slightly cleaner, more frugal yet faster than their equivalent predecessors, although the improvement is much smaller than I have expected.


| | |
| --- | --- |
| | Both 535i (pictured) and 530d engines are marvellous. |

At launch there are 4 petrol engines:



523i

: don't be fooled by its name, this is actually a 3-liter magnesium-block straight-six with Double VANOS and direct fuel injection, detuned to 204 horsepower and 199 pound-foot of torque. Its first priority is to save fuel while deliver a smoothness that rivaling 4-cylinder engines cannot dream of.



528i

: same 3-liter engine as above, but tuned to deliver 258 hp and 229 lb-ft at higher rev. BMW does not brand it as "530i" this time around because that name would have deserved 272 horses.



535i

: having skipped 530i, the next engine is inevitably the turbocharged 3-liter straight-six. As in 5-Series GT, this is the new N55 unit with twin-scroll single-turbo, direct-injection and Valvetronic. 306 horsepower and 295 pound-foot of torque from 1200 rpm guarantees 0-60 mph in 5.7 seconds.



550i

: 4.4-liter direct-injected twin-turbo V8 from 750i. 408 hp and 442 lb-ft translate to 0-60 mph in 4.8 seconds, faster than the M5 of two generations ago.

The only four-cylinder engine available is the 2-liter turbo diesel of

520d

(184hp). It is also the only engine with automatic start-stop function. Sitting above it is a 3-liter straight-six turbo diesel in two states of tune – 204hp on

525d

and 245hp on

530d

. All of them are likely to be big sellers in Europe.

As for transmission, the new F10 continues to offer a 6-speed manual as standard to delight keen drivers. However, the big news is ZF's new 8-speed automatic, which will account for the majority of sales.


| | |
| --- | --- |
| | A mini 7-series here |

Enough technical bits. Now let us enter the cabin. Once you are on board, the impression of a mini-seven is strengthened further. Basically, the dashboard design is identical to that of the seven (as well as 5-series GT), although it is not fabricated from the same mould due to its slightly narrower width. Its minimalist design is far more stylish than the old one. The materials look expensive and the build quality is expectedly high. It might lack the sense of occasion of Jaguar XF or the fine details of Mercedes E-class, but you will never complain. Certainly not the improved i-Drive, which is finally intuitive to use. The same goes for cabin space. Given an extra half an inch of rear legroom, this 5-series is finally accommodative for four large adults – though the fifth may be hampered by its large transmission tunnel. Mercedes still leads it in all interior dimensions, but its advantage has been greatly reduced to the point of insignificant. However, the best news to me is the return of a driver-oriented center console, a feature of E39 or just any pre-Bangle BMWs. Again, it proves that Adrian van Hooydonk is more willing to appreciate the tradition of BMW.

Start the ignition, the 535i's turbocharged straight-six settles in a smooth and inaudible idle. It is not surprising to know the mini-seven gets much quieter on the run. Even travelling at three-figure speed on Autobahn, the long-gearing 8-speed ZF gearbox registers only 2000 rpm or so. Moreover, this is a great gearbox. Its gearshifts are seamless, its ratios are well chosen and its response is quick. No matter at what rev or under what load, it always find the right gear. That is not easy for a torque-converter automatic with so many gears. Lexus' 8-speed box, for example, always give you the impression of having too many gears as it hunts busily for the right gear. To less extent Mercedes' 7G-Tronic is the same. Only ZF can fully mastermind the technology.


| | |
| --- | --- |
| | Mercedes still leads it in all interior dimensions, but its advantage has been greatly reduced to the point of insignificant. |

The 535i engine is as good as expected. It is amazingly responsive for a turbocharged motor. There is stream of torque low down to overcome the 1700 kg kerb weight, delivering satisfying pace for overtaking. The diesel engine of 530d is nearly as refined, and its massive torque claws back most of the disadvantage in power. No matter which, the 5-series seems to maintain its lead over Mercedes E-class and Jaguar XF in performance. Its fuel economy is also remarkable.

Apart from powertrain refinement, the cabin is also well insulated from other noise sources, especially road noise. The new suspensions and new generation run-flat tires deliver a supple and quiet ride. They soak up bumps and expansion joints much better – and we are talking about the standard passive suspension. It is not really necessary to tick the adaptive damper option. However, adaptive damping does broaden its ability, taking comfort to higher level when you are in relax mood or firming up when you are in attack mood. After all, it is not very pricy, thus is a worthwhile investment.

That said, the 5-series is not as soft-riding as Mercedes E-class or Jaguar XF. Its firmer setup might sacrifice a little low-speed ride, but it is compensated with high-speed composure and superior cornering stability – and this is before you add the active anti-roll bars. Compare with the outgoing car, it displays tighter body control, better grip and, as a result, a more tie-down feel.


| | |
| --- | --- |
| | Still the most accomplished car to keen drivers, but a new E39 it is not. |

What we are not so sure is its steering. To our disappointment, the F10 has switched to a pure electrical power steering in the name of energy saving. Opinion about it is split. While most American motoring journalists are satisfied with its precision and feel, I heard at least three European journalists reported an artificial feel or lack of feedback when the front rubbers are pushed to the limit of adhesion. The problem is especially obvious on cars fitted with the new "Integral Active Steer" package, which combines active variable ratio steering rack with active rear-wheel steering. Theoretically, active variable ratio steering can greatly quicken the steering ratio at tight corners, making the large car amazingly handy. Rear-wheel steering could improve agility at low speed and stability at high speed. They work flawlessly in controlled environment, such as the Estoril track where most journalists driven. Nevertheless, in the real world, on more unpredictable country roads, there are times the computer could make poor judgement, resulting in inconsistent steering assistance. When the car decelerate to the point entering a tight corner, the rear wheels' transition from positive to negative angle could bring a moment that is neither sharp nor stable. That hurts confidence a little bit. No matter with or without the trickery steering aid, the helm of F10 is not as natural as that of Mercedes E-class. That is a disappointment to the fans of 5-series.

Don't get me wrong, the F10 is still the most accomplished car in the class to those putting dynamics on high priority. It is therefore our choice of the class. However, it is probably not as superior to others as we have expected. Will it remain at the top of the class over the next 6 or 7 years ? This time I am not so sure.
Verdict:





| | |
| --- | --- |
| Published on 31 Jan 2012 | All rights reserved. |
ActiveHybrid 5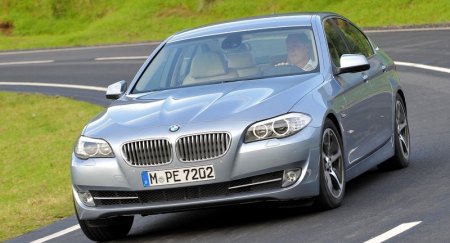 I like simple solutions. BMW's ActiveHybrid system is one of them. Introduced two years ago in ActiveHybrid 7, the system employs a small electric motor integrated into the housing of ZF 8-speed transmission thus it could fit easily into the 7-Series. Infiniti M35h adopted a similar approach. Both cars display powertrain response that are closer to normal cars than conventional hybrids.

The hybrid version of 5-series follows the same route, albeit with some refinements. The electric motor has its output boosted from 20 to 54 horsepower (though torque is unchanged at 155 lbft) to enable a true EV mode. The twin-turbo V8 has been substituted with the more frugal N55 3-liter single-turbo straight-six which produces 306 horsepower and 295 lbft of torque as in 535i on which the ActiveHybrid 5 is based. Because the peaks of both power curves do not come in sync, system output is 340 hp and 332 lbft. BMW claims the car goes from zero to 60 mph in 5.6 seconds and tops a regulated 155 mph, both are identical to the figures quoted for the automatic 535i. This mean the extra punch of electric motor is completely absorbed by the 150 kilograms of weight penalty that the hybrid car carries.

On the road, the ActiveHybrid 5 is easily the best driving hybrid car we have ever seen. It drives like the regular 535i, with a neural balance and remarkable agility that other hybrid saloons not known for. Ride comfort and highway refinement are beyond criticism. The hybrid powertrain is well integrated, with seamless transition between power modes and excellent response from the gearbox. The brake pedal is linear and feels normal. The electrical power steering has no difference from other 5ers. The only downside is less grip generated by the narrower, low rolling resistance tires, but that is only relative to the 5-series equipped with sportier tires. Compare with Infiniti M35h and the new Lexus GS450h, the ActiveHybrid 5 has an upper hand in driving dynamics.

However, what it does less good is exactly the focus of hybrids – fuel economy. The fact that the car drives normally implies the mildness of its electric mode, which operates across a narrower range than its rivals. Running at EV mode, the ActiveHybrid 5 can travel up to 37 mph (supposed the road is flat) before the engine fires, compare with 62 mph for Infiniti M35h which has a more powerful motor. The BMW might deliver respectable economy on highway, but that is mostly due to its fuel-sipping N55 engine and the default Eco Pro mode (which adopts slowest throttle/gearbox response and scale back air-con) rather than the hybrid function. Urban is where it should suffer. US EPA urban figure is estimated to be 24 mpg, 3 and 5 mpg down on M35h and GS450h respectively. Toyota's two-motor hybrid system, which uses a motor dedicated to power and another motor dedicated to regeneration, is proved to be the most frugal overall, returning an EU combined economy of 47.9 mpg and CO2 emission of 137 g/km. The BMW achieves only 44.1 mpg and 149 g/km, only 16 percent down from the regular 535i. However, its biggest threat actually comes from internal – 530d and 535d diesels manage 53.2 mpg / 139 g/km and 52.3 mpg / 142 g/km respectively.

Another disadvantage is luggage space. The 1.35kWh lithium battery pack robs the boot by 145 liters, reducing luggage space to 375 liters. That compares unfavourably with Lexus' 465 liters, although Infiniti is worse still at 350 liters.

Moreover, the ActiveHybrid 5 costs considerably more than the comparably equipped 535i and 530d, and even more expensive than the faster yet more efficient 535d. This mean its presence will be largely limited to the US market. While it is remarkable for its kind, the conventional 5-Series models are better options.

Verdict:




| | |
| --- | --- |
| Published on 9 Dec 2011 | All rights reserved. |
M5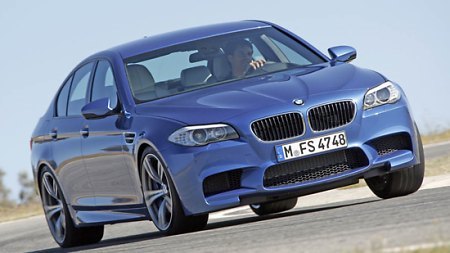 Since its birth in 1985, BMW M5 has always been the benchmark of performance saloons. Throughout the years, many rivals tried to challenge the M5 but none succeeded. More recently, the competition got intensified as Porsche Panamera Turbo joined the battleground and Mercedes-AMG got increasingly serious with its E63. Jaguar and Audi also upped their games with XFR and RS6. Most of them are even more powerful than the defending champion, putting a lot of pressure to the Munich. Can the 5th generation M5, based on the F10 5-series, keep its crown?

Let me put it straight: BMW has once again built the best performance saloon in the world. The new M5 is much faster than the old car in the real world yet more economical to drive in day to day basis. Its handling is even better. Its steering becomes intuitive again. Its gearshift is far slicker. Its brakes are finally good enough to match its performance. Its ride is a day and night difference to the old car – perhaps even better than the regular 5-series! It is more involving to drive than Panamera, more competent in corners than AMG and significantly faster than Audi and Jaguar. The gap is not huge, but clear enough to secure its title in the next few years.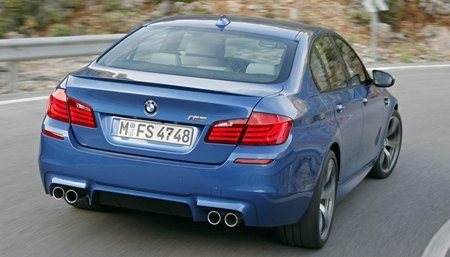 Nevertheless, from purists point of view, something is missing. It doesn't take long to find out. Just start the engine, prod the throttle aggressively and you will find it has lost the razor sharp response of the old V10, or just any good old M-power. Wind the engine through its rev range, you will be amazed by its tremendous bottom-end torque, which is very un-M-power, but this also means it never tempt you to access the very top of its rev range. With a rev limit of "only" 7200 rpm, you will definitely miss the addictive experience of spinning the old V10 to 8250 rpm. In fact, you won't get any rewards above 6000 rpm, which is the point its peak power produced. That feeling is strange to the hardcore fans of M-cars. Is this car really powered by an M-power? Or hidden under the bonnet is actually a modified GM small-block or Chrysler Hemi?

The noise is equally strange to our ears. At first, you will find a sound matching the best of the world – it sounds like a Ferrari V8 at low rpm and, as rev rise, changes its tone to something like the outgoing V10, which is so addictive! You might think that BMW must have the world's best acoustic engineers. But then you discover being cheated. These acoustic engineers are really acoustic engineers from audio equipment industry. They built a noise simulator and play the artificial noise through the speaker system in the cabin. Switch the system off, the noise becomes less special and, more problematic, far more subdued. It is no more than a distant growl in the cabin. No match to AMG's V8 for aural excitement.

Such a change of character is due to the new 4.4-liter twin-turbo V8, codenamed S63B44Tu. This is not exactly the first turbocharged motor for M-cars – that should be the N54 on 1-Series M – but it is the first for the M5. It goes without saying that BMW chose the downsize path to cut emission and consumption, but from performance point of view it also makes sense. No matter how high-revving the outgoing 5-liter V10 was, it was just not possible to produce as much power as a twin-turbo 4.4 V8 running a maximum boost pressure of 1.5 bar. The M5 needs those extra punch to fend off the competition from AMG, Porsche and Audi, so it is a logical development.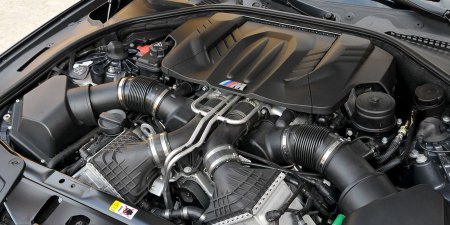 The S63B44Tu is not a bespoke design like the previous V10, but neither is a direct transplant from X5M and X6M. Although its essentials are the same as the latter, such as a unique cross-bank twin-turbocharging system that cuts turbo lag, Double-Vanos variable cam phasing and direct fuel injection, it has added Valvetronic throttleless intake control (first ever on the 4.4 twin-turbo V8), upped the compression ratio from 9.3:1 to 10.0:1, enlarged the air-to-water intercoolers (located ahead of the engine, as shown in the picture), enlarged the exhaust manifolds and adopted larger turbochargers that produce a maximum boost of 1.5 bar instead of 1.2 bar on the SUVs. The whole engine weighs 240 kg, same as the outgoing V10. Its maximum output is 560 horsepower at 6000-7000 rpm, and 501 pound-foot of torque from merely 1500 rpm all the way to 5750 rpm, thanks to the cross-bank turbocharging. Its combination of high specific output and wide spread of torque is unprecedented. For comparison, the torque band of a Porsche Panamera Turbo spans from 2250 rpm to 4500 rpm, much narrower than the BMW engine.

Meanwhile, the addition of automatic stop-start function and direct injection helps the car to cut CO2 emission by more than 30 percent, dropping from 344 to 232 grams per kilometer. European combined consumption is now 28.5 mpg. Finally, the M5 offers enough range to satisfy the need for cross-country motoring.

Straight line performance is definitely mind-blowing. Car and Driver timed only 3.7 seconds to cover 0-60 mph, which beats all rivals comfortably except Porsche Panamera Turbo. The Porsche is faster just because it has the advantage of all-wheel drive and a clever launch control. A more objective measurement of acceleration prowess is 0-100 mph, where the M5 clawed back the time it lost in initial tire slip and beat the Porsche at 8.3 seconds against 8.6 sec (both are C&D figures). By 150 mph, the gap is already widened to 3 seconds (18.3 vs 21.4 sec). We have no figures yet for the new E63 AMG Biturbo, but I doubt if its MCT gearbox could be as effective as BMW's dual-clutch box to translate the power into acceleration. After all, an equivalent CLS63 AMG Biturbo timed 3.8, 8.5 and 19.5 seconds to reach 60, 100 and 150 mph respectively (again by C&D), so the saloon is very unlikely to beat the M5. As for top speed, the BMW is also unbeatable as the optional M Driver's Package can raise its speed limiter to 190 mph. Who needs more?



What the figures cannot tell is the enormous flexibility of the engine. Although throttle response is no match to the old naturally aspirated engine, it is among the quickest in the turbocharging world. Turbo lag is minimal. With gigantic torque arrived from just over 1500 rpm, performance has never been so effortless to access. The better insulated cabin and smooth transmission also make the lightning acceleration less dramatic than you would expect.

Speaking of transmission, the new Getrag 7-speed dual-clutch gearbox is unquestionably a vast improvement over the old SMG automated manual. It replaces the jerky response of the old unit with really fast and smooth gearshifts. Rev matching is perfectly judged. The old unit's 11 gearshift modes have been simplified to 6, i.e. S1 to S3 for manual and D1-D3 for automatic. In D1, it works as seamlessly as a real automatic transmission. In S3, full-bore gearshifts can be as hardcore as on a race car, yet still far slicker than the equivalent mode on the old SMG.

What about handling?

The F10 is no longer a lightweight champion. It carries some 115 kg more than its predecessor, yet you will be hard pressed to tell the difference in corners. Its chassis is well balanced. Turn-in is responsive and body control is excellent, thanks in part to a rigidly mounted rear suspension subframe and forged aluminum suspension arms. Grip and traction are superb, thanks to a multi-plate clutch Active M Differential. There is a slight understeer built into its manner to keep it safe, but with so much torque available you can easily balance the understeer with throttle, so it can play power slide in corners as good as any old M5s.

The new speed-sensitive hydraulic steering – unlike the electric steering on regular 5-series – delivers good sense of the road. It feels far more natural than the active steer of E60 M5, although still lacks the fingertip sensitivity of Jaguar XFR.

The M5 F10 also gets more powerful brakes – compound (steel + aluminum) discs measuring 400 mm up front and 396 mm at the rear, clamped by 6-piston calipers. They are more resistant to fade than the old stoppers, even though they have more weight to cope with.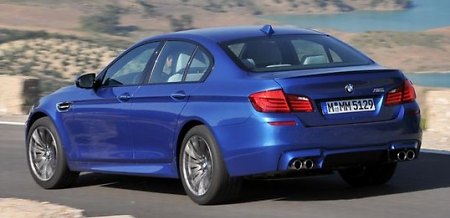 Another noticeably improved area is ride comfort. As before, the M5 is fitted with 3-mode adaptive dampers, but the reversal to non-run-flat tires and the F10's new suspensions and more rigid chassis lead to a smoother ride in all circumstances. In Comfort mode, the ride is even suppler than the regular 5-series on run-flat tires. Sport mode is best suited to keen drivers in mood, as it returns a good balance between chassis response and comfort. Sport+ is so stiff that it is useable only on a track.

The power steering, throttle response and stability control also offer 3 modes to choose from. Together with gearshift and suspension modes, they are integrated into the new "M Drive" control system to simplify the driver interface. You can preset these parameters individually into 2 modes, say, a

Weekdays

mode with all things in softest setting and a

Fun

mode with middle suspension setting and sportiest setting in other areas. These 2 modes can be accessed conveniently from the two M Drive buttons located on the steering wheel. With both modes disabled, the car returns to the default setting. We used to criticise the E60 for over-complication. Now the F10 has the problem sorted.

It is easy to conclude that the M5 F10 is a better car than the E60, but is it the best among the 5 generations? especially versus the mighty E39? I am not so sure. Despite of all those gigantic performance and sophisticated controls, the new car has lost somewhat the experience that made previous M5s so great, such as a razor-sharp throttle response, a truly exciting engine noise and the sense of bespoke engineering. Its new-found smoothness, noise insulation and effortless performance also take some thrills out of the driving experience, ridiculously. While it has succeeded defending its crown, it leaves a number of areas for the next generation to work on.

Verdict:





| | |
| --- | --- |
| Published on 6 Apr 2012 | All rights reserved. |
M550d xDrive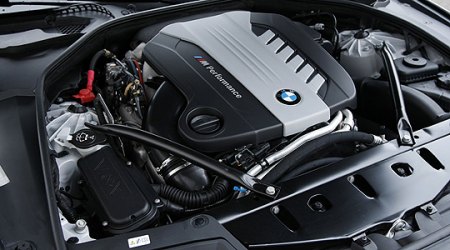 The M550d carries a number of firsts. Firstly, it is the first member of a new range of M Performance Automobiles to be introduced by BMW. These cars will include X5 M50d, X6 M50d, M135i and most likely M335i as well. They will be positioned between the real M-cars and the regular BMW models as an attempt to broaden the spectrum of M models (perhaps Munich has forgotten that the M was originally stand for Motorsport). In other words, the M550d can be described as the spiritual successor of the M535i which ran between 1979 and 1987 as a poor man's M5.

Secondly, the M550d is the first diesel car to carry the M badge, just as its name suggested. AMG toyed with the idea of performance diesel a decade ago, but it is Munich that comes first to market such a car. Thirdly, also the most important in my opinion, the car introduces the world's first ever production engine with 3 turbochargers. Yes, three turbos on a 3-liter straight-six. It has taken a step further than the already potent, sequential twin-turbocharged 535d. Let's see how it works.

The 2993cc aluminum-block diesel motor, codenamed N57S, is derived from the company's existing unit on 530d and 535d, but it utilizes a unique tri-turbo system and a 2200-bar common-rail piezo direct injection. There are 2 small, high-pressure turbochargers with variable turbine geometry (VTG) and a large, low-pressure turbocharger with fixed turbine geometry. They are arranged such that the two small turbos work in parallel to supply the large turbo at full boost.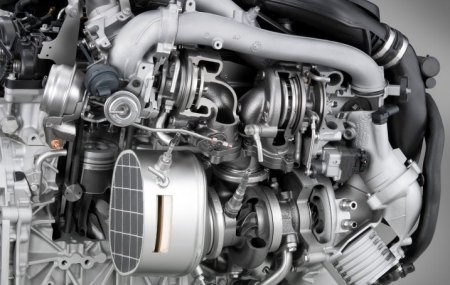 From just over idle, all exhaust is directed to drive one of the small turbos, which spools up quickly due to its low inertia and VTG. From 1500 rpm, the large turbo joins the work. Now the small turbo and large turbo work in series (or stage) to provide higher boost pressure. At 2700 rpm, the small turbo reaches its maximum flow capacity, so the second small VTG turbo intervenes. A vacuum-modulated exhaust flap opens up another path to the second small turbo. In this way, the large turbo enjoys greater supply of exhaust gas from both small turbos, thus the maximum boost pressure of 2.5 bars can be achieved. As seen, the 3-stage manner of the tri-turbo system has a number of advantages: quick low-end response, high boost pressure at high rpm and a wider power band.

The result is 381 horsepower released at 4000-4400 rpm, 546 pound-foot of torque available from 2000 to 3000 rpm and an unusually high redline of 5400 rpm. For comparison, the existing 535d manages 313 hp, 465 lbft and 5000 rpm redline. The tri-turbo engine's specific output of 127 hp/liter is not only a record for diesel engines but also matches that of the M5 ! To withstand the high stress, its crankcase, crankshaft and connecting rods have been reinforced. This, together with the complicated ducts, bypass valves, extra thermal insulation and stronger intercooler, adds 24 kg to the engine.

The M550d is mandatory to use ZF 8-speed automatic transmission instead of M5's 7-speed twin-clutch gearbox. It might be more capable to handle the higher peak torque, but the automatic is also more suited to the effortless, easy-going manner of M550d. For the same reason, it gets 4-wheel drive as standard, hence the "xDrive" badge. Unfortunately, because the right-hand-drive 5-Series is not compatible with xDrive hardware, whose front-drive mechanism locates at the right side of the engine thus blocks the steering column, the M550d will not be available to RHD markets.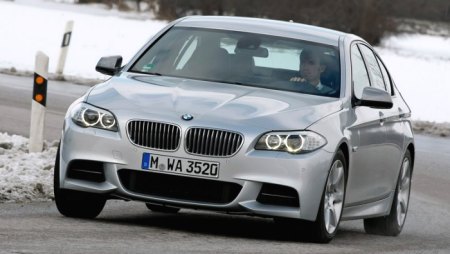 On the road, the tri-turbo diesel engine is nothing short of amazing. It produces gigantic torque and impressive flexibility from less than 2000 rpm, enabling instant acceleration without downshifting. The kind of mid-range shove could put the M5 into embarrassment at times, although it runs out of steam earlier. The engine feels more gasoline than diesel, as it is smoother and more responsive to throttle input than any other performance diesel engines ever known. Despite of the super-high boost pressure, turbo lag is virtually non-existent. Quite incredibly, it also sings beautifully, more like a V8 soundtrack. Not sure whether it comes from the tricky sound synthesizer.

Ultimately, the M550d fails to deliver the same kind of performance and excitement as the M5. While its official 0-60 mph time of 4.5 seconds trails the M5 by just a couple of tenths, the difference will stretch larger once the M5 has overcome initial slippage and its driver determined to work out his best. Despite of its undieselness, the diesel straight-six cannot match the M5's twin-turbo V8 for initial throttle response, smoothness, eagerness for rev and ultimate power. Yes, its power is easier to access, but it is also more restrained ultimately. In other words, it lacks the broad talent of the M5 engine. The automatic gearbox is a tad slow in manual mode compared with the DCT.

In the twisty, the M550d also lacks the M5's controllability. Its xDrive mechanism sends power to front wheels whenever the rear starts losing traction. That is undoubtedly good for running on wet or snowy roads. On the dry, however, the xDrive prevents the M550d from inducing power slide like the M5. Therefore it is not as much fun to drive. Besides, the M5 displays slightly sharper chassis response and stronger braking owing to its stiffer suspension setup and larger brakes.

As an everyday Autobahn rocket, the M550d is probably a better bet than the real M-car. It is fast and refined at cruising speed. It returns a combined consumption of 44.8 mpg and carbon footprint of only 165 g/km. Nothing else at this performance level comes close to those figures. However, if you want a large sedan that is simultaneously comfortable for everyday use and hugely exciting to drive, nothing could match the M5.

Verdict: