E39 5-series is seen as the greatest achievement of Wolfgang Reitzle, the highly respected product chief of BMW during 1990s. In its days many magazines described it as the best luxurious cars in the world. Many could not help praising it a perfect sedan. Yes, to pick faults from the 5-series was not easy, because it performed outstandingly in all areas - handling, ride, refinement, engines, styling, build quality, seating comfort, ergonomics, fuel consumption… E39 was the best example of Dr. Reitzle's perfectionist character.

The E39 5-series was introduced in Frankfurt motor show in 1995 as the successor to E34 5-series. I remember E34 was a remarkable car then, but E39 raised the game much higher. First of all, it had its body stretched in all dimensions to improve interior space, including a 70 mm longer wheelbase. This finally solved the rear passenger head and legroom problem of its predecessor. Everybody should fit comfortably into the E39, saving the need to migrate to 7-series. Inevitably, the larger body had larger frontal area, so BMW designed a sleek shape which not only looked handsome but also reduced drag coefficient from 0.30 to 0.27 (for 520i) or 0.28 (528i). This helped it to raise top speed while reducing fuel consumption and wind noise.

E39 could handle and ride so well because of several reasons. Firstly, its chassis was made immensely strong - 80 percent stiffer in torsion than its predecessor ! this was by far the stiffest car then. So stiff that BMW found it unnecessary to raise chassis rigidity anymore in the subsequent E60. The chassis was also much safer under crash. You might think it must be very heavy, don't you? Wrong. The chassis needed just 10 extra kilograms to achieve the vast improvement of rigidity and crash worthiness. To scare you more, the whole car actually weighed

LESS

than the old generation, thanks to the use of all-alloy engine, aluminum transmission case and aluminum suspensions. Take a 528i for instance, BMW claimed it was 35 kg lighter than the old 525i.

The suspensions of E39 was a technical milestone. On the one hand, it gave up the old fashion semi-trailing arm rear suspensions and switched to a new Z-axle multi-link setup, which had superior wheel control. On the other hand, the Z-axle and the MacPherson strut front suspensions were made almost entirely of aluminum alloy - a first in mass production car. Basically, except the wheel bearings, all suspensions parts were aluminum, such as mounting sub-frames, control arms, strut tubes and steering knuckles. This saved 44 valuable kilograms of unsprung weight, benefiting ride quality a lot. No wonder British magazines praised its ride comfort over their rough roads while German drivers appreciated its composure over fast bumps. Few other cars were so widely acclaimed.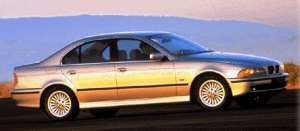 E39 was also the industry leader in the field of NVH engineering. It was one of the first cars to mount all suspensions on sub-frames and via rubber bushings to isolate NVH from the chassis. To deal with wind noise, BMW worked in its acoustic lab to tune its aerodynamics and eventually added triple sealing to the doors and noise-absorbing foam to the window pillars. No wonder it set new standard in cabin quietness and refinement. However, BMW didn't take all noises away. It deliberately left the engine noise untouched. Normally under civilized use, the inline-6 revved quietly. Once floored down the throttle, the beautiful roar of the 6-pot engine inducted into the cabin and raised the pulse of its driver.

The same driver involvement could be found in handling. As all petrol six-cylinder E39s achieved 50:50 percent front to rear weight distribution, they turned into corners neutrally and eagerly. They set benchmark in dynamics for the executive car class, bringing small-car agility to the class for the first time. The steering was beautifully weighted and very feelsome. Other human interfaces were also tuned to near perfect - slick gearshift, perfectly sited driving position, pedals and instrument, comfy seats… superb ergonomics combined with impeccable build quality and beautiful dashboard design, how could BMW make further improvements from this? the answer is no. Its successor E60 actually failed to match it in a number of key areas.

Engine was also the strength of BMW. Although the 5-series brought no new engines at launch, its six-cylinders (170hp 2.5-litre for 523i and 193hp 2.8-litre 528i) and V8 (235hp 3.5-litre 535i and 286hp 4.4-litre 540i) were the top engines in the world then. I especially preferred 528i, the core model of the range. Like all BMW inline-sixes, it was silky smooth, eager and flexible. On paper, its power was limited by the need to satisfy German insurance companies. In reality, its superior torque from the longer stroke and Double-Vanos gave 528i remarkable performance - Autocar recorded 0-60 mph and 100 mph in 6.8 and 18.0 seconds respectively. This simply matched some V8 rivals. On the other hand, it managed to reduce fuel consumption from its predecessor.

In 2000, the 2.8 engine was replaced by the much improved 3.0-litre engine. With 231 horsepower on tap, Autocar managed to surpass the previous figures even on a wet track !

American were especially excited with the flagship 540i Sport, whose torquey V8 and 6-speed manual gearbox allowed Car & Driver to time 5.5 seconds for 0-60. Many saw 540i Sport as a cheaper alternative to M5. However, it was not the best E39 because the weight of the V8 hampered its handling agility somewhat, while its recirculating-ball steering (employed because of the lack of space) was no where as communicative as the rack-and-pinion steering of the 6-cylinder models.

The E39 5-series was definitely a masterpiece of its time. It raised the standard so high that arch-rival Mercedes E-class took 2 generations to surpass it - and just marginally. It also forced the engineers responsible for E60 to go to the extreme, employing some pre-matured technologies such as active steering, aluminum front structure and i-Drive, just wanted to better the E39. Unfortunately, the new car still fails to match the integrity of E39, especially in subjective aspect like steering and design. Perhaps this is the best testimony for the greatness of E39.