Sales figures

Sales:
2018: 1630 units
2017: 1600 units
2016: approx. 1450 units
FY2015/16: 1,607 units
FY2014/15: 2,015 units (729 Elise, 724 Exige, 562 Evora)
FY2013/14: 1,296 units
CY2011: 2,600 units
FY2010/11: 1,985 units
FY2009/10: 2,715 units
FY2008/09: 2,280 units

Production:
CY2013: 1,368 units
CY2012: 1,043 units
CY2011: 1,457 units
FY2006/07: 2,633 units
CY2005: 5,053 units
FY2004/05: 4,135 units
Introduction
Lotus Group consists of Lotus Cars and Lotus Engineering, the former produces sports cars and the latter provides engineering consultancy to other car makers. The cars of Lotus follow the lightweight philosophy established by its founder Colin Chapman to enhance handling and acceleration. However, like most other British sports cars specialists, Lotus sources mass production engines from other car makers to save costs. This does not help performance and brand image.

Since the flagship Esprit retired in 2004, Lotus no longer has a car comparable to its old rivals Porsche and Ferrari. It builds basically only one model, Elise, and its increasingly pointless derivatives. Despite of a lot of talk, Lotus has yet to develop a new generation Esprit owing to its weak financial health. However, the new mid-size V6-powered Evora brought some cheers in 2009.

Lotus' aluminum assembly plant in Hethel has a capacity of 10,000 cars. As its own cars amount to 2,000 or so units a year, it always seek assembly contracts from other car makers to fill the excess capacity. This led to the assembly of Opel Speedster / Vauxhall VX220 and Tesla Roadster, all based on the Elise chassis. However, contract assembly business dried out in recent years as big car makers brought their niche models inhouse.

Brief History

Colin Chapman (1928-82) was undoubtedly one of the greatest automotive engineers in history. When he was still studying engineering at university, he started modifying the mass production Austin 7 for racing and took a few wins in local trail races. After his graduation in 1951, his third car, Mk3, stormed the 750cc formula class. Unlike contemporary rivals, Mk3 employed tubular spaceframe in its construction to achieve high rigidity yet light weight. Chapman received many orders from other teams, therefore he founded Lotus Engineering Company in 1952 and began his full-time career as automotive engineer.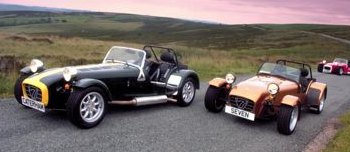 Lotus and Caterham 7



During his whole life, Chapman devoted his time and heart to motor racing. However, in order to fund the racing projects, he started selling road cars. In 1957, the Mk 6 race car was converted to the first-ever Lotus road car - Mk 7. This car was renowned for lightness and good handling despite of using tuned mass production engines from Ford. Some 2500 cars were sold in the next 15 years. Its evolution is still being produced by Caterham today, showing how timeless its mechanical design was.

Also in 1957, Lotus unveiled Elite, which experimented a revolutionary composite monocoque body to cut weight. Chapman is a strong believer in weight reduction, or in his words, "add lightness". One of his famous quotes was "Any car which holds together for a whole race is too heavy."

The Elan of 1962 was the peak of Lotus. Having experienced cost and durability problems in Elite, Chapman designed a cheaper steel backbone chassis for his new roadster / coupe. Power came from Ford's brand-new twin-cam engine. The pretty roadster ran as fast as it sold. A total production of 12,000 units set a new record for Lotus.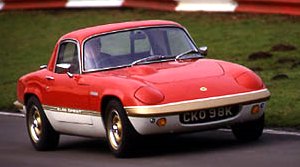 Lotus Elan



After Elan came the first mid-engined sports car, Europa, which also sold well. Since the 1960s, Lotus expanded its business to engineering consultancy services. It developed the chassis for De Tomaso Mangusta and DeLorean. It converted mass production cars into racing / performance aces, such as Lotus (Ford) Cortina, Lotus Sunbeam and Lotus (Opel) Omega. It also developed engine for Chevrolet Corvette ZR1. The engineering consultancy business became increasingly important while car production slumped from the 1970s to the early 90s. As a result, Lotus Engineering departed from the road car division, just like what Team Lotus did earlier in 1950s.

Until his death, Colin Chapman concentrated most of his energy to formula one racing. Team Lotus won F1 championship 7 times from 1963-78, creating world champions like Jim Clark, Graham Hill, Jochen Rindt, Emerson Fittipaldi and Mario Andretti. It was the dominating force in F1 during this period.

However, his neglect of the road car division led to sales decline. The Esprit of 1976 was designed to be a mid-engined supercar challenging Ferrari and Porsche, but its inhouse-developed four-cylinder 907 engine was neither powerful nor graceful enough to take on its rivals, even in turbocharged form. Lotus also suffered from poor build quality and lack of attention to details like most other British sports car specialists. This prevented it from rising to the league of Porsche and Ferrari.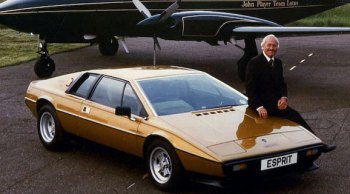 Colin Chapman with Lotus Esprit



In 1982, Colin Chapman died suddenly due to heart attack. Lotus got into financial trouble and sold 25% stocks to Toyota in 1984. During this period the Japanese giant learned multi-valve engine technology from Lotus and put it into mass production. Lotus also helped tuning Toyota's new mid-engined sports car, MR2, into a great driver's car. 4 years later, Toyota left and Lotus was completely took over by GM.

GM spent US$40 million to fund the development of Elan Mk2, hoping it to pump production volume to 3,000 cars annually. However, the little roadster went to the wrong direction - a front-wheel drive configuration, a small capacity turbo engine and an overweight body. These conflicted with the philosophy of Chapman. Most important, it was very expensive compare with its Japanese rivals, most notably the excellent Mazda MX-5 - a car ressembling the original Elan ! The Elan Mk2 sold poorly thus was axed after only 3 years.

GM pulled out in 1993 and sold Lotus to Italian tycoon Romano Artioli, who had already revived Bugatti. The white-haired man did little to help Lotus. However, he did approve a new mid-engined roadster and named it after his grand daughter, Elise. Debuted in 1996, Elise came back to the lightweight philosophy of Chapman by using a glued and riveted aluminum chassis and a composite bodywork. Thanks to a kerb weight of only 723 kg, its Rover K-series 1.8-liter enigne was good enough to provide sparkling performance. It was also reasonably priced, so its sales exceeded expectation by far - some 3,000 cars were built per year at its peak. Around 12,000 Elises were made before it was updated to second generation 5 years later. Lotus continued squeenzing its potential by adding derivatives like Exige and 340R.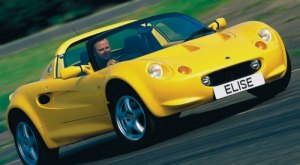 1996 Lotus Elise



Nevertheless, before he saw the success of Elise, Artioli himself got into financial trouble as his Bugatti bankrupted. He sold majority shares to Malaysian car maker Proton in 1996.

Proton used Lotus Engineering to help developing its own cars and engines, but it did not make big investment into Lotus Cars, just let the latter to struggle by its own. Lotus built an advanced aluminum assembly plant in Hethel, which had a capacity of 10,000 cars. As the plans for new Esprit and a mid-size car (M250) were delayed from time to time, the plant was seriously underutilized. Some excess capacity were then filled by producing Opel Speedster / Vauxhall VX220 for GM Europe and then Tesla Roadster. All were engineered based on Elise.

Since the mid-2000s, the car division of Lotus was hardly profitable as sales of its aging Elise family started tailing off. This was not helped by the demise of Esprit in 2004 and Opel Speedster / Vauxhall VX220 in 2005. Lotus had limited budget for new car development, therefore it could only introduce countless of derivatives and special editions from Elise. An all-new car, Evora, finally arrived in 2009, but it could not stop Lotus from making loss.

In 2010, Lotus announced a massive product offensive under the leadership of ex-Ferrari man Dany Bahar. It promised to introduce 5 all-new models and would promote Lotus to the league of Ferrari and Aston Martin. Unfortunately, just before the first of those cars materialized, parent company Proton was sold to DRB-HiCom, which sacked Bahar and scrapped the ambitious plan. Frenchman Jean-Marc Gales was brought in to cut costs and turnaround Lotus with a down-to-earh approach. Consequently, the aging models kept evolving.

In 2017, the struggling Proton sold Lotus to Chinese car maker Geely.