| | |
| --- | --- |
| Published on 28 Jun 2016 | All rights reserved. |

The last Volvo S80 was born in 2006. We have been waiting for its successor too long. Many things happened in the past 10 years. Under the management of Ford, Volvo tried to emulate the sporty theme of its German rivals, but this resulted in limited success. Its sales declined gradually and ran into losses. 6 years ago, Ford gave up and sold it to Chinese car maker Geely. With new investment and now Volvo's own people taking charge, things improved step by step. Last year's second generation XC90 made a breakthrough in the large SUV market with its elegant styling, fresh interior and thoughtful engineering. It was regarded by many motoring journalists as the best in class and the turning point for Volvo. However, more important is that the large SUV introduces the new SPA (Scalable Product Architecture) platform, which will form the basis of next generation S60, XC60 and S80. Volvo is on the wave of revival.

The new S90 replaces S80 to be the company's flagship saloon, so it competes with Mercedes E-class, BMW 5-Series, Audi A6, Jaguar XF, Lexus GS etc. in the global executive car market. However, like the XC90 it has found its own identity rather than following the formula set by German. In terms of styling, the Swedish sedan is sleeker and cleaner than most rivals. Its shape is nicely adapted from the Volvo Concept Coupe (2013 Frankfurt) and Volvo Concept Estate (2014 Geneva). There is none of the heavily twisted lines or sculpted surfaces so fashionable in the industry, just subtle curves over planes. It follows the best tradition of Scandinavian designs: form follows functions. The slim, vertical waterfall grille works incredibly well at the nose. Not only it avoids the XL-size approach usually taken by other executive cars, the grille is also made more elegant by its concave surfacing. In contrast, the headlights are quite fancy. Volvo calls its T-shape LED element as Thor's Hammer, though you might as well call it Bob the Builder's Hammer (I do think it looks more like the latter, see here). Similarly, the C-shape LED taillights look not the best integrated with the body. Otherwise, the S90's exterior design is close to flawless. Most important, its unique shape is refreshing.


The new car looks long and low. Will its coupe-like roof line hamper rear headroom? Surprisingly, the cabin is actually very roomy for six-footers both front and rear. The fifth passenger might find it slightly less comfortable because of the wide transmission tunnel (which is designed to house the battery for T8 plug-in hybrid model), but the cabin feels light and airy. Moreover, thanks to relatively slim pillars, all-round visibility is excellent – not quite as good as the classic 240, 740 or 850, of course, but it is better than most rivals these days. At the back, the Volvo offers a well-shaped luggage compartment which can swallow 500 liters.

When you enter the cabin, you will notice its solidity from the door thunk. The S90 feels built to high quality. Maybe a few switchgears are not quite as expensive as Mercedes E-class, but the Volvo's interior design and build quality is classy in its own right. It tastefully uses light-color wood, leather and aluminum to create a warm and natural environment for you to relax. The simplicity of its design is made possible by a great infotainment system with a 9-inch portrait touchscreen, which is great for viewing navigation map. The broad front chairs are as comfortable as you would expect from Volvo – and you know how high Volvo is regarded in seat comfort. The vertical air vents sandwiching the touchscreen are more effective than the circular ones used by rivals. The stainless steel speaker grille at the door panel and the alloy door pull look expensive, as are the jewel-effect engine start button and drive mode selector on transmission tunnel. This is the best finished interior of the class.


Sitting on the SPA platform, the S90 should be modern. As expected, its monocoque chassis employs high percentage of high-strength steel to cut weight while increasing rigidity. Some of the front chassis parts, such as the bumper beam, suspension towers and tower brace, are made of cast or extruded aluminum. It is not as aluminum-intensive as its German or British rivals, and this is reflected on scale, but this is less relevant as the Volvo does not pretend to be sporty. Like XC90, the car employs classy double-wishbones front suspension. At the rear, it uses integral-link arrangement and an unusual transverse composite leaf spring (like Corvette) which has been proved effective on the XC90. Optional suspension adds adaptive air springs at the rear axle and adaptive dampers all round.

Most of the S90 sold must be front-wheel drive, but Volvo also offers the XC90's AWD system with Haldex multi-plate clutch. The range of engines and transmissions are also shared with the large SUV. All engines come from the in-house-developed Drive-E 2-liter four-cylinder family. The petrol models include 254 hp T5 (2.0 Turbo) and 320 hp T6 (2.0 turbo + supercharger), while diesel range consists of 190 hp D4 and 235 hp D5 (both 2.0 sequential twin-turbo). To reduce turbo lag, the higher power diesel engine employs a VTG turbine as well as a new anti-lag technology called PowerPulse, which uses compressed air to spool up the turbine quickly (compressed air is stored at a 2-liter high-pressure tank mounted beside the engine and remained charged up by an electric pump). At the top, the T8 plug-in hybrid flagship combines the T6 engine and a rear-mounted electric motor for 408 hp total. It does performance in an environmental-friendly way, which is a strong selling point against the German. All engines mate with an Aisin 8-speed automatic transmission.


Safety features are another strength of the large Volvo. Its Pilot Assist is a semi-autonomous driving system that can read lane markings and keep the car on road at speed up to 130 km/h (81 mph). However, unlike Mercedes E-class its approach is more to enhance safety rather than doing the driving for you, so it won't change lane automatically on a press of turn-signal button, or turn a corner automatically. On the plus side, its collision avoidance system now detects not only pedestrians but also large animals like elks and cows. By upgrading the collision avoidance system, Volvo shows not only social responsibility but also wildlife responsibility. Such philosophy is so likeable!

So how does the large Volvo drive on the road? Pretty good, if not exactly first class. You won't expect the Volvo to be as sporty to drive as a Jaguar or BMW, and this is still the case on the S90. It isn't as agile or as stable in corner, just as its FF mechanical layout suggested. The steering is direct and heavy enough to inspire some confidence, but there is not much feel, and the self-centering is too strong to feel natural. Even with AWD installed, the S90's handling is biased towards safe understeer thus it won't encourage you to abuse its chassis. However, its handling is not clumsy either. Far from it actually. You can drive the car quite quickly on mountain roads thanks to its absorbent suspension and predictable handling. Its suspension is dialed back from the rather hardcore setting of S60 and torwards the comfort side more akin to Volvo. This has to be a clever move, because comfort had always been the core value of Volvo until the Ford-era. With softer suspension, the S90 inevitably rolls and pitches more in corner by the usual norm of German cars. However, it rides very well, floats over bumps and road imperfections, especially with air suspension. Big or shape-edge bumps on highway can still catch it out though (a common weakness of air suspensions), but in general the S90 is one of the most comfortable cars of the class for cruising. This is also helped by its good directional stability and little wind, tire or engine noise.


As the S90 carries more weight than most rivals, and it is served with only 4-cylinder engines, it is not particularly quick. Nevertheless, all its engines provide good enough performance, including the least powerful D4. The Drive-E diesel engine is still too loud at high rev, but with nearly 300 pound-foot of torque you rarely need to work it hard unless in a hurry. At lower revs, it is satisfyingly hushed and smooth. D5 engine has a similar manner but is both punchier and more responsive, thanks to PowerPulse technology. Comparatively, the T6 petrol is more refined, but it doesn't feel as powerful as its 320-hp rating suggested. BMW's 3-liter straight-six turbo feels easily stronger and smoother. Twin-charger is a good idea, but it is no replacement for capacity and cylinders. It also needs to be worked harder than the D5 to extract the same performance in real-world driving. The electric assistance in T8 might help, but then the car weighs 2 tons and costs a lot more to purchase. As predicted, gearshift of the Aisin 8-speed automatic is more about smoothness than response, no match with ZF auto.

The average powertrains and handling means the new S90 is not good enough to top the class, but its handsome looks, excellent cabin and high level of comfort still put it at a strong position. Not exactly a position to challenge the German, because the Swedish car is now truly different enough to avoid direct comparison. Who says there is only one way to succeed?

Verdict:













S90 D4



2016

Front-engined, FWD
Steel monocoque
Mainly steel
4963 / 1879 / 1443 mm
2941 mm
Inline-4 diesel

1969 cc
DOHC 16 valves

Sequential twin-turbo

CDI
190 hp / 4250 rpm

295 lbft / 1750-2500 rpm

8-speed automatic

F: double-wishbone
R: multi-link

-

225/55R17
1733 kg

143 mph (c)
7.7 (c) / 8.2*

22.1*

S90 T5



2016

Front-engined, FWD
Steel monocoque
Mainly steel
4963 / 1879 / 1443 mm
2941 mm
Inline-4

1969 cc
DOHC 16 valves, DVVT

Turbo

DI
254 hp / 5500 rpm

258 lbft / 1500-4800 rpm

8-speed automatic

F: double-wishbone
R: multi-link

Adaptive air spring + damping
245/45R18
1726 kg

143 mph (c)
6.5 (c) / 6.3**

15.7**

S90 D5 AWD



2016

Front-engined, 4WD
Steel monocoque
Mainly steel
4963 / 1879 / 1443 mm
2941 mm
Inline-4 diesel

1969 cc
DOHC 16 valves

Sequential twin-turbo, VTG

CDI, PowerPulse

235 hp / 4000 rpm

354 lbft / 1750-2250 rpm

8-speed automatic

F: double-wishbone
R: multi-link

Adaptive air spring + damping
245/45R18
1817 kg

149 mph (c)
6.6 (c)

-









Performance tested by: *Autocar, **C&D










S90 T6 AWD



2016

Front-engined, 4WD
Steel monocoque
Mainly steel
4963 / 1879 / 1443 mm
2941 mm
Inline-4

1969 cc
DOHC 16 valves, DVVT

Turbo + supercharger

DI
320 hp / 5700 rpm

295 lbft / 2200-5400 rpm

8-speed automatic

F: double-wishbone
R: multi-link

Adaptive air spring + damping

245/45R18
1817 kg

155 mph (limited)
5.6 (c) / 5.6* / 5.6**

13.9* / 14.5**


S90 T8 plug-in hybrid



2016

Front-engined, e-4WD
Steel monocoque
Mainly steel
4963 / 1879 / 1443 mm
2941 mm
Inline-4 + electric motor

1969 cc
DOHC 16 valves, DVVT

Turbo + supercharger

DI
320 + 88 = 408 hp

295 + 177 = 472 lbft

8-speed automatic

F: double-wishbone
R: multi-link

Adaptive air spring + damping

245/40WR20
2002 kg

155 mph (limited)
5.0 (c) / 4.5*

12.3*









Performance tested by: *C&D, **MT









General models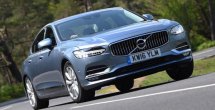 Copyright© 1997-2016 by Mark Wan @ AutoZine