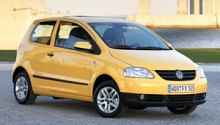 Fox was evolved from Wolf. We are not talking about animals, of course, but the smallest cars from Volkswagen. Since Volkswagen added Lupo (means wolf in Italian) as its entry-level mini car in 1998, its success was limited. The Lupo was one of the smallest cars in Europe. It was built in Wolfsburg, VW's headquarters in Germany, with impeccable quality. But the problem is the market doesn't need such an expensive mini car. Budget buyers chose the Korean cars, Japanese cars and Fiat instead, leaving Lupo to be a niche player.

After 7 years, VW finally gave up. It switched to source from its Brazilian arm, import a mini car back to Europe. This is Fox.

That's why Fox is not actually a car designed and built to European standard. It was originally designed to satisfy Latin America buyers (there are lots of them there, although we usually overlook). Not exactly poorly built, but it falls short of the standard of other Volkswagen group products. Compare to the Lupo, you can easily see its interior plastics and trimming are cheap, while the dashboard styling is workman-like. It brings you back to reality.

Nevertheless, the Brazilian-built Fox is cheaper than the Lupo yet offers considerably more space. In fact, its body is a size up, actually matches Polo. No, it is even taller than Polo by 80mm. This enables an elevated seating as well as abundance of headroom. Naturally, the rear seat is more accommodating than the ultra-short-wheelbase Lupo. It is best suited to children, but adults won't complain for short journey either. However, its rear seat space is not as generous as Korea cars like Hyunda Getz, Kia Picanto and Daewoo Kalos.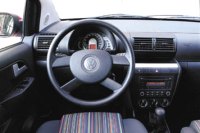 In contrast, luggage capacity is more generous. As the rear seat is mounted on rails and can slide back and forth for 150 mm, cargo room can vary from 260 to 350 litres. This expand to 1016 litres when the rear seat folds down.

The Fox looks conservative from outside. Its chassis doesn't excite either. The standard Volkswagen group layout - front MacPherson strut and rear torsion-beam axle suspensions. The standard Volkswagen tuning - good grip, predictable but understeer moderately when it rush into corners. However, its suspensions are set quite soft and has long travel - designed to deal with the poor roads in Latin America - thus generate excessive body roll. Apparently, Fox is not designed for driving fun.

The engines also lack sparkle. Fox employs a 1.2-litre 3-pot and 1.4-litre 4-pot petrol engine like Polo, but they are cheapened versions. The 1.2 runs old-fashion 2 valves per cylinder and produces only 54 horsepower. The 1.4 has lost FSI direct injection which found in Polo, hence producing only 75 horsepower. Although both engines are torquey, they don't have enough power for overtaking.

So, Wolf to Fox is a backward evolution. When quality and fun factors no longer exist in a Volkswagen, why don't us simply buy an even cheaper Korean car?