Lexus LC






Debut: 2017




Maker:

Toyota


Predecessor: No







| | |
| --- | --- |
| Published on 22 Dec 2016 | All rights reserved. |

It sounds like a dream come true. 4 years ago, Lexus LF-LC won our Concept Car of the Year award. Its design was original, radical yet irresistibly beautiful. In other words, a rare masterpiece of Japanese design (no, it was actually designed by the California studio). 2 years ago, we were disappointed to see the production version, RC coupe, to lose much of its aesthetic. Now we know why. The RC is not the production version of LF-LC, but this car is. Look at these pictures, can you believe this is a production car instead of a concept? No, you are not dreaming. This has to be one of the most striking production car designs we have seen in years.

It is hard to explain why Lexus needs 2 luxury coupes in a shrinking market segment. Yes, the LC is positioned above RC thus will rival BMW 6-Series (instead of 4-Series), Maserati GranTurismo, Jaguar F-Type R, Mercedes SL, Porsche 911 and Aston Martin Vantage in the price region of £85,000. However, its 2+2 layout is no more accommodative than the RC, and its top engine, 471 hp 5.0-liter V8, is exactly the same as the one powering RC F, as is the 0-60 mph claim of 4.4 seconds. In fact, I suspect it could be slower, because the LC500 carries 140 kg more than the RC F. Over time it may switch to a more powerful twin-turbo V8, but it won't happen any time soon.


The LC is naturally larger than the RC, but not as much as expected. It measures 4760 mm from nose to tail, only 60 mm longer than the RC, although its wheelbase is a massive 2870 mm or 140 mm longer, thanks to shorter front and rear overhangs. It is 80 mm wider and a significant 50 mm lower, so the proportion is even sportier. Unlike the RC, it is built on the company's new premium rear-wheel-drive luxury platform GA-L (Global Architecture-Luxury), which will be used by the next generation LS, GS and IS as well as Toyota Mark X and Crown. In this case, the chassis is primarily made of high-strength steel, but aluminum is used for the bumper beams, front suspension tower castings, forged suspension control arms and many body panels such as bonnet, front fenders and door shells. The inner door structure is made of carbon-fiber, while boot floor is made of composites. The roof panel is constructed in carbon-fiber reinforced plastic like BMW M cars to lower center of gravity. Speaking of CoG, Lexus said it is now as low as Porsche Cayman, believe or not. Another major improvement is front-to-rear weight distribution because the engine is positioned 50 mm further back. The V8 model has a static balance of 54:46 while V6 hybrid model is slightly better at 52:48, thanks to the boot-mounted battery pack. Neither are as good as BMW's or Maserati's though.

To enhance looks, the car rides on huge, 21-inch forged alloy wheels. The front fenders leave so little space above the wheel arches! It looks more sports car than grand tourer.


Despite the extensive use of aluminum and carbon-fiber, the LC still weighs nearly 2 tons on the scale. Therefore, performance is not its strength. The 5-liter V8 keeps conventional naturally aspiration hence the healthy sound, crisped throttle response, sweet revving manner and linear power delivery, but the performance it offers is unremarkable. The new Aisin 10-speed automatic helps a little. It promises closer ratios, wider spread and faster shifting than the old 8-speeder, but it is not as quick as a proper dual-clutch gearbox. Even if it was, the LC500 would still be a lot slower than a BMW M6 or Jaguar F-Type R. It is a match of 650i or Mercedes S500 Coupe instead.

Still, the V8 is the one to have, because the V6 hybrid on LC500h is less exciting. It consists of an Atkinson-cycle 3.5-liter V6 and two electric motors for a combined output of 354 hp. Top speed is capped at 155 mph instead of the V8's 168. 0-60 mph takes 3-tenths longer, which might sound okay, but the faster the pace the further it drops back as its electric power fades out. After all, an economy-oriented hybrid sports car sounds too anticlimax in the new world order set by 918 Spyder and new Honda NSX. Worst of all, the hybrid V6 does not make great noise, and Toyota tries to mask that with digital noise through speakers!


One thing of the LC500h is interesting though: it introduces a new transmission called Multi-stage CVT. This combines a planetary CVT with a 4-speed automatic. The latter significantly reduces rubberband effect. The CVT provides 3 artificial ratios, each works through the first 3 gears of the automatic to provide 9 fixed ratios. In addition to the 4th gear of automatic, which is an overdrive, it matches the ratios count of the 10-speed automatic. In reality it works well, providing sportier response than any CVTs we have known.

Surprisingly, you sit as low as a sports car in the LC, so it feels more 911 than 6-Series. Facing you is an LFA-style instrument and dashboard, which is easily more special than BMW's or even Porsche's. The materials and build are of very high quality, although the infotainment system is average. On the downside, the rearward visibility is poor, the rear seats are strictly for children, like 911's, and the boot is small. For a car as big and heavy, its packaging efficiency is really poor.


On the road, the LC500 feels sporty. Its ride is quite firm for a GT, but it improves at speed, and the stiff chassis is unflustered by mid-corner bumps. Thanks to low center of gravity and reasonable weight distribution, there is little body roll displayed and just a hint of understeer at fast corners. The car steers eagerly, and its light electrical power steering is faithful enough to keep you interested, if not as sharp or feelsome as Porsche's or Jaguar's racks. The tires offer plenty of grip and the Torsen LSD keeps the handling tidy at the limit. The optional rear-wheel steering keeps the tail in sync with the front and contributes to a fluent transition. In short, the Lexus coupe is sportier than BMW 6-Series or Mercedes SL, but not as agile as a 911, of course. Nothing this side of 2 tons could be.

The hybrid shares the same chassis setup, so its handling and ride are surprisingly similar to the V8.

At high-speed cruising, the LC is as quiet as a Lexus you would expect. The smooth high-speed ride also makes it a good cruiser. However, as a GT it lacks proper accommodation and luggage space to be practical, or the low-down torque to make passing effortless. In fact, being neither a proper sports car nor a proper luxury GT, its identity is confusing.

Verdict: LC500:




/ LC500h:












LC500



2017

Front-engined, RWD

Steel monocoque, Al parts

Steel, aluminum, carbon-fiber
4760 / 1920 / 1345 mm
2870 mm
V8, 90-degree


4969 cc
DOHC 32 valves, DVVT

VIM
DI
471 hp / 7100 rpm

398 lbft / 4800 rpm

10-speed automatic

All: multi-link

Adaptive damping

F: 245/40ZR21
R: 275/35ZR21

1935 kg

168 mph (c)

4.4 (c) / 4.6* / 4.8**

10.4* / 10.9**


LC500h



2017

Front-engined, RWD

Steel monocoque, Al parts

Steel, aluminum, carbon-fiber
4760 / 1920 / 1345 mm
2870 mm
V6, 60-degree, Atkinson-cycle + electric motor

3456 cc
DOHC 24 valves, DVVT

-
DI
295 hp + 179 hp = 354 hp

257 lbft + 221 lbft

Multi-stage CVT

All: multi-link

Adaptive damping

F: 245/40ZR21
R: 275/35ZR21
1985 kg

155 mph (limited)

4.7 (c) / 4.8* / 5.3**

12.6* / 13.6**










Performance tested by: *C&D, **MT









LC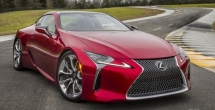 Copyright© 1997-2016 by Mark Wan @ AutoZine