| | |
| --- | --- |
| Published on 23 Oct 2008 | All rights reserved. |
Alto (global)

Debut: 2008
Predecessor: Alto (1998)
| | |
| --- | --- |
| | India-made Alto intends to be a low-cost transportation |

Alto is a long serving nameplate in Suzuki. In recent years, Alto is split into two different versions – the domestic version is a funky K-car to suit the taste of young Japanese women, while the global version is designed to be a low-cost entry-level transport. The new generation global version is no exception. It is built in India by Maruti (the subsidiary of Suzuki) and supply to rest of the world, including Europe, where 60,000 units annual sales volume is anticipated. However, its largest market is still India, where 227,000 last generation Altos were sold in 2007 alone.


| | |
| --- | --- |
| | To save costs, rear windows pop out rather than wind down. |



Predictably, this car is cheap and free of frills. Its shinny hard plastics interior makes Hyundai i10 look classy. The interior is very basic. For example, the steering wheel does not adjust for reach. It even uses pop-out rear windows instead of winding ones to save costs. You will get decent space up front, but tall passengers will find rear knee room tight due to the 2360 mm wheelbase. The whole cabin looks grey and boring, a sharp contrast to the pretty exterior.


| | |
| --- | --- |
| | The shinny hard plastics interior makes Hyundai i10 look classy... |



Driving dynamics is equally modest. The 1.0-liter three-cylinder engine revs quite sweetly, but you are unlikely to be pleased with its lack of bottom-end torque or its modest performance – 96 mph top speed and 0-60 mph in around 14 seconds. What it does impress is fuel economy at 62.7 mpg, partly thanks to the slippery drag coefficient of 0.30. In corners, the Alto works just like a low-cost city car. It rolls a lot, and the steering has a lot of slack around the straight ahead. Bump absorption is reasonably good because it is tuned for poor Indian roads, but small irregularities on road surfaces could transmit a lot of harshness and noise into the cabin.
Verdict:



| | |
| --- | --- |
| Published on 23 Oct 2008 | All rights reserved. |
Wagon R

Debut: 2008
Predecessor: Wagon R (2003)
| | |
| --- | --- |
| | Wagon R has been Japan's top seller for years. This tradition is very likely to continue in the new generation. |

Since its birth in 1993, Suzuki Wagon R repeatedly topped the car sales chart in Japan for many years, including the last 4 years. Even the aging last generation could still record 224,000 units sales in 2007, beating Daihatsu Move (200,000 units) and Honda Fit (148,000 units). This success is down to its combination of low price, spacious interior and versatile layout. The new generation from 2008 continues to develop in these directions.

The new Wagon R does not change too much its clothes. Basically, to envelop maximum space it has to retain a boxy exterior. However, Suzuki still put more styling touches to it in the form of clamshell bonnet, corner-wrapping headlamps and gentle curvy surfaces around wheelarches. Build quality is also clearly improved, as shown by the tightly fitted body panels. Inside, the dashboard design, materials and colors are markedly different from its predecessor. You are less likely to feel the negative effect of low price.


| | |
| --- | --- |
| | You can hardly get more space from another K-car, especially when the floor is completely flat |



The new car sits on a new platform with 40 mm longer wheelbase. The roof grows a further 15 mm to 1660 mm, which translates into more headroom than you will ever need. Predictably, you can hardly get more space from another K-car, especially when the floor is completely flat both front and rear. The cabin is also full of flexible features. The rear seats splits, slide, recline and fold flat. The front seats fold flat or recline to form a bed together with the rear seats. Besides, there are countless of storage cubbies.

The tall body Wagon R is not the kind of car that you will use to attack twisty roads, even though the top 0.66-liter turbocharged engine produces respectable output. However, new suspensions with revised geometry and strengthened mountings do improve ride refinement and reduce noise. Transmission include 5-speed manual, 4-speed automatic and a Continuously Variable Transmission with 7-speed override. Very versatile.


| | |
| --- | --- |
| | "Stingray" ridiculously takes name from a classic Corvette... |



Traditionally, most customers of Wagon R are women. To capture men, this time Suzuki also produced a version of the car called "Stingray", whose name is ridiculously taken from a classic Corvette. This car has a rather different (and cooler) exterior and interior design. Mechanically, however, it is nearly the same. Anyway, the prettier and higher quality new generation Wagon R should easily retain its title as Japan's best selling car.

Verdict:




| | |
| --- | --- |
| Published on 10 Jun 2011 | All rights reserved. |
Alto (Japan)

Debut: 2010
Predecessor: Alto (Japan) (2004)

The domestic version of Alto is very different from its international sibling, no matter exterior, interior or powertrains. Needless to say, it is designed to qualify the light automobile category ("K-cars"). This results in a shorter and narrower body shell as well as a 660 cc engine. What the Japanese car excels is packaging, which looks more upmarket than the global version. Unlike the latter, it has proper rear windows, keyless entry, engine start button, USB and iPod connectivity. The interior looks a million miles better than the India-built version, of course, thanks to a more stylish dashboard and light color textured plastics. However, by the high living standard of Japan it is only qualified as a basic transport. You won't get the same customization, turbo power or fancy seating plans as in most other K-cars.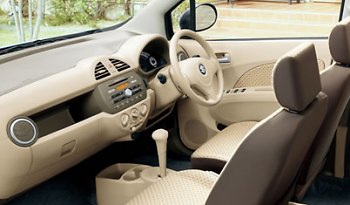 The Japanese Alto sits on the platform of Wagon R, whose 2400 mm wheelbase is 40 mm longer than the old car as well as its international version. This, accompany with a taller roof, higher hip points and more efficient packaging, results in more interior space, especially to rear passengers. On the other hand, the use of more high-strength steel cuts its kerb weight by 10 kg. That means a basic version with manual transmission weighs only 710 kg. Apart from lower weight, a more slippery shape also helps performance a little.

Powering the car is the familiar 658 cc three-cylinder with 54ps. For transmission, you get the choice of 5-speed manual, 4-speed auto or a new Jatco CVT. The latter offers a super-wide ratio spread of 7.28, helping fuel economy and cruising refinement. However, full-effort acceleration is noisy due to rubber band effect, whereas the little engine lacks firepower to overtake other cars.

Verdict: