Who says Kei-cars have to be boring? Suzuki broke the mold in 1971 with this Giugiaro-designed 2+2 coupe. Measuring just 3 meters long, 1.3 meter wide and 2 meters between axles, it was nearly as small as a
Mini
, yet its wedge shape turned heads. Not only looked cute, it had a Porsche 911-style mechanical layout to excite the driver within its very confined performance envelope. Like the classic Porsche, its engine was mounted at the tail and drove the rear wheels. Its 42:58 weight distribution was actually better than the Porsche, thanks not only to the small engine but also by placing the radiator, battery and spare tire at the front compartment. The all-independent suspensions looked even classier than the original 911's, with double-wishbones up front and semi-trailing arms at the back. Besides, its front disc brakes were supposed to be found on a sports car rather than a K-car.
Its 360 cc 3-pot engine might have only half the cylinder count of the Porsche, but since it was a 2-stroke engine, Suzuki claimed it worked just like a six-cylinder motor, with 6 propulsions every 2 revolutions. Well, it would not produce as much power, but 37 horsepower divided by 0.36 liter should equate to one of the highest specific outputs then, while a claimed top speed of 78 mph was respectable for such a small car, which was no doubt helped by its low roof line and small frontal area.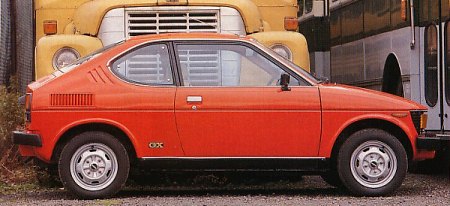 Still, the 360 cc engine was not powerful enough to take on European motorways. In 1977, the Fronte Coupe evolved to Cervo. It got slightly longer and wider but you won't notice from its styling – except the switch from square to round headlights. A couple of years later, Suzuki started exporting it to some European countries under the name SC100. The European car was powered by a 1.0-liter four-stroke SOHC engine. Its output merely increased to 47 hp, but the maximum torque of 61 lbft was doubled over the old engine. Combined with tall gearing, the SC100 was happy to cruise all day at 70-75 mph. Top speed was claimed to be 87 mph, although no one was able to verify. Acceleration depended very much on load and luck. With 2 up, Autocar took a neverending 21.2 seconds to do 0-60 mph. With the driver alone and probably a better conditioned test car, another British publication Motor did in 17.3 seconds. Not bad for a 1-liter car.
The handling had pros and cons. The unassisted rack-and-pinion steering was pretty precise and communicative, as expected for an RR car. The handling was quite entertaining. Once overcoming the initial understeer, you could place the car accurately. Lift-off oversteer was unavoidable for an RR car, of course, but it was no more difficult to catch than an old 911. The Cervo / SC100 was a great car for young drivers who wanted to sharpen their driving skills at peanuts money. On the negative side, its ride was bouncy, despite of all-independent suspensions. Straight line stability could be easily affected by side winds and passing trucks. Handling on wet or snow could be scary.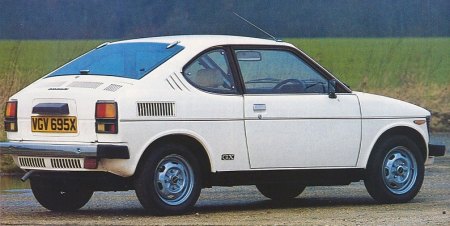 Inside, the 2+2 layout was a mixed bag. The rear seat was no more than for small children but it could be dropped down to place luggage. Six-footers would find headroom seriously compromised by the low roof, while legroom was just slightly better. Poor noise insulation and rusty body were just reminders of the 1970s. Yes, the little Suzuki coupe was flawed, but it was also charming in its own way.