Looking back to the history of motor car, there were many revolutionary milestones. One of them was Ford Model T, which pioneered mass production. Another one called Citroen DS was far more advanced in technology than its time. However, if I had to choose the most influential car in history, I would pick this one: Mini. Model T had great influence, of course, but that was the production method instead of the car itself. Citroen DS was state of the art, but few cars followed its footprints. Volkswagen Beetle once covered all over the world, but you can hardly see an air-cooled rear-engined family car today. Mini was rather different. Its 1959 design foresaw exactly the shape and mechanical layout of city cars in the 1980s, 1990s and even the 21st century. No wonder it could survive for 4 decades without any major redesign!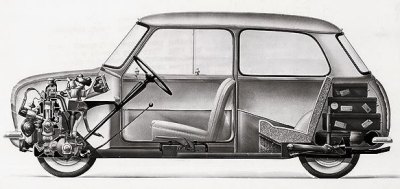 1959 Mini
The Mini was born out of the Suez energy crisis happened in the mid-1950s. Surging fuel prices led to strong demand for micro-cars like
BMW Isetta
. British Motor Corporation saw an opportunity and decided to build a revolutionary small car that would offer proper accommodation for four yet drink as little fuel as micro-cars. To accomplish the job, it hired famed engineer Alexander Issigonis, who had already designed Morris Minor (another classic to be covered by our archive soon) in 1948. Issigonis had a clever idea: by mounting the engine transversely up front and integrating the transmission with the engine sump, then driving the front wheels directly, the car can minimize the space for mechanicals and spend more space in the cabin and boot. Yes, this is the FF layout that we common refer to today! Besides, the Mini also adopted many space saving designs, such as tiny wheels with diameter of only 10 inches – so small that it necessitated Dunlop to develop special tires for it – and compact suspensions that used rubber cones instead of springs and dampers! The small wheels were pushed towards the corners to maximize interior space. All these tricks have become standards for modern city cars.
1959 Mini
Measuring 10 feet or just over 3 meters long, the Mini was exactly as its name suggested. Its interior was surprisingly spacious, with good headroom due to low-mounted seats and decent legroom for average frames of the 1960s. The bottom-hinged boot could swallow quite a lot of luggage, thanks to the compact suspension and lack of rear-drive mechanicals. The whole car weighed just over 600 kg and had a rather small frontal area, so an 848 cc A-series push-rod four-cylinder engine with 34 horsepower and 44 lbft of torque was sufficient to propel the car to 75 mph, quite brisk for a small car.
Launched in 1959, the Mini immediately attracted attention from all over the world because of not only its innovative engineering and practicality but also its pretty look which once again proved that "small is beautiful". Quite incredibly, Alexander Issigonis was not trained for styling but his sketching resulted in one of the most memorable designs ever made to production. The Mini immediately became the best seller of BMC as well as the best selling car in the Britain. Its total sales would accumulate to over 5.3 million units by the time it ceased production in year 2000. That was an all-time record for British cars.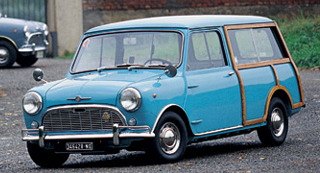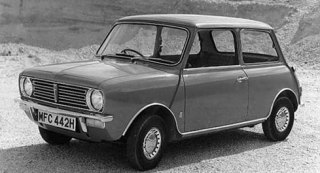 Left: Mini Traveller / Countryman (1961); Right: Mini Clubman (1969)
The early Mini was sold under Austin and Morris nameplates which were hardly memorable, but its popularity soon elevated it to a standalone brand. Many pop stars bought it because of its cute looks and great handling. Its racing success and the classic car-chasing movie The Italian Job (a must-see to car enthusiasts!) pushed its popularity further. More so than Volkswagen Beetle, it endured the test of time very well and remained a desirable niche in the market until its final days.
Throughout the years, many derivatives were introduced, such as Mini Traveller and Countryman (long-wheelbase estate), Mini Van, Mini Clubman (a more upmarket version with better interior, hydraulic-linked suspensions and a less-loved square nose) and even a Jeep-like offroader called Mini Moke. However, the most important must be the Mini Cooper.
1965 Mini Cooper S 1275 rally car
In 1963, racing specialist John Cooper helped BMC to convert the Mini into a performance small car that we would have referred to "hot hatch" today (although it was not exactly a hatchback). The resultant Mini Cooper got a larger 997cc engine with 55 horsepower, wider tracks, wider tires, front disc brakes and close gear ratios. Top speed raised to 85 mph. Yet that was just the beginning. In the next 2 years, Mini Cooper S was introduced with a short-stroke 1071cc 70 hp engine and then the ultimate 1275cc 76 hp engine. The latter was good for nearly 100 mph and 0-60 mph in just over 10 seconds. These figures would be decent for a city car today, so you can imagine how fast it was half a century ago! Moreover, the Mini was renowned for agile handling. Its compact size and firm-riding rubber suspension made it incredibly responsive to steer, more like a go-kart than an econo car. Communicative steering, good grip and brakes also made the Cooper a riot to drive in the twisty. These merits let it overcome the shortage of power and won a hat-trick of Monte Carlo rally between 1964 and 67.
Unfortunately, neither BMC nor its successors – British Leyland, Austin Rover and eventually Rover group – planned to evolve the Mini. In old British fashion they only made the slightest revisions to comply with new emission and safety regulations. Having soldiered on for more than 15 years, not even the great design could fend off the competition from new generation mini cars like Fiat Uno and Ford Fiesta. It became outdated in packaging, ride quality, noise suppression and gearbox. Its interior space also failed to match its larger competitors. Austin Rover launched its new city car Metro in 1980, by the time the days of Mini was thought to be numbered. Somehow, it continued to survive and eventually outlasted its successor, albeit at a much reduced production rate.

In the 1990s, the Mini was repositioned as a niche model of Rover, sitting above the Metro and attracted those adored its looks and legendary stories, especially Japanese motorists. Only the most prestigious 1275cc Cooper model was offered, usually accompanied with pricey customization and options. It might earn a good profit for Rover. Unfortunately, the Mini brand was now owned by BMW, who was developing a New Mini. When BMW abandoned Rover group in 2000, it took away the rights of Mini and decided the classic car must die. Eventually, the last classic Mini rolled off the production line at Longbridge plant on the 4th October 2000, 41 years after the first made.