| | |
| --- | --- |
| Published on 19 Dec 2014 | All rights reserved. |

The original concept of Smart was really smart. More and more motorists live in cities where congestion favours small cars. Many of them are young singles and couples thus they rarely need rear seats. Why don't we build a tiny 2-seater for them? That will be easier to maneuver and more frugal to run than conventional superminis. Furthermore, by applying funky styling, upmarket features and endless customization – including colorful plastic body panels that can be fitted at dealers – the Smart was supposed to lead motoring fashion. However, it is easier said than done. Swiss watch maker Swatch originated the idea but lacked expertise to realize it. Mercedes-Benz, which was interested to expand to small cars under the leadership of Jurgen Schrempp, took over the project. While German engineering could solve many problems, it can't quite beat the laws of physics. For example, the Smart's tall and narrow body would be easy to roll over in corners. Its short wheelbase and rear-mounted powertrain would result in poor directional stability, too. Mercedes solved the problems by building a lot of understeer into its chassis, which ruined its maneuverability, and a lot of stiffness to its suspensions, whch ruined its ride quality. Another serious problem was its automated manual gearbox, whose gearshift was slow and clunky. Mercedes could not find an alternative from its parts pool. However, the biggest problem was high production cost. Because the Smart could share no common parts with other Mercedes vehicles, it was actually more expensive to build than conventional superminis. That hurt its attraction and limited its annual sales to 100,000 cars. It goes without saying the Smart project has always been running in red.

The second generation Smart was improved in a number of areas, such as using Mitsubishi engine to cut cost and enlarging the car a bit, but its sales performance was no better. It is time to rethink the whole concept and try something different (maybe more conventional) on Mk3. In order to lower production costs, Mercedes admitted it has to sacrifice exclusivity and find a partner, which turned out to be Renault. The Fortwo III and Renault Twingo III are to share platform. Not just that, the joint-venture will produce also the second generation Forfour, which is to be 4-seat version of Fortwo this time around. It makes a lot more sense to bean counters.


Sometimes I suspect if my taste is too conservative to live with new generations of car designers. In my eyes, the original Smart was the prettiest. The second generation got slightly less distinctive, and now, the third generation gets even weird. How come Benz gave it a front end shaped like this? Its 2-box profile, concave surfaces and prominent mesh grille look odd, even though the so-called "Tridion" safety cell structure, plastic body panels and 2-tone color scheme are more familiar. In the seas of design-led city cars these days, such as Fiat 500, Opel Adam, Suzuki Hustler and its sister Renault Twingo, its styling is no longer that outstanding. That said, the new Fortwo is still a very small car. It retains the same ultra-short length of 2.7 meters, which is the shortest in the mass production world, and its wheelbase is merely stretched by 8 mm to 1873 mm. However, it gets 105 mm wider (at 1665 mm), very much like the proportion of Toyota iQ. This should improve its cornering stability while free up more shoulder room in the cabin. In the old car, the passenger seat was positioned a few inches rearward to prevent its occupant from rubbing shoulders with the driver. On the new car the seats are aligned yet both occupants enjoy plenty of shoulder room. There is no shortage of head and knee room either. As usual, the driver sits higher than in conventional cars to have a good view to the road, though the fat B-pillars hamper rear quarter visibility.

The cabin is colorful and well styled, but the equipment it offers is not as upmarket as expected, and the plastics are not exactly premium grade. They might be slightly better than those on Renault sister, but fail to justify the premium prices Smart commands. Behind the seats is a luggage area sitting atop the engine compartment. Although it is shallower than class norm, its volume of 260 liters is respectable. Moreover, the 2-piece tailgate allows access to the boot in tighter parking spaces.

As the developing of new platform was led by Mercedes, its mechanical layout is remarkably close to before. It keeps the trademark rear-engine, rear-wheel-drive layout as well as suspensions consisting of struts up front and de-dion axle at the back. Larger suspension travel and twin-tube shock absorbers guarantee a desperately needed improvement of ride comfort. Enthusiast drivers may opt for lower and stiffer Sport suspension setup, but I suppose they would be better served by a proper hot hatch elsewhere. The steering is now a variable-ratio electric rack. The base engine is probably the only mechanical item carried over from the old car. That is Mitsubishi's 999 cc 3-cylinder petrol with 71 hp. Another engine is Renault's new 0.9 TCe, a 898 cc 3-pot turbo. It produces 90 hp and a useful 100 lbft of torque. A fuel-sipping, 60 hp version of the same motor will be offered, too. There will be no small turbo diesel this time around, as Daimler realizes Euro 6 diesel is too expensive to build for this price range.


On the road, the Renault engine certainly feels quicker, but flexible it is not. It has some turbo lag to overcome at low rev and the punch is concentrated at mid-range. Throttle response is slow. Comparatively, the Mitsubishi naturally aspirated engine is more linear and its power is easier to access, even though it is by no means quick – 0-60 mph is expected to take 14 seconds, slightly slower than before as the car has gained about 55 kg. For city use it is a better and cheaper option than the turbo. However, the most improved aspect is not the engine but the gearbox, because Smart has finally abandoned the notorious automated manual for a proper 5-speed manual box or a 6-speed dual-clutch box (which comes from Mercedes A-class). Neither transmissions are world-class, but they are far slicker and more satisfying to use than the old one. Gearbox alone is already a good reason for those turned off by the old car to reconsider.

Benefited by extra width and new suspension, the Fortwo has improved its ride quality considerably. A large part of the harshness is slashed, making it feeling more composed and easier to live with day to day, especially if your drive is limited to urban area. On country roads, of course, it still suffers from more harshness than conventional superminis due to its ultra-short wheelbase. Likewise, highway cruising is more bearable than before but still no match with superminis. There are more pitches and thumps running over expansion joints, while engine and wind noise are also more pronounced. The Fortwo remains to be a city car in the first hand. Like Twingo, its front wheels can steer up to 45 degrees thus it achieves a peerless turning circle of 6.95 meters. Therefore it is extremely maneuverable in tight streets and parking spaces. At higher speeds, the agility gives way to understeer as safety is again the highest priority. As long as the short wheelbase and rear-engined layout remain, the Smart will never be a driver's car.

With the 3 main weaknesses, namely shoulder room, gearbox and ride quality, sorted, the Fortwo III is unquestionably more complete than its predecessors. On the downside, its styling becomes less distinctive, and its exclusivity is weakened by the new Twingo. Is it still worth the extra money and concessions in practicality or dynamics over superminis? That is a more difficult question to answer.

Verdict:



| | |
| --- | --- |
| Published on 19 Dec 2014 | All rights reserved. |
Forfour


One thing so smart about the new joint-venture with Renault is to give birth to both Fortwo and Forfour on a common platform. You might remember the old Forfour was a repackaged Mitsubisihi Colt built by the Japanese maker's plant in Holland. It was supposed to widen the market appeal of Smart, but unfortunately the market quickly realized its relationship with Mitsubishi and found its higher prices brought no benefits other than image. Its sales flopped and, after only 2 years, Mercedes axed the car. The new Forfour is unlikely to repeat this history as its platform is designed primarily by Mercedes, although it is assembled by Renault's plant in Slovenia together with Twingo (the Fortwo's production remains at Smart's own plant in Hambach, France). Besides, working with a partner like Renault should guarantee higher production volume than Mitsubishi, hence lower production cost.

From pictures it is already clear that the Forfour II is the twins sister of Twingo III. They share 70 percent of all components, including the whole steel monocoque. Different body panels, bumpers, lights and tailgates are attached to distinguish them. On the Smart, the roof rails and rear quarter panels are deliberately painted in different color in Smart fashion. The whole front end is shared with Fortwo, as are the taillights, to give family resemblance and save further costs. In fact, you can see the new Forfour as a stretched, 4-seat version of the Fortwo. Its body length and wheelbase are 800 mm and 621 mm longer than the Fortwo's respectively. This allows it to accommodate a pair of proper rear seats.


For a car slightly shorter than Fiat 500, those rear seats are quite generous. Provided the passengers are shorter than 6 feet, they will find the rear seats tolerable for short trips. Not so welcomed is the lack of winding rear windows. As in Twingo, it uses cheaper pop-out windows instead. On the plus side, this saves the need of an extra pillar and rear quarter window each side thus cleans up the styling. The front cabin shares the same dashboard, door panels, equipment and simply everything with Fortwo. As expected, the rear bench can fold flat to expand luggage space, and the cushions can be flipped into the floor to store taller items. Meanwhile, the front passenger seat may fold to take longer items. This is a small yet flexible package.

Like Twingo, the Forfour is extremely maneuverable in city thanks to an ultra-tight turning circle. Its driving dynamics is close to Renault, which is agile at urban speed but understeers excessively when you push it harder. Its wider rear tires and mandatory ESP guarantee you have no chance to push its tail wide, thus there is not much thrills or engagement for keen drivers to enjoy. You might even say it is a waste of the RR layout. The ride quality is inseparable with Renault, too, but definitely better than Fortwo, thanks to the longer wheelbase. High-speed refinement is also better. The Forfour employs more sound deadening materials than Twingo, which is useful to calm down its 0.9 TCe engine at higher rev. Both engines are shared with its sisters, thus performance is average.


The problem for the 4-seat Smart is again high prices versus what it offers. Rivals like Volkswagen Up, Fiat Panda and Hyundai i10 are a lot cheaper, while the cute Fiat 500 remains an image leader. Meanwhile, Renault Twingo offers the same car at keener prices yet looks more tastefully styled. The case of Forfour is not very convincing.

Verdict:



| | |
| --- | --- |
| Published on 18 Jul 2016 | All rights reserved. |
Fortwo / Forfour Brabus


Brabus is known for tuning large Mercedes-Benz but it also modifies the tiny Smart. In 2002, it formed a 50/50 joint venture with Smart which allowed its name to appear on the official line-up of Smart. The effect is not unlike John Cooper Works to Mini, just in a smaller scale. The latest Brabus versions of Fortwo and Forfour are powered by a higher tuned 0.9-liter 3-cylinder turbo engine. Its output is lifted by 19 horsepower and 25 pound-foot of torque to 109 hp and 125 lbft respectively. Smart said this is achieved by increasing fuel injection pressure and tuned intake and exhaust, but I would be surprised if turbo boost was unaltered. I suspect the modification was done by Renault instead of Brabus, because the engine is a Renault unit, and the same tune will appear on its Twingo GT, which is the twins sister of Forfour.

Frankly, even with the power boost this is still hardly a hot hatch – perhaps not even a "warm hatch". A Suzuki Swift Sport has 134 hp on tap and even the least powerful Abarth 595 offers 145 hp. 109 horsepower is nothing these days, even though the Fortwo weighs just over 900 kg. The Forfour carries another 100 kg, no wonder it takes almost 10 seconds to go from rest to 60 mph. However, worse still is the way the little engine delivers its power. It shows considerable turbo lag below 2000 rpm, something the 3-pot turbos of Ford and Opel managed to minimize. It doesn't rev high either, so the power band is rather narrow, and you need to keep it on boil at the mid-range. Throttle response is pretty slow. Step on the gas and wait for a couple of seconds, it wakes up and surges forward. Such a non-linear power delivery is all too old-fashioned. Even the tuned exhaust is not especially engaging. Renault should have directed more money from its Formula One engine program back to the production side.


The 6-speed twin-clutch gearbox used by the Brabus models has received shorter ratios and revised programming for 40 percent faster shifts. It is better, but still not fast enough by the standard of DCT. Moreover, the gearshift feels jerky in start-stop traffic, something in which the city car is likely to spend more time.

Both cars get larger wheels, wider tires and suspension that is 20 percent stiffer and 10 mm lower. The front anti-roll bar is thicker. Body roll is certainly reduced and grip is more abundant, but you won't confuse it with a hot hatch either. All you can say is it feels more planted in fast corner than the regular car. However, its cornering limit remains lower than expected. Its combination of narrower front tires (vs the rear) and stiffer front anti-roll bar continues to result in strong understeer when it approaches the limit. The variable-ratio electric power steering has been retuned, but apart from a stronger self-centering force you can't feel any improvement. Feel from the helm is still very limited. In town, the Smart duo is unusually agile thanks to short wheelbase and small turning circle, especially Fortwo. At faster pace where the suspension is loaded, its agility is replaced with reluctance and delay. Now you think: maybe its rear-engined chassis is not that good. Porsche had not sorted out the 911 until 993 introduced multi-link suspension. Before that, all 911s were edgy to drive. The Smart has to be safe in any cases, so its chassis tuning is dialed to the opposite side of Porsche. Not even the Brabus version could do very much to alter its fundamental problems.


While they are not much fun to drive, they are not too difficult to live with. The stiffer suspension does not rob ride comfort much. Though not great, it is perfectly acceptable on Forfour. The ultra-short wheelbase of Fortwo demands more mercy from its occupants, but the same can be said to the standard car.

With a poor engine, lukewarm performance and a mediocre chassis, it is hard to understand who would buy the Brabus duo. They are expensive, too, costing more to buy than the cheapest Abarth 595 and almost a match to our hot hatch king, Ford Fiesta ST. Crazy.

Verdict:











Fortwo 1.0



2014

Rear-engined, RWD
Steel monocoque
Steel + plastic

2695 / 1663 / 1555 mm
1873 mm
Inline-3

999 cc
DOHC 12 valves, VVT

-
-
71 hp

67 lbft

5-speed manual

F: strut
R: de-Dion axle

-
F: 165/65R15
R: 185/60R15

805 kg

94 mph (c)
14 (est)

-

Fortwo turbo



2014

Rear-engined, RWD
Steel monocoque
Steel + plastic
2695 / 1663 / 1555 mm
1873 mm
Inline-3

898 cc
DOHC 12 valves, VVT

Turbo
-
90 hp

100 lbft

5-speed manual

F: strut
R: de-Dion axle

-
F: 165/65R15
R: 185/60R15

825 kg

96 mph (c)
10.1 (c)

-

Fortwo Brabus



2016

Rear-engined, RWD
Steel monocoque
Steel + plastic
2740 / 1663 / 1543 mm
1873 mm
Inline-3

898 cc
DOHC 12 valves, VVT

Turbo
-
109 hp

125 lbft

6-speed twin-clutch

F: strut
R: de-Dion axle

-
F: 185/50R16
R: 205/40R17

920 kg

103 mph (c)
8.9 (c)

-









Performance tested by: -










Forfour 1.0



2014

Rear-engined, RWD
Steel monocoque
Steel + plastic
3495 / 1665 / 1554 mm
2494 mm
Inline-3

999 cc
DOHC 12 valves, VVT

-
-
71 hp

67 lbft

5-speed manual

F: strut
R: de-Dion axle

-
F: 165/65R15
R: 185/60R15

900 kg

94 mph (c)
16 (est)

-

Forfour turbo



2014

Rear-engined, RWD
Steel monocoque
Steel + plastic
3495 / 1665 / 1554 mm
2494 mm
Inline-3

898 cc
DOHC 12 valves, VVT

Turbo
-
90 hp

100 lbft

5-speed manual

F: strut
R: de-Dion axle

-
F: 165/65R15
R: 185/60R15

920 kg

103 mph (limited)
10.5 (c)

-

Forfour Brabus



2016

Rear-engined, RWD
Steel monocoque
Steel + plastic
3525 / 1665 / 1543 mm
2494 mm
Inline-3

898 cc
DOHC 12 valves, VVT

Turbo
-
109 hp

125 lbft

6-speed twin-clutch

F: strut
R: de-Dion axle

-
F: 185/45R17
R: 205/40R17

1020 kg

112 mph (c)
9.9 (c)

-









Performance tested by: -








Fortwo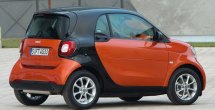 Forfour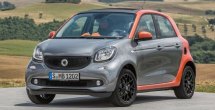 Fortwo Brabus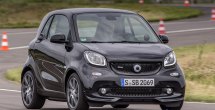 Forfour Brabus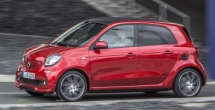 Copyright© 1997-2016 by Mark Wan @ AutoZine