SEAT Leon

Debut: 2005
Maker: SEAT
Predecessor: Leon Mk1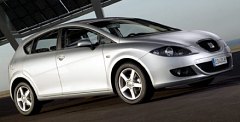 The Golf family is increasingly overcrowded. Volkswagen has 3 models built directly on the Golf V platform (Golf, Golf Plus and Touran), Audi has 2 (A3 and the next TT), Skoda has one (Octavia) and Seat has 3 (Altea, Toledo and Leon). As they all share the same wheelbase and fall into the same segment, how to diversify them is a big headache. Implement that sensibly, the group will sell 2 million cars annually at relatively little cost. Do that inadequately, the cars will steal sales from each other, hurting profit as well as the relationship between divisions.
This problem is especially serious at Seat. Buyers will find it difficult to choose among Leon, Altea and Toledo. Basically, they have the same underpinnings and the same design language. In theory, they can be distinguished in this way: Leon is the normal family hatch, Altea is the MAV (Renault Scenic alike) while Toledo is a sedan with a big boot. In reality, however, the Altea is never spacious or versatile enough to be a real MAV, while the Toledo's tiny boot is actually a hatchback. Therefore both actually competes with Leon in the family hatch segment.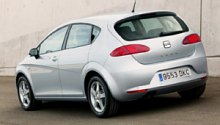 However, Leon is likely to be a winner in this internal competition. The design language of Walter de Silva works best in this hatchback, whose roof is 110 mm lower than Altea's. This allows the sweeping, flowing lines to wrap the body smoothly and tautly, delivering a more aggressive feel than its sisters. In fact, Leon is the direct evolution from de Silva's beautiful 2002 concept car Salsa.
The Leon also employs de Silva's signature "hidden" rear door handles, just like his Alfa Romeo 156. The handles locate at the trailing edge of the rear window. Once you open the doors, you will see a minimalist interior like its sister cars. Although the materials and build quality are average by today's standard, the simple dashboard and console are driver-oriented and initiative to use. The cabin is roomy and the boot has the right size (341 litres), so no complaint here.
Mechanically, I hope you don't need me to repeat those I said for Volkswagen Golf etc. In short, it employs a sophisticated multi-link rear suspensions that French rivals will envy. Predictably, Seat is the sporty and emotional interpretation of Volkswagen, thus Leon gets slightly harder suspensions to lift handling. Inevitably, there is some trade-off in ride comfort and quietness. Compare with Altea and Toledo, Leon is of course better to drive, thanks to the lower center of gravity.
Most Leon will be sold with the regular engines shared with its sister cars - 102 hp 1.6, 150 hp 2.0FSI, 105hp 1.9TDI and 140hp 2.0TDI 16V. However, what really interesting is the sporty Leons. In the last generations, they had a 1.8 turbo engine with 3 stages of tune (150hp, 180hp and 210hp for Cupra R, the latter eventually lifted to 225hp). In the new car, the 1.8T engine is replaced by Volkswagen's new all-alloy, 2.0TFSI turbo engine. It appears in 3 forms: 185hp for the base engine, 200hp for FR and 240hp for the Cupra equipped with 4WD. The difference lies mainly in engine management program, turbocharger and intercoolers. At the moment, only the 185hp version is available, but Volkswagen Golf has already proved that the front-drive chassis is capable to handle the 200hp engine.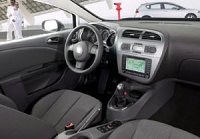 The 185 horsepower engine produces the maximum 199 lbft of torque from just 1800 rpm all the way to 5500 rpm, therefore performance is easily accessible, especially when the engine is mated with the slick-shifting 6-speed manual gearbox. DSG is also a superb gearbox, but it is perhaps too costly to the buyers of Seat. The 185 hp Leon is expected to do 0-60 in 7.4 seconds, which means very good performance for money. For the same money, you can get only a Golf 2.0 FSI with 150hp and 147lbft, 0-60 in 8.6 sec.
Seat Leon is high on styling, handling, performance and value for money. If you are prepared to sacrifice some ride refinement and put up with the Spartan interior, it could be your everyday dreamcar. It might not appeal to the majority drivers, but keen drivers will definitely like it.
The above report was last updated on 30 June 2005. All Rights Reserved.
Leon Cupra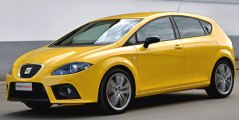 The project managers of Opel Astra OPC, Ford Focus ST and Renault Sport Megane R26 must be jealous of their counterpart at Seat, because Seat Leon Cupra has so many inherent advantages. Firstly, the base Leon is already the best-looking hatchback in the class. Give it some aerodynamic kits and 18-inch alloy wheels alone will easily make the most visually attractive hot hatch in the world. It makes the OPC looks too aftermarket, the R26 too weird and the ST too ugly. And you know, a good look is a must for a successful hot hatch.


Then its rivals may also jealous the good mechanicals available from Volkswagen group's parts pool, such as the sophisticated 2.0 TFSI engine with all-aluminum construction, twin-balancer shafts, direct injection and full continuous variable valve timing. Oh, and don't forget the turbocharger now boosts power to 240hp. While Opel's similar 2.0 turbo engine needs to overwork to deliver the same power - hence producing old-fashion turbo lag, the Volkswagen powerplant is so much more linear and tractable. As much as 221 lbft of torque is available from 2200-5500 rpm. There's a touch more turbo lag than the 200hp version, but still surprisingly well tamed. With this superb engine, Leon Cupra can sprint from zero to sixty mph in 6.1 seconds and top 153 mph. That's about the most you can ask for a front-drive hatchback.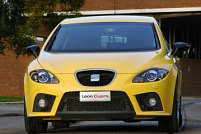 Apart from engine, Volkswagen also supplies a fabulous 6-speed manual gearbox - although DSG is not offered. 6 closely stacked ratios mate with a slick gearchange means it is a joy to use.


The Golf V platform underpinning the Seat is another source of jealousy. MacPherson struts up front and expensive multi-link suspensions at the rear. Now the Cupra also exchanges the steel steering knuckles and rear wishbones with items made of lightweight aluminum. As a result, unsprung weight is largely reduced and softer spring setup can be adopted (compare with the 200hp Leon FR) to improve ride quality. On the road, the Cupra rides compliantly, if not as brilliant as Golf GTI or Focus ST. Body roll is well checked. Grip is never in doubt. The chassis is free of torque steer, something OPC must be jealous. As for braking, the huge 345mm front discs provides powerful, fade-free and progressive stopping, even before the optional Brembo calipers are ticked.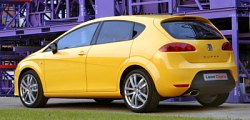 Unfortunately, despite of all these good hardwares, the Cupra is short of driver involvement. Its electro-mechanical steering is almost lifeless; Its chassis is reluctant to throttle steer. From driver's point of view, the Cupra is a capable but uncommunicative driving machine. It is not as inspiring as Golf GTI or Megane R26, nor as thrilling as the raw Astra OPC. Strangely, the chassis and steering are basically the same as its Golf cousin, so the difference in real world is down to the fine tuning.



What a pity, a first rate package is let down by an inadequate tuning. When it comes to chassis tuning engineers, other car makers have nothing to jealous of Seat

.


The above report was last updated on 1 Jan 2007. All Rights Reserved.
Leon Cupra R

| | |
| --- | --- |
| | Hottest Leon is 20 percent cheaper than its premium siblings sharing the same heart... |

What do SEAT Leon Cupra R, Audi S3 and Volkswagen Scirocco R have in common ? The answer is their engine. Compared with lesser 2.0TFSI engine, their version has higher turbo boost (1.2 bar), larger intercooler and higher pressure direct injection to achieve 265 horsepower at 6000 rpm and 258 lb-ft of torque from 2500 to 5000 rpm. On the one hand they can complete 0-60 sprint in less than 6 seconds and top an electronically regulated 155 mph. On the other hand their power delivery is linear and free-revving. These merits make the Spanish car all the more attractive. Think about it, priced at £23,000, it is nearly 20 percent cheaper than its premium alternatives. Is it really that good ?

Dig deeper into the car, you will find it lacks the premium build quality of its siblings. Also lacking is a sense of occasion normally associated with a top-of-the-range model. This is quite strange. While SEAT deliberately styled the top Ibiza more aggressively than lesser models, it did too little to lift Leon Cupra R above the 240-horsepower Cupra. In fact, apart from larger wheels and three additional openings around its nose intake, we can hardly find any differences from the lesser model. If you prefer big spoilers and pronounced wheelarches, I suggest you should look at Ford Focus RS or Subaru Impreza STI. If you prefer a creative design, Scirocco R or the new Renaultsport Megane will be far better choice. Leon is still stylish, but in Cupra R form it is nothing special.


| | |
| --- | --- |
| | It hates the B-roads where Scirocco R and Focus RS shine... |

Apart from style, picky journalists could also criticize its short of extra performance over the already quick Cupra. Read the spec table below, you will find its 25 additional horsepower brings an improvement of only a couple of mph and a couple of tenths for 0-60 mph. The R doesn't seem really R. On the road, its performance matches that of Renaultsport and Scirocco, but what about Focus RS, which offers an extra 40 horses and 66 lb-ft ? No match.

On the plus side, the relatively modest power leads to virtually no torque steer. This make the XDS electronic pseudo differential more than capable to lay down its power effectively from the front wheels to the road. That's not a surprise, because the new Golf GTI and Scirocco also have this feature equipped.

The Cupra R rides on very stiff suspensions and aggressive tires (235/35ZR19). Compare with Cupra its front and rear springs are stiffened by 35 and 30 percent respectively. It also lacks the sophisticated adaptive dampers that Scirocco R has. This mean it hates the B-roads where Scirocco R and Focus RS shine. In return, it shows excellent cornering stability and grip. Pizza-size brake discs (measuring 345mm front and 286mm rear) provides strong stopping power. The chassis is tuned to allow some lift-off oversteer to delight enthusiastic drivers. What a pity its ESP cannot be fully disabled. Moreover, the steering is too light to inspire confidence. Overall, its handling and ride gives a mixed impression. The best aspect of Cupra R is still its elastic power delivery. That is not enough to make an outstanding hot hatch.


The above report was last updated on 4 Nov 2009. All Rights Reserved.
Specifications
General remarks
Layout
Chassis
Body
Length / width / height
Wheelbase
Engine
Capacity
Valve gears
Induction
Other engine features
Max power
Max torque
Transmission
Suspension layout


Suspension features
Tires
Kerb weight
Top speed
0-60 mph (sec)
0-100 mph (sec)

Leon 1.6

Front-engined, FWD

Steel monocoque
Mainly steel
4315 / 1768 / 1458 mm
2578 mm
Inline-4
1595 cc
SOHC 16 valves
-
-
102 hp

109 lbft

5-speed manual
F: strut
R: multi-link

-
205/55VR16
1205 kg
114 mph (c)
11.0 (c)
-

Leon 2.0TFSI

Front-engined, FWD

Steel monocoque
Mainly steel
4315 / 1768 / 1458 mm
2578 mm
Inline-4
1984 cc
DOHC 16 valves, VVT

Turbo, VIM

DI
185 hp

199 lbft

6-speed manual
F: strut
R: multi-link

-
225/45WR17
1334 kg
137 mph (c)
7.4 (c)
-

Leon Cupra

Front-engined, FWD

Steel monocoque
Mainly steel
4323 / 1768 / 1446 mm
2578 mm
Inline-4
1984 cc
DOHC 16 valves, VVT

Turbo, VIM

DI
240 hp

221 lbft

6-speed manual
F: strut
R: multi-link

-
225/45ZR18
1334 kg
153 mph (c)
6.1 (c)
-










General remarks
Layout
Chassis
Body
Length / width / height
Wheelbase
Engine
Capacity
Valve gears
Induction
Other engine features
Max power
Max torque
Transmission
Suspension layout


Suspension features
Tires
Kerb weight
Top speed
0-60 mph (sec)
0-100 mph (sec)

Leon Cupra R

Front-engined, FWD

Steel monocoque
Mainly steel
4309 / 1768 / 1443 mm
2578 mm
Inline-4
1984 cc
DOHC 16 valves, VVT

Turbo, VIM

DI
265 hp / 6000 rpm

258 lbft / 2500-5000 rpm

6-speed manual
F: strut
R: multi-link

-
235/35ZR19
1375 kg
155 mph (limited)
5.9 (c)
-





Performance tested by: -
Copyright© 1997-2009 by Mark Wan @
AutoZine