1960s was the golden decade for sports cars, especially in the United States of America. British and Italian roadsters were selling like hotcakes there, while Corvette and Mustang enjoyed their hey days. Porsche and Mercedes found equal success with their classier entries, while Honda and Datsun tried to break into low-end segment. Even the very much Europe-bounded Opel decided to build a sports car specially for America. However, the most surprising new comer could be Saab Sonett (pronounced "so-nett"). It came from a small Swedish manufacturer which had been building only an odd-looking small car for the past 15 years. Sports car was hardly relevant to its business and brand image.
The first Sonett was born in 1956 as a roofless prototype sports car. It never went into series production, so we can fast forward to the launch of Sonett II in 1966. In many ways the Sonett II was similar to
Opel GT
– both were destined to the America, both were small hardtop coupes and both were built upon existing mass production parts. However, the Saab was even smaller. It was only 3.8 meters long, 1.45 meters wide and especially low at 1.17 meters, with a wheelbase of less than 2.2 meters. It weighed only 700 kg or so and was served with a 841 cc 3-cylinder motor. It is hard to believe a car so small could be sold in the America. Nevertheless, the car was more accommodative than you might think. Its cabin was free of transmission tunnel, thus it offered enough room for anyone no taller than 6ft 2in (those taller could find the low roof lining pressing against their heads). There was also a large enough boot behind the 2 seats because the rear axle was free of propulsion mechanism. It goes without saying the Sonett was derived from the FF architecture of 96.
Unlike the 96 though, its chassis was a steel semi-monocoque, whereas the body was made entirely of glass-fiber. The bodywork was produced by local supplier ASJ which also carried out the final assembly of the car. The suspension bits were carried over from 96, which means independent double-wishbones up front and a U-shape rigid axle at the back, both suspended on coil springs. The front brakes were upgraded to discs like the hotter 96 Monte Carlo, while the engine also came from that car. This 841 cc 2-stroke 3-cylinder engine was fitted with not one or two but three carburetors to produce a respectable 60 hp and 69 lbft of torque. Propelling the lightweight sports car it achieved 0-60 mph in just over 12 seconds and a top speed of about 94 mph thanks to a 4-speed gearbox. Not exactly a fireball, but a contemporary MGB won't be much faster.
After just one year, the Sonett followed the footprints of 96 to switch to a new 1.5-liter V4 from the German Ford Taunus. Horsepower inched up by only 5, but it offered a lot more torque and a flatter torque curve improved tractability.
However, American public seemed not moved by its styling, which was a mix and match of Ferrari 250, Alfa Romeo TZ and Lotus Elan. While I like its classical interpretation, American found little interest because there were plenty of such offerings on the market already. That's why Saab went back to the drawing board and produced the Sonett III in 1970. Its futuristic shape, with a long wedge nose, pop-up headlamps (operated manually) and a power bulge on bonnet, was the joint effort of Italian designer Sergio Coggiola and Saab's own designers. It looked as striking as some Italian exotic supercars, although the details were not as elegant I would say. On the plus side, aerodynamic drag was improved from 0.35 to 0.31 – again showing the advantage of an aircraft maker. The addition of quarter windows improved visibility, while the wraparound rear glass was replaced with a glass tailgate to ease access to luggage compartment. Inside, the interior was thoroughly modernized, with new seats, dash and instrument, whereas the previous column-mounted gear shifter was repositioned to the floor to the delight of keen drivers. Now the Sonett III became even easier to live with.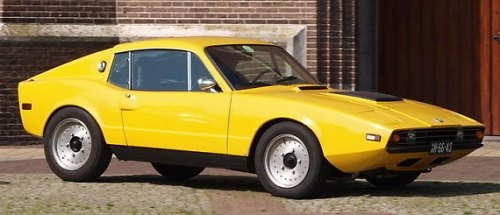 The handling and ride quality was familiar to existing Saab owners. Thanks to its front-wheel-drive layout, the Sonett provided excellent traction and roadholding for its days. It was agile yet safe to drive fast. At the limit it would understeer rather than oversteer. The steering, the braking and shock absorption all came together to deliver a fun driving character. On motorway, it could cruise at 90 mph with surprising refinement. For a car so small, it was incredibly well-rounded. The good engineering of Saab was evident on this car.
Sales improved considerably following the introduction of Sonett III. However, new threats came from tightening emission regulations in the US. Saab responded by adopting the 1.7-liter version of V4, whose extra capacity compensated for the lower compression ratio. Output and performance were quoted to be unchanged. When even more stringent safety and emission standards arrived in 1974, Saab reckoned its sales number would not justify the necessary re-engineering. Consequently, the Sonett came to the end of the road that year with an accumulative production of just over 10,000 units. It deserved more.