Younger readers might remember the name Opel GT, which was last used on a rebadged version of
Saturn Sky
roadster in 2006-2009. Few European motorists accepted the idea of a US-built, German-branded sports car, so it turned out to be a commercial failure with just a few thousand units sold. The correct idea should be reversed – made in Germany and for sale in America. That was proved to be successful by the original Opel GT which sold more than 100,000 copies from 1968 to 1973. Some 70 percent of which were snapped up by American.
Before and after the GT, Opel had always been building practical cars that failed to stir emotion, so it was a surprise when the company decided to build a halo car in the late 1960s. A prototype was developed with the help of GM's American designers and displayed in the 1965 Frankfurt motor show. It received overwhelming reception from the crowd and got management approval. 3 years later, the GT went on sale at both sides of the Atlantic. While the production car had its styling toned down a bit, it still looked stylish enough, thanks to a proportion resembling Ferrari 250GTO and a flowing waist line that was incidentally similar to 206GT Dino (which was launched just a year ago). It also copied a few features of the GTO, such as the nose air scoops and the kamm tail with integrated ducktail spoiler. However, its razor-sharp front fenders and hidden headlamps made it even more alike the contemporary Corvette C3, albeit a Corvette in 2/3 scale. The Opel GT ran a short wheelbase of 2415 mm and measured just over 4 meters in length. It was powered by a four-cylinder engine and weighed less than a ton. All these attributes implied it would compete with MGB GT, Triumph GT6 and Fiat 124 Spider rather than full-scale sports cars.
Power came from a 1.9-liter four-cylinder engine with cam-in-head valvetrain, i.e. the camshaft was located at the cylinder head and drove all 8 valves via short pushrods. Saving the inertia of conventional pushrods and undercutting overhead-camshaft engine in height, it was a compromise between OHV and SOHC. The unit produced 90 net horsepower in Europe, less in America (75 hp net or 102 hp gross). While the output was modest, it needed to propel only 956 kg, thus 0-60 mph could be achieved in an acceptable 12 seconds, i.e. about middle of the class. An aerodynamic body tested in the wind tunnel of Stuttgart Polytechnic (like NSU Ro 80) enabled a respectable top speed of 115 mph.
The longitudinal engine was mounted far back in the chassis, completely behind the front axle, to keep a good weight distribution. The running gears and suspension bits mostly came from the cooking Kadett. It featured double-wishbones and transverse leaf springs up front, while at the rear a live axle was located by trailing arms, panhard rod and suspended by coil springs. Braking was provided by discs up front and drums at the back. Not the most sophisticated chassis, but should have no problem to compete with its aging rivals. On the road, Autocar magazine reported adequate ride and handling. Most aspects did not raise the bar, but its body roll was minimal and directional stability was exceptional. On the downside, the driver had a lot of understeer to fight against.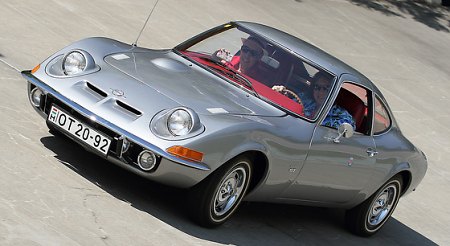 Despite of its smallness, the Opel GT offered generous cabin space for a pair of six-footers. Strangely, it had neither a lift gate nor a boot lid, so access to luggage compartment had to go through the cabin. Another strange feature was its manual-operated headlamps. A lever located at the transmission tunnel allowed the driver to open the headlamps from hidden position. They were not exactly "pop-up" headlamps because they swiveled about their longitudinal axis for 180 degrees to open. The lamp switch was triggered at the end of the lever movement. A pair of clear headlamp covers could have saved the need of such complexity, but at the time Federal regulations banned them.
Production of the car was carried out in two parts. The steel monocoque body shell and interior were contracted to French coachbuilders Chausson and Brissonneau & Lotz. They were then shipped to the Bochum plant in Germany for final assembly, where the mechanicals (powertrains and running gears etc.) were fitted. Build quality seemed to be pretty good, as few reliability problems arose in later years – the same cannot be said to its contemporary British and Italian rivals. That, together with the exotic looks and the America's fever of European sports cars, explained why it could be so popular in the USA. Nevertheless, with the arrival of Datsun 240Z in 1969, the Opel lost its limelight. It could not match the modern mechanicals of Nissan (6-cylinder overhead-cam engine, 5-speed gearbox and all-independent suspensions) nor could it offer the same level of performance. Eventually its production stopped prior to the effective of 1974 US safety regulations, which was considered too costly to pass.