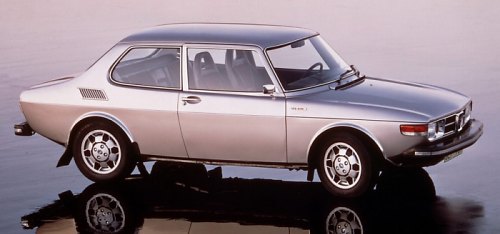 Saab 99 2-door
Saab's first car, the
92 series
, proved that the combination of good engineering and a unique/odd shape could endure the test of time. Applying the same tricks, it created another evergreen model in the late 1960s, the 99. In addition to its evolution model 900, the new series survived for 25 years and achieved a sales record of 1.5 million units, doubling over its predecessor.
To car lovers grown up in the 1970s and 1980s, the Saab 99 / 900 was almost iconic. It looked so weird yet it remained a credible choice in the premium family car or junior executive car class throughout its long life. Magazines usually praised it for high build quality and reliability, a spacious cabin, superb seats, a big boot, good ergonomics, excellent ventilation and good road manner. Keener drivers might prefer BMW 3-Series for its extra agility, but the Saab could surprise many with its fine handling and performance, especially when turbocharing arrived in 1977.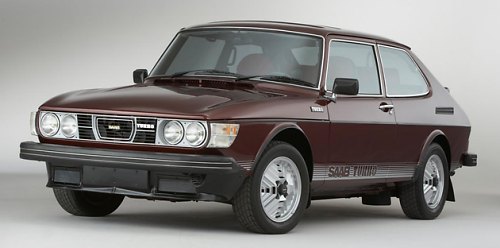 Saab 99 Turbo 3-door
Turbocharging was still a new technology then. GM experimented it unsuccessfully in the 1960s on Chevrolet Corvair and Oldsmobile F-85 Jetfire. BMW resurrected it on the 1973 2002 Turbo, followed shortly by the 1975 Porsche 911 Turbo 3.0, but both were produced in small quantity and aimed at performance market. Saab was the first to put it in mass production and on an affordable family car. The 99 Turbo's 2.0-liter SOHC engine used electronic fuel injection and ignition to supplement a relatively small Garrett turbocharger, resulting in milder turbo lag and improved drivability. Boost started building up from as low as 1500 rpm, and output peaked at 145 hp and 174 lbft. This allowed the car to achieve 125 mph top speed and 0-60 mph in 8.5 seconds, enough to match the six-cylinder BMW 323i for standing start and even trumped it for in-gear acceleration. Besides, it returned very good fuel economy.
When Motor magazine tested the 99 Turbo 2-door in 1980, it praised the car in many areas, such as a smooth and quiet engine, strong roadholding, little body roll, neutral handling, high stability and good steering feel. It reckoned "few cars at any price could be driven so briskly and safely on fast country roads". Autocar had similar findings, although it also pointed out some shortcomings like torque steer, sluggish engine response below 1500 rpm and the unassisted steering was very heavy at low speed. Even so, the 99 Turbo can easily enter the automotive hall of fame.
Saab 900 5-door
The 99 was an all-new design, but it did not deviate from the formula of its predecessor – front-wheel drive, independent front suspension by means of double-wishbones and non-independent rear suspension by rigid axle and Panhard rod. The wheelbase was kept largely unchanged, but the body shell was stretched to 4.35 meters long, a bit wider, far boxier hence much more spacious inside. Its shape might be strange, but it was very functional. Large windows and slim pillars afford great visibility. The windshield was almost vertical and heavily curved, while the A-pillars were mounted well rearward, so they would not block the sight of driver. There were various body shells, i.e. 4-door, 2-door, 3-door hatch and 5-door hatch, all looked odd but strangely characterful. The 3-door hatchback was the most head-turning among them. Its large tailgate opened right down to the rear bumper to ease access to the large loading bay, which could be expanded with the rear seat folded forward. Few cars of the time could match its practicality.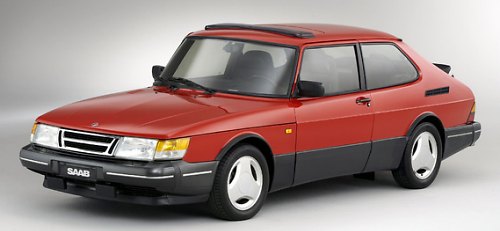 Saab 900 Turbo 3-door
Concerning engine, Saab initially sourced a 1709 c.c. SOHC straight-four from Triumph Dolomite (remember, Saab had not started engineering its own engines until then), later on upgraded to 1854 c.c. Predictably, the British-built engine was unreliable, so Saab decided to buy its license, improve and build it in Trollhattan. Eventually it was developed into the invulnerable 1985 c.c. unit that powered all 99 and 900 models. The engine was mounted longitudinally and tilted to one side by 45 degrees. This enabled it to be raised and have the transaxle gearbox mounted underneath, thus the engine could be positioned close to the firewall rather than at the nose. The solution was just as effective as modern transverse powertrains in terms of weight distribution, while it provided more space to fit turbocharging and avoid cooling problems. Pretty clever.
The 2-liter engine had many improvements over the years. In 1972, it was fitted with electronic fuel injection, a lot earlier than other European cars. In 1982, APC electronic boost control was introduced to regulate turbo boost, since then the turbo engine could adapt to different octane fuels and climates without worrying about knocks. 1984 introduced the first mass production 16-valve turbo engine to the market. It raised output further to 175 hp and 201 lbft. In 20 years' time, Saab evolved from an outsider of engine development to the most respected specialist of turbocharging technology!

Saab 900 Turbo 3-door
In fact, the majority of those development debuted on the newer 900. The 900 was introduced in 1978, initially sold as the more upmarket alternative to the 99. Its body grew slightly larger in all directions except height, but you are unlikely to notice because of its familiar shape. Apart from the existing 4 body styles, 1986 added Cabriolet, which was a popular choice among young executives. Mechanically, the 900 did not depart from old formula, although the new packaging provided more space for crumple zones as well as cabin. The new dashboard placed higher priority to ergonomics. The front suspension was retuned to reduce bump-steer, while anti-roll bars and 5-speed gearbox were predictable upgrades for the 1980s.

The 900 was the last Saab developed entirely in Sweden. The 1984 Saab 9000 was built on Fiat Type 4 platform, while its successor, the 900 Mk2, was derived from Opel Vectra under the direction of new owner GM. Both lost the strange attraction of the old model. Following its retirement in 1993, Saab fell into an identity crisis, losing loyal customers and eventually leading to its closure in late 2011.

Saab 900 Turbo Cabriolet