Saab was founded in 1937 as a military aircraft maker. After the Second World War, in the view of decreased demand for aircrafts, it decided to expand its business to car production. The 92, its first production car, went on sale in 1950.
While most others would start making cars by obtaining licenses from established manufacturers, Saab went its own way. The 92 was designed by itself from a clean sheet of paper. This was a really unique little car. It might look a bit weird, but it had many advanced features. Its aviation background led to a streamline appearance which was shaped in the company's wind tunnel. Its drag coefficient was merely 0.30, which would be considered as good even by today's standard! Besides, its chassis was a monocoque – stiffer and more space-efficient than conventional body-on-frame structures – while its wheels were suspended by coil springs. Moreover, the 92 was one of the first mass production cars to feature space-saving FF layout (front-engine and front-wheel-drive). This not only allowed its cabin to have a flat floor but also gave the car superior traction and safe handling.
Saab 93 construction

Measuring 4 meters in length and 2.5 meters in wheelbase, the 92 was not as small as it looked. However, it was powered by a very small engine to cut fuel consumption. It was a 764 cc twin-cylinder 2-stroke engine developed based on a pre-war DKW motorcycle engine. At a time without any emission regulations, drivers could easily enjoy its 25 hp output and the resultant 65 mph top speed, which was undoubtedly helped by the low drag. The engine was mounted transversely at the nose. The 92 turned out to be a success. In 6 years time Saab built 20,000 units, establishing itself as the other Swedish car brand beside Volvo.
However, greater success would be lying ahead. In 1956, it evolved to 93. Basically this was the same car but it got some predictable updates and a new engine. The twin-cylinder gave place to a 748 cc 3-cylinder, again 2-stroke and developed from DKW, but this time it was mounted longitudinally. It was so close to the nose that the cooling fan had to be mounted behind the engine, and driven by an "overhead fanshaft" (see the cutaway picture above). Output improved to 33 hp, accompanied with considerably more torque and a much smoother operation. About 53,000 units were sold in merely 3 years.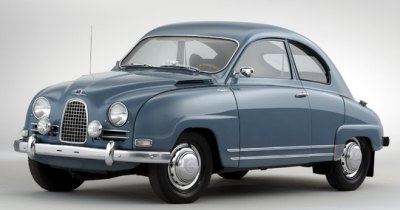 Saab 93 (left) and 95 (right)
Meanwhile, the 93 surprised everybody in motorsport. Racer Erik Carlsson drove a modified 93 to win the famous Finland 1000 Lakes rally in 1957. Despite of its small engine, the little Saab could beat more powerful rivals in the snowy Scandinavia thanks to its superior traction, tidy handling and good reliability. More rally victories would follow, including 3 consecutive British RAC rallies (1960-62) and a double Monte Carlo (1962-63). Even as late as 1976, the ancient-looking car still managed to triumph in Swedish rally!

The victories in the 1960s were actually achieved by 96, another light evolution from the 92. This time its 3-pot engine grew to 841 cc, producing between 38 hp and 46 hp depending on year. The gearbox was upgraded to 4-speed. The 2-stroke engine soldiered on until 1967, when it was replaced with a 1498 cc Ford V4 – yes, a 60-degree V4 that was developed from the Cologne V6 and renowned for its compactness. Although its unbalanced configuration generated more vibration, it fitted perfectly into the tight nose of the car, and it produced a lot more torque. Horsepower ranged from 55 to 65 hp, and top speed was up to 93 mph. In the remaining 12 years, the 96 was largely unchanged in the mechanical aspect. Eventually, some 550,000 units were sold in 20 years time. Its sales was so hot that it needed a second production site at Finland.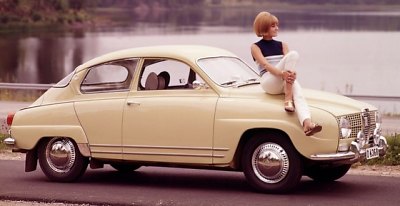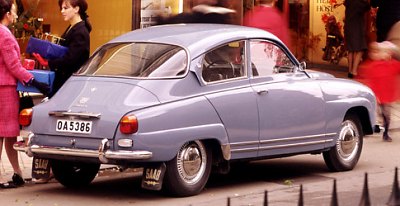 Saab 96
Running in parallel to the 96 was its wagon version 95. Despite of only 2 doors and a tailgate, it could seat 7 people on board, thanks to a rear-facing third row. It was barely less popular than the saloon.

In total, as many as 730,000 copies of the 92 family were built in 30 years. Its long life and its large sales far exceeded expectation for such an odd-looking little car coming from a Swedish aircraft company.