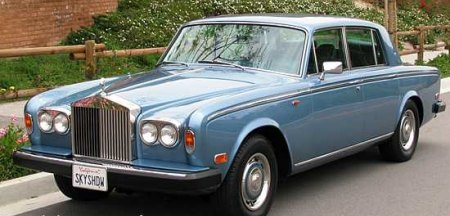 The 1907 Silver Ghost promoted Rolls-Royce to the top of luxury cars making. For half a century, most people regarded Rolls-Royce as the best luxury cars in the world. However, fames and traditions did no good to it. Being reluctant to innovate and adopt new technology, it started falling behind competition from the 1960s. Mercedes launched its long-wheelbase
S-class W112
in 1961, whose advanced technology could easily shamed Rolls-Royce. 2 years later,
600 Pullman
brought an even bigger blow, knocking the Flying Lady to ground in the contest of ultimate luxury motoring. Rolls-Royce knew it had to reform, and that car arrived in 1965 in the form of Silver Shadow.
The Silver Shadow replaced Silver Cloud as Rolls-Royce' mainstream production model. It finally adopted many technologies that had been already made class standards by rivals, such as a monocoque chassis/body, all-independent suspensions and all-round disc brakes. The monocoque structure was not only stiffer but also more space efficient, enabling the Silver Shadow to be made smaller than its predecessor yet offered more interior space. The body shell was also shaped far more modern, being boxier yet still looking graceful in the eyes of conservative customers. The rear axle was suspended by semi-trailing arms and coil springs, which was seen as a step forward from Mercedes' swing-axle. Moreover, it adopted a Citroen-styled high-pressure hydraulic system at its dampers to enable smoother ride and self-leveling function. All these sound thoroughly modern – or even quite advanced for its time.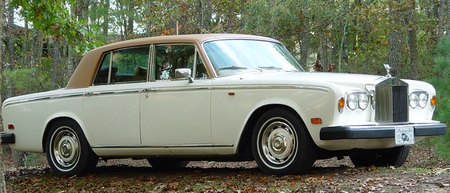 Power still came from the existing 6230 cc push-rod V8, but later on it was upgraded to 6750 cc. Output was usually estimated at 220-230 hp, depending on versions and years. As usual, Rolls-Royce refused to confirm the exact output figures. Considering the whole car weighed 2200 kg, it was not surprising to hear that it topped 120 mph at best and failed to do 0-60 mph under 10 seconds. Jaguar XJ12 and V8 versions of Mercedes S-class were clearly faster, but Rolls-Royce didn't care. The Silver Shadow was supposed to be driven relaxingly, unlike its sportier rivals. If you pushed it hard, you would be discouraged by its bulkiness and lack of handling fineness. In corner the car understeered heavily, and the degree of roll it displayed was the best reflection of its brand name. The steering was slow and wooden. More worrying was the lack of running refinement, as it was spoiled by excessive road noise, although the engine was very smooth and quiet. The Silver Shadow was still not the best car in the world.
Many of the problems were sorted out by the updated version, Silver Shadow II, launched in 1977. It replaced the recirculating-ball steering with a rack-and-pinion unit, which made the steering lighter, quicker and smoother. Further tweaks to track width and suspension geometry resulted in much less understeer and a bit more agility.
The Silver Shadow never matched its rivals for driving dynamics, but neither its rivals could match its build quality and craftsmanship, which lost nothing in the process of modernization. Further benefited from its modern style and image, it made Rolls-Royce popular again. In its 15 years life, some 30,000 units were sold. To this date it is still the best ever selling Rolls-Royce model.
Nearly as successful was its convertible version, Corniche. The Corniche was originally available as both hard-top coupe and soft top convertible, but the former was discontinued after 10 years, whereas the open version soldiered on for another 14 years until 1995! Its long lifespan was made possible by the fact that it had virtually no rivals on the market – Mercedes SL and Jaguar XJ-S Convertible were considered to be too cheap and less classy to its very rich buyers, while open versions of Ferrari and Aston were no where as comfortable and relaxing to spend time. Moreover, the exterior styling of Corniche, which was derived from Shadow, aged gracefully. It actually looked more classical and romantic than the new Silver Spirit saloon running in parallel from the 1980s. For all these reasons, the Corniche was popular. Even though it was always the most expensive model on Rolls-Royce' price list, it managed to sell 5,146 Convertibles and 1,108 Coupes throughout the years, representing a good business to Crewe.

Like Silver Shadow, the Corniche was powered by the all-alloy 6750 cc V8 with approximately 230 hp. Its long life means many revisions were made as time went by, including fuel injection (first mechanical, then electronic), rack and pinion steering, ventilated disc brakes, ABS, air bags, plastic bumper and extensive modifications to rear suspension. Unusually, the open cabin could seat 4 adults, if a bit tight. Without resorting to a rollover bar in the middle, its chassis rigidity was quite poor, as was the roadholding and wind management. However, build quality inside and outside remained magnificent.