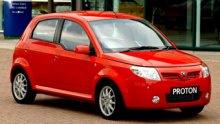 Savvy is the third car developed by Proton itself, following Waja (Impian) and Gen.2. The car is Ford Fiesta-sized thus is the entry level product from Proton. In Malaysia, thanks to the protection of heavy tariff, its competitor is only limited to Perodua Myvi – a localized version of Toyota Passo. When it export to UK in the near future, it will face far stronger competition from a dozen of European, Japanese and Korean superminis. Is it competitive enough?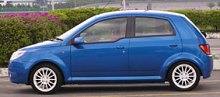 At the first sight, the Savvy looks quite promising. Not especially lovely, but the exterior design has its own personality – the stepped side windows and Land Rover-style clamshell bonnet differentiate it from other mini cars on the market. Proton is not willing to disclose who designed the car, but said it was developed under the leadership of ex-Daewoo engineers who know small cars very well. Furthermore, the ride and handling was tuned by Lotus (horribly, in Malaysia it even marketed the car as "My first Lotus"). The chassis is made quite stiff, forming a solid base for the MacPherson struts and torsion-beam axle suspensions. The steering is assisted by old fashion hydraulic servo, no tricks here.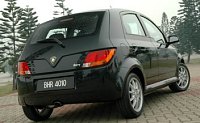 The car measures 3.7 meters in length and 2.4 meters in wheelbase, thus it provides competitive passenger room front and rear. Unfortunately – but every bit predictable for a Proton – the cabin is poorly finished with bad quality plastics, poorly fitted switch gears and filmsy air vents. Above the passenger glovebox is an ugly big hole, ah, it is for fitting the optional air bag. Talking about air bags, Western buyers will be shocked that the not-so-cheap Savvy does not offer any air bags as standard in its domestic market. Nor there is any power rear windows. Well, the manually wind rear windows at least can cut power windows faulty rate by half – a thing too notorious in previous Protons. The driving position is definitely more ergonomical than Gen.2, although a fixed steering wheel is by no means world class.


Open the clamshell bonnet reveals a Renault 1.2-litre engine - Proton's own Campro engine is too big to be fitted here. This engine is the base engine for Renault Twingo and Clio, having a single camshaft but 16 valves to produce 74 horsepower. That translate to pretty good performance, but the downside is a resonating boom once the needle passed 4000 rpm. On the motorway, the Savvy also transmit too much wind noise into its poorly insulated cabin. In terms of refinement, it still lags a long way behind European standard.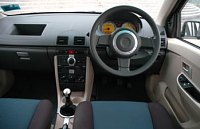 Thanks to the Lotus tuning, the Savvy rides and handles quite well in the twisty. Its suspension tuning has European firmness, displaying more driver appeal than Perodua Myvi. Over bumpy surfaces it does not crash or bottom either. The steering is also well weighted and accurate, although not very feelsome.

In the end, reliability problem is a hurdle Savvy must overcome. In Malaysia, Proton has poor reputation about quality and honesty. Every time it launched a new car it promised vast improvement in quality, but every time its customers found being cheated. Today there are less and less patriots willing to put their hard earned money on the gamble. No wonder Proton set a pessimistic domestic sales target of 40,000 Savvys in its first full year. That accounts for only 20-30% share of the local small car market. If it cannot shine in the protected home market, how can it export to Europe ?