Porsche Panamera






Debut: 2009


Maker: Porsche


Predecessor: no







| | |
| --- | --- |
| Published on 22 Jul 2009 | All rights reserved. |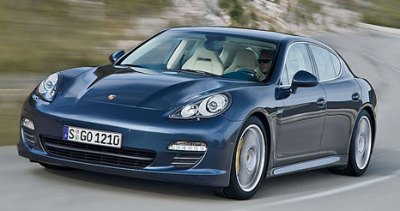 Porsche attempts to grab 20,000 cars a year from the pie of sports luxury saloon market...


Scanning across the product portfolio of Porsche, you will find a huge gap between the 911 and Cayenne - one is an iconic all-out sports car; another is a practical sports utility. A 4-door sports saloon like Maserati Quattroporte would easily bridge that gap. This is not a new idea. In fact, in the early 1990s Weissach developed a 4-door sports saloon called 989. It looked like the later 996-series 911, but it had a long wheelbase, 4 proper seats and a rear-mounted V8 engine. Unfortunately, the 989 was a risky concept at a time when Porsche was running into sales slump. Management believed that it would need a cheaper rather than pricier car to turnaround its business. In the end, it approved a small roadster called 986 instead.

Today, the market condition is very different. The sports luxury saloon segment has been booming in the past few years – apart from traditional performance versions of luxury saloons like Mercedes S63/65 AMG, Audi S8 and Jaguar XJR, the segment is joined with sportier new entries such as Maserati Quattroporte, Mercedes CLS63 AMG and the forthcoming Aston Martin Rapide. Its prospect is certainly far more optimistic than that in the early 1990s. Porsche CEO Wendelin Wiedeking made a calculation and found his company can grab 20,000 units annually from the big pie. Moreover, the proposed Porsche sports saloon can share a lot of components with Cayenne, such as V8 engines, transmissions, 4WD system and suspension bits. Production cost can also be slashed by building it together with Cayenne at the Leipzig plant. To save tooling costs, the bodyshell can be stamped, welded and painted at Volkswagen's Hanover plant through its ever-closing relationship with the latter. The body is then transferred to Leipzig for final assembly and mate with the engines which come from Zuffenhausen. Being a production expert, Wiedeking knows very well how to streamline production. Eventually, this car need to sell only 12,000 units a year to breakeven.

In this way, Panamera is born.


Michael Mauer is handicapped by the traditional styling cues of 911, whose roundness does not work well in a big saloon...


The first time you see the Panamera, you will be shocked by two things: 1) its huge size; 2) its ungainly design. Not just judged by the standard of Porsche's sports cars, this is a big car by any standards. It measures nearly 4970 mm from nose to tail, 1931 mm across its shoulders and 1418 mm from roof to ground. Its front and rear axles are separated by as much as 2920 mm. Believe or not, it exceeds the Cayenne SUV in all dimensions bar height ! The lightest version weighs 1770 kg, and the top version with turbo and 4-wheel drive tips the scale at nearly 2 tons.

The sense of hugeness is not helped by its jelly design penned by Michael Mauer. I used to admire Mauer's work in Saab and Smart Roadster, but this time he is handicapped by the traditional styling cues of 911, whose roundness does not work well in a big saloon. It just amplifies the softness and bulkiness of the car. Tradition played an important role in the history of Porsche, unquestionably, but they should not follow tradition for the sake of follow. Perhaps it is time to think out of the box. Jaguar faced a similar problem a few years back, but its chief designer Ian Callum made a brave decision to reinvent a new styling theme for the brand. Michael Mauer should also do the same to Porsche.

However, from technical point of view it is hard to criticize. This body encloses 4 passengers and their luggage as good as a proper luxury saloon. It provides 4 big doors to ease passenger access and a hatchback for easy luggage loading. It slips into air effortlessly with a drag coefficient of 0.29 (0.30 for turbo), thanks to a flat underbody. With an electric rear spoiler raised and expanded at speed, it can run stably at 188 mph on Autobahn. These are what we called "German efficiency".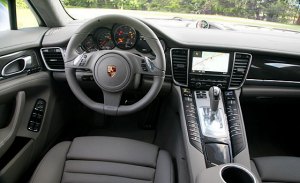 This is easily the best ever cabin built by Porsche...


Despite of its heft, every kilogram seems to be well spent to make the Panamera feels solid - not only its chassis but also its cabin. This is easily the best ever cabin built by Porsche. The materials – leather, wood trim and alloys – are top notch items, fit and finish meets what you would expect from a German luxury saloon. The center console design might be a little busy in the post-i-Drive era, because Porsche insists to have a button for every function, but you will get used to it soon. The 5-gauge instrument preserves the style of 911 while cleverly incorporates an LCD information display in one of the gauges. You sit low in the cabin like a proper Porsche. Wrapped in the deep bucket seat, cocooned by high waist line and large transmission tunnel, you can feel its sporting flavor much stronger than those mainstream luxury cars. The same go for the rear passengers in their low-set individual seats. Guys up to 6-foot 2 or 3-inch will find abundance of legroom and surprising amount of headroom at the back. The luggage space is decent at 450 liters, expandable to 1500 liters when both rear seats fold down.

The Panamera's monocoque body is constructed primarily in steel. Some of its front crash structure, the bonnet, tailgate and doors are made of aluminum, while side window frames are magnesium. Its suspension is provided by double-wishbone up front and multi-link at the rear, both are fashioned in aluminum to reduce unsprung weight and mounted on aluminum subframes to absorb NVH. The suspension features PASM electronic adaptive damping, speed-sensitive self-leveling air springs and active anti-roll bars - the latter two are standard on turbo and optional on lesser models. Now I suppose you have already noticed many similarities to Cayenne in its suspensions, as many parts are interchangeabe between them. Powerful brakes are employed to handle its immense weight - the naturally aspirated V8 models have 360mm and 330mm front and rear discs respectively, while Turbo uses 390mm and 350 mm discs. All are clamped by monobloc calipers, with 6 pistons up front and 4 pistons at the rear. Porsche's ceramic brakes are again optional.



This is a big car by any standards.


The entry-level Panamera is to be powered by a 3.6-liter V6 good for 300 horsepower. Add an electric motor and it will become a 350hp hybrid. For now, you can buy only the more expensive V8 models – Panamera S and 4S are both powered by a 400hp 4.8-liter V8, their difference lies in RWD or 4WD only; Panamera Turbo uses a 500hp turbocharged version of the same engine. They come straight from Cayenne GTS and Turbo respectively.

The naturally aspirated V8 packs a lot of technology - a rigid closed deck construction, direct injection, variable intake manifolds, VarioCam Plus (dual-VVT and 2-stage intake variable valve lift) and fuel-saving auto start-stop function. It produces 400 horsepower at 6500 rpm and 369 lb-ft of torque from 3500 rpm upward. In the rear-drive Panamera S with 6-speed manual gearbox, it can propel the car from rest to 60 mph in 5.3 seconds. This can be reduced to 5.1 seconds if you opt for the PDK 7-speed twin-clutch gearbox built by ZF. Upgrade to the 4-wheel-drive Panamera 4S, which has PDK comes as standard, 0-60 mph is reduced further to 4.8 seconds, about as quick as Maserati Quattroporte. The naturally aspirated V8 models are priced from £72,000 to £77,000, undercutting its rival by £11,000.

To lift the game further, you will need to upgrade to the £95,000 Panamera Turbo. A pair of turbochargers working at 0.8 bar boosts it output to exactly 500 horses, and the torque curve flats out at 516 pound-foot from 2250-4500 rpm. It may not be the most powerful saloon in the world, but it lays down its power to the road more efficiently than any one else. Assisted by the superior traction of 4-wheel drive and quick response of PDK transmission, it can sprint from 0 to 60 mph in 4 seconds flat. That's decisively quicker than super saloons like Mercedes E63, Jaguar XFR and Cadillac CTS-V, as well as the Autobahn rocket Mercedes S65 AMG. If that is still not enough, you can opt for the Sport Chrono package, which adds launch control and enables an overboost to 568 lb-ft. The result is an eye-popping 3.9 seconds from 0-60 mph. In terms of acceleration, Panamera Turbo is easily the fastest 4-door saloon in the world.

In the real world, it is also likely to be the quickest. Panamera Turbo has set a new 4-door saloon lap record at Nurburgring in 7 min 56 sec, 3 seconds quicker than the previous record holder Cadillac CTS-V. Bear in mind that its power-to-weight ratio is 13 percent lower than the super Cadillac, its handling and braking must be way superior to claw back the time in corners. However, the new record is far from the best it can do. Porsche has a more powerful, 550hp version of the turbocharged V8 on the pipeline. Until now this engine has been applied to Cayenne Turbo S only. We expect it will be called to serve the Panamera once a challenger gets close to its lap time.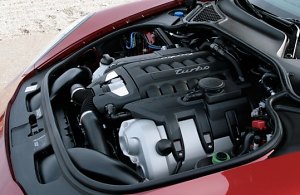 It may not be the most powerful saloon in the world, but it lays down its power to the road more efficiently than any one else...


The 4-wheel drive system of Panamera is similar to Cayenne. A multi-plate clutch located just behind the transmission facilitates a front-to-rear torque split of 38:62. The front differential is bolted on the side of the engine and has its axle goes through the sump. The rear differential has an electronic controlled variable limited slip ratio to enhance its cornering prowess. With a front-to-rear weight distribution of 52:48, the Panamera is better balanced than most performance saloons bar Maserati Quattroporte (which achieves 49:51). However, most of its engine locates fore of the front axle, meaning its polar moment of inertia is not low.



On the Road



Cruising at a steady 125 mph on Autobahn, the Panamera Turbo is almost as refined as a Mercedes S-class or BMW 7-Series. There is little wind or road noise entered the cabin. The engine is pulling at just 2800 rpm on top gear. Exhaust note is no more than a distant growl, making you wonder if you are really driving a Porsche. With the PASM adaptive damping set at Comfort mode, the big car glides over expansion joints nearly as smooth as other luxury cars. So the luxury side of its character passes the first test.

Drop a couple of gears, floor down the throttle, the two turbochargers hesitate for a moment before fully wake up. But once they got there, the strong stream of power pushes the big car pass other M-cars or AMGs effortlessly. The excellent traction and directional stability makes this happen without drama. Even approaching its 188 mph terminal velocity, it remains rock steady and confident. The V8 now sings louder, but it will never rock your soul like a Maserati V8 at 7200 rpm full bore. The acoustic engineering and plastic packaging of this engine keep its volume in check.

Turn into a fast bend, at first there is a slight understeer and roll. Switch to Sport mode, the dampers and air springs are tightened immediately. Now the car slips into the bend with amazing roadholding as well as neutrality. Its chassis is obviously designed to take on sky-high limit, so you will be foolish to test its limit on the open road. On German highway the ride is perfectly acceptable in Sport mode. On more challenging roads, however, you will find it lacks the composure of most other sports saloons, in particular Jaguar XFR. Switch to Sport Plus mode and the body control is even more impressive as it engages active anti-roll bars and the hardest suspension setting. But this mode is too hard for public roads. It is designed for Walter Rohrl to set lap record in Nurburgring, so best to leave it to race tracks.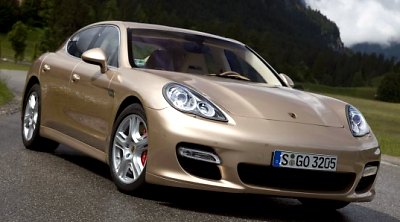 Panamera Turbo a little cold to keen drivers. In fact, the best of the range is actually Panamera S with manual gearbox...


Guide the Panamera Turbo away from Autobahn and enter a series of mountain roads, the scene is changed. While the big car is still remarkably capable, it never shake off its weight and size. You are aware of its width on narrow, single-lane roads, especially when a lorry approaches in the opposite lane. This hurt the driver confidence a little. The size also ask you to think twice before power sliding its tail, so on a country road you can never exploit its chassis as you wish.

But the problem does not lie on physical size alone. The feedback from this car is also to blame. As you might have predicted, with 1 ton acting on the front wheels and a constant stream of torque going through them, the steering is masked by considerable hydraulic assistance thus is not completely feelsome. Turn-in is accurate enough, but its nose does not feel as eager to do so as Maserati Quattroporte. Despite of their similar weight, the Panamera feels heavier and slower to steer than the Maserati. Its PDK gearshift is hampered by an unfriendly control – instead of the more effective paddles of rivals, Porsche insists to use buttons located on front and back side of the steering wheel to facilitate upshift and downshift. In braking, although the ceramic brakes are super-powerful, its pedal feel is so-so. The air suspensions have a similar problem. Its isolation and roll resistance are somewhat artificial, failing to connect the driver to the road as well as steel springs. All these make the Panamera Turbo a little cold to keen drivers.

In fact, the best of the range is actually Panamera S with manual gearbox. With 200 kilograms removed together with front-wheel drive mechanism, its steering is cleaner and keener than the Turbo. Its manual gearshift is more engaging to use than PDK. Its naturally aspirated V8 has a linear power delivery and crisper throttle response. That said, it does not feel particularly fast. Cheaper rivals like Jaguar XFR, Mercedes E63 and Cadillac CTS-V will have it beaten easily.

Judged by any objective standards, Paramera is easily a class winner. It is almost as cosseting as big AMGs at relaxing pace yet capable to maneuver like a sports car when it is pushed. It offers luxury class comfort and practicality yet capable to produce supercar performance numbers. Nevertheless, as a driver's car, especially one wearing Porsche logo, it lacks an emotional appeal to engage its driver. This is also what Maserati does best.
Verdict:




| | |
| --- | --- |
| Published on 26 May 2010 | All rights reserved. |
Panamera V6

Originally I thought the entry-level V6 of Panamera was the same Volkswagen group narrow-angle V6 that we found under the bonnet of Cayenne. As the car finally goes on sale, now we know it is actually an in-house-built 3.6-liter 90-degree V6, obviously derived from the 4.8-liter V8. If my memory is correct, it should be the first ever V6 engine produced by Porsche - well, apart from the V6 turbo it built for Alain Prost's F1 racer. Why does Zuffenhausen waste money to develop its own V6 while Volkswagen has already got a VR6 displacing the same capacity and producing the same horsepower in Passat R36 ? I suppose because Volkswagen is phasing out the narrow-angle V6, so sooner or later both Panamera and Cayenne will have to source V6 engines somewhere else. Considering the V6s of Audi are too small, the most logical choice is to build its own engine.

The new V6 is practically the V8 with two cylinders chopped. This can be easily seen from its 3605 cc and 300 horsepower, both figures are exactly three-quarters of the V8's. It retains the essential VarioCam Plus system and direct fuel injection, while a balancer shaft is added to cancel the end-to-end oscillation of the 90-degree V6. Compare with similarly-sized Japanese V6 engines, the Porsche unit is not particularly powerful, but its 295 pound-foot of maximum torque is definitely class-leading, which should help coping with its 1730 kg-plus kerb weight.



Nevertheless, the entry-level Panamera is more about refinement than performance. It takes 6 seconds to go from zero to sixty, not quick enough to raise your pulse. Especially in a well-insulated cabin, this 6 seconds feels far slower than the 6 seconds in an entry-level Boxster. The V6 is smooth and flexible, but it lacks the aural character and rev hungriness of traditional boxer engines. It also feels underwhelming beside the highly capable chassis, which begs for more power.

Theoretically, with 30 kg less weight hanging over the nose, the base Panamera should have the best handling among its siblings. In reality, the slightly more eager turn-in makes little difference to the driving experience, because Panamera is not an engaging car to drive anyway. As before, its steering is short of feel, and its huge size hurts confidence of pushing the car on challenging roads.

The biggest problem is price. It might be the cheapest Panamera, but it is pitched against likes of Jaguar XFR, BMW M5 and Mercedes E63, all delivering more than 500 horsepower and lightning acceleration the Porsche couldn't dream of. When a Porsche has lost performance edge, is it still a Porsche ? We can understand why people buy Mercedes S280 or S300, but a six-cylinder Porsche Panamera ? No way.
Verdict:



| | |
| --- | --- |
| Published on 17 May 2011 | All rights reserved. |
Panamera Hybrid



As hybrid is getting increasingly common these days, I am no longer interested to write about every hybrid cars launched. Put it this way, hybrid powertrain is going to be just another option beside diesel and biofuel engines on most cars. It can no longer capture headlines. However, when a hybrid powertrain appears on a Porsche, it is still worth our attention.

Panamera S Hybrid is not the first hybrid attempt from Stuttgart. That is Cayenne Hybrid. Porsche chose the SUV to launch its new hybrid technology because of many reasons: firstly, it has plenty of space to fit the extra hardware; secondly, it is already the most un-Porsche model anyway, so converting to hybrid power is unlikely to add any more controversy; thirdly and most importantly, the Cayenne is primarily aimed at the US market, whose drivers love hybrid and hate diesel.

Having tried and tested the technology in Cayenne, Porsche is confident to extend its service to Panamera. Mind you, Panamera S Hybrid is not the hybrid version of Panamera S – the latter is powered by a V8 while the former gets a V6 and electric motor. Nevertheless, its name suggests a performance comparable to the V8 car, thanks to the superior bottom-end torque made possible by its electric motor. On paper, the Hybrid is only marginally quicker than the entry-level Panamera V6, with a top speed of 168 mph and 0-60 mph time of 5.7 seconds. In the real world, however, it exhibits an overtaking power sometimes even stronger than the Panamera S.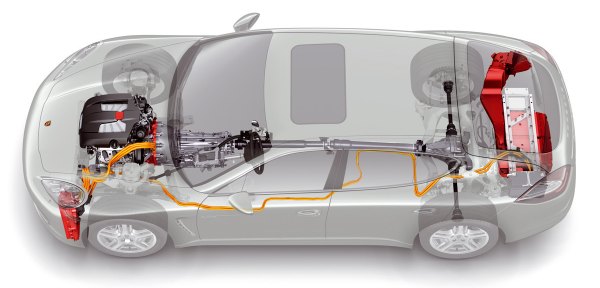 Like Cayenne Hybrid, it forgoes Stuttgart's own V6 for Audi S4's supercharged 3.0 TFSI V6, because the whole hybrid system is borrowed from Audi. Behind the 333 hp petrol engine is a 46 hp electric motor and an 8-speed Tiptronic automatic gearbox. The whole system offers a combined 379 horsepower and 428 lb-ft of torque, and the latter is available from only 1000 rpm ! Electricity is supplied by a 1.7kW/h NiMH battery mounted under the boot floor. That cuts the cargo capacity by 100 liters to 350. Predictably, the hybrid system adds 200 or so kilograms to the car, so the latter tips the scale at nearly 2 tons, even heavier than the 4-wheel-drive Panamera Turbo.

46 horsepower is not much, but it allows the electric motor alone to haul the big car from start up, and runs up to 53 mph provided you are light on throttle. You will get a ghost-like cruise for up to 2 kilometers before the battery dry up and call for the service of petrol engine. Drive with strong discipline, the Panamera S Hybrid can manage an EU combined fuel economy of 39.8 mpg, or even 41.5 mpg if fitted with Michelin Energy low-rolling resistance tires. Corresponding CO2 emission is 167 and 159 g/km respectively. Yes, that's the same level as a regular Volkswagen Passat. How can you not admire it ?

However, the primary mission of Porsche drivers is unlikely to be saving the planet, but to enjoy driving. That is also the area the Panamera Hybrid does worst. Compare with the V8, it shows more understeer and body roll in corners due to its extra weight. The noise is no match with the V8. The steering – converted to pure electrical assistance – and brakes are less communicative, not to mention the lack of involvement from the torque-converter automatic. Hybrid might be a good idea to most luxury limousines, but it does not suit the sport-biased character of Panamera.
Verdict:



| | |
| --- | --- |
| Published on 11 Jun 2011 | All rights reserved. |
Panamera Turbo S


Panamera Turbo is by no means slow. In fact, no other 2-ton four-door saloons can sprint from zero to sixty comfortably within 4 seconds like it. However, if you don't mind paying an extra 20 percent, you can be even quicker. Panamera Turbo S is reserved for the pickiest customers who command simply the best. Its engine is the same as that on Cayenne Turbo S, which features a revised ECU to enable higher boost pressure and a pair of low-inertia titanium-aluminum turbochargers. The result is an extra 50 horses and 37 pound-foot of torque. This translate to 2 mph higher top speed and two-tenths less time to go from rest to 60 mph. In absolute terms that means 190 mph and 3.7 seconds. Amazing.

The problem is, on the road you can seldom tell the difference between the Turbo S and the regular Turbo. Blindingly fast it surely is, but so is the Turbo. Like the regular car, its sense of speed is largely filtered by the tons of sound insulation, air cushing suspensions and an artificial-feeling power steering, so you can only tell the extra performance from the speedometer. That's a shame for such a high performance car.
Verdict:




| | |
| --- | --- |
| Published on 29 Jan 2012 | All rights reserved. |
Panamera GTS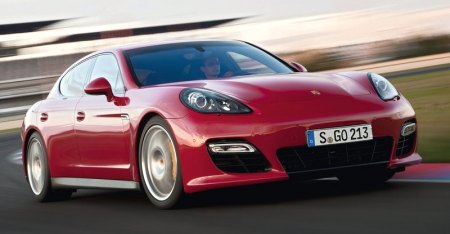 Panamera Turbo and Turbo S deliver mind-blowing performance, but some hardcore drivers prefer the naturally aspirated Panamera S and 4S, no matter in the way they sing or respond to throttle. With less weight to handle, they also steer a little sharper. Now they have a better choice. The GTS badge represents the ultimate version of naturally aspirated Porsches, not only for the outgoing 911 and Cayenne but now also the big four-door saloon. Based on the 4S, it gets many chassis modifications previously reserved to the Turbo, such as suspensions that are set stiffer and 10 mm lower, a 10 mm wider rear track, the same wheels, tires and brakes, the standard fitment of PDK gearbox, Sport Chrono package and adaptive air suspensions. Moreover, the 4.8-liter V8 is modified with higher valve lift, stiffer valve springs, lower restriction intake and exhaust system. As a result, its redline is extended from 6700 to 7100 rpm. Maximum power is lifted by 30 hp to 430 hp, accompanied with 14 lbft more torque.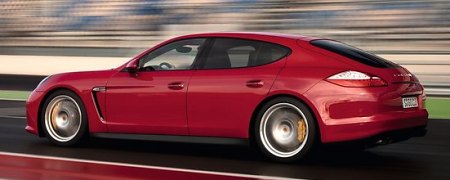 Having lost the chromed window surround, the Panamera GTS looks smaller – well, less huge. For a saloon measuring 5 meters in length and 1920 kg on scale, its performance is respectable. Top speed is 179 mph, while 0-60 mph takes only 4.3 seconds. The latter is half a second quicker than Panamera 4S, and nearly matches BMW M5, Mercedes E63/CLS63 AMG etc. Nevertheless, that remarkable figure is largely due to its talent to eliminate tire slip, thanks to the launch control of Sport Chrono and the 4-wheel-drive system. Its 0-100 mph time of 10.9 seconds is a better indication of its true performance level, which is nowhere near the aforementioned sports saloons, just as its far inferior power-to-weight ratio suggested.

The chassis mods make the GTS more engaging to drive than all other Panameras. It displays sharper turn in and better stability in corners. You are still aware of its sheer size, but there is excellent grip, traction and braking to compensate. Should you tick the optional active anti-roll bars and torque vectoring, you will find even more remarkable body control and agility. Meanwhile, at comfort setting the air suspension delivers a supple ride, maintaining the cross-country ability of the regular car.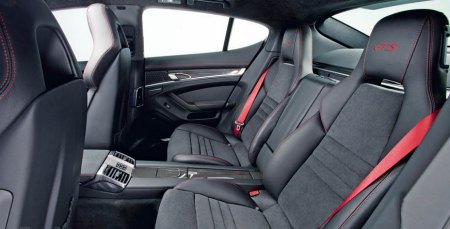 Having said that, I suppose the GTS will be appealing to limited audiences. Those paying £90,000 have the right to expect more performance and character, which are short of supply here. The GTS is still too clinical, too well-rounded to excite the driver. While it is unquestionably better to drive than an Audi S8 or AMG S-classes, it doesn't feel as special to own and to drive as a Maserati Quattroporte or Aston Rapide. More embarrassing is BMW M5 and Mercedes E63/CLS63 AMG offer significantly more performance and character at lower prices. Only those honoring the Porsche ownership and pure driving experience of naturally aspirated motors are likely to consider the Panamera GTS.
Verdict:




| | |
| --- | --- |
| Published on 4 Jul 2013 | All rights reserved. |
Panamera update: S V6 and E-Hybrid


In the past 4 years, Porsche Panamera has been commented as fast and capable but somewhat lack of style and driver engagement. We hope Weissach could work on the last two areas, but obviously, it did not hear our voices. So the Panamera facelift for 2013 has barely reshaped the bumpers and headlights a little without changing the inherent ugliness. It spent most development budget to improve fuel efficiency and emission, mainly by replacing the V8 on Panamera S and 4S with a 3-liter twin-turbo V6 and turning the Hybrid model into a plug-in hybrid. It even introduces a long wheelbase version (with 150 mm longer wheelbase) to please Chinese tycoons who would never sit at the driver seat. All these actions raise doubts over its sporting pretension and puzzle the fans of Porsche in a similar scale to what Cayenne did a decade ago.

On paper, the new Panamera S V6 seems a progress. This engine is developed from the existing 90-degree 3.6-liter V6 (therefore it necessitates a balancer shaft to cancel the 1st order vibration). It keeps the large bore of 96 mm but shortens the stroke to 69 mm, resulting in a seriously oversquare profile and a displacement downsized to 2997 cc. As expected, it has direct fuel injection, dual-variable cam phasing and 2-stage variable intake valve lift (Variocam Plus). Two turbochargers pump up to 1.2 bar of boost pressure. The max output is 420 horsepower at 6000 rpm, 10 ponies more than the similarly specced Maserati Quattroporte V6, but the maximum torque of 383 pound-foot is 23 lbft down and is released a little bit later, from 1750 to 5000 rpm. However, it eclipses the outgoing 4.8-liter V8 in almost every aspect – 20 hp and 14 lbft up, 18 percent more frugal and CO2 emission reduced from 249 to 204 g/km. Moreover, performance is improved by the much wider torque band. Now 0-60 mph takes 4.9 instead of 5.3 seconds.

Unfortunately, the turbocharged V6 doesn't rev as freely as the naturally aspirated V8. Neither is its soundtrack as soulful and characterful. Moreover, the flatter torque curve and the resultant flexibility makes the driving experience less special. In fact, you can feel much the same on just any fast Audi, BMW and Mercedes saloons these days. In contrast, the old V8 demanded you to work harder to get greater rewards. It was an engine for the enthusiasts, while the V6 is more a workhorse, albeit a fast and efficient workhorse.


You can still buy the naturally aspirated V8, but its availability is now limited to the GTS model, and it is no longer available with manual transmission. In fact, the whole Panamera range has now abandoned manual gearbox for PDK (or ZF 8-speed automatic in the case of diesel and hybrid), which is another thing that upset keen drivers.

Meanwhile, the green Panamera S E-Hybrid continues to employ the Audi S4 engine (333 hp 3.0 supercharged V6) but has its electric motor upgraded from 47 hp to 95 hp and the 1.7 kWh Nickel-Metal Hydride battery replaced with a 9.4 kWh lithium-ion pack. This allows the car to be converted to plug-in hybrid and recharged at home, which should take 4 hours with 240V household socket or 2 hours with 400V supply. Thanks to the more powerful motor and enlarged battery, it can be driven with electricity alone for up to 36 km (up from a miserable 2 km) or for speed up to 84 mph. Because of the stored charge, under the current EU calculation it can have its fuel economy lifted dramatically from 40 to 91 mpg, while emission is incredibly low for such a large car at 71 grams per kilometer.

In the real world, however, the hybrid's fuel efficiency is close to the entry-level Panamera Diesel. Although its performance is quite strong, thanks to the combined output of 416 hp and 435 lbft of torque, the driving experience is deteriorated by the extra 300 kg that it carries, which pushes its kerb weight to a ridiculous 2100 kg. It rolls a little bit more in corners, approaches limit a little sooner and brakes with less vigor. The steering feels even more remote than other Panameras, and the brake pedal feel is compromised by the regenerative braking. This is the dullest driving Porsche of all.

The E-Hybrid might be a showcase what Porsche is capable to do in the forefront of green motoring, but it is unlikely to capture many sales. A Tesla Model S is even greener, far better looking and more revolutionary in concept. It is more likely to attract those really care about green motoring. On the other hand, those admiring the dynamics of Porsche are likely to be disappointed with the Panamera S E-Hybrid, which is too far removed from its traditional philosophies.

Verdict:












Panamera V6



2010

Front-engined, RWD
Steel monocoque
Steel + aluminum

4970 / 1931 / 1418 mm
2920 mm
V6, 90-degree

3605 cc
DOHC 24 valves, DVVT+VVL

VIM
DI
300 hp / 6200 rpm
(310 hp / 6200 rpm from 2013)


295 lbft / 4250 rpm



7-speed twin-clutch

F: double-wishbone
R: multi-link

Adaptive damping
F: 245/50ZR18
R: 275/45ZR18
1760 kg

161 mph (c)
6.0 (c)

-

Panamera S Hybrid



2011

Front-engined, RWD
Steel monocoque
Steel + aluminum

4970 / 1931 / 1418 mm
2920 mm
V6, 90-degree + electric motor

2995 cc
DOHC 24 valves, VVT

Supercharger
DI
engine: 333 hp
motor: 46 hp
combined: 379 hp / 5500 rpm

engine: 324 lbft
motor: 221 lbft
combined: 428 lbft / 1000 rpm

8-speed automatic

F: double-wishbone
R: multi-link

Adaptive damping
F: 245/50ZR18
R: 275/45ZR18
1980 kg

168 mph (c)
5.7 (c) / 5.2**

13.3**

Panamera S



2009

Front-engined, RWD
Steel monocoque
Steel + aluminum

4970 / 1931 / 1418 mm
2920 mm
V8, 90-degree

4806 cc
DOHC 32 valves, DVVT+VVL

VIM
DI
400 hp / 6500 rpm



369 lbft / 3500-5000 rpm



6-speed manual (7 spd PDK)

F: double-wishbone
R: multi-link

Adaptive damping
F: 245/50ZR18
R: 275/45ZR18
1770 kg

177 mph (c)
5.3 (c) (PDK: 4.6*)

(PDK: 11.2*)










Performance tested by: *C&D, **MT










Panamera 4S



2009

Front-engined, 4WD
Steel monocoque
Steel + aluminum

4970 / 1931 / 1418 mm
2920 mm
V8, 90-degree

4806 cc
DOHC 32 valves, DVVT+VVL

VIM
DI
400 hp / 6500 rpm


369 lbft / 3500-5000 rpm


7-speed twin-clutch

F: double-wishbone
R: multi-link

Adaptive damping
F: 245/50ZR18
R: 275/45ZR18
1860 kg

175 mph (c)
4.8 (c) / 4.2**


11.0**



Panamera Turbo



2009

Front-engined, 4WD
Steel monocoque
Steel + aluminum

4970 / 1931 / 1418 mm
2920 mm
V8, 90-degree

4806 cc
DOHC 32 valves, DVVT+VVL

Twin-turbo
DI
500 hp / 6000 rpm
(520 hp / 6000 rpm from 2013)

516 lbft / 2250-4500 rpm
overboost: 568 lbft

7-speed twin-clutch

F: double-wishbone
R: multi-link

Adaptive air spring + damping
F: 255/45ZR19
R: 285/40ZR19
1970 kg

188 mph (c)
3.9 (c) / 4.0* / 3.5** / 3.4*** /
3.6**** / (3.4***** / 3.6^)

9.2* / 8.6** / 8.4*** / 8.9**** / (8.8***** / 8.3^)


Panamera Turbo S



2011

Front-engined, 4WD
Steel monocoque
Steel + aluminum

4970 / 1931 / 1418 mm
2920 mm
V8, 90-degree

4806 cc
DOHC 32 valves, DVVT+VVL

Twin-turbo
DI
550 hp / 6000 rpm


553 lbft / 2250-4500 rpm
overboost: 590 lbft

7-speed twin-clutch

F: double-wishbone
R: multi-link

Adaptive air spring + damping
F: 255/40ZR20
R: 295/35ZR20
1995 kg

190 mph (c)
3.7 (c) / 3.3**


7.7**











Performance tested by: *Autocar, **C&D, ***MT, ****Evo, *****R&T, ^Auto Bild










Panamera GTS



2012

Front-engined, 4WD
Steel monocoque
Steel + aluminum

4970 / 1931 / 1418 mm
2920 mm
V8, 90-degree

4806 cc
DOHC 32 valves, DVVT+VVL

VIM
DI
430 hp / 6700 rpm
(440 hp / 6700 rpm from 2013)


383 lbft / 3500 rpm



7-speed twin-clutch

F: double-wishbone
R: multi-link

Adaptive air spring + damping
F: 255/45ZR19
R: 285/40ZR19
1920 kg

179 mph (c)
4.3 (c) / 4.0*

10.9 (c) / 10.7*


Panamera S V6



2013

Front-engined, RWD
Steel monocoque
Steel + aluminum

5015 / 1931 / 1418 mm
2920 mm
V6, 90-degree

2997 cc
DOHC 24 valves, DVVT+VVL

Twin-turbo
DI
420 hp / 6000 rpm



383 lbft / 1750-5000 rpm



7-speed twin-clutch

F: double-wishbone
R: multi-link

Adaptive damping
F: 245/50ZR18
R: 275/45ZR18
1810 kg

178 mph (c)
4.9 (c)

-

Panamera S E-Hybrid



2013

Front-engined, RWD
Steel monocoque
Steel + aluminum

5015 / 1931 / 1418 mm
2920 mm
V6, 90-degree + electric motor

2995 cc
DOHC 24 valves, VVT

Supercharger
DI
engine: 333 hp
motor: 95 hp
combined: 416 hp

engine: 324 lbft
motor: 228 lbft
combined: 435 lbft

8-speed automatic

F: double-wishbone
R: multi-link

Adaptive air spring + damping
F: 245/50ZR18
R: 275/45ZR18
2095 kg

168 mph (c)
5.2 (c)

-









Performance tested by: *C&D








Copyright© 1997-2013 by Mark Wan @ AutoZine