| | |
| --- | --- |
| Published on 11 May 2006 | All rights reserved. |
Racing Pedigree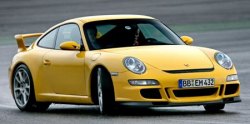 The history of 911 GT3 can be traced back to the 2.7 RS of 1973. The lightweight and sport-tuned version of 911won Porsche a lot of glory on race tracks and gave the keenest drivers the highest driving satisfaction on roads. Among all the road-going 911s, the Renn Sport delivered the closest experience to racing car, one that demanded superior driving skill but also rewarded good drivers with incomparable feedback. Naturally, it became the most admired 911 in history.

After the mighty 2.7 RS, we had 3.0 RS (1974), 964 RS (1992), 964 RS 3.8 (1993) and 996 RS (1995) to follow this racing pedigree. In 1999, the Renn Sport label gave way to GT3 - now RS became a striped out version of GT3. The new car was so named because Porsche would race it in FIA's newly established GT3 category. The first GT3 stunned the world with its speed and handling. It employed a 3.6-litre boxer engine developed directly from the GT1 race car instead of the road-going 911. Lightweight pistons and titanium connecting rods resulted in amazing rev and punch, while lightweight body resulted in a power-to-weight ratio even higher than contemporary 911 Turbo ! its sport-tuned suspensions delivered the sharpest handling. GT3 won the heart of hardcore Porsche drivers as well as the top spot in AutoZine's rating page.

In 2003, Porsche updated the GT3 to the second generation – let me call it "Series 2" because it was still based on the 996 architecture. This time the changes were subtle – stiffer suspensions, higher rev and slightly more power from the same engine. It remained the most effective driver's car in the world, but obviously the next generation will need to take a bigger step.



997 GT3



So, this is what we are waiting for – the 997 GT3. In UK, it is priced at £80,000, sandwiching between the £66,000 Carrera S and the £93,000 new Turbo. Once you have read through this report, you will see it is a great bargain.

Once again, the GT3 targets at the most demanding hardcore drivers, even more so than the Carrera S and Turbo. Although the new Turbo might be a little quicker in straight line, the lighter rear-drive GT3 is supposed to be quicker on track for skillful drivers. For those who participate club racing, Porsche also offers a Clubsport version including a roll cage, carbon-fiber bucket seats, racing harnesses and fire extinguisher.


At the first glance, you could be both excited and disappointed by the new design. Excited because it got some really serious aerodynamic kits, such as the deep air dam, 5 aggressive intakes at the front bumper, four hot air outlets at the rear bumper, a double-plane rear spoiler and a unique centrally-mounted exhaust pipe. All these sounds like a track car. On the negative side, these function-oriented tweaks hurt the coherent shape characterizing all 911s and make it more like the work of tuners. Personally, I still prefer the original 1999 GT3, whose design hit the right balance between pureness and sportiness.

Open the doors, the cockpit must be familiar to all 997 owners, even most luxury equipments have been retained, so this is no longer a striped-out machine like the old RS. The only weight saving measure is the part-leather part-Alcantara lightweight bucket seats. Oh yes, your dog may be disappointed to find out the rear seats have been discarded to save weight. Obviously, the GT3 is not a car to take your dog outside for a walk.



Chassis and Aerodynamics




Now we go to the technical side. From the specifications you will find the new GT3 is wider than the old car by 38mm. Compare with the current Carrera S, it has the same width but ride height is lowered by 20mm. This mean its handling is inherently more stable than either cars. As before, the GT3 is built on the Carrera 4 monocoque chassis to take advantage of its stiffer front end structure and the possibility of fitting a bigger fuel tank for racing purpose, but it is still rear-drive only. What made difference is the upgrade from 996 to 997 chassis, which brings 8 percent higher torsional rigidity and 40 percent higher bending stiffness. To offset the extra reinforcement are aluminum bonnet and doors (like the new Turbo). Overall, the GT3 weighs only 15 kg more than the old car, or actually the same as a base Carrera.

Aerodynamics is another area of improvement. To compensate the larger frontal area due to the extra width, The engineers at Weissach fine sculpted the double-plane rear spoiler and used smooth underfloor panels to reduce drag. As a result, drag coefficient is reduced from 0.30 to 0.29, which is probably the best figure a sports car can achieve. Interestingly, the GT3 does not seem to be a model of modern aerodynamics, as it does not have any diffusers (the rear engine won't allow that) thus need to seek help from old-fashion rear spoiler. However, the low drag and the high-speed stability displayed from its driving let us rethink whether rear spoiler is really a thing of the past. GT3 proves that, if properly engineered, rear spoiler could lift the styling as well as aerodynamic efficiency. Take note, Ferrari.



Engine and Performance



Last year, Carrera S introduced a 3.8-litre version of the boxer engine. Naturally, we expected the new GT3 engine to enlarge to 3.8 litres as well. After all, more capacity and more power is the current trend of engine development.

However, the GT3 engine is a development of the 1998 GT1 racer, hence having no relationship at all with the rest of the 911 family. Unlike other 911 engines, it employs very large bore (100mm) and short stroke (76.4mm), versus the Carrera's 96.0mm x 82.8mm and Carrera S' 99.0mm x 82.8mm. In addition to lightweight pistons and titanium connecting rods, one can easily see its racing genes. Unfortunately, Porsche stopped developing the racing engine long ago. To increase its capacity beyond 3600cc will require a thorough redesign and substantial investment, which is considered to be too expensive for the low volume GT3. That's why Porsche decided to retain its capacity and rework the components to find extra efficiency.

So what changes did it make? At the intake side, it increased the diameter of throttle butterfly from 76mm to 82mm. It also added a new resonance type variable intake manifold (previously called Varioram) to optimize torque across a wider band. At the exhaust side, it employs larger volume silencers to reduce back pressure. At the valvetrain, it increased the valve lift by 0.4mm and extended the variation range of the Variocam system from 45˚ to 52˚. In the combustion chambers, the compression ratio is lifted from 11.7 to 12.0:1. In the reciprocating parts, the conn-rods are lengthened to reduce thrust angle, hence wasting less energy. The pistons become shorter and lighter. All these put together, the new GT3 engine becomes even more revvy and powerful than ever. It produces 415 horsepower at 7600 rpm, which translate to an astonishing 115 horsepower per litre, even higher than Ferrari F430 (114 hp per litre) !! maximum torque now increases to 299 lbft at 5500 rpm. Max rev is lifted to 8400 rpm, almost like a touring race car.

To let you see the progress of the GT3 more easily, I made a comparison table here:




996 GT3

996 GT3 (Series 2)

997 GT3

Year

1999

2003

2006

Engine capacity
3600 cc
3600 cc
3600 cc
Compression ratio
11.7:1
11.7:1
12.0:1
Variocam range

25

˚

45

˚

52

˚

Maximum rev

7800 rpm

8200 rpm

8400 rpm

Max power

360 hp / 7200 rpm

381 hp / 7400 rpm

415 hp / 7600 rpm

Max torque

273 lbft / 5000 rpm

284 lbft / 5000 rpm

299 lbft / 5500 rpm

Kerb weight

1350 kg

1380 kg

1395 kg

Drag coefficient

0.30

0.30

0.29

Top speed

188 mph

190 mph

193 mph

0-62 mph (0-100 km/h)

4.8 sec

4.5 sec

4.3 sec

0-100 mph (0-160 km/h)

10.2 sec

9.4 sec

8.7 sec

Nurburgring lap time

7 min 56 sec

7 min 54 sec

7 min 42 sec


As seen in the table, the new GT3 can top 193mph and accelerate from 0-100mph in only 8.7 seconds. That put it very close to Ferrari F430 (196mph, 8.1sec) and earn it a place in the world's supercar club. More brilliantly, such performance is achieved by a naturally aspirated engine displacing only 3.6 litres. One word describes this car best: Efficiency.



Suspensions and Brakes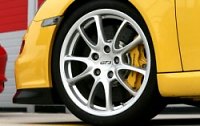 Like other 997s, the new GT3 has added PASM (Porsche Active Suspension Management) with adaptive dampers. Normal mode and Sport mode allow different stiffness to suit road or track use. The 19-inch lightweight wheels are shod with semi-racing Michelin Pilot Sport Cup tires which can deliver up to 1.4g cornering force ! in case they run out of traction, the limited slip differential will intervene. If that is still not enough, the new traction control will ease off engine power to regain traction. Of course, for a driver's car like this you can switch off the TC completely.

Like the new 911 Turbo, the GT3 is offered with 350mm diameter ventilated disc brakes with 6-pot front and 4-pot rear calipers. Considering the GT3 is almost 200 kg lighter than the 4-wheel-drive Turbo, its braking performance must be sensational. However, most drivers are likely to pay for the optional 380mm PCCB ceramic brakes, as they are simply fade-free on race tracks.



On the Road



The GT3's boxer engine is gem. Initially it feels no different from a regular 911 engine, delivering the same tractable manner and lovely 911-style exhaust note. Prod the throttle and you immediately feel the difference: like a race motor, its rev goes up and down quickly, thanks to the lightweight internals. As rev rise, the turbine-smooth willingness transforms to enthusiastic eagerness – the boxer encourages you to go harder and harder until the 8400rpm limit is exploited. There is no tremendous g-force like a supercharged V8, but the superb willingness and linearity of the GT3 engine delivers even more driving satisfaction to keen drivers.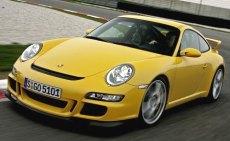 Achieving top speed at Autobahn is easy, as the GT3 displays remarkable aerodynamic stability at high speed. This is a noticeable improvement from its predecessor. The damping also promotes high-speed stability. At low speed, the damping at the normal setting of PASM is slightly more comfortable than the last GT3. That said, on rougher surfaces the ride quality is barely acceptable. The sport mode is even more crashy, thus it is better to be left on race tracks.

However, the stiff suspension setup results in superb body control and highly precise steering. The handling is close to race car level – sharp and communicative. The grip generated by the Michelin Pilot Sport Cup tires is simply astonishing, so is the tremendous traction coming from the wide rear tires and the 62% weight acted on the rear axle. In the GT3, we don't talk of understeer or cornering limit, because you need a race track to detect them.

Thanks to the superb engine, gearbox, steering and handling, the GT3 is highly addictive to drive. While many supercars deliver higher performance, few could involve its driver as deep as this one. It always tempt its drivers to exploit its deep reserve of rev and grip, and then reward them with precision, communication and speed. Such human-machine interaction has been lost in many modern sports cars. Fortunately, Porsche hasn't forgot that, even though 33 years have gone since the 2.7 RS.
Verdict:





| | |
| --- | --- |
| Published on 24 Oct 2006 | All rights reserved. |
911 GT3 RS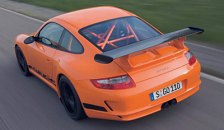 RS, or Rennsport, is the 911 closest to a racing car. For 20 percent higher price than the standard GT3, it gives you a roll cage, a 34mm wider rear track and a reduction of 20 kilograms. The latter is achieved by ditching the rear seats and sound deadening materials, by using Perspex rear window, carbon fiber bucket seats and carbon fiber rear spoiler. The rear spoiler is also larger than the GT3's in order to generate superior downforce. Drag coefficient increases from 0.29 to 0.30.

The 3.6-liter boxer engine remains unchanged from the GT3 – at 415 horsepower, it is already highly tuned. However, it mates with a lighter single-mass flywheel to sharpen throttle response. This makes the world's best six-cylinder engine even more tempting. As for suspensions, the two-stage adaptive dampers have been stiffened but ride height and tires remain unchanged. On public roads, the ride is a little too stiff for a road-going machine, although it is already more forgiving than the last generation. The standard GT3 is a better road car, but the RS is designed for tracks. Walter Rohrl found it take 4 seconds less to lap Nurburgring, mainly due to the superior rear-end stability and downforce.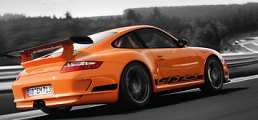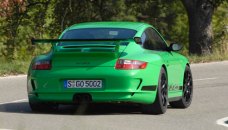 Verdict:





| | |
| --- | --- |
| Published on 9 Jun 2009 | All rights reserved. |
911 GT3 3.8

| | |
| --- | --- |
| | Considering the 2006 version is still a great drive today, we wonder how Porsche can improve on it... |
Since 911 GT3 was first introduced in 1999, it has been one of our favourites. In the past 10 years, very few sports cars could match its raw driving thrills, and fewer again could offer the same kind of everyday usability at the same time. Originally conceived as a limited production for homologation, the GT3 is now made in greater numbers to satisfy demand – the last generation sold 5200 units between 2006 and 2008 – and its continuous evolution makes limited production meaningless. This year, the GT3 entered the fourth generation, or second generation in 997-era. Considering the 2006 version is still a great drive today, we wonder how Porsche can improve on it.

The new GT3 is again a small evolution of the old car, but it has altered nearly all areas slightly to find extra performance in Porsche's fashion. This starts from the GT1-derived boxer engine. Previously displacing 3600cc, it has been bored out from 100mm to 102.7mm, taking capacity to 3797cc. So welcome back the 3.8 designation ! (remember the last air-cooled RS 3.8 ?) Apart from extra capacity, the engine gets Variocam at both intake and exhaust valves to improve breathing efficiency and make EU5 emission standards easier to comply. Direct fuel injection, however, is not available to the race conceived engine yet. Maybe next time. Anyway, the big-bore engine is more revvy than ever, as its redline inches up from 8400 to 8500 rpm. Its maximum output is raised by 20hp to 435hp, delivered at the same 7600 rpm. Max torque is increased by 18 lb-ft to 317 lb-ft at 6250 rpm.

Although 20 extra horsepower at the top end hardly sounds spectacular, you can't deny that 115 horsepower per liter is very impressive, as are its performance claims of 0-60 mph in 4.0 seconds (0.2 quicker than before), or 0-100 mph in 8.2 seconds (0.5 quicker). Once it is rolling, the GT3 will beat 911 Turbo and Nissan GT-R at any speed, thanks to a superior power-to-weight ratio which is made possible by its 1395kg kerb weight.

Yes, the new GT3 is not a single kilogram heavier than the last version. Its 3.8 engine should have meant more weight, but in fact it is 1kg lighter than the 3.6 engine, thanks to the weight trimmed from its oil pumps, twin-mass flywheel and air-con compressor. The rest of the car also underwent diets. Look at those lightweight forged aluminum wheels, they employ a single bolt to save weight like race cars. And for your record, the GT3 rejected PDK gearbox because that would have added 30 kg over its conventional 6-speed manual.
| | |
| --- | --- |
| | This could be a bad news to the development team of the next generation GT3... |
The least improvement over the 2006 version is probably top speed, which inches up from 193 to 194 mph. This is because the new GT3 has its Cx increased from 0.29 to 0.32. Porsche admitted its aerodynamic development refocused from drag to downforce, as the latter could improve its stability at speed hence on-track performance. The new GT3 has a deeper lip spoiler and 3 additional air outlets above the nose to increase front end downforce. At the back, it employs a wider rear wing angled at 7.8 degree. As a result, 100 kg of net downforce is realized at 186 mph, versus the old car's 30 kg. Moreover, this downforce is distributed 40:60 front to rear to match its static weight distribution, so handling balance remains unchanged at any speed.

The increased downforce called for a rethink in suspension tuning - stiffer front springs, narrower front anti-roll bar, thicker rear anti-roll bar and retuned PASM adaptive damping. The ultra-low lip spoiler called for an automatic jack up facility to increase front ground clearance for 30mm so to avoid damages by rough surfaces. However, the most interesting new feature is adaptive engine mount, which uses magnetorheological fluid to alter the stiffness of engine mounts (like magnetorheological dampers). In normal driving, the engine mounts are set soft to reduce NVH. When computer sense the car is being driven hard, it automatically stiffens the engine mounts to limit weight transfer, hence improving body control. It goes without saying that the tail-heavy 911 needs this feature more than anyone else.

The new GT3 continues to equip conventional brakes as standard and PCCB ceramic brakes as option. Unless you regularly take the car to track days, the steel brakes will be more than capable to do the job, especially as they have been upgraded - the front discs now measure 380mm instead of 350mm, and all four discs now employ aluminum carriers to cut unsprung weight.

Having gone through all the technical changes, we come back to the most important question: How much is it better than the 2006 version ?

If you ask Walter Rohrl, he will give you a number:

5 sec

. The new GT3 takes 7 min 40 sec to lap Nurburgring Nordschleife in the hands of Rohrl, compare with 7 min 45 sec of the old car - although I remember it was claimed to be 7 min 42 sec back then.

In real world, the new GT3 neither disappoints nor surprises, it just progressed as we expected. It isn't hugely faster than the old car, but it improves a little bit in every department. The marvelous motor still revs linearly towards sky-high rpm while producing the most addictive sound, but its extra shove is noticeable from mid-range. The handling of GT3 is still the purist this side of Lotus Elise, being responsive, honest and engaging, but now you can feel the extra stability at speed. The changes in suspensions and unsprung weight might have an effect in its steering, as the latter becomes more accurate and less nervous. The safe-oriented initial understeer built into the previous GT3 has been markedly reduced, so the nose can be steered more incisively. All these improvements might not be revolutionary, but they can be easily felt in the first mile of drive.

The other goodies remain: the Michelin Pilot Sport PS2 rubbers produce endless grip. The brakes are first rate, steel or ceramic. The ride quality is surprisingly forgiving for a car with such racing intention. The cockpit has enough creature comfort for everyday use. Brilliantly, the GT3 keeps all the best points and improved on the weak ones. There seem to be not a single drawback.

This could be a bad news to the development team of the next generation GT3. For sure, they will need to work extra hard to find space for improvement again.
Verdict:





| | |
| --- | --- |
| Published on 15 Feb 2010 | All rights reserved. |
911 GT3 RS 3.8

| | |
| --- | --- |
| | RS version sits right on the border between road cars and race cars... |
911 GT3 RS has always been the hardcore choice among hardcore drivers. While the standard GT3 is perhaps the extremest road car next to race cars, the RS version sits right on the border between road cars and race cars. On the one hand it is legal and livable to use on public roads, on the other hand it can be driven straight into racing circuits, fighting for trophies in weekend racing days. This can be easily seen from its race-ready looks - extended lip spoiler and sills, wheel arch extensions (contributing 26mm and 44mm to front and rear tracks respectively) and in particular the huge carbon-fiber rear wing mounted highly on aluminum brackets. At 300 km/h (186 mph), the GT3 RS generates 170 kg of downforce, 70 percent more than the standard GT3.

Even more obvious for its racing intention is the roll cage built into its cockpit. The added weight is compensated by deleting creature comforts of any kind - air-conditioning, sound insulation and audio system have no place in this car. The rear screen is converted to lightweight plexiglass. Overall, the RS is lighter than the standard car by 25 kilograms. More can be saved if not it employed wider tires (245 front and 325mm rear) to improve roadholding and bigger brakes (380mm front and 350mm rear) to enhance stopping power. Ceramic discs is still a priced - and pricey - option, as is a 10 kg-saving Lithium-ion starter battery. Part-time racing is never a cheap hobby.

Unlike the previous incarnations, this GT3 RS also brings more horsepower than the standard GT3. By raising compression ratio from 12.0 to 12.2:1 and improving engine breathing (by means of new air filter, reshaped intake manifolds, additional intakes to increase ram air effect and using a freer flowing titanium exhaust), the 3.8-liter engine becomes even more hungry for rev. It releases another 15 horsepower at 7900 rpm. The peak of its torque curve also shifts 500 rpm higher to 6750 rpm.
| | |
| --- | --- |
| | For pure driving excitement, nothing else in the current lineup of Porsche can match... |
The transmission of RS is still that good old 6-speed manual gearbox, without magical semi-automatic or twin-clutch mechanism. However, shorter ratios in the first 5 gears do sharpen acceleration response. The RS accelerates from 0-60 mph in 3.9 seconds, or a scant 0.1 less than the standard car. Nevertheless, the big downforce compromises its top speed a little, dropping that by 1 mph to 193 mph.

On the road, the RS does not catch you attention by its extra performance, which is too thin to tell from the cockpit, but the thundering noise of its engine. That composite rear window and lack of sound insulation allows the full volume of engine noise to fill the cockpit. Aurally, this is the rawest and most thrilling Porsche road car. Apart from noise, the boxer engine also feels a little sharper in throttle response, thanks to its lighter single-mass flywheel. There is more vibration at idle, but once the engine revs into the mid-6 grands, it starts getting more enthusiastic than the standard GT3 engine, tempting you to access the last 2000 rpm.

You might think the ride of RS should be race-car hard. Surprisingly, it is actually pretty livable as a road car. The PASM adaptive damping keeps the firmer suspension in check, so its ride quality is just marginally worse than the standard GT3. Meanwhile, the handling is stronger again, no matter roadholding, braking or stability. The steering is even more feelsome than the GT3's, which means this is one of the best steerings in any cars you can buy. The wider tracks and improved front-end grip bring more neutrality into the chassis balance, so you can go faster yet feeling more confident in corners. Its limit is so high that virtually impossible to reach on public roads.

For pure driving excitement, nothing else in the current lineup of Porsche can match GT3 RS. However, to enjoy this you have to make sure you can live with its deaf-making noise, the lack of air-con and audio and, finally, a price premium of £20,000. Undoubtedly, the standard GT3 is more sensible for road use, so you need to be really hardcore to choose RS instead.
Verdict:





| | |
| --- | --- |
| Published on 9 Jun 2011 | All rights reserved. |
911 GT3 RS 4.0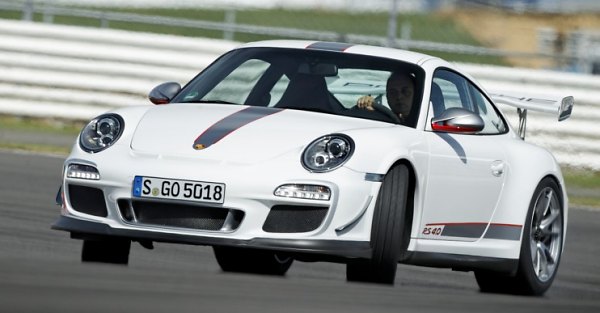 The engine employed by Porsche 911 GT3 is usually referred to "Mezger", a name gifted by its creator, Porsche's long-time motorsport department head Hans Mezger. Naturally, the Mezger engine was developed for motor racing in the first hand. Compare to the flat-six engines on regular 911s, it has a stronger crankcase and crankshaft so that it can take on higher stresses expected in motor racing. Dry-sump lubrication also differs it from the road-going engines, allowing it to work reliably at high g-force. The Mezger engine was first introduced to road use – if you count that as a road car – in 1997 in the form of 911 GT1. That was a twin-turbo 3.2-liter unit producing 544 horsepower. Two years later, the engine was derived into a 3.6-liter naturally aspirated unit with 360 horsepower. It gave birth to the first generation GT3.

After 14 years, the Mezger engine is finally coming to its last evolution. As the eye-catching graphics on the latest GT3 RS shows, the headline is 4.0-liter capacity. It will be the largest and ultimate version of the Mezger engine because Porsche has pretty much squeezed out its potential. In fact, in the previous 3.8-liter version its bore size was already maxed out at 102.7 mm, so the extra capacity has to come from a 4 mm longer stroke, which isn't ideal for a performance engine. We have been told that the next generation GT3 – based on 991 platform – will switch to a new motor. As a result, the GT3 RS 4.0 shown here will be the farewell edition of the legendary engine. If you haven't ordered one yet, sorry, it's too late. Porsche is going to build only 600 units of this car, and all of them have been sold out.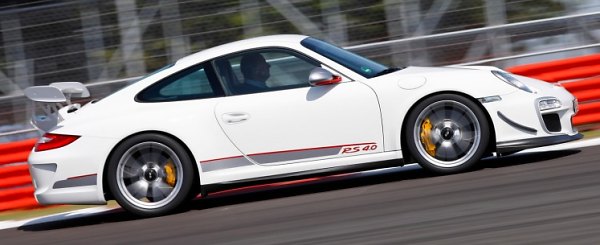 Externally, the RS 4.0 does not differ much from RS 3.8. Aside from the "RS 4.0" graphics, the easiest way to identify the new car is the racing-style winglets located at the front overhang. They have not been used on any Porsche road cars before. The winglets generate extra downforce at the front axle to balance the increased downforce generated by the huge rear wing, which is now set at larger angle. Overall, the car produces 190 kg of downforce at top speed. On the down side, aerodynamic drag coefficient increases slightly from 0.33 to 0.34, which explains why its top speed remains unchanged at 193 mph.

The chassis also gets slight improvements. The suspension control arms are now rigidly connected to the chassis via rose joints instead of rubber bushings, something transferred from GT2 RS. This should improve its handling precision. Also like GT2 RS, it employs more lightweight features, such as carbon-fiber front bonnet, front fenders and bucket seats. Lightweight Lithium battery is made standard, as are lightweight springs and aluminum dampers. As a result, the car's kerb weight has been reduced by 10 kg, despite of the larger engine.

However, by far the most significant modification is the 4-liter engine. Now 102.7mm bore and 80.4mm stroke results in 3996 cc. Normally, the increase of stroke could have had adverse effect on revvability and specific output, but Porsche counteracts with a higher (12.6:1 vs 12.2:1) compression ratio, a modified intake manifold with shorter runners, lower restriction air filters and freer flowing catalytic converters. The resultant smoother breathing frees up its top end power delivery, boosting output by 50 ponies to a full 500 horsepower. Moreover, the peak power is released at 8250 rpm, actually 350 rpm higher than before. Any worry about a lazier character is washed away. The last incarnation of Mezger engine can rev to 8500 rpm before fuel cut-out, the same as the 3.8-liter motor.

As expected, the longer stroke improves torque output. Not only peak torque is lifted by 22 lbft to 339 lbft, but its occurrence is a full 1000 rpm earlier than before.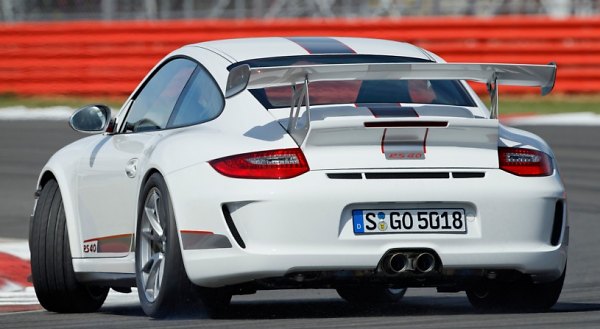 On the road, it is the higher and flatter torque curve that makes the difference. This engine is much more flexible low down, more so than the increased peak torque can tell. It finally provides a mid-range punch to match the widely spaced ratios of the 6-speed manual gearbox. As a result, you can always corner at a gear higher than in the 3.8 RS. Less work on the gearshift allows you to concentrate on the helm and brakes, so it is faster yet more enjoyable to exploit. On the other hand, the superb noise and linearity of the old motor are unaltered.

Benefited by the rose-joints suspensions and increased downforce, the handling is even sharper than before. It responds to your steering input more quickly and precisely, which is no small achievement considering how good the old car was. Meanwhile, the ride remains composed on most roads, thanks to the carried-over PASM adaptive damping and adaptive engine mount.

On the ground of pure driving fun, the RS 4.0 is the best of the best breed. It's not the fastest in the world, but it is definitely the most exciting sports car to drive. Its response, its noise, its perfectly weighted controls, its communication, its grip, its poise, its fluency, its brakes and, most important of all, its character, all engage the soul of keen drivers.

The Mezger engine – as well as the 997 generation – are set to retire after this car. While it is a sad news, we must say nothing could be better than bowing out high in this way. Long live Mezger ! Long live RS 4.0 !

Verdict: