| | |
| --- | --- |
| Published on 13 Feb 2008 | All rights reserved. |
| | |
| --- | --- |
| | After 6 years of wait, Nissan is finally bringing back its all-time great. |



Background



Like many of you, I have been a fan of Nissan Skyline GT-R since the very beginning. The first time I knew about this car was from a Japanese car magazine, but I did not realized its superiority until seeing it blasting Ford Sierra RS500 and BMW M3 away in the 1990 Macau Guia touring car cup. The GT-R was the most sophisticated production car at the time. It featured computer-controlled 4-wheel drive and 4-wheel steering system and a twin-turbo 24-valve straight-6 capable to be tuned to 1000 horsepower in extreme cases. Even in standard trim, it was the first production car lapping Nurburgring Nordschleife in under 8 minutes. Such results shocked Porsche and other European sports car specialists.

The original R32 GT-R evolved to R33 in 1995 and then R34 in 1999 without radical changes but they still managed to improve things bit by bit. Unfortunately, during the late 1990s Nissan got into financial trouble as a result of the burst of bubble economy. Huge losses led to its sale to Renault. New CEO Carlos Ghosn decided to concentrate its limited resources to those money-making volume models and cut other non-essential models. As a result, Skyline GT-R was sacrificed. As the last R34 left production line in 2002, Nissan no longer had a super performance model sitting on the top of its tree.


| | |
| --- | --- |
| | The R35 shares no genes with R35. Even its nameplate has lost the word "Skyline" as that car became an executive sedan. |

However, Ghosn knew that the GT-R used to be profitable. He also saw its powerful image could help Nissan, so he openly promised that a new generation GT-R would be built. The problem is, the development phase took much longer than we expected, because Ghosn wanted his men to work out a profitable business plan and to make sure it is good enough to stun the world. A small team of dedicated engineers led by Kazutoshi Mizuno started the development from clean sheets. They designed a new V6 to replace the old straight-6, a new transaxle gearbox and 4WD system, new chassis and new suspensions. In short, the R35 shares no genes with its predecessors. They tested it extensively in Nurburgring Nordschleife and benchmarked it against Porsche 997 Turbo, which is arguably the best road-going production sports car to date. They kept improving it until they are sure that it is better than the Porsche. Finally, the R35 was released in late 2007.



R35 GT-R



The new GT-R is difficult to be classified. As before, it offers comparable performance to Porsche 911 Turbo and superior handling to the Porsche yet it costs about half the price - US$70,000 in USA or £55,000 in UK, while 911 Turbo asks for US$120,000 or £100,000. It offers a large boot and a pair of rear seats capable of accommodating small adults, so it is as practical as grand tourers. Production volume is set at 12,000 units per year, which is a lot for this kind of super performance cars, yet the latest forecast is demand will outstrip supply. Ghosn predicts it will make good money for Nissan, although it won't enjoy a profit margin as high as Porsche.


| | |
| --- | --- |
| | Have you seen a supercar produced at a rate of 12,000 units a year ? Here it is. |

At first glance the new GT-R is surprisingly big, even somewhat bulky. Tape measure confirms that it is really big - 55 mm longer and 110 mm wider than the R34. A wheelbase of 2780 mm is almost too long for a super performance 2+2, while the 1370 mm height is a massive 70 mm taller than 911 Turbo. To offset the bulky profile, chief designer Hiroshi Hasegawa injected some spicy flavors to its styling, such as a radical black mask, "aero blade" front fenders, blackened A-pillars and a slopping roofline. The styling theme was inspired by Gundam, the space-age military robot in Japanese anime, so it has strong resemblance to an armored Japanese Samurai as well. This design may not endure the test of time, but it does link to the Japanese culture and has a unique character.

Unexpectedly, this aggressively-looking shape actually returns the lowest aerodynamic drag coefficient I have ever seen in a performance car - 0.27. For comparison, 911 Turbo is 0.31, Ferrari 599 GTB is 0.34, Aston Martin DB9 is 0.35… Only Bristol Fighter (0.28) and Chevrolet Corvette (0.29) come close. This must thanks to the smooth undertray as well as the sloping roofline. The low drag helps it to achieve 310 km/h (192.6 mph) top speed, which means this is the fastest ever Japanese car !



New engine: VR38DETT




| | |
| --- | --- |
| | VR38DETT might be less tuneable, but it produces 150 more horsepower than the last RB26DETT, thanks to 1.2 liters more capacity. |

Following the retirement of RB26DETT, Nissan developed a new VR38DETT V6 for the GT-R. Compare with the old straight-6, the 60-degree V6 is shorter and benefits weight distribution of course. This engine is loosely based on the VQ series engine but thoroughly modified – not only added twin-IHI turbochargers and intercoolers, but also converted to hybrid wet/dry-sump lubrication (to withstand high g-force) and closed-deck construction (to increase stiffness). Cast iron cylinder liners have been replaced by a thin layer of plasma coating in order to reduce friction. Sadly, the variable valve lift mechanism found on VQ37VHR was not used, while the continuous variable cam phasing is limited to intake camshafts only. However, with 3.8 liters of capacity and twin-turbochargers boosting up to 0.7 bar, its output will never disappoint – 480 horsepower is achieved at 6400 rpm, while 433 lb-ft of torque is available continuously from 3200 to 5200 rpm. The former matches Porsche 911 Turbo, although the latter trails that car a little bit (457 lb-ft from 1950-5000 rpm). The old R34 was good for about 330 hp and 293 lb-ft, so the new car is massively more powerful.

Our only disappointment is the IHI turbochargers. Reason one is that they do not have variable vane geometry like Porsche 911 Turbo. This explain why the engine feels less responsive than the Porsche under 3000 rpm. Reason two is that they are made of stainless steel instead of the previous car's ceramic. Although stainless steel turbines are lighter and quicker to spool up, they are less resistant to heat than ceramic turbines. This mean the new GT-R has less space for power tuning. Besides, the turbochargers are now integrated with the exhaust manifolds, so replacing them requires a great deal of work and money.


| | |
| --- | --- |
| | Gundam look is the new design theme. The only visual link to previous GT-Rs is the quad-circular taillights. |



New transaxle and GR6 gearbox



To optimize weight distribution, Nissan not only lengthened its wheelbase but also moved its gearbox and center differential to the rear axle. This mean the whole transaxle now consists of gearbox, clutches, center and rear differential. Placing the transaxle near the rear axle helps balancing the 250 kg engine up front and improves front-to-rear weight distribution to 54:46. Still not an ideal figure, but should be better than the old car. The engine send the power through a carbon-fiber prop shaft to the gearbox, then the center differential split the power to two paths, one goes straight towards the rear differential and one goes back to the front differential through another driveshaft.

As before, the center differential of the ATTESA E-TS four-wheel drive system is computer controlled. It employs multi-plate clutches to engage the front axle according to needs. Under normal driving the GT-R is basically rear-wheel drive, with only 2 percent power sent to the front wheels. This is why it is as engaging to drive as traditional sports cars. On the other hand, in fast cornering it gets the advantages of all-wheel drive. When the computer senses that it needs more traction up front – either to neutralize oversteer or to enhance overall traction – it could send up to 50% power to the front wheels. Basically, the ATTESA E-TS works the same way as the one used in R34. The only difference is the addition of a yaw rate sensor and the integration with VDC stability control.


| | |
| --- | --- |
| | Give it 3000 rpm, it surges forward with the same vigor as 911 Turbo... |

Nevertheless, a picky motoring writer like me may criticize a couple of things. Complaint One, the rear limited slip differential has been downgraded from active LSD to a mechanical LSD. Will it affect the cornering prowess of GT-R ? Complaint Two, the old car's Super HICAS 4-wheel steering has been ditched. It used to be a remarkable tool to stabilize the car and sharpen steering response during cornering. Strangely, Nissan has just reintroduced 4WS to Fuga and Skyline. Why did the GT-R overlook this technology ?

However, judging from its wonderful real world handling - as you will see later, there is little need to miss those old goodies. The combination of a stronger chassis, improved balance and well-tuned 4-wheel-drive program is good enough to make active rear LSD and 4WS superfluous.

The biggest improvement to the drivetrain of R35 is the new GR6 gearbox. This is a twin-clutch 6-speed gearbox made by BorgWarner – the same supplier to Volkswagen's DSG. As you know, twin-clutch design allows pre-selection of the next gear, so the gearshift is quick and seamless. GR6 offers automatic mode and sequential manual mode, the latter allows the driver to shift through either paddles or conventional gear selector. You can select 3 gearshift mappings: Normal, Snow (slower) or R modes (which takes 200ms). The twin-clutch gearbox will put GT-R in a superior position against Porsche 911 Turbo until the latter launch its own version later this year.



Chassis, suspensions and others



The R35 is built on a new platform called "PM" (Premium Midship). Its chassis is primarily a conventional steel monocoque but with aluminum subframes and suspensions. The door frames are cast aluminum. The front bumper is made of lightweight polypropylene. The front cross-member and radiator support are made of carbon-fiber to strengthen the structure. Rear diffuser is also carbon-fiber. Many body panels are made of aluminum sheets, such as bonnet, boot lid and door shells. Ridiculously, the GT-R still weighs as much as 1740 kilograms, some 155 kg more than 911 Turbo. This is the price it pays for the sheer size and sophisticated drivetrain.





3 rocker switches at center console control

(from left to right)

4WD, adaptive damping and traction control.


To handle the mass, the brakes are monster-size Brembo, 380mm ventilated discs all round, 6-pot front and 4-pot rear monobloc calipers.

The suspensions consist of double-wishbones up front and multi-links at the rear. Bilstein electronic adaptive dampers are used. It offers 3 stiffness modes – Normal, Comfort and R – for the driver to select.

GT-R offers two choices of tires: Bridgestone Potenza RE070R is more sticky, thus is the one it used to set Nurburgring record. Dunlop SP Sport 600 is more durable and comfortable for highway cruising. Both have run-flat capability thus no spare is required. The front tires are 255/40ZR20 while the rear tires are 285/35ZR20.



On the Road



Now the most important question is: can it beat Porsche 911 Turbo in real world ?


| | |
| --- | --- |
| | Workman-like dash is functional rather than beautiful. |

Enter the cockpit may give you some ideas. This is a no-nonsense place. Everything is practical rather than desirable. Although most surfaces are covered with leather, the in-your-face dashboard design is rather tasteless, the plastic switches and fake alloy finish look cheap. Nevertheless, what keen drivers really need are all available – a multi-functional steering wheel, a pair of nice-touching gearshift paddles, a supportive bucket seat and an initiative center console through which you can select the 4WD setting (normal, snow or R), damping setting (normal, comfort or R) and VDC stability control setting (on, off or R). Besides, like R34, there is a big color LCD screen located on the top of center console to display advanced data like g-force, steering angle, lap time, torque split, boost pressure, water temperature etc. in digit or live charts, so you can download them afterwards to improve your driving skill. Did your Porsche ever tried to be so serious ?


| | |
| --- | --- |
| | Rear seats accommodates children or short adults. Still better than 911. |

Start the engine, the noise and bottom-end response may disappoint. The exhaust note of the turbocharged V6 is no where as characterful as the boxer engine of 911. By supercar standards it is even quite boring. The output isn't laggy, but under 3000 rpm it doesn't feel very strong. The paddle gearshift feels a little tight compare with DSG. The quick steering (2.5 turns lock to lock) feels nervous on rough pavement. In traffic you'll notice the width of the car and the shocks the run-flat tires sent directly to your pants. Even with the adaptive suspension in Comfort mode, the GT-R rides harder than a Porsche GT3, let alone the comfort-biased 911 Turbo. The initial impression is not very keen indeed.

However, once you drive the GT-R into Autobahn, it starts showing its talent. When the tachometer needle get passed 3000 rpm, it surges forward with the same vigor as 911 Turbo. The lightning gearshift in R mode transmits the power to seamless acceleration. In an eye blink, the GT-R exceeds 150 mph. The smooth body generates little wind noise. The suspension works well on smooth surfaces. The directional stability is superb. You start believing it were born in Germany…

How fast is it ? A 911 Turbo Tiptronic is claimed to do 0-60 mph in 3.6 seconds (manual is slower). Nissan claims 3.5 seconds for the GT-R. This sounds somewhat unbelievable base on its less torque and higher kerb weight, but the Nissan has a faster GR6 gearbox and better weight distribution to make better use of 4-wheel traction, so it is every bit believable. I also believe it could match the 911 Turbo to 100 mph at about 8.0 seconds. You will need a Ferrari 599 GTB to beat it in straight line !




Weakness: harsh ride and nervous steering on rough surfaces
Strength: everything else.
Conclusion: your dream come true.


But even more impressive is how well its big body handles in corners. The electronic 4-wheel drive makes sure it steers so accurately into and out of bends. The chassis feels rock-solid. The steering is quick and meaty. Tremendous traction and grip keep it on rails. Body control is rock-steady. Roll, pitch and dive are almost non-existent. Almost everything is on a higher level than 911 Turbo ! We used to be highly satisfied with the Porsche, but after experiencing the GT-R, you will suddenly realize that the Porsche is actually a rear-engined machine. It is far easier to unsettle and needs bigger steering correction to get back into shape. In contrast, the Nissan is better balanced and better controlled. The only areas the Porsche feels better are braking and steering feel (apart from ride quality), yet they are only better by a whisky.

No wonder the GT-R could ignore its 1740 kg kerb weight and set a new mass production car lap record at Nurburgring Nordschleife: 7 minutes 38 seconds. That is 2 seconds quicker than the time Walter Rohrl managed in 997 Turbo. Only 3 production cars have ever been faster: Pagani Zonda F Clubsport (7:27), Porsche Carrera GT (7:28) and Porsche 997 GT2 (7:32). Of course, all of them are very exclusive and expensive sports cars.

In this way, GT-R is once again a giant killer that every European sport car specialist afraid of. As its chief engineer Kazutoshi Mizuno said, it is a classless vehicle. On the one hand it offers supercar performance and handling. On the other hand it offers grand-tourer practicality and Japanese reliability. Yet most shocking is all these are available at a price equaling a base 911 Carrera. It sounds like a dream come true ! Our 6 years wait is worthwhile.

Verdict:





| | |
| --- | --- |
| Published on 20 Apr 2008 | All rights reserved. |
Performance test: GT-R vs 911 Turbo vs Corvette Z06

In the April 2008 issue of Road & Track, Nissan GT-R was finally put to test against its rival Porsche 997 Turbo and Chevrolet Corvette Z06. As these performance figures were obtained under the same test conditions and conducted by the same people, they are the best ever reference to how fast these cars are in relation to one another.


| | | | |
| --- | --- | --- | --- |
| | Nissan GT-R | Porsche 997 Turbo (6M) | Chevrolet Corvette Z06 |
| Power | 480 hp / 6000 rpm | 480 hp / 6400 rpm | 505 hp / 6300 rpm |
| Torque | 433 lbft / 3200-5200 rpm | 457 lbft / 1950-5000 rpm | 470 lbft / 4800 rpm |
| Test weight | 1796 kg | 1683 kg | 1519 kg |
| 0-20 mph | 0.7 sec | 0.6 sec | 0.9 sec |
| 0-40 mph | 1.8 sec | 1.5 sec | 2.2 sec |
| 0-60 mph | 3.4 sec | 3.4 sec | 3.4 sec |
| 0-80 mph | 5.7 sec | 5.6 sec | 5.3 sec |
| 0-100 mph | 8.6 sec | 7.9 sec | 8.0 sec |
| 0-120 mph | 12.7 sec | 11.5 sec | 10.7 sec |

The test found out that the heaviest Nissan GT-R is slightly slower than Porsche 911 Turbo, especially above 100 mph. Corvette Z06 is faster again once its rear tires had overcome initial slippage. This is not surprising, as it has the highest power and torque and the lightest weight at the same time.

However, performance is only part of the evaluation. When it comes to overall scoring, the GT-R beat both rivals in R&T's test. Again not a surprise to me.
| | |
| --- | --- |
| Published on 22 May 2009 | All rights reserved. |
GT-R Spec V

| | |
| --- | --- |
| | Pricy Victory |

High performance comes at a price, especially when you go to the extreme. The standard Nissan GT-R is already a supercar in terms of real-world performance. To stretch its performance envelop further – even by a small margin, Nissan needs some very expensive modifications. The result is the top-of-the-range GT-R Spec V, where V stands for Victory. In Japan, it is for sale at 15.75 million yen (an equivalent to £115,000), i.e., twice the price of the standard GT-R ! This make it more expensive than Porsche 911 Turbo (£100,000) and close to the territory of 911 GT2 (£129,000). In this form, our latest AutoZine COTY is no longer that bargain.

So what does the Spec V provide ? Disappointingly, the earlier rumours suggesting 550 horsepower is found to be completely wrong. Output of its twin-turbo 3.8-liter V6 remains 485hp (note: power rating of the standard GT-R has been revised from 480 to 485hp recently), so is the torque output of 434 lb-ft at 3200-5200 rpm. However, Spec V has added an overboost button on the steering wheel, which could overboost the engine for up to 80 seconds and increase mid-range torque to 449 lb-ft at 3500-5000 rpm. This will help overtaking a little.

More efforts were made on weight reduction. Spec V sheds 60 kg by using Brembo carbon-ceramic brakes (-20kg), lightweight forged aluminium wheels (-8kg), titanium exhaust (-5.4kg), carbon-fiber rear spoiler, front grille and brake ducts, Recaro carbon-fiber bucket seats and by simply deleting the rear seats. That said, the car still weighs a hefty 1680 kg. That's 95 more than 911 Turbo and 240 more than the rear-drive GT2.


| | |
| --- | --- |
| | Handling ? Think about 911 GT3 RS versus the standard GT3... |

The suspension of Spec V is about 20 percent stiffer than the standard. It also ditched the adaptive damping for fixed Bilstein dampers. Its Bridgestone Potenza RE070R run-flat tires might look like the standard items, but they have stiffer sidewall and offer greater grip.

On the road, the Spec V doesn't feel any faster than the standard car in straight line acceleration, but it is noticeably stronger in corners. The massive grip, powerful braking and rock-steady body control enables the car to corner faster than the standard GT-R. Think about Porsche 911 GT3 RS versus the standard GT3. At the limit – though very high limit – its handling is edgier and more sensitive to driver input, which should delight professional drivers. However, for road use the Spec V will be criticized for an unyielding ride.

Nissan plans to build only 20-30 cars each month to feed those hardcore drivers who would take it to club racing. To most other people, the extra performance it offers is difficult to justify its double price, even if they could forgive its lack of ride and cabin comfort.

Verdict:




| | |
| --- | --- |
| Published on 5 Nov 2010 | All rights reserved. |
GT-R facelift (2010)

| | |
| --- | --- |
| | To call it a "facelift" is misleading, 'cos it differs virtually nothing from the old car. |

Time passes quickly. It has been nearly 3 years since Nissan GT-R went on sale, so it is time for a mid-life facelift. To call it a "facelift" is probably inadequate, because visually the new car differs virtually nothing from the current car. Fans of the latter will be happy about that. They will also be delighted that all efforts were spent on improving the performance and handling of the car, making it more competitive against the updated Porsche 911 Turbo. Headline is an increase of power output, from the previous 485 hp to 530 hp. Torque is improved by 17 lb-ft to 451 lb-ft, and it spreads across a wider band, from 3200 to 6000 rpm instead of the previous 3200-5200 rpm. This is achieved by increased turbo boost pressure, revised valve timing and using larger diameter intake manifolds and exhaust. Sadly, the GT-R is no lighter than before.

The chassis and body have been tweaked slightly in many areas. Brilliantly, Nissan managed to lower its already remarkable coefficient of drag from 0.27 to merely 0.26, while increases its downforce by 10 percent. This should lift its top speed to nearer the 200 mph mark. The chassis is made slightly stiffer by a carbon-fiber front suspension tower brace. The suspensions got harder springs, dampers and anti-roll bars and revised geometry to improve grip. New dampers are said to provide more constant damping force. Thinner and larger (390 mm diameter) brake discs should provide more stopping power and better cooling. New forged aluminum wheels reduce 3kg of unsprung weight each corner. Lastly but not least, its Dunlop tires get new compound to improve grip.


| | |
| --- | --- |
| | More so than the increased power, its handling has been taken to another level... |

On the road, the new car's performance feels a little bit more accessible thanks to the wider power band. The engine spins a little bit quieter and road roar is markedly reduced. High speed ride is a little more compliant than before, although there is no discernible improvement at low speed. In terms of refinement, the GT-R still displays more harshness – no matter from suspension or from gearshift – than its European rivals. However, its handling has been taken to another level. The steering now becomes more direct, the turn-in more responsive and the balance better than ever. It has largely eliminated understeer, allowing you to carry more speed into corner and get back on throttle earlier. Undoubtedly, the new GT-R will lap Nurburgring quicker. Now let's see whether it can challenge the record of 911 GT2 RS.

The only drawback is the price hike of 15 percent, very expensive for what it offers. However, one should remember that the original GT-R was so aggressively priced that it was hardly profitable. Even now it costs £70,000, it is still a bargain compared with the £110K 911 Turbo, or anything else offering similar overall performance.
Verdict:





| | |
| --- | --- |
| Published on 3 May 2012 | All rights reserved. |
GT-R revision (2012)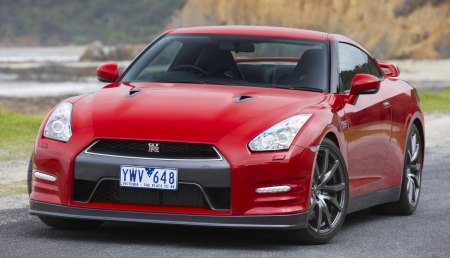 Nissan has a small team of engineers dedicated to the continuous development of GT-R, no wonder it can introduce an update every 18 months or so. This year, the improvements concentrate mainly on the engine. The VR38DETT finds another 20 horsepower and 15 pound-foot of torque thanks to some detailed modifications – the intake manifolds has been converted from aluminum to resin to reduce air resistance; enlarged duct for the intercooler improves breathing; new exhaust contributes to lower back-pressure; sodium-filled exhaust valves reduce temperature of the combustion chambers; the ECU has also been remapped to alter valve timing, air-fuel mixture ratio and ignition. As a result, the engine pumps out 550 hp and 466 lbft at about the same rev as the old version.

Since its birth in 2007, the GT-R has its power increased by 15 percent. 0-60 mph has been reduced from an already impressive 3.5 seconds to an even more incredible 2.8 seconds. Top speed is now just 1 mph shy of the 200 mark. You can hardly find any production car so fast, certainly not one costing £75,000!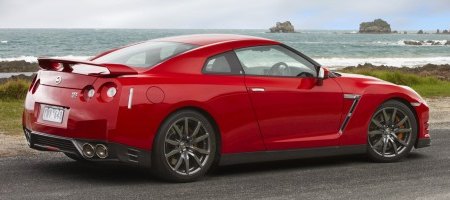 Does the 2012 version really feel more potent than the old one? Yes, but marginally. Its engine feels a little stronger at the last 1/3 rev range as it revs cleaner to the limiter. Nevertheless, as much as we love the extra power, we would prefer the GT-R to lose 15 percent weight instead. Because the outgoing car was already very quick in straight line and maneuvering, a small pump in power could no longer cause a lot of sensation. In contrast, a diet program could relieve the pressure on its brakes and the sense of mass compare with the lighter Porsche GT3 RS or 991 Carrera S. It still destroys bends effectively, but you can feel its 4-wheel drive and electronic aids are fighting with the mass to keep the car on track.

Performance aside, revision to the 2012 version is rather modest. Nissan said it has improved the gearshift to make it crisper and quieter, although it is hard to tell from the driving. The body shell has been reinforced slightly at the front bulkhead. For right-hand-drive version, the suspensions on the left and right side are set differently to compensate for the extra 50 kg load taken at the right side (that extra weight is due to the fact that the GT-R's 4WD system was designed for LHD cars in mind, i.e. the prop-shaft for front-wheel-drive mechanism is mounted at the right side of the engine in order to offset the weight of the LHD steering. This means on RHD cars the right side carries both the steering and the front-drive mechanism). Externally, there is no cosmetic change from the outgoing car.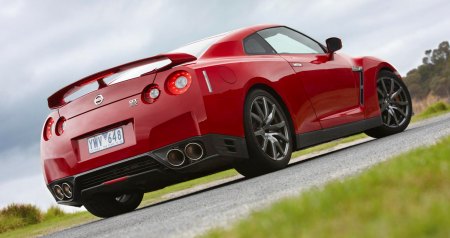 Apart from the usual models, Nissan also offers a Track pack for those interested in taking their GT-Rs to track days. It is fitted with stiffer suspension springs, lightweight Nismo wheels and a pair of brake cooling ducts – sadly, ceramic brakes are not fitted standard. Inside, the rear seats have been discarded to save weight, whereas front buckets are replaced with grippier ones. The whole car weighs about 20 kg less, but still 1720 kg is a lot for a track car. The GT-R has never been designed as a track car
– unlike GT3 RS or GT2 RS
, so I would say the Track pack is a compromise. On road, it suffers from an even stiffer ride than the standard car.

Despite of the lack of a giant leap, the 2012 GT-R reminds us how accomplished the old car was – lightning speed and fool-proof handling in particular. The new 911 Carrera S might be purer and more desirable, but the Nissan remains a work of wonder, especially at that price.
Verdict:





| | |
| --- | --- |
| Published on 14 Dec 2013 | All rights reserved. |
GT-R Nismo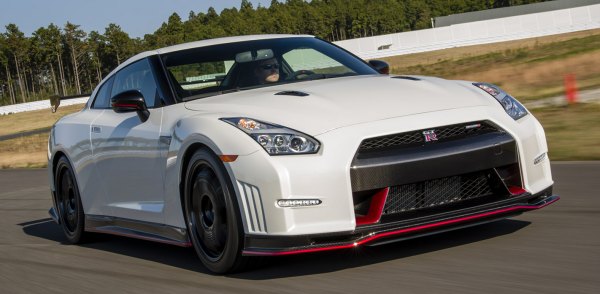 As suggested by its name, this car is built by Nissan's motorsport and tuning department, Nismo. It is set to be rare – with only 200 units planned to be built each year – but also very expensive. How expensive? While a standard GT-R costs between 9 and 10 million yen in Japan, the Nismo asks for 15 million yen. When exported to Europe, it is expected to cost £120,000, matching a new Porsche 991 Turbo. Is it that much superior to the standard car?

If you go through the list of modifications, it doesn't sound so special. Yes, the engine is given an extra 50 horsepower (now at an astonishing 600 hp) and it is delivered at 400 rpm higher the rev, but this is achieved none other than the usual tricks – larger turbos (taken from its GT3 race car), revised ignition timing and upgraded fuel pump. It has neither the direct injection nor the VTG turbos of Porsche, so it displays a more noticeable lag at low rev. The maximum torque figure is also not that special, inching up from 466 to 481 lbft and trails the Porsche engine by some margin. The Getrag twin-clutch transaxle Nissan uses is good, but its gearshift is not as imperceptible as the PDK, and it lacks the 7th gear or coasting mode to enhance fuel economy.

The Nismo is merely 20 kg lighter than the regular car, and this is primarily thanks to carbon-fiber bucket seats rather than any lightweight mechanicals. Tipping the scale at 1720 kg, it is still 115 kg heavier than 911 Turbo S – and that Porsche has a more luxurious interior. Its body shell uses epoxy bonding to increase rigidity by 8 percent, but so does the 2014 model year GT-R. Aerodynamics is better though. Its carbon-fiber aero kits and underfloor panels add 100 kg of down force at 186 mph without altering the excellent drag coefficient of 0.26 by the slightest, so you can expect this to be the first Nissan to hit the magic 200 mph benchmark. As for acceleration, the standard car is already good for 0-60 mph in 2.8 seconds, thus 2.6 should be no problem. The Nissan has a more evenly distributed weight, so it can easily beat 911 Turbo or even Turbo S in standing start acceleration. Above 100 mph, the Porsche should take the lead, but even so, the gap is too small to be meaningful.




What the Nismo should win is handling. Its suspension gets stiffer springs and revalved Bilstein adaptive dampers. The front gets revised geometry to optimize wheel positioning under high g-force. The rear gets stiffer (and hollow) anti-roll bar. Special Dunlop tires provide more grip than the standard car's. As a result, it feels more alert on track. Turn-in becomes even sharper, maneuvers even swifter and limits roll to even tighter degree. It shows less initial understeer than the standard car and you can induce oversteer by throttle and braking more easily. Not even Porsche 911 Turbo and Turbo S can match its precision and driving satisfaction. No doubt the Nismo is the choice of hardcore drivers.

As an everyday companion, however, the standard GT-R is easier to live with, while Porsche is even more so. I suspect most drivers would prefer the superior build quality, interior and ride comfort of 911 Turbo. Very few drivers can resist the temptation of owning a Porsche and instead buying a Nissan with the same amount of money. However, those of them should be admired, because they truly understand the beauty of cars.
Verdict:





| | |
| --- | --- |
| Published on 9 Jun 2016 | All rights reserved. |
GT-R revision 2016


Japanese car makers used to be renowned for light-speed progress. The first 3 generations of Skyline GT-R lasted 4 years in average yet each of them represented a giant leap in technological development. Ridiculously, the current GT-R has been soldiering for 8 and a half years without seeing any concrete plans for replacement. And this is the most acclaimed Nissan performance cars ever! How can Nissan be so cruel to it? The answer is once again money. Not that the company is short of money, but under the leadership of Carlos Ghosn it is no longer willing to invest into something delighting only enthusiasts without actual financial return. The GT-R might be highly reputed, but its development and production costs are equally high, so high that even the company has increased its base price gradually from $70,000 / £55,000 at launch to today's $110,000 / £80,000 it is yet to have the investment recouped. However, its rivals are not standing still. Porsche renews its 911 every 4 or 5 years, while AMG GT, Audi R8, Corvette Z06 and Jaguar F-type R are all much fresher cars to steal the limelight from the aging GT-R. Sadly, Nissan's response is only a facelift, albeit a pretty comprehensive facelift involving modifications to exterior, interior, chassis and powertrain.

The 2016 GT-R looks a little more handsome than before, thanks to the facelift which includes a redesigned grille, sleeker air dam and the addition of cosmetic (fake) intakes situated immediately below the headlamps. Cooling to the engine is improved without altering the 0.26 drag coefficient. The C-pillars are said to be reshaped slightly (though we can't see any differences) to reduce turbulence. The chassis structure gets another round of reinforcement to raise torsional rigidity by 5 percent. The bonnet is also strengthened to reduce deformation at high speed.


With improved cooling, the 3.7-liter twin-turbo V6 can have its turbo boost pressure dialed up slightly. Accompanied with individual ignition control for each cylinder, output is increased by 20 horsepower and 4 pound-foot to a total of 570 hp and 470 lbft. Meanwhile, a new titanium exhaust saves some pounds while making a more melodic growl in acceleration. On the road, you can feel the engine slightly more eager at the top end, but its straight line speed seems more or less the same as before. Expect 0-60 and 0-100 mph to be accomplished in 2.8 and 7.0 seconds respectively. Still a very fast car, yes, but no longer as special as it used to be a few years back. A Corvette Z06 is just as fast, while AMG GT and 911 Carrera S are not too much behind. Moreover, those with deeper pockets now have far more options, ranging from 911 Turbo S, Audi R8 V10 Plus to McLaren 570S, all are faster yet no less usable.

Yes, Nissan also sensed the need to improve its usability. The GT-R has always been a rather hardcore weapon. Its transmission sacrifices smoothness for speed. Its suspension rides uncomfortably stiff no matter in which damping mode. Its cabin is filled with all sorts of noises. This time around, Nissan intends to make it more GT than R. By remapping the dual-clutch transaxle, clunks and shunts at low gears are largely reduced, although it is still no PDK-slick. Further noise insulation is provided by acoustic windscreen, new sound deadening materials and Bose noise cancellation system. The result is a much more relaxing environment on long runs. Furthermore, the retuned Bilstein dampers, lighter forged alloy wheels and stiffer chassis return a softer ride. Inevitably, the car turns in less aggressively and rolls more in corner, thus it might be a touch slower on track, but it still controls its substantial mass remarkably well, sacrificing little agility. To hard core drivers, the new chassis is slightly less entertaining. However, it is a well judged balance between handling and ride comfort.


For those chasing maximum lap time, Nissan leaves them the Track edition, which comes with stiffer suspension and body shell, but it is more expensive again.

Inside, the GT-R's dashboard has been redesigned, although its basic architecture is more or less the same. There are more leather trim to deliver a more expensive feel to match its elevated price, although some cheap plastics remain. The center console is rearranged to include a slightly larger touch screen. Thanks to new infotainment software, some physical switches can be discarded and clean up the center console. This also allows the two center air vents to be relocated below the central screen. Less welcome are the gearshift paddles, which have been relocated from steering column to steering wheel. Overall, the interior redesign is welcomed, but it still feels very much 1990s.

Dynamic-wise, the GT-R is still a mighty car. There are still no others offering the same kind of performance and handling at the same price level. However, despite the update, it does feel slightly dated in a number of areas. For example, its engine could be more responsive yet more efficient, its gearbox could be smoother, its ride could be better, and the whole car could be 200 kg lighter. Come on, stop the neverending minor updates and bring us the real second generation GT-R!

Verdict:














GT-R

2008

Front-engined, 4WD

Steel monocoque
Aluminum, steel, carbon-fiber,
plastic.

4655 / 1895 / 1370 mm
2780 mm
V6, 60-degree

3799 cc
DOHC 24 valves, VVT

Twin-turbo
-
480 hp / 6400 rpm

434 lbft / 3200-5200 rpm


6-speed twin-clutch

F: double-wishbones
R: multi-link

Adaptive damping

F: 255/40ZR20
R: 285/35ZR20

1740 kg
193 mph (c)

3.5 (c) / 3.3* / 3.2** / 3.4*** /
3.8****

7.8* / 8.0** / 8.6*** / 8.5****

GT-R Spec V

2009

Front-engined, 4WD

Steel monocoque
Aluminum, steel, carbon-fiber,
plastic.

4655 / 1895 / 1370 mm
2780 mm
V6, 60-degree

3799 cc
DOHC 24 valves, VVT

Twin-turbo
-
485 hp / 6400 rpm

434 lbft / 3200-5200 rpm
(overboost: 449 lbft)

6-speed twin-clutch

F: double-wishbones
R: multi-link

Adaptive damping

F: 255/40ZR20
R: 285/35ZR20

1680 kg
193 mph (c)

3.4 (c)


-

GT-R

2010

Front-engined, 4WD

Steel monocoque
Aluminum, steel, carbon-fiber,
plastic.

4670 / 1895 / 1370 mm
2780 mm
V6, 60-degree

3799 cc
DOHC 24 valves, VVT

Twin-turbo
-
530 hp / 6400 rpm

451 lbft / 3200-6000 rpm


6-speed twin-clutch

F: double-wishbones
R: multi-link

Adaptive damping

F: 255/40ZR20
R: 285/35ZR20

1740 kg
197 mph (c)

2.9 (c) / 2.9* / 2.9** / 2.9***


7.1* / 7.4** / 7.3***









Performance tested by: *C&D, **MT, ***R&T, ****Autocar










GT-R

2012

Front-engined, 4WD

Steel monocoque
Aluminum, steel, carbon-fiber,
plastic.

4670 / 1895 / 1370 mm
2780 mm
V6, 60-degree

3799 cc
DOHC 24 valves, VVT

Twin-turbo
-
550 hp / 6400 rpm

466 lbft / 3200-5800 rpm

6-speed twin-clutch

F: double-wishbones
R: multi-link

Adaptive damping

F: 255/40ZR20
R: 285/35ZR20

1740 kg
199 mph (c)

2.8 (c) / 3.0* / 2.8**

7.2* / 7.0**
-


GT-R Nismo

2013

Front-engined, 4WD

Steel monocoque
Aluminum, steel, carbon-fiber,
plastic.

4670 / 1895 / 1370 mm
2780 mm
V6, 60-degree

3799 cc
DOHC 24 valves, VVT

Twin-turbo
-
600 hp / 6800 rpm

481 lbft

6-speed twin-clutch

F: double-wishbones
R: multi-link

Adaptive damping

F: 255/40ZR20
R: 285/35ZR20

1720 kg
191 mph (c)

2.9* / 2.9** / 2.9***

7.0* / 6.8** / 6.9***

16.7***


GT-R

2016

Front-engined, 4WD

Steel monocoque
Aluminum, steel, carbon-fiber,
plastic.

4710 / 1895 / 1370 mm
2780 mm
V6, 60-degree

3799 cc
DOHC 24 valves, VVT

Twin-turbo
-
570 hp / 6800 rpm

470 lbft / 3300-5800 rpm

6-speed twin-clutch

F: double-wishbones
R: multi-link

Adaptive damping

F: 255/40ZR20
R: 285/35ZR20

1752 kg
196 mph (c)

2.8 (est) / 2.9**

7.2**
-










Performance tested by: *C&D, **MT, ***R&T









GT-R

GT-R Nismo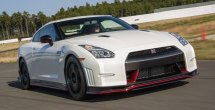 Copyright© 1997-2016 by Mark Wan @ AutoZine