Mitsubishi Lancer / Galant Fortis

Debut: 2007
Maker: Mitsubishi
Predecessor: Lancer Cedia

The new, 10th generation Lancer was conceived when Mitsubishi was still 34-percent owned by DaimlerChrysler (note: their relationship finally ended in 2004). In order to enhance economy of scale, the alliance decided it shall be based on a new global platform sharing with Dodge Caliber, Chrysler Sebring, Jeep Compass and Mitsubishi's own Outlander – all these cars are much larger and heavier than the traditional Lancer thus they require a stronger chassis and bigger engines. As a result, the new Lancer was forced to grow in all aspects. It is some 35 mm longer in overall length and wheelbase, 65 mm wider and 55 mm taller than the car it replaced. Kerb weight has been increased by a massive 200 kilograms, while the chassis has its torsional rigidity boosted by 56 percent. This is no longer the compact Lancer we used to know. It is actually larger than the Galant of two generations back. No wonder in Japan Mitsubishi calls it "Galant Fortis" instead of Lancer.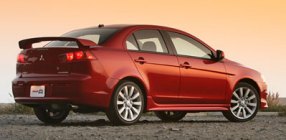 The new Lancer is not only larger but also more stylish. Its European-style design emphasizes sportiness, especially in GTS trim which comes with aggressive spoilers and 18-inch alloy wheels. A V-shape bonnet draws your attention to the huge trapezoidal grilles which is the most dramatic feature of the car. I have a strong feeling that its designer must be a fan of Japanese cartoon "Gundam", as its front end design shows the same design theme as that space-age military robot. However, as a car the radical front end may have some negative effects. It is not as tasteful as, say, Volkswagen Golf GTi, nor as inherently beautiful as Seat Leon. Its attractiveness is likely to fade with time. Time will tell whether I am right.

The cabin of the previous Lancer used to be a weak point, no matter in terms of space, quality or style. Frankly, to improve on that is probably the easiest job in the world. Mitsubishi didn't take too much efforts to bring in a more stylish dashboard, decent plastics and more space all round. Nevertheless, compare with the latest standard of the class you won't say it is outstanding. It still fails to provide the quality feel of Volkswagen, Peugeot and Renault. It won't surprise you with its conventional layout. Moreover, considering its exterior size you won't expect its cabin room to be so average.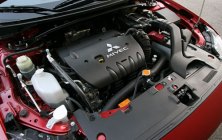 The mechanical aspects seems to be more promising. The new platform rides on suspensions consisting of MacPherson struts up front and multi-link setup at the rear. Such layout is a match for any rivals of the class. The engine is also a huge improvement. The old Lancer used to be powered by 1.5 and 1.8-liter engines. In contrast, the new Lancer starts from a new 2-liter engine. Codenamed 4B11, this all-aluminum unit is 27 kilograms lighter than the former iron-block unit. It features DOHC 16V and continuous variable valve timing on both camshafts (still called "MIVEC" but no variable lift here) to guarantee good power and wide spread of torque - some 152 horsepower and 146 lb-ft. You might feel familiar with such specifications, because 4B11 was developed jointly with Chrysler thus is also available in Dodge Caliber. Another jointly developed "World Engine" to be debuted next year is the 2.4-liter version, expected to produce 172 horses. The use of at least 2-liter engines gives Mitsubishi a good reason to brand it as Galant Fortis in Japan.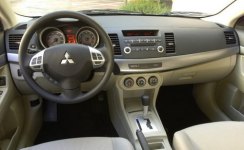 However, most of the extra power generated by 4B11 is consumed by the heavy kerb weight and the INVECS-III Continuous Variable Transmission. Motor Trend magazine found the CVT-equipped Lancer GTS took 9.1 seconds to accelerate from 0 to 60 mph, which is hardly impressive. Moreover, in automatic mode the INVECS-III CVT has old fashioned rubber band effect to upset its driver. Of course, you can always leave it in manual mode and use the 6-speed paddle shift to improve its sluggish response, but a better solution is to choose the 5-speed manual gearbox instead. It would be more satisfying to use while cutting 0-60 mph by a second. However, even so the Lancer doesn't feel quick enough.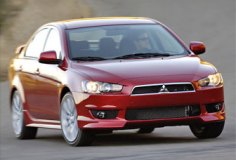 Mitsubishi's NVH engineering is not exactly world-class, so despite of a huge improvement of chassis rigidity the firewall still transfer too much engine noise into the cabin. On 18-inch wheels, the suspensions feels firm and produces a fair amount of road noise on bumpy roads. The handling of Lancer is above average, but American motoring journalists still prefer Mazda 3 and Honda Civic Si simply because they handle and ride better. The Mitsubishi's numb steering also leaves something to be desired. Keen drivers would also beg for more power and more beautiful sound from the engine. On the positive side, the Lancer offers good grip, brakes and decent body control. Again, it is a huge improvement from the outgoing car, but to match the best class rivals it needs to work even better, obviously.

Is that a big disappointment ? No, seeing how its sister car Caliber performs, you won't expect it to be a new class leader anyway. Nevertheless, we do expect a lot from the forthcoming GSR Evolution X. Mitsubishi Lancer has always been mediocre in mass production form and ultra-exciting in Evo form. Let's hope the same this time.
The above report was last updated on 15 Sep 2007. All Rights Reserved.
European Lancer

For European market, the Lancer is equipped with smaller engines. Entry level is the 109 hp 1.5-liter MIVEC engine from Colt. Next up is the 1.8-liter "World Engine" (see Dodge Caliber) rated at 143 hp. Besides, there is a 140 hp 2.0-liter 16V turbo diesel engine sourced from Volkswagen. The latter's superior real-world punch and frugality explains why the 2.0 petrol is not offered in Europe.
The above report was last updated on 19 Sep 2007. All Rights Reserved.
Lancer Ralliart

| | |
| --- | --- |
| | Want an Evo but think it too expensive ? Mitsubishi now offers a cheaper alternative. |
What is Lancer Ralliart ? You can see it as a downgrade from the mighty Evo X, or an upgrade from the ordinary Lancer GTS. Mitsubishi combines the bits of both to make a middle-price, medium hot model, so it finally has a car to compete with Subaru Impreza WRX.

The Ralliart started life from the narrow-track chassis of regular Lancer. Its all-steel suspensions are carried over from Lancer, albeit with slightly stiffer setup and a stronger front tower bar. The brakes are standard Lancer items except switching to 2-pot calipers up front. The steering has retuned power assistance but it is no quicker than the standard Lancer. The body shell is closer to the cheaper car as well, although it gets a unique grille and an aluminum bonnet from Evo X.

In contrast to the chassis, the powertrain and running gears of Ralliart are derived from Evo X. The 4B11 2.0-liter turbocharged engine is detuned from 295 to 240 horsepower, 300 to 253 lb-ft of torque. This is due to the use of a smaller single-scroll turbocharger, hence lower boost pressure, a smaller intercooler and modified intake manifolds to match the lower air flow. However, a less aggressive tuning means nearly all the peak torque is available from 2500-4500 rpm, thus provide good day-to-day drivability. Moreover, the detuned engine produces much less turbo lag. Of course, what you lose is the Evo X's explosive power delivery, and 0-60 mph now takes around 6.5 seconds instead of 5 seconds. However, it goes well with WRX and Golf R32.

Surprisingly, Mitsubishi resisted the temptation of cost cutting and decided to equip the Lancer Ralliart with a standard SST twin-clutch transmission. It is basically the same as the Evo X's unit except losing the most aggressive Super Sport mode and has revised ratios at the top 2 gears to enhance fuel economy on highway. Considering how good it works, SST gives the car a decisive edge over rivals (well, Volkswagen Golf R32 has DSG as well, but Mitsubishi always consider Subaru WRX as its arch-rival).

Fans of Mitsubishi will be glad to hear that Ralliart retains the Evo's 4-wheel-drive system and ACD active center differential. It saves some money by ditching the AYC active yaw control at the rear axle and replaces it with a mechanical LSD. This, together with the slower steering rack, reduces its sharpness in tight corners and introduces more understeer. Nevertheless, such downgrade of handling is every bit predictable for a cheaper car. What really hurts is the use of skinny 215/45R18 tires like Lancer GTS. They produce much less grip on the dry and seriously hamper the maneuverability of the car. The modest brakes also need upgrade desperately.

With so many technology gadgets, the Lancer Ralliart is not going to be cheap. Expect it will be close to the level of Golf R32, Audi S3, BMW 130i hatchback and 128i Coupe. All these are fast, capable and high-quality cars. As long as it sticks to the skinny tires and weak brakes, Ralliart will have limited appeal to the majority.
The above report was last updated on 19 Jun 2008. All Rights Reserved.
Lancer Sportback

| | |
| --- | --- |
| | Straightforward conversion from sedan to hatchback means a strange look |
In Europe, small saloons are far less popular than hatchbacks, therefore for European market Mitsubishi now offers a hatchback version of Lancer called "Lancer Sportback". The conversion from 3-box to 2-box body is straightforward, so straightforward that it looks like designed by engineers instead of stylists. I have no problem with a fast-angle tailgate (think about the original Lancia Delta), but when a fast-angle tailgate meets a long bonnet and a long front overhang, it means a nose-heavy proportion, which is not as sporty as its name suggested. Besides, the shape of its rear window, taillights and roof spoiler also look rather odd, actually damaged the original design.

Quite unbelievably, the hatchback is actually 15 mm longer than the sedan. It should provide as much luggage space, but unfortunately it manages only 288-344 liters (depending on the height of parcel shelf), compare with 400 liters of Lancer sedan. Nevertheless, its rear seat can fold flat to release 1349 liters, something the sedan cannot match.


| | |
| --- | --- |
| | Ralliart version powered by 240hp engine |
The European car is powered by 3 engines - At the bottom is the 109hp 1.5-liter MIVEC (from Colt). Then there is a Volkswagen-sourced 2.0 turbo diesel with 140hp, expected to be best seller. On the top is the Ralliart version, which is powered by a 240hp 2.0 turbo like the US-market Ralliart sedan recently reported. Its 4WD hardware and running gears are also the same as the Ralliart sedan, so it shares that car's average dynamics.

Lancer Sportback is not a bad car, but it does not stand out from the crowd in any area. There are many European hatchbacks offer better made cabin, better refinement or better dynamics, while most of them look prettier. European don't need to turn to the Japanese for a hatchback.
The above report was last updated on 25 Jun 2008. All Rights Reserved.
Lancer Evo X
| | |
| --- | --- |
| | Evo X is slower than the previous car in straight line, but hopefully its stronger handling will claw back the lost ground... |

Amazingly, it took only 15 years to go from the first Lancer Evolution to Evo X. If you are not familiar with the history of Evo, it doesn't matter, you may read the article "Evolution of Evo" below or our previous report for Evo VII to Evo IX in the "Graveyard" section. Looking through the evolution of this car is interesting, as you will find how it got bigger, more powerful and more sophisticated in the process. However, Evo X is a big departure from the previous 9 evolutions. For the first time in its history, it gets an all-new chassis, engine and gearbox at the same time. In other words, it is virtually a brand new car. Should we still call it an Evolution ? or maybe Revolution a better description ?

As most of you know, Evo X is built on the new generation Lancer platform sharing with various Chrysler products. Compare with the last Evo IX, it is slightly longer, much wider, much taller and much much stiffer – 39 percent stronger in torsion and 64 percent stiffer in bending. The extra rigidity benefits handling as well as refinement, but an inevitable by-product is 130 kg of extra weight. That accounts for almost 10 percent of the overall weight and adds considerable strain to the engine.

Part of the weight increment is compensated with a stronger engine. Codenamed 4B11, it replaces the long-serving 4G63 engine which has been around since the beginning of the Evo series. Governed by rallying rules, 4B11 is still a 2.0-liter four-cylinder engine with a single turbocharger. Its construction, however, is much more advanced than the old one. First of all, the engine has an aluminum block to save some 12 kg from the nose to help chassis balance. Secondly, it gets MIVEC intake and exhaust variable cam phasing to improve low to mid range torque (Evo IX had MIVEC on intake camshaft only). Thirdly, power output is improved by relocating the exhaust manifolds. Previously, the exhaust manifolds of 4G63 were forward-facing and routed backward underneath the engine; Now 4B11 has its exhaust faces rearward and goes straight towards the silencer, thus the gas flow runs shorter and smoother and generates less back pressure. Fourthly, as the engine no longer has exhaust pipes running underneath it, it can be mounted lower to improve center of gravity.


| | |
| --- | --- |
| | The new aluminum-block engine is smoother and has a better power band. But the progress it made is not revolutionary... |

As before, the turbine is made of titanium-aluminum alloy to compensate for its large size – something necessary to achieve a specific output over 140 horsepower per liter. Officially speaking, Evo X is still bounded by the (silly) 280 ps domestic voluntary limit (Subaru no longer follows that in its new Impreza STi), but no one actually believes that. Considering Evo VIII was known to produce around 310 horses, the actual output of Evo X could only be higher. How much higher is difficult to say, but the unrestricted torque figure may give you some hints – it produces 311 lbft at 3500 rpm, compare with 295 lbft of the last generation car. The torque curve is also noticeably flatter than before.

Furthermore, the new Evo has its 6-speed manual gearbox replaced by a new dual-clutch gearbox called SST (note: at the same time a 5-speed manual is offered as a cheaper alternative). As most of you know, dual-clutch gearbox is the future of our gearboxes. It employs one clutch to engage the odd gears and another clutch to engage the even gears. In this way, it is capable to pre-select the next gear while the current gear is still engaged. Once the driver make the shift, the current clutch disengages and at the same time the other clutch engages, thus the next gear gets into effect immediately and smoothly. Dual-clutch gearbox was first introduced to Audi TT in 2003 and so far only the Volkswagen group enjoys its service. However, it will be increasingly popular in the next few years, as it will appear in Evo X, Nissan GT-R, Ford Focus, Porsche 911… In the Evo X, the SST gearbox provides 3 operating modes – normal, sport and super sport – for the driver to select. Of course, normal is the smoothest while super sport is the fastest.

These improvements should help clawing back some of the lost performance. Nevertheless, a kerb weight of 1540 kg is too much to bear. On the road, the Evo X's engine feels smoother, calmer and less explosive in the mid-range than the previous 4G63. Car and Driver found it took 5.0 seconds to accelerate from 0-60 mph and 13.4 seconds to 100 mph, while Road & Track recorded similar figures. Such performance may be outstanding for the class, but they can't match the old car's 4.6 and 11.9 seconds respectively. It will also slip behind the new Subaru Impreza WRX STi, which is equally powerful but some 60 kg lighter. This must be a big disappointment to its fans.

In fact, since Evo V, the Evo series has not really got any faster. Dictated by the rule of 2-liter single-turbo engine, Mitsubishi could barely achieve a slight power boost each generation to offset the weight increment necessary for improving handling and safety. Had the engine got more capacity and/or a twin-turbo system, or even better direct-injection and two-stage twin-turbo, it would have produced extra power more easily. When a car is developed to the extreme, it is time to rethink its formula and pursue a bigger revolution. Unfortunately, Evo X was developed when Mitsubishi had serious financial trouble, so it lack a far-sighted vision.


| | |
| --- | --- |
| | The hardwares of ACD, AYC, ASC and ABS are mostly the same as before, yet the integration among them results in much better control. It is a matter of tireless testing and software works. |

On a winding road, however, Evo X is quicker than any previous generations. This is because its improved chassis and traction allow higher cornering speed and more accurate control. In Evo IX, the driver wasted time to fight with road irregularities and under/oversteer by correcting the steering and adjusting throttle. This might be hugely exciting to some hardcore drivers, but it did not produce the same lap time as Evo X, nor did it deliver the same driving confidence. In contrast, Evo X runs faster in corner yet feels calmer and easier. Its rigid chassis and longer wheelbase cope better with bumps, resulting in a smoother ride. Its wider footprints, wider tracks and lower center of gravity allows it go quicker in bends. Its better front-to-rear weight distribution (due to the lighter engine and by moving the battery to the trunk) contributes to a more neutral cornering attitude. Its steering is less influenced by road irregularities, although some may regard that as less communicative.

The enhanced traction system is equally effective as the improved chassis. As before, Evo X employs an electronic-controlled Active Center Differential (ACD) to distribution power between front and rear wheels. It also has Active Yaw Control (AYC) to distribute power between the rear wheels to correct under/oversteer. Also like before, the ACD and AYC offer 3 modes, Tarmac, Gravel and Snow, for different front-rear bias characteristics. However, for the first time the control system of ACD and AYC integrates with ASC stability control and ABS to form what Mitsubishi called S-AWC (Super All-Wheel Control). From hardware point of view it seems nothing revolutionary, but on the road the better integrated system results in vast improvements in grip and stability because it covers virtually all the situations the driver may encounter. Storm the Evo X on twisty roads at terrific speed and you will find the car sort itself out beautifully. You don't need to apply opposite locks to correct its line. It simply goes where you point.


| | |
| --- | --- |
| | More space, ride comfort and refinement makes Evo X closer to the previous BMW M3. However, interior quality is no BMW. |

Some of you may find the Evo X not as involving and thrilling to drive as the previous car, because its power is less explosive, because its chassis is more competent and, sorry, because its electronic brain is cleverer than yours. In fact, jumping from a 1962 Ferrari 250 GTO into today's 599 GTB will probably give the same feelings. This is an inevitable development trend.

Undoubtedly, Evo X is a better A-to-B car than ever – it is faster point to point; it is far easier to drive; it is more refined and more accommodative. To some extent it gets closer to the territory of the previous generation BMW M3 while retaining its all-weather / all-road ability. Its faults are minor – its styling is a quite raw, its interior is a little cheap, it could be lighter and more powerful… but keen drivers can easily forgive them. As before, the Evo X has no direct rival except Subaru Impreza STI. Now it is the turn of Subaru to respond.



Evo X GSR and RS



As before, the Evo X is available in two models: the road-going GSR and the race-biased RS. The RS is 100 kg lighter due to a bare cabin, 5-speed gearbox, 16-inch wheels shod with 205/60 tires and the lack of rear spoiler, therefore it is also significantly cheaper. The GSR has all kinds of equipment, delicious Recaro seats and 18-inch wheels shod with 245/40 tires. It is also the standard car Mitsubishi offers to most markets.
The above report was last updated on 31 Oct 2007. All Rights Reserved.
Evolution of Evo: from Evo I to Evo X

Since the first Lancer Evolution arrived in 1992, it kept updating nearly every year. The

Evolution I

was already a spectacular car, with the 4G63 turbocharged 16 valves straight four engine pumping out 250hp, 4-wheel-drive, aluminium bonnet, close ratio gearbox, Recaro sports seats and Momo steering wheels...



Evo II

launched in late 1993, had little modifications, the most important of which is the increment of ride height to provide more suspensions travel. The engine got 10 extra horsepower.



Evo III

in Jan 95 introduced a set of awesome aerodynamic kits, including big front bumper and bi-plane rear wing. Intercooler was enlarged while power raised to 270hp.



Evo IV

of summer 96 was based on the body of the new generation Lancer sedan. Apart from the stronger chassis, a lot effort was made to the engine and drive train. Racing camshaft, improved induction and exhaust added 10 hp and more important, 33 lbft of torque. Helical mechanical rear LSD was used while the AYC Automatic Yaw Control made its debut.



Evo V

of Jan 98 was also another great improvement. Front and rear track received a generous increment of 40 and 35mm respectively. Wider wheel arches accommodate the 225mm wide, 17in diameter sports tyres. Superior brakes incorporated Brembo calipers with 4 pistons in front and 2 in rear. Suspensions arms made of aluminium alloy. Inverted dampers improved chassis rigidity. A new turbocharger and improved intercooler brought peak torque to 275lbft from 261lbft, while the 280hp power was bounded by domestic regulation. An improved AYC reduced the understeer found in previous generations so that many people started to choose the Lancer instead of Subaru Impreza WRX.



Evo VI

of Jan 99 improved mostly in aerodynamics reacted to the change of WRC's regulation, plus improved engine cooling making the same power and torque more durable. RS version introduced the world's first titanium turbine to reduce turbo lag. Extra spot welds improved chassis rigidity.

Late 99 introduced

Tommi Makinen edition

of Evo VI as a celebration to the driver's 4th consecutive WRC title with Mitsubishi. Cosmetic changes aside, there are some minor tweaks - ride height dropped 10mm (therefore ride even harsher), revised Titanium turbine to improve response, more engine cooling, larger exhaust diameter and improved oil pant.



Evo VII

of year 2001 was derived from the new generation Lancer. The car was larger and heavier. The 4G63 engine received minor modifications like hollow camshafts, smaller turbine nozzle (to improve response), higher flow intercooler with water spray, a bigger oil cooler and a variable back-pressure exhaust. It produced 7 more lbft of torque while officially the max power is still 280hp. However, the most important change is the 4WD system - now with electronic-controlled active center differential (ACD) in combination with AYC. Handling was much improved as a result.



Evo VIII

of 2003 was a small evolution - torque increased by 7 lbft again, gearbox upgraded to a 6-speed unit and a longer nose enabled the compliance with US Federal safety requirements.

The US market version of Evo VIII was simply called "Lancer Evolution". It was 70 kg heavier due to the addition of anti-intrusion bar added to the nose. Emission regs dragged down its power to 271hp, so it was slower than the Japanese version. Worse still, the ACD and AYC were replaced by a viscous coupling and a mechanical LSD respectively in order to save costs.

By mid-2004,

Evo VIII MR

was launched as a minor revision. The turbo system was tuned to deliver more torque. The roof was converted to aluminum to lower center of gravity. Lighter wheels and door protection beam also contributed to less weight. Bilstein dampers improved ride a little. The ACD and AYC were reprogrammed to intrude less with ABS.

2005 saw

Evo IX

, the last one built on the contemporary Lancer chassis and the 4G63 engine. The latter added MIVEC intake variable valve timing and, accompany with yet another fine tuning of the turbocharging system, produced more torque and a flatter torque curve. Like the previous MR, the roof was made of aluminum. The rear spoiler was made of hollow carbon-fiber.

Comparing with the above evolutions,

Evo X

is a major update, wth all-new chassis, engine and gearbox. It has no relationship with the first Evo any more.


| | | | | | | | | | |
| --- | --- | --- | --- | --- | --- | --- | --- | --- | --- |
| Model | Year | Length | Width | Height | Wheelbase | Weight | Power | Torque | Tyres |
| Evo I | 1992 | 4310 mm | 1695 mm | 1395 mm | 2500 mm | 1240 kg | 250 hp | 228 lbft | 195/55R15 |
| Evo II | 1993 | 4310 mm | 1695 mm | 1420 mm | 2510 mm | 1250 kg | 260 hp | 228 lbft | 205/55R16 |
| Evo III | 1995 | 4310 mm | 1695 mm | 1420 mm | 2510 mm | 1260 kg | 270 hp | 228 lbft | 205/55R16 |
| Evo IV | 1996 | 4330 mm | 1690 mm | 1415 mm | 2510 mm | 1350 kg | 280 hp | 261 lbft | 205/55R16 |
| Evo V | 1998 | 4350 mm | 1770 mm | 1415 mm | 2510 mm | 1360 kg | 280 hp | 275 lbft | 225/45R17 |
| Evo VI | 1999 | 4350 mm | 1770 mm | 1415 mm | 2510 mm | 1360 kg | 280 hp | 275 lbft | 225/45R17 |
| Evo VII | 2001 | 4455 mm | 1770 mm | 1450 mm | 2625 mm | 1400 kg | 280 hp | 282 lbft | 235/45R17 |
| Evo VIII | 2003 | 4490 mm | 1770 mm | 1450 mm | 2625 mm | 1410 kg | 280 hp | 289 lbft | 235/45R17 |
| Evo IX | 2005 | 4490 mm | 1770 mm | 1450 mm | 2625 mm | 1410 kg | 280 hp | 295 lbft | 235/45R17 |
| Evo X | 2007 | 4495 mm | 1810 mm | 1480 mm | 2650 mm | 1540 kg | 280 hp | 311 lbft | 245/45R18 |
The above report was last updated on 24 Oct 2007. All Rights Reserved.