Mercedes SLR McLaren

Debut: 2003
Maker: Mercedes-Benz
Predecessor: no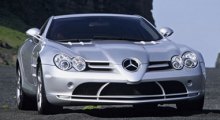 When Mercedes-Benz showed the Vision SLR concept car in 1999, it just wanted to build a Ferrari 550 Maranello-beater. That meant a user-friendly production car at a price around £150,000. To realize it, Mercedes decided to hand over the project to McLaren and its engineering ace Gordon Murray, the father of McLaren F1. Under the leadership of Gordon Murray, the SLR evolved into an even hotter machine. It is still a front-engined GT, but performance elevated to the level of Ferrari Enzo, Porsche Carrera GT, Pagani Zonda and the like. Unfortunately, price is also doubled to £313,000, thus production volume is scaled back to 500 cars a year. According to the latest plan, McLaren will build SLR for a 7-year life span in a new facility beside its headquarters at Woking, UK. That means a total of 3500 cars will be produced, still far more than its rivals.

The development of SLR was never smooth, because the requirements of Stuttgart conflicted with the vision of Gordon Murray from time to time - the former wanted more luxury and quality, the latter wanted lightness and pureness. Of course, the client always wins, and the kerb weight of SLR increased from the original target of 1400kg to the production car's 1693kg.

And this is already a car employing all-carbon fiber body and monocoque chassis ! in the press release, Mercedes used thousands of words to describe the advanced construction of the chassis, such as the world's first carbon fiber crash structure, new production method and blah blah blah. Excuse me, if I build a supercar weighing 300kg more than rivals and only 187kg lighter than a standard SL55 AMG (which has retractable roof, remember), I will be shamed to mention the word "carbon-fiber". No wonder Gordon Murray did not appear in the introduction of SLR. This is definitely not his best car.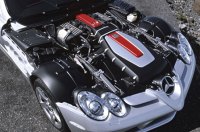 Anyway, the concept of SLR is inspiring. Gordon Murray shares Ferrari's opinion that a good handling FR car must have a slight rear-biased weight distribution to sharpen steering and improve traction. Therefore he put the engine far back in the chassis, not just behind the front axle, but the whole engine is behind the front wheels. If you don't believe, open the bonnet and you will see the front half of the engine compartment contains just the suspensions and a big air filter. The compact AMG 5.5-litre supercharged V8 occupies the rear half. Murray could choose a bigger twin-turbo V12 from AMG, but he needs the compact size of the V8 to achieve the desired balance. Besides, it weighs just 232kg, far lighter than the twin-turbo V12 and just 7kg heavier than Ferrari Enzo's naturally-aspirated V12. The SLR can therefore achieve 49:51 weight distribution front-to-rear.

From outside, you can also see its attention to balance. The car has a very long engine compartment while the small passenger compartment sits just in front of the rear wheels. The basic design follows that of the Vision SLR, but the profile is evolved to wedge shape to reduce aerodynamic lift at the rear. However, the stunning F1 nose is retained to remind you it is a McLaren-Mercedes.



Does it look handsome? it might not be as beautiful as Murcielago and Zonda, but it is undoubtedly a good looking GT. Prettier than Enzo, more striking than Carrera GT.

To allow the SLR to run stable at 200mph, Gordon Murray sacrificed drag for downforce and cooling. As a result, drag coefficient has been increased from the concept car's 0.29 to the production car's 0.374. To allow the adoption of flat underbody and diffusers, Murray had to ask AMG to develop a side exhaust system. Catalytic converters and mufflers locate at east and west of the V8 and exhaust gas flows out directly at the exhaust pipes behind front wheels. Shark-like side air vents are opened to help cooling the cats and mufflers.

The engine is modified from SL55AMG's. Firstly, the engine is converted to dry-sump to lower its center of gravity as well as to ensure effective lubrication under high cornering force. Secondly, a slightly faster-rotating IHI Lysholm-type supercharger lifts boost pressure from 0.8 to 0.9 bar. Then there are other enhancement to intake, exhaust and cooling, lower friction and lighter moving parts etc. The result is 626 horsepower at 6500rpm - amusingly, just 1 horsepower short of McLaren's last car. This put it above Porsche Carrera GT (612hp) and Zonda (555hp), although still some way behind Enzo (660hp).


By the standard of supercharged engines, this one is very efficient indeed. It pumps out 115 horsepower per litre, compare with Ford GT's 93hp / litre. It also loves to rev. Despite of the 3-valve head and lack of variable valve timing, redline is set at 7000rpm, compare with Ford GT's 6500rpm. Of course, it shares the common strength of all supercharged engines: torquey. From 3250 rpm all the way to 5000rpm, it delivers 575 lbft of torque, beating all its rivals. At just 1500rpm, it already generates more torque than Porsche Carrera GT can manage at any rev !

No wonder a 5-speed automatic transmission is deemed to be sufficient. From the beginning, Mercedes insisted the car must use automatic gearbox to deliver an ease of control unfound in other supercars. There were hopes that its new 7G-Tronic 7-speed automatic could be available, but unfortunately in the mean time it is not strong enough to cope with the SLR engine, so the old 5-speeder is used instead.

To reduce vibration, the engine and transmission are not bolted directly to the carbon-fiber monocoque. Instead, they are mounted on an aluminum cradle (which also mounts the front suspensions). The cradle is then bolted to the monocoque. At the rear, suspensions and rear axle are bolted to the integral metal link points on the monocoque. All suspensions are by forged aluminum double wishbones. Surprisingly, there is no adaptive damping and Active Body Control. It just employs conventional springs and dampers.

On the Road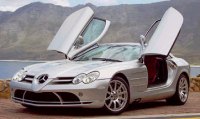 The SLR has butterfly doors like Ferrari Enzo. Despite of its tremendous weight, the cockpit is rather cramped. Headroom and legroom are tight if you are over 6ft 2in. Steering wheel is close to driver. Nevertheless, the red leather-clad cabin looks luxurious and is loaded with equipment cannot be dreamed in other supercars, such as air conditioning with automatic climate control, CD changer, Bose sound system, mobile phone, satellite navigation and telescopic steering wheel. Even the tailor-made, carbon-fiber-backed leather seats are adjustable electrically back and forth.

Start the V8, shift the automatic gearbox to "Drive" and drive it slowly, the deep, rubble-bumble exhaust note sounds great ! throttle response of the V8 is instantaneous. Press the throttle, the car immediately surges ahead. Thanks to the rich bottom to mid-range torque, acceleration is astonishing. According to Mercedes, 0-100kph (62mph) takes 3.8 sec, 0-200kph (124mph) takes 10.6 sec, 0-300kph (186mph) takes 28.8 sec and the car tops 207mph. It's a match with the fastest ever Porsche and runs very close to the fastest ever Ferrari, yet the gearbox is still in the "Drive" position ! like all fast Mercedes, the SLR McLaren is easy to drive fast.


But it is not the most refined. There is a great deal of tire noise and suspension noise transmitted to the cabin, blame to the rear suspensions which are mounted directly to the carbon-fiber monocoque, and they are just inches behind the driver. The ride is also less absorbing than expected. It deals worst with primary bumps thus is not very suitable for B-roads. As speed rise, the damping improves noticeably, offering a stable ride. Adaptive damping - as fitted to Enzo - could be an answer, but strangely and ridiculously, this 1693kg machine does not have it.

The steering is a similar story. On irregular surfaces the weight and feedback is inconsistent and even nervous. This is a bad news if you want to attack B-roads. Even on smooth surfaces it is not one of the best steering systems on the market, because it feels vague and light at the straight-ahead position. The weighting improves once you move towards the extreme, and the 2.2-turn ratio is quick and direct, but it is never full of feel.

Nevertheless, the handling of SLR is immensely stable and well mannered. Its wide tracks, strong grip and rigid chassis help it to corner rock-steadily. The FR chassis balances beautifully. Unlike other mid-engined supercars, its handling bias towards understeer when it approach limit. Of course, you can push the tail out easily by using the tremendous torque, but the ESP stability control - set to be pretty tolerable in normal condition - will dig in smoothly.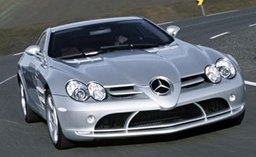 Unfortunately, the brakes do not match the handling. On paper, ceramic discs, 370mm front with 8-piston calliper, 360mm rear with 4-piston calliper seems to be a winning formula. Yes, they are really powerful and fade-free under hard use, but the pedal is unusually difficult to modulate. All is blame to the complicated, brake-by-wire, Mercedes Sensotronic Brake Control. SBC has been used in the SL-class quite well, but in the higher performance SLR and mates with ceramic brake discs it is simply disastrous. As there is no hydraulic linkage between brakes and pedal, as it measures only the pedal travel to determine brake force, the pedal feel is always soft and the driver cannot feel the exact state of braking. As a result, you can easily overbrake or underbrake the car. If you want to stop the car hard, that's fine, just press the pedal to the bottom. If you want to slow down the car into a corner, you will find it is very difficult to apply the braking smoothly, blame to the lack of pedal feel and the poor calibration of the system.

I can't believe Gordon Murray needed SBC. A conventional hydraulic braking system is just fine and save weight, why bother with an unnecessary technology? he must thought so. Unfortunately, the German might think otherwise. They want to show more technologies to their customers - seems that ABS, ESP, DSC and "air brake" are not enough to them.

No wonder Murray disappeared from the public since the car was launched. I can understand his frustration. His McLaren F1 was so successful because he was given full freedom to design and engineer the car. In contrast, the German Big Brothers had too much say in the SLR project, even in the fields they don't understand.

Mercedes SLR McLaren is the most exotic front-engined GT ever produced. Its performance matches other supercars. Its handling is sharp and capable. Its practicality exceeds everyone else - which supercar offer a well-equipped cabin, automatic transmission, a lot of electronic driving aids and a boot big enough for 2 golf bags? unfortunately, it has some serious flaws in braking and steering. Besides, it could do better in ride and NVH suppression to match its otherwise comfortable manner. Now let's see whether Ferrari can move the game on.
The above report was last updated on 25 Dec 2003. All Rights Reserved.
SLR 722 Edition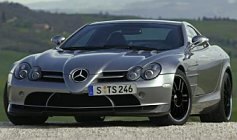 From the beginning, sales of the SLR supercar has been below the expectation of Mercedes. This is not helped by the arrival of the excellent Ferrari 599GTB. To stimulate sales, McLaren and Mercedes has introduced an even faster limited edition called SLR 722. It is so named to link with the 1955 Mille Miglia victory taken by Stirling Moss' 300SLR numbered 722, so don't confuse it with horsepower number. Only 150 units of the car will be sold at around £340,000, or £30,000 more than the standard SLR. All of them have been ordered.

In the 722, the AMG supercharged V8 has been reprogrammed to boost output from 626hp to 650 horsepower, while max torque increases from 575 lbft to 604 lbft. Weight is reduced by 44 kilograms by ditching sound deadening materials, by using aluminum dampers, lighter alloy wheels and a lighter fuel tank. The car now tops 209 mph, up 2 mph from the standard SLR. 0-60 mph is quickened from 3.7 seconds to 3.5 seconds. Perhaps most important to Mercedes, this acceleration edges out Ferrari 599GTB by 0.1 seconds. From 0-124 mph, the gap expands to 0.7 seconds (10.3 seconds versus 11.0 seconds). That's enough to defend its title as the world's fastest front-engined grand tourer.



But is it also the best to drive? unfortunately not. While the Ferrari has a more delicious V12, a hugely involving handling and truly livable ride and practicality, the SLR 722 is even more difficult to live with than the standard SLR. It might have a more aggressive lip spoiler to double front end downforce, and it has a 10 mm drop in ride height in combination with stiffer damping, but the result is enhanced straight line stability rather than improved cornering. Mercedes-McLaren seems not understand that the car actually needs more compliance to cope with bumps, not an even harsher ride. On less than smooth surfaces, the 722's handling gets nervous thus it is no where as exploitable as Ferrari.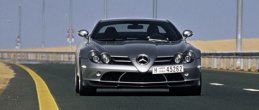 Sadly, the 722 Edition did not correct the two major flaws of the original car: the vague steering and the difficult-to-modulate Sensotronic brakes. Oddly, Mercedes has already ditched the brake-by-wire Sensotronic system from its mainstream cars, why didn't it do the same to its top supercar ? because of tight development budget, I guess. It only enlarged the carbon ceramic discs from 370mm to 390mm to increase stopping power. Again, this answered a question nobody asked.

Without providing the necessary human-machine communication, SLR 722 feels rather one-dimensional. Even with a slight performance boost, it is no longer that sensational compare to 3 years ago. This special edition is not the saviour the SLR needs.
The above report was last updated on 11 Feb 2007. All Rights Reserved.
SLR Roadster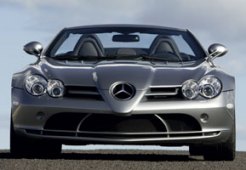 Mercedes-McLaren originally planned to sell 3,500 SLRs in a production period of 7 years, but as the car is not as good as people expected, only 1,200 cars were sold during the first 3 and a half years, and the trend is declining as the car is getting old. The addition of 722 edition did not help much to stimulate interest. Now Mercedes is introducing probably the last version of SLR – Roadster. It will replace the coupe in the remaining years of production. Mercedes hopes that the open version will be more appealing to wealthy customers as it has less direct competitors, at least until Ferrari cut away the roof of 599 GTB.

The conversion from coupe to roadster is easier than conventional cars because its carbon-fiber monocoque chassis is inherently strong and needs only minor reinforcement around the windscreen and roll over bars behind the seats. The loss of torsional rigidity is minimal, so handling and ride show no discernible differences. Weight is up by 57 kilograms, but considering the coupe already weighed 1693 kg, it represents only an increase of 3 percent. Engine is the same 626 hp supercharged 5.4-liter V8 as the coupe rather than the 722's highly tuned version, surprisingly. However, the SLR Roadster can still goes from zero to sixty in 3.7 seconds. Depending on whether you believe, top speed is down by just 1 mph to 206 mph. The fabric roof must be made of aerospace materials, or Mercedes-McLaren must be over-optimistic.

The electric soft roof is by no means the most sophisticated part of the SLR, because it is only semi-automatic. The driver will need to unlatch it from the windscreen header rail and push it up, then the electric actuators will fold it back. Open the roof actually helps solving one of the old problems of SLR – the lack of headroom. Nevertheless, the cabin is still tight for foot room and shoulder room. We are still unconvinced by the contradicting character of the SLR, no matter coupe or roadster. On the one hand its front-engined design, its heavyweight and automatic gearbox suggest a luxury GT, on the other hand its stiff ride, nervous steering and cramped cabin suggest an uncompromising supercar. Comparatively, Ferrari 599 satisfies both worlds a lot better. It is better to skip the SLR Roadster and wait for 599 Spider, Superamerica or the like.
The above report was last updated on 31 Jul 2007. All Rights Reserved.
SLR Stirling Moss
| | |
| --- | --- |
| | With neither roof nor windscreen, this must be the wildest road car ever wearing a 3-pointed star badge... |

Mercedes-Benz don't normally name a car after a person. However, when that name is Stirling Moss, it is another matter. Few ex-racing drivers in history were so closely associated with a make like Stirling Moss with Mercedes. Half a century has passed since his golden era, Moss still actively participates in classic car events, comments on recent Formula One affairs with his highly respectable tone and frank character. The British loves him, unquestionably. The German also admire him, unexpectedly. He is probably the only common hero to old generation British and German, and that started before The Beatles landed on Hamburg.

In 1955, Stirling Moss drove Mercedes 300SLR to the famous victories in Mille Miglia and Targa Florio. Unfortunately, later in that year another Silver Arrow crashed in Le Mans and killed 82 spectators. Mercedes withdrew from all kinds of motor racing for the next three decades. That is why 300SLR is still remembered as the definitive race car from Stuttgart.


When McLaren was brainstorming to build the final edition of its SLR supercar, it wanted to make something really special in both looks and performance. Inspired by Stirling Moss' race-winning 300SLR, Woking decided to adopt a speedster architecture, with neither roof nor windscreen to reduce drag and weight to the minimum. This must be the wildest road car ever wearing a 3-pointed star badge. As it links to the greatest racing history of Mercedes, no other name could be more appropriate than SLR Stirling Moss.

The conversion from the standard SLR to Stirling Moss edition is not just chopping off the roof and windscreen. In fact, all body panels, head and tail lights have been redesigned to deliver a more aggressive appearance. It also requires additional strengthening to the carbon-fiber monocoque to compensate for the lost rigidity. Door sills are raised considerably as a result, leading to a pair of miniature doors to be adopted. They still swing forward and upward in butterfly style, but now pivot on only one point. Behind the seats are additional cross members and a pair of rollover protection bars. The cockpit is also thoroughly redesigned to the extent that having no visual linkage with the standard car. You have to jump over the high door sill to drop into the bucket seat, a skill Stirling Moss used to handle so well.

Cutting the carbon-fiber roof alone may not save many kilograms, but gone together with it are the heavier glass windscreen, rear window, side windows and their power mechanism. Furthermore, no one needs air-conditioning, audio system and sound insulation in an open car, so they have been ditched as well. Altogether, the Stirling Moss weighs 140 kg less than the standard SLR, or 100 kg lighter than the 722 edition.


| | |
| --- | --- |
| | You have to jump over the high door sill to drop into the bucket seat, a skill Stirling Moss used to handle so well. |

The 5.5-liter supercharged V8 in Stirling Moss edition is carried over intact from 722, which had fully exploited its potential to 650 horsepower. However, propelling less weight means its 0-60 mph acceleration can be reduced from 3.5 to merely 3.4 seconds. The much reduced frontal area enables top speed to be raised from 209 mph to 217 mph, overtaking Pagani Zonda F, if not quite in the same league as Bugatti Veyron and Koenigsegg CCXR.

Guiding the SLR Stirling Moss to that speed certainly needs a strong courage - Stirling Moss should know that very well. Above 100 mph, the wind deflectors can no longer contain the blast of wind, by then a helmet will be a must. At lower speed maneuver, the car displays slightly keener turn-in and less roll than other SLRs, thanks to the lowered center of gravity. However, its handling and ride is still less well accomplished than most other supercars. Stirling Moss or not, the SLR is still primarily an Autobahn rocket.

McLaren will build 75 units of this goodbye edition, each priced at an astonishing €750,000 or £660,000. After that, the SLR line will be history. If your billion-dollar wealth has not been wiped out by the credit crunch, and your childhood dream car was Stirling Moss' Silver Arrow, you had better to consider this investment seriously.
The above report was last updated on 29 Jun 2009. All Rights Reserved.