| | |
| --- | --- |
| Published on 26 Jun 2009 | All rights reserved. |
| | |
| --- | --- |
| | The new E-class is going back to its roots for dependability |

Selling around 200,000 units a year, E-class is traditionally the most profitable product of Mercedes-Benz. Its history can be traced back to the W136 series of 1936, then evolved to W120 (1953), W110 (1961), W114 (1968), W123 (1975), W124 (1984), W210 (1995) and W211 (2002). Until W124, the mid-size Mercedes – which had yet to got its current name – used to evolve consistently without departing from its core values, namely bullet-proof reliability, faultless engineering, advanced safety and unrivalled comfort. Even from their looks you can see a 911-like consistent evolution. Unfortunately, under the leadership of Jurgen Schrempp during the mid-1990s, Mercedes suddenly deviated from its successful formula, abandoning its traditional engineering-led practices and pursuing higher profit margin through cost-cutting. Development lead time was shortened. Procedures were simplified. More engineering works and components were outsourced to cheaper subcontractors. This created the W210, which would be notorious for poor quality and reliability. The W210 E-class also introduced radical styling changes in the attempt to catch younger customers. Although the following W211 corrected some of its mistakes, the E-class had never quite recovered its peerless reputation and its unique identity.

That made the development of new generation E-class, codenamed W212, all the more difficult. Apparently, searching for a new identity was out of the question. What Mercedes needed was to go back to its roots. Therefore the engineering department chose W124 as its inspiration. The 1980s W124 had always been the definitive E-class in my mind. I admired its understated yet elegant design, its solid build quality and its high standard of engineering. It represented the peak of the line. In fact, its 11-year life was a testament of its success (sorry for too much talk about the "good old days", as you know, this author is getting old…)


| | |
| --- | --- |
| | Press a button or swivel a knob, you will feel the engineering went behind them... |

The best place to see the similarity between W212 and W124 is the cabin, as it has abandoned the organic design of the last two generations and gone back to the non-nonsense, straightforward architecture of W124. Switch gears are positioned at logical places to ease your usage. It doesn't have many fancy chroming or alloy to emphasize its social ranking, but once you have touched its surfaces, press a button or swivel a knob, you will feel the engineering went behind them. Its solidity and durability is beyond reach. For the first time in 20 years, you have a feeling that this Mercedes is built to last forever.

Drive the E-class and you will feel the same high standard of engineering. It slips through the air silently because its drag coefficient has been further reduced to 0.25 (for base models) – a figure being just matched by Toyota Prius. It covers ground smoothly because it has mechanical adaptive dampers fitted as standard even on the cheapest models, while top models get the sophisticated Airmatic air springs and electronic continuous adaptive damping. Its cabin is so calm because its chassis rigidity has been lifted by 30 percent, while the glass laminates a noise-insulating film. Moreover, its slim A-pillars keep you unhampered by blindspots. Nothing is related to W124, but the engineering philosophy behind them are just the same.

Unquestionably, comfort and refinement are the strongest suit of W212, just as everybody expected. What really surprises is the way it handles. Turn the new variable ratio steering, you will find a directness and response never appeared in the E-class before. Guide the big car into a twisty B-road, you will be amazed by its nimbleness. With considerably less initial roll than the previous generation, you get plenty of confidence to attack corners. Although its new strut-based 3-link front suspensions seem a fall back from the previous 4-link design, the same suspension used in C-class proved that it could deliver fantastic handling if it is properly set up. Ultimately, the E-class might not be as agile as the lighter and better balanced BMW 5-Series, but the difference is rather small, and in compensation you get a more communicative steering and a far more refined ride.


| | |
| --- | --- |
| | It slips through the air silently because its drag coefficient has been reduced to 0.25 – a figure being just matched by Toyota Prius. |

The same cannot be said to its styling. Instead of the understated beauty of W124, what I see is a very angular and edgy design trying hard to impress observers with a lot of addictives. The front bumper, radiator grille and new-style quad-headlights are very busy. The same goes for the body side, which has not one but two crease lines pressed into it. A more upright C-pillar apparently tries to improve rear passenger access, but it looks a little outdated now. And what about the tail ? Too plain, and visually too high. W212 is a strange design: it looks conservative in profile yet overly aggressive in the details. Having said that, I believe it will grow on you as time goes by.

Measuring 4.86 meters long and 1.85 meters wide, the new E-class is just marginally larger than the car it replaced. There is a little more headroom and shoulder room for the people inside, as is rear legroom, which is benefited by the 20 mm stretch of wheelbase. Overall speaking, E-class still has one of the roomiest cabins of the class, plus a remarkable boot space measuring 540 liters. Average weight has been increased by approximately 50 kg according to my figures, not bad considering the enhanced level of crash protection, active safety features and green technologies. Just as the last generation, it employs a lot of aluminum parts to keep weight down, such as bonnet, boot lid, front fenders and some structural cross members.

Speaking of active safety, the E-class is benefited from a variety of advanced features from S-class, such as Pre-Safe, drowsy alert, radar cruise control, night vision, blindspot warning, adaptive headlights, active bonnet (which pops up in collision to provide extra cushioning space to pedestrians)... That said, I always wonder how many people would pay so much money to get all these features.


| | |
| --- | --- |
| | A strange design: it looks conservative in profile yet overly aggressive in the details. |

In environmental aspect, the new E-class has taken a responsible attitude to tackle greenhouse gas emission. All petrol engines, except the slow-selling V8, have adopted a bundle of green technologies called "BlueEfficiency". This include automatic engine start-stop function, gearchange indication light, low rolling resistance tires and electrically driven peripherals that consume power according to demand, such as engine oil pump, alternator, air-con and electro-hydraulic assisted steering. Besides, all petrol engines, again except the V8, have adopted direct-fuel injection (CGI). Believe or not, the large selling E250CDI achieves a EU combined consumption of 53.2 mpg while emitting just 139 gram of carbon-dioxide. These figures would be impressive even in the C-class !

The E250CDI engine is actually a star of the range. Don't be fooled by its numerical designation, this 4-cylinder diesel engine actually displaces 2.1 liters. It can be available in different states of tune (136hp for E200CDI or 170hp for E220CDI), but only E250CDI gets 2000-bar common-rail piezo injection and twin-turbochargers. A small turbo enters operation from very low rpm and a big turbo takes over at high rev to provide full boost. No wonder it produces an impressive output of 204 horsepower and a V8-rivaling maximum torque of 369 lb-ft. Even though it is paired with an outdated Mercedes 5-speed automatic - sometimes not even M-B can ignore cost pressure - the E250CDI can do 148 mph and 0-60 mph acceleration in 7 seconds. It virtually makes the 231hp six-cylinder E350CDI superfluous. The only downside is a slight diesel clatter at startup and an uninspiring drone under hard acceleration. Under part-load, however, it runs perfectly.

Apart from the small diesel, it also offers a range of 1.8-liter direct-injected gasoline engines in two states of tune: E200CGI produces 184hp and E250CGI pumps out 204hp. Not to be confused with their predecessors, they employ turbocharger instead of supercharger. No wonder they run smoothly and quietly while delivering better fuel economy - you can get 42.8 mpg from E200CGI.


| | |
| --- | --- |
| | Guide the big car into a twisty B-road, you will be amazed by its nimbleness... |

Sitting above the four-cylinder petrol engines is the 3.5-liter V6, now gets direct injection to boost output to 292 horsepower and 269 lb-ft of torque. Traditionally, the petrol V6 was the bulk of the E-class' sales portfolio, especially in North America. However, this is no longer the case now. While it is smoother and quieter than the four-cylinder petrol and diesel, it needs to rev beyond 4500 rpm to get the best from it. At the top end, it lacks the willingness and refinement of BMW's straight-six. It is time for Mercedes to go back to the drawing board.

A lot stronger is the flagship 5.5-liter V8, good for 388 hp and 391 lb-ft. It can propel the E500 from rest to 60 mph in 5 seconds dead, right at the door of performance car club. However, only a few percent of E-class customers could afford its premium price and fuel costs. Besides, its 26 mpg consumption and 253 g/km CO2 emission seem old fashioned these days. Ironically, E500 is a black spot on the otherwise green E-class family. Had its budget allow, Mercedes should have developed a twin-turbo V6 or hybrid V6 instead of carrying over the V8 directly from S-class.

The new E-class may not have the green image of Lexus, the ultimate driver appeal of BMW or the style of Jaguar XF, but it is a good executive sedan in its own right. You will never disappoint in its build quality, refinement and driving dynamics. Its spaciousness and low fuel consumption (for four-cylinder models at least) make it easier than most to live with. Such integrity is hardly found elsewhere.
Verdict:





| | |
| --- | --- |
| Published on 16 Jul 2009 | All rights reserved. |
E63 AMG

| | |
| --- | --- |
| | AMG finally called the end of power wars and shifts its focus towards faster response, higher agility and better handling... |

One of the most annoying things for me to write about is AMG's 6.3-liter V8. More precisely, to write about its greatness. Since my first report on the last generation E63 AMG, I have repeatedly appreciated its rare combination of gigantic low-down torque and enthusiastic high-end manner as well as its delicious linearity and marvelous sound in the reports of CLS63, CLK63, CLK63 Black, S63, SL63, CL63 and C63. This is definitely the most overused performance engine in the world !

Unsurprisingly, serving the new generation E63 is again this engine. Reduced exhaust back pressure liberates another 11 horsepower at the top end, making a total of 525 hp as in the full-size S63, CL63 and SL63. Torque curve stays the same, but the 1765 kg kerb weight is also unchanged, so 0-60 mph is improved by a scant 0.1 second to 4.3 seconds. When a car is this fast – especially if you tick optional performance package which raises its speed regulation to 186 mph – any more power and acceleration becomes meaningless. This is why AMG finally called the end of power wars and declared that it is shifting its focus towards faster response, higher agility and better handling, i.e. qualities that really thrill keen drivers.


| | |
| --- | --- |
| | 7-speed MCT gearbox combines the best of both worlds - smooth and instantaneous gearshift. |

One of the signs is the new 7-speed MCT gearbox. First appeared in SL63, now it is standard on the 4-door performance saloon. It is basically the 7G-Tronic automatic transmission with its torque converter replaced by a fast-reacting automated clutch. Its gearshift achieves the best of both worlds, being smooth yet instantaneous. 4 modes with different gearshift speed are offered for your selection, from the fuel-saving "Controlled Efficiency" mode to Sport, Sport+ and Race Start (launch mode). Its shift algorithm is nearly flawless. Not only you always get the desired gear at the right moment, in downshift it also applies the right amount of throttle blip to enable a perfectly smooth gearshift, even in case of a two-gear downshift !

Another significant improvement is the front suspension. The standard unit of E-class has been replaced by a bespoke AMG design similar to the one serving C63. It has a 56mm wider track and more negative camber to enhance cornering prowess. Besides, the adaptive air springs have been replaced with stiff steel springs to quicken its response and purify its steering feel. (Air springs remain at the rear suspension to cope with varying load) The new steering rack is 22% quicker than that in E500. Other changes are more predictable, such as stiffer adaptive dampers, anti-roll bars and bushings, pizza-size brakes (ceramic is optional), AMG alloy wheels and massive Pirelli P-Zero rubbers. If that's not enough, performance package will add even stiffer springs, an electronic controlled LSD and larger forged alloy wheels.


| | |
| --- | --- |
| | Most surprising of all, we haven't expected the big AMG could be so hardcore... |

On the road, performance package is more obvious for its hardcore ride than any real performance benefits. Unless you regularly drive on super-smooth highways like Autobahn, it is best to be avoided. The standard suspension of E63, with its 3 stiffness settings, can already satisfy all conditions of use - Comfort mode is fine for day-to-day driving; Sport mode is pretty hard and Sport+ is plain hard. In the latter two modes, the new E63 feels noticeably sportier than the old car. Its body control is tighter, turn-in sharper and the helm is much heavier. Ample grip and powerful braking (even in standard brakes) complete its first-class dynamic spectrum. Surprisingly, the AMG has come very close to the territory of BMW M5 in terms of handling. Although the latter still edges it out in agility and the ability of throttle steer, E63 easily strikes back in engine and transmission. But most surprising of all, we haven't expected the big AMG could be so hardcore.

However, also like the M5, E63 is hampered somewhat by its complication. To work best you need to select the right setting from the 3 suspension modes and 4 transmission modes. Sometimes you could spend too much time to sort out the best setting, and then suddenly a mid-corner bump may change your mind. The multiple personalities are not as easy going as the broad versatility of Jaguar XFR, which simply soaks up all the irregularities on the road you may encounter and simultaneously delivers a sense of agility the AMG not quite matches. For sure the new E63 is a better driver's car than its predecessor, but it is not yet the best of its class.
Verdict:




| | |
| --- | --- |
| Published on 10 Jul 2011 | All rights reserved. |
E63 AMG Biturbo


We love the outgoing 6.2-liter V8 on E63 AMG very much. However, two factors drive the company to abandon that masterpiece and switch to a new 5.5-liter twin-turbo powerplant dubbed M157. The first one is the call for low emission. By switching to lower-revving turbocharged engine, the E63 can lower its CO2 emission by 22 percent to 230 gram per kilometer. That helps cutting taxes in some countries and lowering the corporate fleet average in European Union. The second reason is to enhance performance further. Arch-rival BMW M5 is switching to turbocharged V8. AMG has to do so in order to maintain a performance edge.

Readers won't be strangers to the M157. It has been introduced to S63, CL63 and CLS63 already. Owing to a smaller engine compartment in E-class, which limits the exhaust routing, its output is slightly lower than those on the S63 and CL63, but same as the similarly-sized CLS63. In standard guise, the output rating is 525 hp, identical to the outgoing 6.2. The real improvement is torque, however. It pumps out 516 pound-foot from just 1700 rpm all the way to 5500 rpm, versus the old engine's 465 lbft at 5200 rpm. From as low as 1000 rpm it already feels stronger than the old engine. Mid-range push is even superior. You have no reason to wind the engine to redline as in the old car. You can always corner at a gear higher, leaving the tremendous torque to do the job. Yes, it loses a little bit aural excitement at the top end, but as we have said in the S63 report, the sound produced by the AMG V8 turbo is still surprisingly delicious to ears, thus it won't disappoint the driver. In terms of performance, with an extra 1100 cc over the new M5, you won't be surprised to learn that it beats the latter from 0-60 mph - 4.2 seconds versus 4.3 seconds.

But these days the standard engine can hardly satisfy some AMG customers. The best thing of turbocharging engine is its easy tuning. Dial the turbo boost from 1.0 to 1.3 bar and you get a so-called "Performance Pack". It raises the output to 557 hp and 590 lbft, shortening 0-60 sprint to 4.1 seconds and has the electronic speed limiter lifted to 186 mph. Goodbye, M5 !

Predictably, the new AMG engine mates with 7-speed MCT gearbox instead of the outgoing car's 7-speed automatic. Its multi-plate wet clutch improves gearshift response, although you will be foolish to expect the same level of speed and precision as a dual-clutch gearbox (as on new M5 or AMG's own SLS). As before, the gearbox offers 4 modes: S (Sport), S+ (Sport plus), M (Manual) and C, but the latter now means "Controlled Efficiency" instead of "Comfort". C is the default setting from startup. It is also the mode that registers the EU emission rating of 230g/km. How to do that ? by always selecting a higher gear and engaging the new automatic engine stop-start function.

The last modification worth mentioning is the new electrical power steering – Mercedes, like Volkswagen group, prefers to call it "electromechanical" steering, but don't confuse with electro-hydraulic steering, it is a pure electrical system. Compare with the old car's hydraulic power steering, it loses a little bit feel, but not to the extent of distracting the driver. In return, it compensates with higher precision, a more linear assistance and a usefully lighter helm at parking speed. Therefore the switch is deemed to be successful. EPS technology is finally catching up, no wonder the next generation 911 will also join the camp.

As before, the E63 has very good handling. Its body control, grip, braking and steering are considered to be first rate. Ride is firm but easily livable. The newly added punch lifts its performance further, not only on paper but it feels significantly more powerful in the real world. The extra torque also enables the driver to exploit power slide more easily. The result is even more fun than ever. Flaws ? not many. Our biggest criticism remains to be its dull look, which fails to catch your heart like a Jaguar XFR. Its slightly complex driving systems are not as intuitive as the Jag's, and in terms of agility and emotion it can't match a Maserati Quattroporte. However, it has raised the bar again for BMW's new M5 to catch.
Verdict:





| | |
| --- | --- |
| Published on 8 Apr 2012 | All rights reserved. |
E300 Bluetec Hybrid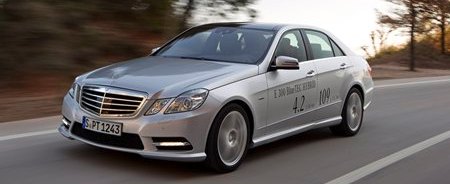 We know diesel hybrid technology achieves even better fuel efficiency than conventional gasoline hybrid. Somehow, its popularity is limited by high production cost. Modern diesel engines are already costly to build. In addition to a large lithium battery, power electronics and bespoke modifications to the car to mount these hybrid components, the cost of the whole car could easily get into the territory of higher segments. This explains why while people admire Peugeot 3008 Hybrid 4 and Citroen DS5 Hybrid 4 very much, few actually purchase them.

The approach taken by Mercedes is different. It forgoes the concept of full hybrid for a cost-saving mild hybrid system on E300 Bluetec Hybrid. The system consists of a 2.1-liter sequential twin-turbo diesel engine from the regular E250CDI, which produces 204 hp and 369 lbft of torque, and a small electric motor housed inside the 7G-Tronic gearbox. The motor contributes only 27 hp and 184 lbft, although that is already an improvement from the last generation motor used in S400 Hybrid. Combined output is therefore 231 horsepower, about the same as a conventional 3-liter engine, hence the name E300 Bluetec Hybrid. Like S400 Hybrid, the mild hybrid system here requires only a small, 0.8 kWh lithium-ion battery. This not only saves a great deal of cost but also allows the battery to take the space of the conventional battery under the bonnet, thus the Mercedes are the only hybrid cars on the market that come without penalty on luggage space! Both Mercedes hybrid cars were developed jointly with Bosch and Continental, who supply motor and battery respectively.

Of course, the downside of mild hybrid system is that it sacrifices a large part of EV capability. It runs on purely battery power for no more than 1 km and for speed no higher than 35 km/h (22 mph). This mean the ghost-like EV mode operates mainly at startup, in traffic jam or at parking speed. In most circumstances, the diesel engine fires up at speed between 9 and 12 mph to take over the duty of propulsion. Because of this, the E300 Bluetec Hybrid quotes the same performance figures as E250CDI.

Anyway, the small motor is still capable to improve fuel consumption and emission considerably. The E250CDI is already remarkably green by returning 57.6 mpg and emitting only 129 grams of CO2 each kilometer. The E300 Bluetec Hybrid raises the bar to 67.2 mpg and 109 g/km. It is by far the greenest luxury car on the market. Below shows the comparison with its greenest competitors:


| | | | | | |
| --- | --- | --- | --- | --- | --- |
| Model | Fuel econ | CO2 | Power | Top speed | 0-60 mph |
| Mercedes E300 BTH | 67.3 mpg | 109 g/km | 231 hp | 150 mph | 7.1 sec |
| BMW 520d ED | 62.7 mpg | 119 g/km | 184 hp | 144 mph | 7.7 sec |
| Audi A6 2.0TDI | 57.6 mpg | 129 g/km | 177 hp | 142 mph | 8.2 sec |
| Lexus GS450h | 46.3 mpg | 141 g/km | 340 hp | 155 mph | 5.6 sec |
| Audi A6 Hybrid | 45.5 mpg | 145 g/km | 245 hp | 149 mph | 7.1 sec |
| BMW ActiveHybrid 5 | 44.1 mpg | 149 g/km | 340 hp | 155 mph | 5.6 sec |

As seen, the Mercedes diesel hybrid is greener yet faster than its direct rivals 520d Efficient Dynamics and Audi A6 2.0TDI, and far greener than the full-hybrid Lexus GS. Better still, its low emission allows it to slip into lower tax bands in most European countries. Consequently, it costs only a few hundred euros more than the conventional E250CDI ! Green motoring has never been so painless!

Nevertheless, the E300 BTH does have one problem to deny it from full marks – refinement. In my original review of the current E-class, I mentioned the E250CDI engine had "a slight diesel clatter at startup and an uninspiring drone under hard acceleration". This problem not only persists on the E300 BTH, but it is actually made worse by the fact that the diesel engine restarts and shuts down regularly. It makes the transition between engine and battery power more noticeable and annoying than other hybrid cars.
Verdict:




| | |
| --- | --- |
| Published on 17 Mar 2013 | All rights reserved. |
E-class facelift 2013


The outgoing E-class has always been disappointing in terms of design. As I pointed out in my 2009 review, "the W212 is a strange design: it looks conservative in profile yet overly aggressive in the details". 3 and a half years on and now the car is receiving a mid-life facelift. Judging from its face alone, it does improve from the old car. The new irregularly shaped headlights that replace the quad-square units on the old car are definitely more stylish. The slightly pronounced radiator grille and smoother front bumper/lip spoiler are easier to eyes. As the center section of the bonnet is more pronounced, its sides could be shaped at faster angle, relieving the bulky appearance a bit. At the side, the characteristic crease line surrounding the rear wheel has been discarded, leading to a sleeker look.

Now there are 2 types of front grille on offer. Conservative customers will continue to choose the traditional radiator grille with a free-standing 3-pointed star logo, but most people are expected to take the new sporty grille, which has been used on C-class since 2007.

The interior is basically the same as before, saves different trims and minor details. As expected, equipment level is upgraded, safety technology gets more advanced - the Pre-Safe can now brake the car to avoid collision with objects at speed up to 50 km/h (like Volvo). However, I suppose what car enthusiasts are more interested is the updated engine range. All of them get automatic stop-start function to save fuel when you switch to Eco mode.

The outgoing 1.8-liter four-cylinder turbo has been replaced with new M271-series 2.0-liter unit, first seen on the new A-class. It features dual-VVT (instead of intake only), spray-guided direct injection with piezo injectors (enables higher pressure, multiple injections per combustion cycle and finer control), multi-spark ignition, on-demanding lubrication/cooling and twin-balancer shafts. Output increases from the outgoing 204 to 211 hp, and peak torque from 229 to 258 lbft on E250. A milder tuned version with 184 hp serves E200.

On the road, the E250 engine is quite good, with lots of bottom-end torque (which peaks at 1200-4000 rpm) and a refined character. It delivers decent performance through the 7G-Tronic gearbox. However, it is not as good as BMW's 245 hp N20 turbo, because it isn't as free-revving at the top end. Maximum rev is limited to 6300 rpm, hardly raise your pulse.

Another new engine is a 3.0-liter twin-turbo DI V6. It answers our criticisms that the existing naturally aspirated 3.5 V6 is not potent enough to rival BMW's 3-liter straight-six turbo or Audi's supercharged 3.0 V6. Sitting under the bonnet of new model E400, this engine produces 333 hp and 354 lbft, eclipsing BMW (306 hp / 295 lbft) and Audi (310 hp / 324 lbft). Performance is strong as a result, with 0-60 mph time quoted at 5.1 seconds. However, the driving excitement is slightly hampered by the 7G-Tronic transmission. Although its software has been improved, it is still not as responsive as the ZF 8-speeder employed by its rivals.

The new E-class also has its suspensions and electric power steering retuned. Its handling becomes a little sharper, but its strength is still a cosseting ride. Those pursuing driver involvement will continue to choose BMW 5-Series or Jaguar XF, while those putting comfort on higher priority will prefer the Mercedes. That is actually the same as before, but now the Mercedes buyers will have less regret on style and driver appeal.

Verdict:




| | |
| --- | --- |
| Published on 17 Mar 2013 | All rights reserved. |
E63 AMG 4matic


3 things differ the new E63 AMG from the outgoing car: a prettier face, more power and 4WD.

We used to criticize the old car for its dull look. Thanks to the sleeker new headlights and sporty grille, it looks smaller and more stylish now. Moreover, the new front bumper with fire-breathing intakes look more purposeful, lifting its performance credential beyond the regular E-class.

The car is still served with the 5.5 twin-turbo direct-injected V8, which was introduced just under 2 years ago. By remapping the ECU to increase turbo boost pressure a little bit, AMG is able to squeeze out extra power and torque. Now the standard version produces 557 hp and 531 lbft, up 32 hp and 15 lbft respectively. Above that, the popular Performance Pack is replaced with a new S model (E63 AMG S). It offers 585 hp instead of 557 hp, while maximum torque is still limited to 590 lbft which is also the most the 7-speed MCT gearbox can handle.

However, that slight power increment is not as vital as the introduction of 4matic. As engineers say, power is nothing without traction. 15 years ago, when performance sedans offered 350-400 horsepower and less than 400 pound-foot of torque, they might be alright to rely on rear wheels to put down power. Since the E55 AMG introduced a 476 hp / 516 lbft supercharged V8 in 2003, it started struggling for traction. The 2006 E63 relieved that problem a little by switching to a high revving, less torquey naturally aspirated V8, but still its performance was so high that at times we hoped it had a better balanced chassis like BMW M5 or Maserati Quattroporte. Then the arrival of twin-turbo V8 made the problem more obvious. Looking elsewhere, Audi is making good use of Quattro to enable its new RS6 to sprint from 0-60 mph in 3.8 seconds, a decisive three-tenths quicker than the AMG. Meanwhile, BMW is also experimenting the idea of 4WD on M-cars with M550d xDrive. To leapfrog its German rivals, AMG decided to equip the new E63 with 4matic. It will be mandatory on the S model and optional on the standard model.


The 4matic uses a multi-plate clutch to engage the front axle. Drive is transmitted to the front differential by a propeller shaft located at the right side of the engine – unfortunately, this occupies the same space as the steering mechanism of right-hand-drive model, thus 4matic is not available to the RHD cars. In normal driving, its torque split is set at a rear-biased 33:67, so it retains most of the rear-drive character, i.e. more alive steering feel and less initial understeer. When more traction is called for, it sends more power to the front wheels according to the instructions of computer. The 4matic adds only 70 kg to the kerb weight, thanks to the fact that its transfer case is integrated with the gearbox.

With superior traction, E63 AMG S 4matic is able to achieve 0-60 mph in merely 3.5 seconds, which is actually in the league of supercars! Judging from official figures, it easily beats RS6 and M5 as well as anything with 4 doors, although in reality Porsche Panamera Turbo S might be faster still. In real-world conditions, the 4matic model storms from A to B faster than the RWD model because it struggles less for traction in corners. It can corner deeper, faster and its ESP spends less time to cut power.

If you are sensitive enough, you might feel the initial turn-in a little less sharp, but go deeper and the new torque-vectoring braking function engages and sorts things out. At corner exit, the superior traction allows you to reapply throttle earlier, accelerate harder and carry more speed to the next corner. Its handling is unquestionably more capable and more satisfying to keen drivers. Now it finally overwhelms M5 to the top of the class.

Verdict:














E250 CGI



2009

Front-engined, RWD
Steel monocoque
Mainly steel
4868 / 1854 / 1471 mm
2874 mm
Inline-4

1796 cc
DOHC 16 valves, VVT

Turbo
DI
204 hp

229 lbft

5-speed automatic
7-speed auto (from 2011)

F: 3-link strut
R: multi-link

Mechanical adaptive damping
225/55R16
1575 kg

149 mph (c)

7.3 (c)

-

E250 CDI



2009

Front-engined, RWD
Steel monocoque
Mainly steel
4868 / 1854 / 1471 mm
2874 mm
Inline-4, diesel

2143 cc
DOHC 16 valves

Sequential twin-turbo
CDI
204 hp

369 lbft

5-speed automatic
7-speed auto (from 2011)

F: 3-link strut
R: multi-link

Mechanical adaptive damping
225/55R16
1660 kg

150 mph (c)

7.1 (c) / 7.7*

20.3*

E350 CGI



2009

Front-engined, RWD
Steel monocoque
Mainly steel
4868 / 1854 / 1471 mm
2874 mm
V6, 90-degree

3498 cc
DOHC 24 valves, VVT

VIM
DI
292 hp

269 lbft
7-speed automatic


F: 3-link strut
R: multi-link

Electronic adaptive damping
225/55R16
1660 kg

155 mph (limited)

6.0 (c)

-









Performance tested by: *Autocar










E500



2009

Front-engined, RWD
Steel monocoque
Mainly steel
4868 / 1854 / 1471 mm
2874 mm
V8, 90-degree

5461 cc
DOHC 32 valves, VVT

VIM
-
388 hp

391 lbft

7-speed automatic

F: 3-link strut
R: multi-link

Adaptive air spring + damping
245/45R17


1755 kg

155 mph (limited)

5.0 (c) / 4.6**

11.3**

E63 AMG



2009

Front-engined, RWD
Steel monocoque
Mainly steel
4868 / 1854 / 1471 mm
2874 mm
V8, 90-degree

6208 cc
DOHC 32 valves, DVVT

VIM
-
525 hp / 6800 rpm

465 lbft / 5200 rpm

7-speed automatic

F: 3-link strut
R: multi-link

Adaptive air spring + damping
F: 255/40ZR18
R: 285/35ZR18

1765 kg

155 mph (limited)

4.3 (c) / 4.0* / 4.1**

9.5* / 9.5**

E350



2011

Front-engined, RWD
Steel monocoque
Mainly steel
4868 / 1854 / 1471 mm
2874 mm
V6, 60-degree

3498 cc
DOHC 24 valves, DVVT

VIM
DI
306 hp

273 lbft

7-speed automatic

F: 3-link strut
R: multi-link

Electronic adaptive damping
225/55R16


1660 kg

155 mph (limited)

6.0 (c) / 6.0*

15.3*









Performance tested by: *C&D, **R&T










E500 (4matic)



2011

Front-engined, RWD (4WD)

Steel monocoque
Mainly steel
4868 / 1854 / 1471 mm
2874 mm
V8, 90-degree

4663 cc
DOHC 32 valves, DVVT

Twin-turbo
DI
408 hp



442 lbft


7-speed automatic

F: 3-link strut
R: multi-link

Adaptive air spring + damping
245/40ZR18


1865 kg (1910 kg)

155 mph (limited)

5.0 (c) (4.6 (c) / 4.5* )

(10.7*)

E63 AMG Biturbo



2011

Front-engined, RWD
Steel monocoque
Mainly steel
4868 / 1854 / 1471 mm
2874 mm
V8, 90-degree (Per pack)

5461 cc
DOHC 32 valves, DVVT

Twin-turbo
DI
525 hp / 5250-5750 rpm
(557 hp / 5250-5750 rpm)


516 lbft / 1700-5000 rpm
(590 lbft / 2000-4500 rpm)

7-speed MCT

F: 3-link strut
R: multi-link

Adaptive air spring + damping
F: 255/35ZR19
R: 285/30ZR19

1765 kg

155 mph (186 mph) (limited)

4.2 (c) / 3.8* (4.1 (c))

8.2*

E300 Bluetec Hybrid



2012

Front-engined, RWD
Steel monocoque
Mainly steel
4868 / 1854 / 1471 mm
2874 mm
Inline-4, diesel + electric motor

2143 cc
DOHC 16 valves

Sequential twin-turbo
CDI
Engine: 204 hp
Motor: 27 hp
Combined: 231 hp

Engine: 369 lbft
Motor: 184 lbft

7-speed automatic

F: 3-link strut
R: multi-link

Mechanical adaptive damping
225/55R16


1765 kg

150 mph (c)

7.1 (c)

-









Performance tested by: *C&D










E250



2013

Front-engined, RWD
Steel monocoque
Mainly steel
4879 / 1854 / 1474 mm
2874 mm
Inline-4

1991 cc
DOHC 16 valves, DVVT

Turbo
DI
211 hp

258 lbft

7-speed automatic

F: 3-link strut
R: multi-link

Mechanical adaptive damping
225/55R16


1605 kg

151 mph (c)

7.0 (c)

-

E400 (4matic)



2013

Front-engined, RWD (4WD)

Steel monocoque
Mainly steel
4879 / 1854 / 1474 mm
2874 mm
V6, 60-degree

2996 cc
DOHC 24 valves, DVVT

Twin-turbo
DI
333 hp

354 lbft

7-speed automatic

F: 3-link strut
R: multi-link

Electronic adaptive damping
245/40R18


1710 kg (1770 kg)

155 mph (limited)

5.1 (c) / (5.0 (c) / 5.0***)

(12.6***)

E63 AMG S 4matic



2013

Front-engined, 4WD
Steel monocoque
Mainly steel
4900 / 1873 / 1466 mm
2874 mm
V8, 90-degree

5461 cc
DOHC 32 valves, DVVT

Twin-turbo
DI
585 hp / 5500 rpm

590 lbft / 2000-4500 rpm

7-speed MCT

F: 3-link strut
R: multi-link

Adaptive air spring + damping
F: 255/35ZR19
R: 285/30ZR19

1865 kg

155 mph (limited)

3.5 (c) / 3.2* / 3.6**

7.7* / 7.8**










Performance tested by: *R&T, **Sport Auto, ***C&D









Copyright© 1997-2014 by Mark Wan @ AutoZine