Mercedes CL-class (C216)

Debut: 2006
Maker: Mercedes-Benz
Predecessor: CL (C215)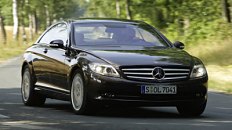 Being the coupe version of S-class, Mercedes CL-class shares the same underpinning platform, suspensions, powertrains, luxury and safety equipments with the sedan. Although some 80mm has been chopped from the wheelbase and 2 doors have been discarded, the CL is hardly any lighter than S-class. In fact, for reasons only Mercedes knows, it is actually 55 kilograms heavier, so any hope for superior performance or handling is entirely unrealistic.

Then why are there still many people buy the CL ? well, because most people love good-looking coupes. If you already have an S-class in your garage, it won't be a bad idea to have a CL next to it. In this way, you can let your wife to drive the sedan and yourself to enjoy the niche image delivered by the coupe. CL coupe is all about style. If it look beautiful, it will be highly successful. If not, no one will buy it. This matches my observation during the past 20 years – the most successful CL in history is also the most beautiful CL of all, the C126 series running from 1981 to 1991 (remark: by then it was referred to SEC instead of CL-class). A total of 74,000 units were sold. In contrast, its successor, C140 series, sold only 26,000 coupes from 1992-98 because it looked so bulky and ugly. Then came the last generation C215 series. It looked okay, more stylish than C140 but not as graceful as C126, so 46,800 units were sold from 1999-2006.



Having known that, one can easily see that Mercedes-Benz must work its best to design the new generation CL, the C216 series. Is it successful ? mostly yes. Mercedes CL is very different from Bentley Continental GT, its slightly pricier arch-rival. Its styling is feminine and civilized, in contrast to Bentley's classical and muscular. The bumpers are not elegant enough (leaves room for improvement to AMG?), but the sleek profile is quite attractive. The banana-shaped side profile has some CLS in it. The large side windows remain a classic feature of CL-class – thanks to the lack of B-pillars and window frames, it delivers panoramic side view and an airy feel not found in other coupes - what a contrast to the confined ambience in Bentley Continental GT !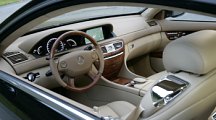 Inside, some people may be disappointed that it shares the same conservative dashboard with S-class. However, there is nothing wrong with the build quality and materials, which is top notch. The same goes for the massaging, air cushioning and ventilated front seats. Without doubt, the front seats provide abundance of space all round so that no one can complain. The rear seats are also the most accommodative in the coupe world. This means a 6-footer can sit comfortably behind another 6-footer. Bentley can only dream about that. The Mercedes also offers superior luxury equipments, such as a 4-zone climate control with individual adjustment for each occupant, COMMAND in-car control / entertainment system and PRE-SAFE system, which tightens seatbelts, closes windows and even applies braking automatically in prior to collision. In terms of comfort and safety, no other coupes can match the CL.


Mercedes offers two larger engines from the S-class for serving the CL coupe – 388hp 5.5-liter V8 and 517hp twin-turbo 5.5-liter V12. They can propel CL500 (or CL550 in the USA) and CL600 from zero to sixty mph in 5.2 seconds and 4.4 seconds respectively. Unquestionably, CL600 is an autobahn rocket. It can out-accelerate Porsche 911 Carrera S at any speed up to 155 mph, at which point only the speed limiter deny it from the ultimate victory. Nevertheless, the most sensible buy is CL500, whose large capacity V8 is torquey enough for effortless performance that most Mercedes drivers ask for. Moreover, at £80,000, it falls in a position without any direct competitors. In contrast, the £106,000 CL600 has to compete head-on with the £118,000 Bentley Continental GT. The CL600 might be faster, but the Bentley feels more special in its name and craftsmanship.


As expected, the CL is highly refined in its running. The powertrain is smooth and barely audible. Noise insulation is excellent. Ride quality scores top marks. Mercedes once again successfully made its car ride like a magic carpet without hurting handling, thanks to the second generation Active Body Control. ABC uses adaptive hydraulic spring struts to increase suspension stiffness during cornering. The second generation system reduces body roll, pitch and dive even more effectively than the first generation, resulting in a flat cornering. In twisty roads, you must be amazed that the CL feels much more nimble than its 5-meters length and 2-ton weight suggest. Nevertheless, it does not feel like a genuine sports coupe, because the driving environment is detached from the road. The steering is light and remote as it tries too hard to insulate road irregularities from the driver's hands. The engine lacks emotion compare with Italian coupes like Maserati 4200GT. The fool-proof chassis lacks feedback to the driver.

However, Mercedes has never tried to make it a rival to Porsche 911, BMW M6 or Ferrari 612 Scaglietti. The CL is designed to be a comfortable grand tourer in the first hand. It does that job well and deserves more success than its predecessor.


The above report was last updated on 19 Oct 2006. All Rights Reserved.
CL63 AMG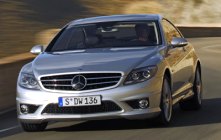 Though CL600 is fast and refined, it lacks an emotional appeal. Firstly, its styling is too feminine to car enthusiasts. Secondly, its twin-turbo V12 sounds as flat as its torque curve. Thirdly, its chassis biases towards the comfort side. That leaves plenty of room for AMG to demonstrate its engineering and tuning know-how. At £105,000, CL63 AMG asks for the same amount of money as CL600, but it satisfies keen drivers much more than the regular version. This should earn it an extra star in AutoZine's rating.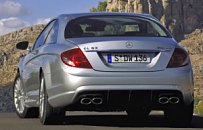 How can it do that? first of all, let us see its clothes. By replacing the regular car's unattractive bumpers with AMG's own design, aided with aggressive aerodynamic skirts, diffusers, quad tailpipes and 19-inch, 16-spoke AMG wheels, the civilized CL is suddenly converted into an edge-cutting performance coupe. Although performance remains at the same level as CL600, it looks stronger, faster and more purposeful.

Then comes the engine – AMG's 6.3-liter V8, already being used in CLK63, E63 and CLS63. It produces 525 horsepower and 465 lbft in this car, slightly more than other cars. Compare with CL600, CL63 AMG has a slight advantage in horsepower and carries around 100 kilograms less burden, but its naturally aspirated V8 is no where as torquey as the 5.5-liter twin-turbo V12. That's why Mercedes quoted the same performance figures. In other words, it takes around 4.4 seconds to go from rest to 60 mph and hit the electronic speed limiter at 155 mph, although you can pay extra money to raise the limit to 186 mph.


However, the advantage of the AMG engine is not performance, but the subjective quality it delivers – its eager and flexible character enables it to pull from as low as 1000 rpm and rev cleanly all the way to 7200 rpm, accompany with a gorgeous soundtrack turning from melodious bass to thundering howl. With at least 80 percent of peak torque available from 2000 rpm upward, the drivers will find little need to squeeze rev from the marvelous V8. But unquestionably, they will deliberately do that a lot just to thrill themselves.

AMG has reprogrammed the 7G-Tronic gearbox and Active Body Control to offer 3 driving modes – Comfort is equivalent to the standard CL; Sport enables 30% quicker gearshifts and stiffer suspensions; Manual allows 50% quicker gearshifts via paddles as well as the stiffest suspension setting. They also alter throttle response of the engine. In Sport and Manual mode, the CL63 handles sharper and corners even flatter than the standard car. Inevitably, ride quality suffers a little over low speed bumps, but running on highway there is no discernible difference from the standard car. It remains to be one of the most comfortable rides in the grand tourer segment.



Even though the car weighs 2 tons, braking performance is sensational, thanks to the upgrade to ceramic composite discs, measuring 390mm up front and 365mm at the rear, plus twin-sliding front calipers to reduce heat dissipation to the brake fluid. AMG always does braking job better than the M division of BMW. CL63 is no exception when compares with BMW M6. Its braking is more powerful and fade-free.

The only downside of the car is steering. Although the on-center weighting has been increased to inspire confidence, push it into corners and the weighting remains constant regardless of cornering force. In other words, there is no much feedback from the steering to tell the driver how close it gets within cornering limit. Perhaps because the Active Body Control artificially resists body roll and keeps the wheels vertical, the front wheels remain well contact with the road thus there is no change of steering weighting until ABC gives up resisting. This mean, while CL63 AMG can beat Bentley Continental GT for driver appeal, it is not in the league of Ferrari 612 Scaglietti.


The above report was last updated on 19 Oct 2006. All Rights Reserved.
CL65 AMG

AMG's 6.0-liter twin-turbo V12 started life in the last generation CL-class and since then spread to other big Mercedes. Its roots can be traced back to the outgoing Mercedes 5.8-liter sohc V12 that debuted in 1999. Despite of the rather outdated 3 valves per cylinder design, the addition of two turbochargers and structural strengthening resulting in 612 reliable horsepower and an even more astonishing torque of 737 pound-foot (or 1000 Nm). The latter is available from 2000 rpm all the way to 4000 rpm. It gave the outgoing CL65, S65 and SL65 supercar performance and luxury car refinement simultaneously. The engine is so perfect that Mercedes and AMG found no need to improve it further.

As a result, the new generation CL65 AMG is the combination of new chassis and old engine. Its acceleration is as strong as the last car, that means 0-60 mph in 4.3 seconds and 0-100 mph in under 9 seconds. Once its traction control overcame the initial wheel spin, its rocket acceleration could embarrass many supercars like Lamborghini Gallardo and Porsche 911 Turbo. If you find ways to de-restrict its speed limiter, you might find it capable to reach 212 mph, some 20 mph faster than those supercars ! Admittedly, its £150,000 price also exceeds those cars.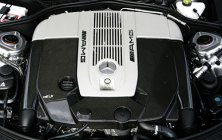 The new generation CL chassis is stronger and more agile than the old car. The uprated power steering gets heavier and more responsive. The brakes become more powerful. However, in twisty roads you can still tell this is a 2-ton-plus big car from the inertia felt up front and the frequent intervention of ESP stability control. When it turns into a corner, it doesn't have the same eagerness and precision as the well balanced Ferrari 612 Scaglietti. Its steering isn't as communicative. Its artificial roll resistance from ABC robs the driver of the sense of cornering limit. The remote feeling prevents it from inspiring its driver as well as its performance suggested.

As we always know, the CL65 is the king of Autobahn rather than a versatile sporting car. This is true to the old car, to all other AMG products and continues to apply to the new CL65 AMG. Its super performance, its seamless automatic transmission, its absorbent ride and its remarkable directional stability work best on unrestricted highway. As long as in Autobahn, no one else could threaten it.


The above report was last updated on 22 Jun 2007. All Rights Reserved.
CL500 biturbo and CL63 AMG biturbo

| | |
| --- | --- |
| | CL500 drinks and emits 22 percent less than the old car... |

Subtly revised fascia, headlamps, bumper intakes and a more contoured bonnet are what we can distinguish the latest Mercedes CL coupe from the previous one. However, the most significant revelation is the wordings located just behind the front wheel arches –

V8 Biturbo

. Yes, Mercedes has joined the trend of downsized turbocharged motors in a bid to cut carbon-dioxide emission drastically. So the motor lying under the bonnet of CL500 is downsized from 5461 cc to 4663 cc. It's a completely new motor, as implied by its codename M278 instead of the old M273. Twin-variable cam phasing, direct fuel injection and twin-turbo are key improvements. Others like low-friction pistons, on-demand oil / cooling pumps, on-demand alternator and auto stop-start also help making it more efficient. Overall, the CL500 drinks and emits 22 percent less than the old car, an impressive progress considering the rest of the car is basically unchanged.

The beauty of a smaller turbocharged motor is, when you need, it can pump out superior horsepower and mountains of torque from very low rpm. That is exactly the case of M278. It produces 435 hp instead of the previous 388 hp, and as much as 516 lb-ft of torque from merely 1800 to 3500 rpm. The old car ? just 391 lb-ft, and that needed 2800 rpm to realize. At 2000 rpm, the new Biturbo motor produces 45 percent more torque than the old V8. No wonder on the road the CL500 feels significantly stronger. 0-60 mph is reached in 4.7 seconds, half a second quicker than before. Rolling acceleration is even more impressive, as it is instantaneous without the need of gathering rev. The turbocharged V8 still loves to rev if you ask it to do so, but otherwise it rarely needs to rev beyond the mid-range. No wonder it is considerably smoother and quieter.


| | |
| --- | --- |
| | No matter how hard AMG worked, it still failed to replicate the addictive full song of the 6.2-liter on the new biturbo engine... |

While the turbo conversion of CL500 is by all means successful, the same cannot be said to the case of CL63 AMG. It doesn't mean the new AMG M157 engine is any weaker or laggier than the old M156. On the contrary, the 5.5-liter direct-injected biturbo V8 is more powerful, massively more torquey from bottom end to mid-range and virtually free of turbo lag. It is also 25 percent greener than the old 6.2-liter naturally aspirated V8. In standard trim, it produces 544 hp and 590 lb-ft of torque from 2000-4000 rpm, easily eclipsing the old engine's 525 hp and 465 lb-ft at 5200 rpm. With performance pack selected, its engine management system even lifts turbo boost limit from 1.0 to 1.3 bar, producing 571 hp and 664 lb-ft. Moreover, the new engine is now mated to the 7-speed MCT gearbox previously reserved for SL63 AMG. Its combination of automatic gearbox and multi-plate clutch (instead of torque converter) makes gearshifts quicker and more satisfying. All these factors should mean a better car.

Unfortunately, we love the aural quality of the 6.2-liter too much. No matter how hard AMG worked, it still failed to replicate the addictive full song of the 6.2-liter on the new biturbo engine. By the standard of turbocharged motors, this one sings very well indeed. It merges the turbochargers' background bass with hard-edged exhaust note beautifully. However, it is still no match with the thundering 6.2 for that urgency at high rpm. A similar story can be said to its throttle response, which can't quite match the naturally aspirated engine.


| | |
| --- | --- |
| | Its superiority lies on mid-range acceleration, where the tremendous torque tells a big difference. |

Limited by traction, the new CL63 does not accelerate from zero to 60 mph much faster than the old car (see spec. below for comparison). Its superiority lies on mid-range acceleration, where the tremendous torque tells a big difference. Of course, you may argue whether it really needs that extra performance when the old CL63 was already very quick. From another viewpoint, it doesn't hurt to get that extra performance when fuel consumption and emission are simultaneously reduced by 25 percent. Perhaps the slight loss of aural excitement is worth paying for.

The last updated model is CL65 AMG. Its twin-turbo V12 has been tweaked from 612 to 630 hp, although its 1000Nm of torque is still limited by the old 5-speed auto. 0-60 mph performance is barely improved by a tenth of a second to 4.2. Note that the CL63 with performance pack is only 0.1 sec behind. It can easily substitute the position of CL65. It's not a secret that the CL65 is going to phase out soon. Now it is only built to orders.


The above report was last updated on 30 Oct 2010. All Rights Reserved.
Specifications
General remarks
Layout
Chassis
Body
Length / width / height
Wheelbase
Engine
Capacity
Valve gears
Induction
Other engine features
Max power
Max torque
Transmission
Suspension layout


Suspension features
Tires


Kerb weight
Top speed
0-60 mph (sec)
0-100 mph (sec)

CL500 (2006)

Front-engined, RWD

Steel monocoque
Mainly steel
5065 / 1871 / 1418 mm
2955 mm
V8, 90-degree

5461 cc
DOHC 32 valves, VVT

VIM
-
388 hp

391 lbft

7-speed automatic
F: 4-link
R: multi-link

Active body control

245/45ZR18


1920 kg
155 mph (limited)
5.2 (c)

-

CL600 (2006)

Front-engined, RWD

Steel monocoque
Mainly steel
5065 / 1871 / 1418 mm
2955 mm
V12, 60-degree

5513 cc
SOHC 36 valves

Twin-turbo
Twin-spark
517 hp

612 lbft

5-speed automatic
F: 4-link
R: multi-link

Active body control

F: 255/45ZR18
R: 275/45ZR18
2110 kg
155 mph (limited)
4.4 (c) / 4.3* / 4.1**

10.1* / 9.6**


CL63 AMG (2006)

Front-engined, RWD

Steel monocoque
Mainly steel
5065 / 1871 / 1418 mm
2955 mm
V8, 90-degree

6208 cc
DOHC 32 valves, DVVT

VIM
-
525 hp

465 lbft

7-speed automatic
F: 4-link
R: multi-link

Active body control

F: 255/40ZR19
R: 275/40ZR19
2010 kg
155 mph (limited)
4.4 (c) / 4.3*

10.2*











General remarks
Layout
Chassis
Body
Length / width / height
Wheelbase
Engine
Capacity
Valve gears
Induction
Other engine features
Max power
Max torque
Transmission
Suspension layout


Suspension features
Tires


Kerb weight
Top speed
0-60 mph (sec)
0-100 mph (sec)

CL65 AMG (2007)

Front-engined, RWD

Steel monocoque
Mainly steel
5065 / 1871 / 1418 mm
2955 mm
V12, 60-degree

5980 cc
SOHC 36 valves

Twin-turbo
Twin-spark
612 hp

738 lbft

5-speed automatic
F: 4-link
R: multi-link

Active body control

F: 255/35ZR20
R: 275/35ZR20
2165 kg
155 mph (limited)
4.3 (c)

-


CL500 (2010)

Front-engined, RWD

Steel monocoque
Mainly steel
5035 / 1871 / 1419 mm
2955 mm
V8, 90-degree

4663 cc
DOHC 32 valves, DVVT

Twin-turbo
DI
435 hp

516 lbft

7-speed automatic
F: 4-link
R: multi-link

Active body control

F: 255/45ZR18
R: 275/45ZR18

1995 kg
155 mph (limited)
4.7 (c)

-

CL63 AMG Perform (2010)

Front-engined, RWD

Steel monocoque
Mainly steel
5106 / 1871 / 1426 mm
2955 mm
V8, 90-degree

5461 cc
DOHC 32 valves, DVVT

Twin-turbo
DI
571 hp

664 lbft

7-speed MCT
F: 4-link
R: multi-link

Active body control

F: 255/40ZR19
R: 275/40ZR19

2060 kg
186 mph (limited)
4.3 (c) / 4.0* / 3.9**

8.8* / 8.7**










General remarks
Layout
Chassis
Body
Length / width / height
Wheelbase
Engine
Capacity
Valve gears
Induction
Other engine features
Max power
Max torque
Transmission
Suspension layout


Suspension features
Tires


Kerb weight
Top speed
0-60 mph (sec)
0-100 mph (sec)

CL65 AMG (2010)

Front-engined, RWD

Steel monocoque
Mainly steel
5106 / 1871 / 1426 mm
2955 mm
V12, 60-degree

5980 cc
SOHC 36 valves

Twin-turbo
Twin-spark
630 hp

738 lbft

5-speed automatic
F: 4-link
R: multi-link

Active body control

F: 255/35ZR20
R: 275/35ZR20
2170 kg
186 mph (limited)
4.2 (c) / 4.5*

9.2*














Performance tested by: *C&D, **R&T
Copyright© 1997-2010 by Mark Wan @
AutoZine